Goodwin, Doris Kearns
Most widely held works about Doris Kearns Goodwin
more
fewer
Most widely held works by Doris Kearns Goodwin
Team of rivals : the political genius of Abraham Lincoln
by
Doris Kearns Goodwin
( Book )
54 editions published between
2005
and 2013 in 6 languages and held by 5,899 WorldCat member libraries worldwide
This multiple biography is centered on Lincoln's mastery of men and how it shaped the most significant presidency in the nation's history. Historian Goodwin illuminates Lincoln's political genius, as the one-term congressman rises from obscurity to prevail over three gifted rivals to become president. When Lincoln emerged as the victor at the Republican National Convention, his rivals were dismayed. Throughout the turbulent 1850s, each had energetically sought the presidency as the conflict over slavery led inexorably to civil war. That Lincoln succeeded, Goodwin demonstrates, was because of his extraordinary ability to put himself in the place of other men, to experience what they were feeling, to understand their motives and desires. It was this that enabled Lincoln to bring his disgruntled opponents together, create the most unusual cabinet in history, and marshal their talents to the task of preserving the Union
No ordinary time : Franklin and Eleanor Roosevelt : the home front in World War II
by
Doris Kearns Goodwin
( Book )
28 editions published between
1994
and 2013 in 3 languages and held by 4,312 WorldCat member libraries worldwide
The United States of 1940, an isolationist country divided along class lines, still suffering the ravages of a decade-long depression, and woefully unprepared for war, was unified by a common threat and by the extraordinary leadership of Franklin Roosevelt to become, only five years later, the preeminent economic and military power in the world. At the center of the country's transformation was the complex partnership of Franklin and Eleanor Roosevelt. Franklin knew the war could not be won without focusing the energies of the American people and expanding his base of support -- making his peace with conservative leaders and gaining the cooperation of big business. Eleanor, meanwhile, felt the war would not be worth winning if the old order of things at home prevailed, and was often at odds with her husband in her efforts to preserve the gains of the New Deal and achieve reforms in civil rights, housing, and welfare programs. While Franklin manned the war room at the White House and met with Winston Churchill, Joseph Stalin, Mackenzie King, and other world leaders to discuss strategy for the war abroad, Eleanor crisscrossed the country, visiting the American people, seeing how the war and policies her husband made in Washington affected them as individuals. Using diaries, interviews, and White House records of the president's and first lady's comings and goings, Goodwin paints a detailed, intimate portrait not only of the daily conduct of the presidency during wartime but of the Roosevelts themselves and their extraordinary constellation of friends, advisers, and family, many of whom lived with them in the White House: Missy LeHand, FDR's "other wife" and secretary; Harry Hopkins, FDR's closest friend and adviser; the president's indomitable mother, Sara; the Roosevelts' daughter, Anna; Eleanor's close friends Lorena Hickock and Joe Lash; Crown Princess Martha of Norway; FDR's former lover Lucy Rutherfurd, who, in a final, painful blow to Eleanor, was with him when he died. Bringing to bear the tools of both history and biography, Goodwin relates the unique story of how Franklin Roosevelt, surrounded by his small circle of intimates, led the nation to military victory abroad against seemingly insurmountable odds and, with Eleanor's essential help, forever changed the fabric of American society
Lyndon Johnson and the American dream
by
Doris Kearns Goodwin
( Book )
44 editions published between
1976
and 2015 in 3 languages and held by 3,992 WorldCat member libraries worldwide
Hailed by the New York Times as "the most penetrating, fascinating political biography I have ever read," Doris Kearns Goodwin's extraordinary and insightful book draws from meticulous research in addition to the author's time spent working at the White House from 1967 to 1969. After Lyndon Johnson's term ended, Goodwin remained his confidante and assisted in the preparation of his memoir. In Lyndon Johnson and the American Dream she traces the 36th president's life from childhood to his early days in politics, and from his leadership of the Senate to his presidency, analyzing his dramatic years in the White House, including both his historic domestic triumphs and his failures in Vietnam. Drawn from personal anecdotes and candid conversation with Johnson, Goodwin paints a rich and complicated portrait of one of America's most compelling politicians
The Fitzgeralds and the Kennedys
by
Doris Kearns Goodwin
( Book )
37 editions published between
1973
and 2001 in 3 languages and held by 3,416 WorldCat member libraries worldwide
Chronicles the story of three generations of the Fitzgeralds and Kennedys, beginning in 1863 with the inauguration of John Fitzgerald Kennedy in January 1961
The bully pulpit : Theodore Roosevelt, William Howard Taft, and the Golden Age of journalism
by
Doris Kearns Goodwin
( Book )
18 editions published between
2013
and 2014 in
English
and held by 3,311 WorldCat member libraries worldwide
The gap between rich and poor has never been wider. Legislative stalemate paralyzes the country. Corporations resist federal regulations. Spectacular mergers produce giant companies. The influence of money in politics deepens. Bombs explode in crowded streets. Small wars proliferate far from our shores. A dizzying array of inventions speeds the pace of daily life. These unnervingly familiar headlines serve as the backdrop for a dynamic history of the first decade of the Progressive era, that tumultuous time when the nation was coming unseamed and reform was in the air. The story is told through the intense friendship of Theodore Roosevelt and William Howard Taft -- a close relationship that strengthens both men before it ruptures in 1912, when they engage in a brutal fight for the presidential nomination that divides their wives, their children, and their closest friends, while crippling the progressive wing of the Republican Party, causing Democrat Woodrow Wilson to be elected, and changing the country's history. The Bully Pulpit is also the story of the muckraking press, which arouses the spirit of reform that helps Roosevelt push the government to shed its laissez-faire attitude toward robber barons, corrupt politicians, and corporate exploiters of our natural resources. The muckrakers are portrayed through the greatest group of journalists ever assembled at one magazine -- Ida Tarbell, Ray Stannard Baker, Lincoln Steffens, and William Allen White -- teamed under the mercurial genius of publisher S.S. McClure
Team of rivals : the political genius of Abraham Lincoln
by
Doris Kearns Goodwin
( Recording )
25 editions published between
2005
and 2012 in
English
and held by 2,410 WorldCat member libraries worldwide
When the 1860 Republican National Convention chose Abraham Lincoln over three seasoned politicians, his rivals were shocked and humiliated. Lincoln immediately went about mending fences by inviting them to join his cabinet. Historian Doris Kearns Goodwin reveals how Lincoln brilliantly converted former political foes and used them to strengthen his presidency
The Roosevelts : An Intimate History
( Visual )
3 editions published in
2014
in
English
and held by 1,656 WorldCat member libraries worldwide
The Roosevelts: An Intimate History chronicles the lives of Theodore, Franklin, and Eleanor Roosevelt, three members of the most prominent and influential family in American politics. It is the first time in a major documentary television series that their individual stories have been interwoven into a single narrative. This seven-part, 14 hour film follows the Roosevelts for more than a century, from Theodore's birth in 1858 to Eleanor's death in 1962. Over the course of those years, Theodore would become the 26th President of the United States and his beloved niece, Eleanor, would marry his fifth cousin, Franklin, who became the 32nd President of the United States. Together, these three individuals not only redefined the relationship Americans had with their government and with each other, but also redefined the role of the United States within the wider world. The series encompasses the history the Roosevelts helped to shape: the creation of National Parks, the digging of the
In our own words : extraordinary speeches of the American century
( Book )
2 editions published in
1999
in
English
and held by 1,509 WorldCat member libraries worldwide
In Our Own Words is a record of the most impassioned, inspirational, and infuriating orations ever given by Americans in this century. Featured here are the words of poets and politicians, artists and astronauts, scoundrels and sports heroes, Native Americans and Nobel laureates, soldiers and civil rights activists, humorists and hellraisers. In Our Own Words includes over 150 speeches, sermons, eulogies, radio broadcasts, courtroom pleas, fireside chats, public tributes, and commencement addresses
The bully pulpit : [Theodore Roosevelt, William Howard Taft, and the golden age of journalism]
by
Doris Kearns Goodwin
( Recording )
15 editions published between
2013
and 2015 in
English
and
Undetermined
and held by 897 WorldCat member libraries worldwide
Goodwin describes the broken friendship between Teddy Roosevelt and his chosen successor, William Howard Taft. With the help of the 'muckraking' press Roosevelt had wielded the Bully Pulpit to challenge and triumph over abusive monopolies, political bosses, and corrupting money brokers. Roosevelt led a revolution that he bequeathed to Taft only to see it compromised as Taft surrendered to money men and big business
Looking for Lincoln
( Visual )
4 editions published between
2009
and 2010 in
English
and held by 578 WorldCat member libraries worldwide
In light of the bicentennial of Lincoln's birth, this documentary focuses on many of the controversial aspects of Lincoln's life--race, equality, religion, politics and depression. Interviews re-enactors, relic hunters, authors, scholars and Presidents Bill Clinton and George W. Bush to gain perspectives on Lincoln's life and thoughts
more
fewer
Audience Level
0

1
Kids
General
Special
Audience level: 0.14 (from 0.11 for The bully ... to 0.90 for Ancestors ...)
Associated Subjects
Ambrose, Stephen E
America
American Civil War (1861-1865)
Baseball fans
Bellesiles, Michael A
Brooklyn Dodgers (Baseball team)
Diplomatic relations
Ellis, Joseph J
Fitzgerald family
Friendship
Genius
Goodwin, Doris Kearns
Historians
Historiography
Historiography--Political aspects
Historiography--Social aspects
Human rights workers
Hussein, Saddam,
Influence (Literary, artistic, etc.)
International relations
Johnson, Lyndon B.--(Lyndon Baines),
Kennedy, Edward M.--(Edward Moore),
Kennedy family
Legislators
Lincoln, Abraham,
McCain, John,
Military leadership
Nuclear arms control
Philosophy
Political leadership
Political science
Politicians
Politics and government
Presidents
Presidents' spouses
Press and politics
Press conferences
Professional ethics
Progressivism (United States politics)
Republican Party (U.S. : 1854- )
Roosevelt, Eleanor,
Roosevelt, Franklin D.--(Franklin Delano),
Roosevelt, Theodore,
Social conditions
Social institutions
Speeches, addresses, etc., American
Taft, William H.--(William Howard),
United States
United States.--Congress.--Senate
World War (1939-1945)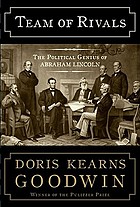 Alternative Names
Doris Kearns Goodwin Amerikaans journaliste

Doris Kearns Goodwin US-amerikanische Historikerin

Doris Kearnsová Goodwinová

Goodwin, Doris Helen Kearns 1943-

Goodwin, Doris K. 1943-

Goodwin, Doris Kearns

Kearns, Doris.

Kearns, Doris 1943-

Kearns, Doris Helen

Kearns Goodwin, Doris.

Kearns Goodwin, Doris 1943-

Дорис Кёрнс Гудвин

دوريس كيرنز غودوين

دوریس کیرنس گودوین ژورنالیست و تاریخ‌نگار آمریکایی

굿윈, 도리스 컨스

グッドウィン, ドリス・カーンズ

ドリス・カーンズ・グッドウィン

古徳温, 多莉絲 基恩斯

多丽丝·卡恩斯·古德温

多莉絲·基恩斯·古德溫

Languages
Covers