Embree, Lester E.
Most widely held works by Lester E Embree
Collected papers
by
Alfred Schutz
( Book )
17 editions published between
2010
and 2011 in
English
and held by 564 WorldCat member libraries worldwide
The three essays in this volume illuminate Alfred Schutz's understanding of literature and literary relationships. The first, 'Life Forms and Meaning Structures, ' presents such ideal life-forms as duration, memory, the speaking ego, and the I in relation to the Thou. This essay also describes the fundamental nature of human experience, its pluralized realms, the passage of time, perspectival interpretation, action and its impediments-all concepts which make possible an understanding of literature and literary themes. The essay goes on to discuss opera, and the relationship between music and language in opera. The second essay, 'The Problem of Personality in the Social World, ' offers insights into the unity the social person achieves, temporality, and the role of the body and the importance of pragmatic relevances. This shows how, even before he arrived in the United States, Schutz went beyond his 1932 Phenomenology of the Social World in a pragmatic direction. This essay anticipates Schutz's 1945 essay, 'On Multiple Realities, ' by discussing reality-spheres of working, phantasy, dreams, and theory. Reality-spheres are vital for understanding literature, as shown in the third essay, which translates for the first time two Goethe manuscripts produced by Schutz in 1948. The first text, on Lehrjahre, reveals Schutz actually interpreting a piece of literature, tracing the themes of art and life and fate and freedom through the text. The second, a commentary on Goethe's Wanderjahre, presents an inchoate theory of literature. Defending Goethe's 1829 version of the Wanderjahre novel, Schutz argues that critics miss the point that readers of literature adopt a specific kind of epoché in which they enter a reality-sphere governed by 'the logic of the poetic event, ' whose rules are not those of everyday life or theoretical contemplation. In sum, this volume brings out the distinctive character of literary reality and the relationships between author and reader, and invites the reader to derive a sense of how Schutz himself read literature
Encyclopedia of phenomenology
by
Lester E Embree
( Book )
14 editions published between
1997
and 2010 in
English
and held by 438 WorldCat member libraries worldwide
The Encyclopedia of Phenomenology presents phenomenological thought and the phenomenological movement within philosophy and within more than a score of other disciplines on a level accessible to professional colleagues of other orientations as well as to advanced undergraduate and graduate students. Entries average 3,000 words. In practically all cases, they include lists of works ̀For Further Study'. The Introduction briefly chronicles the changing phenomenological agenda and compares phenomenology with other 20th Century movements. The 166 entries are about matters of seven sorts: the four broad tendencies and periods within the phenomenological movement; twenty-three national traditions of phenomenology; twenty-two philosophical sub-disciplines, including those referred to with the formula ̀the philosophy of x'; phenomenological tendencies within twenty-one non-philosophical disciplines; forty major phenomenological topics; twenty-eight leading phenomenological figures; and twenty-seven non-phenomenological figures and movements of interesting similarities and differences with phenomenology. Concerning persons, years of birth and death are given upon first mention in an entry of the names of deceased non-phenomenologists. The names of persons believed to be phenomenologists and also, for cross-referencing purposes, the titles of other entries are printed entirely in SMALL CAPITAL letters, also upon first mention. In addition, all words thus occurring in all small capital letters are listed in the index with the numbers of all pages on which they occur. To facilitate indexing, Chinese, Hungarian and Japanese names have been re-arranged so that the personal name precedes the family name. Concerning works referred to, the complete titles of books and articles are given in the original language or in a transliteration into Roman script, followed by literalistic translations and the year of original publication in parentheses or, where the date of composition is substantially earlier than that of publication, by the year of composition between brackets
Environmental philosophy and environmental activism
by
Don E Marietta
( Book )
7 editions published in
1995
in
English
and held by 321 WorldCat member libraries worldwide
An exploration of the relationship between environmental philosophy and environmental activism. It seeks to address two main questions: whether environmental philosophy and ethics should be seen as a form of applied philosophy; and how environmental philos
Marginal consciousness
by
Aron Gurwitsch
( Book )
8 editions published between
1982
and 1985 in
English
and held by 308 WorldCat member libraries worldwide
Metaarchaeology : reflections by archaeologists and philosophers
by
Lester E Embree
( Book )
12 editions published between
1992
and 1993 in
English
and held by 274 WorldCat member libraries worldwide
An idea of the philosophy of archaeology can best be gained by showing what it is, what the issues are, who is working in the field, and how they proceed. Reading Lester Embree's Metaarchaeology provides the best possible introduction to the field, since in it several leading archaeologists show how accessible and interesting the current archeological literature is, and currently active philosophers of archaeology reveal something of the current state of discussion on the subject. Bibliographies have also been developed of the philosophy of archaeology as well as of selected parts of the component that can be called metaarchaeology. Finally, an historical introduction has been included to show the variety of metascientific as well as orientational standpoints that philosophers of archaeology have had recourse to for over two decades, followed by speculation about the future of the discipline within the philosophy of science
Phenomenology and Indian philosophy
by
D. P Chattopadhyaya
( Book )
11 editions published between
1991
and 2012 in
English
and
Undetermined
and held by 217 WorldCat member libraries worldwide
Contributed research papers
The existential phenomenology of Simone de Beauvoir
by
Wendy O'Brien
( Book )
12 editions published between
2001
and 2011 in
English
and held by 188 WorldCat member libraries worldwide
While earlier research considered Simone de Beauvoir in the perspectives of Existentialism or Feminism, this work is the first to emphasize her reflective and descriptive approach and the full range of issues she addresses. There are valuable chapters and sections that are historical and/or comparative, but most of the contents of this work critically examine Beauvoir's views on old age (whereon she is the first phenomenologist to work), biology, gender, ethics, ethnicity (where she is among the first), and politics (again among the first). Besides their systematic as well as historical significance, these chapters show her philosophy as on a par with those of Merleau-Ponty and Jean-Paul Sartre in quality, richness and distinctiveness of problematics, and the penetration of her insight into collective as well as individual human life within the socio-historical world
Feminist phenomenology
by
Linda Fisher
( Book )
11 editions published between
2000
and 2011 in
English
and held by 187 WorldCat member libraries worldwide
This volume is the first collection of original essays on the related issues of gender and feminism approached phenomenologically. Lived experience is gendered and especially women's experiences are not well reflected in ordinary language. To understand them, one must go beyond analyzing language and to the matters of gendered human life itself. The essays in this volume advance this investigation
Phenomenology of the cultural disciplines
by
Mano Daniel
( Book )
16 editions published between
1994
and 2011 in
English
and held by 145 WorldCat member libraries worldwide
Phenomenology of the Cultural Disciplines is an interdisciplinary study, reflecting the recent emergence of various particular forms of `phenomenological philosophy of ... '. Included are such fields as psychology, social sciences and history, as well as environmental philosophy, ethnic studies, religion and even more practical disciplines, such as medicine, psychiatry, politics, and technology. The Introduction provides a way of understanding how these various developments are integrated. On the basis of a Husserlian notion of culture, it proposes a generic concept of `cultural disciplines' (which is broader than but inclusive of `human sciences') which subsumes the more specific concepts of `cultural sciences', `axiotic disciplines' (e.g. architecture), and `practical disciplines'
more
fewer
Audience Level
0

1
Kids
General
Special
Audience level: 0.52 (from 0.05 for Phenomenol ... to 0.69 for Feminist p ...)
Related Identities
Associated Subjects
Aesthetics
Allgemeine Einführung in die reine Phänomenologie (Husserl, Edmund)
Anthropology
Archaeology
Archaeology--Philosophy
Authors and readers
Beauvoir, Simone de,
Consciousness
Culture
Culture--Philosophy
Ego (Psychology)
Engineering
Environmental ethics
Environmentalism
Environmental sciences
Environmental sciences--Philosophy
Existential phenomenology
Feminist theory
Genetic epistemology
Germany
Husserl, Edmund,
Influence (Literary, artistic, etc.)
Knowledge, Sociology of
Life
Linguistics
Mind and body
Phenomenalism
Phenomenological psychology
Phenomenological sociology
Phenomenology
Phenomenology and literature
Philosophers
Philosophers--Biography
Philosophy
Philosophy, German
Philosophy, Indic
Philosophy, Modern
Philosophy of nature
Reality
Reality in literature
Schutz, Alfred,
Science--Philosophy
Social psychology
Social sciences
Social sciences--Methodology
Social sciences--Philosophy
Social structure
Sociology
Sociology--Philosophy
Technology--Philosophy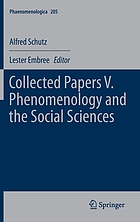 Alternative Names
Embree, Lester

Embree Lester 1938-....

Embree, Lester E.

Embree, Lester Eugene 1938-

Renpeide

Renpeide 1938-

Эмбри, Лестер

エンブリー, レスター

レスター・エンブリー

Languages
Covers