Ocampo, José Antonio
Overview
| | |
| --- | --- |
| Works: | 522 works in 1,462 publications in 3 languages and 22,232 library holdings |
| Genres: | History |
| Roles: | Author, Editor, Other, Compiler, Publishing director, Contributor, Director, htt |
| Classifications: | HC125, 338.91 |
Most widely held works by José Antonio Ocampo
Regional financial cooperation
by
José Antonio Ocampo
( )
26 editions published between
2006
and 2007 in 3 languages and held by 2,220 WorldCat member libraries worldwide
"Assesses how regional financial institutions can help developing countries, often at a disadvantage within the global financial framework, finance their investment needs, counteract the volatility of private capital flows, and make their voices heard"--Provided by publisher
Development cooperation in times of crisis
by
José Antonio Alonso
( )
11 editions published in
2012
in
English
and held by 1,166 WorldCat member libraries worldwide
Leading governments undertook extraordinary measures to offset the 2008 economic crisis, shoring up financial institutions, stimulating demand to reverse recession, and rebalancing budgets to alleviate sovereign debt. While productive in and of themselves, these solutions were effective because they were coordinated internationally and were matched with sweeping global financial reforms. Unfortunately, coordination has weakened after these initial steps, indicating one of the crisis's adverse effects will be a significant reduction in development cooperation. Urging advanced nations to improve their support for development, the contributors to this volume revisit the causes of the 2008 collapse and the ongoing effects of recession on global and developing economies. They reevaluate the international response to crisis and suggest more effective approaches to development cooperation. Experts on international aid join together to redesign the cooperation system and its governance, so it can accept new actors and better achieve the Millennial Development Goals of 2015 within the context of severe global crisis. In their introduction, Jose Antonio Alonso and Jose Antonio Ocampo summarize different chapters and the implications of their analyses, concluding with a frank assessment of global economic imbalance and the ability of increased cooperation to rectify these inequalities
Globalization and development : a Latin American and Caribbean perspective
by
José Antonio Ocampo
( )
33 editions published between
2002
and 2003 in
English
and
Spanish
and held by 1,163 WorldCat member libraries worldwide
The international response to opportunities and risks arising from globalization has been incomplete and uneven. But a proactive approach by a network of institutions could correct existing asymmetries and build a rights-based international social agenda. Globalization and Development provides a historical overview of economic development in the Latin America and Caribbean region - and proposes an economic and noneconomic agenda that addresses disparity, respects diversity, and fosters complementarity among regional, national, and international institutions. "This book provides a profound analysis of key problems facing the global economic order. Equally important, the agenda put forward provides perceptive food for thought for all who are committed to overcoming the fundamental asymmetries that pervade the world economy today. It recognizes that success in creating a better global order must go beyond the topics that have been at the center of discussion in the past: There must be an adequate supply of global public goods, and we need to incorporate at the global level values that we often take for granted at the national level--a commitment to global democracy, global citizenship, and global social justice."
The economic development of Latin America since independence
by
Luis Bértola
( )
23 editions published between
2012
and 2013 in
English
and held by 1,126 WorldCat member libraries worldwide
"Latin America is attracting increasing interest due to the strong economic performance of the last decade and to the political changes that are taking place. This book gives a unique, comprehensive, and up-to-date view of Latin American economic development over the two centuries since Independence. It considers Latin American economies within the wider context of the international economy, and covers economic growth, international trade, capital flows, and trends in inequality and human development. With chapters that examine different eras, it traces the major developments of Latin American countries and offers a novel and coherent interpretation of the economic history of the region. It combines a wealth of original research, new perspectives, and empirical information to provide a synthesis of the growing literature that both complements and extends previous studies."--Page 4 of cover
Too little, too late : the quest to resolve sovereign debt crises
by
Martin Guzman
( )
18 editions published between
2016
and 2017 in
English
and held by 1,068 WorldCat member libraries worldwide
The current approach to resolving sovereign debt crisis does not work: sovereign debt restructurings come too late and address too little. Though unresolved debt crises impose enormous costs on societies, many recent restructurings have not been deep enough to provide the conditions for economic recovery (as illustrated by the Greek debt restructuring of 2012). And if the debtor decides not to accept the terms demanded by the creditors, finalizing a restructuring can be slowed by legal challenges (as illustrated by the recent case of Argentina, deemed "the trial of the century"). A fresh start for distressed debtors is a basic principle of a well-functioning market economy, yet there is no international bankruptcy framework for sovereign debts. While this problem is not new, the United Nations and the global community are now willing to do something about it. Providing guidance for those who intend to take up reform, the book assesses the relative merits of various debt-restructuring proposals, especially in relation to the main deficiencies of the current nonsystem. With contributions by leading academics and practitioners, Too Little, Too Late reflects the overwhelming consensus among specialists on the need to find workable solutions. -- from dust jacket
Beyond reforms : structural dynamics and macroeconomic vulnerability
by
José Antonio Ocampo
( )
23 editions published between
2004
and 2005 in
English
and held by 1,056 WorldCat member libraries worldwide
"Beyond Reforms reviews long-term growth and development patterns and focuses on macroeconomic vulnerability and its social effects. The eight chapters offer theoretical and methodological contributions that share a common focus: how to improve the frustratingly poor economic performance in Latin America, as well as in other parts of the developing world, experienced during the recent phase of economic liberalization." "This collection presents a more precise view of the risks and challenges that characterize the new economic era and advances a set of alternative economic policies to manage the open developing-country economies of the early twenty-first century. Ideas that have been absent from the reform agenda over the past two decades are recognized as critical in fostering the improved economic and social performance that liberalization has so far failed to produce."--Jacket
Overcoming developing country debt crises
by
Barry Herman
( )
23 editions published between
2009
and 2010 in
English
and
Undetermined
and held by 948 WorldCat member libraries worldwide
Examining historical sovereign debt crises in developing and transition economies, this text concludes that these occurrences have been economic and social catastrophes and are likely to happen again in the future due to the 'boom and bust' nature of economic cycles
Growth and policy in developing countries : a structuralist approach
by
José Antonio Ocampo
( )
14 editions published between
2009
and 2010 in
English
and held by 945 WorldCat member libraries worldwide
Economic structuralists use a broad, systemwide approach to understanding development, and this textbook assumes a structuralist perspective in its investigation of why a host of developing countries have failed to grow at 2 percent or more since 1960. Sensitive to the wide range of factors that affect an economy's strength and stability, the authors identify the problems that have long frustrated growth in many parts of the developing world while suggesting new strategies and policies to help improve standards of living. After a survey of structuralist methods and post-World War II trends of global economic growth, the authors discuss the role that patterns in productivity, production structures, and capital accumulation play in the growth dynamics of developing countries. Next, it outlines the evolution of trade patterns and the effect of the terms of trade on economic performance, especially for countries that depend on commodity exports. The authors acknowledge the structural limits of macroeconomic policy, highlighting the negative effects of financial volatility and certain financial structures while recommending policies to better manage external shocks. These policies are then further developed through a discussion of growth and structural improvements, and are evaluated according to which policy options-macro, industrial, or commercial¿best fit within different kinds of developing economies
Time for a visible hand : lessons from the 2008 world financial crisis
by
Stephany Griffith-Jones
( )
20 editions published between
2009
and 2010 in
English
and held by 816 WorldCat member libraries worldwide
This text addresses the 2008 financial crisis originating in developed countries that will have a major impact on developing countries, as it spreads globally. It discusses the underlying reasons behind the crisis and suggests solutions that can help prevent such a crisis in the future.--[source unknown]
La crisis latinoamericana de la deuda desde la perspectiva histórica
by
José Antonio Ocampo
( )
9 editions published in
2014
in
Spanish
and held by 606 WorldCat member libraries worldwide
En este libro se reunen cuatro ensayos que permiten entender los factores que originaron la crisis y las circunstancias que determinaron que sus consecuencias para la región fueran aún más graves que las de la Gran Depresión de los anos treinta. En el libro se explican también los procesos de negociación que condujeron a los países deudores a una situación desmejorada, los programas de reestructuración de la deuda y su incidencia en el desarrollo financiero de la región, y el modo en que los cambios en las políticas económicas experimentados por la región pueden contribuir a prevenir la ocurrencia de este tipo de crisis en el futuro. Treinta años después de la crisis que más gravemente afecto el desarrollo de la región, en un mundo cada vez más interdependiente y turbulento, las lecciones aprendidas de este episodio están plenamente vigentes
more
fewer
Audience Level
0

1
Kids
General
Special
Audience level: 0.26 (from 0.05 for Rethinking ... to 0.63 for Internatio ...)
Related Identities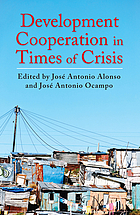 Covers
Alternative Names
Antonio Ocampo, José 1952-

Gavinia, José Antonio Ocampo-, 1952-

Gaviria, José Antonio Ocampo.

Gaviria José Antonio Ocampo 1952-....

José Antonio Ocampo Colombiaans socioloog

José Antonio Ocampo Colombian politician

José Antonio Ocampo homme politique colombien

José Antonio Ocampo kolumbianischer Wirtschaftswissenschaftler und Soziologe

Ocampo, Antonio

Ocampo Antonio 1952-....

Ocampo G., José Antonio

Ocampo G., José Antonio, 1952-

Ocampo Gavinia, José Antonio, 1952-

Ocampo Gaviria, José A. 1952-

Ocampo Gaviria, José Antonio.

Ocampo-Gaviria, José Antonio 1952-

Ocampo, J. A.

Ocampo, J. A. 1952-

Ocampo, J. A. 1952- (José Antonio)

Ocampo, J. A. (José Antonio)

Ocampo, Jose A.

Ocampo, José A. 1952-

Ocampo, José Antonio

Ocampo, José Antonio 1952-

Хосе Антонио Окампо колумбийский политик, экономист и социолог

오캄포, 호세 안토니오

ホセ・アントニオ・オカンポ

何塞·安东尼奥·欧堪波

Languages