Glantz, David M.
Most widely held works by David M Glantz
When Titans clashed : how the Red Army stopped Hitler
by
David M Glantz
( Book )
22 editions published between
1995
and 2015 in
English
and held by 1,289 WorldCat member libraries worldwide
By the time Pearl Harbor had ripped apart America's peacetime pretensions, the German blitzkrieg had already blasted the Red Army back to the gates of Moscow. Yet, less than four years later, the Soviet hammer and sickle flew above the ruins of Berlin, stark symbol of a miraculous comeback that destroyed the German army and shattered Hitler's imperial designs. Told in swift stirring prose, When Titans Clashed provides the first full account of this epic struggle from the Soviet perspective. David Glantz, one of the world's foremost authorities on the Soviet military, and Jonathan House present a fundamentally new interpretation of what the Russians called the "Great Patriotic War." Based on unprecedented access to formerly classified Soviet sources, they counter the German perspective that has dominated previous accounts and radically revise our understanding of the Soviet experience during World War II
Barbarossa derailed : the battle for Smolensk, 10 July-10 September 1941
by
David M Glantz
( )
20 editions published between
2010
and 2016 in
English
and held by 1,130 WorldCat member libraries worldwide
"This study exploits a wealth of Soviet and German archival materials, including the combat orders and operational records of the German OKW, OKH, army groups, and armies of the Soviet Stavka, the Red Army General Staff, the Western Main Direction Command, the Western, Central, Reserve, and Briansk fronts, and their subordinate armies to present a detailed mosaic and definitive account of what took place, why and how during the prolonged and complex battles in the Smolensk region from 10 July through 10 September 1941 ... The series will consist of a detailed two-volume chronological narrative of the course of operations, accompanied by a third volume, containing an extensive collection of specific orders and reports translated verbatim from Russian, and a fourth (atlas) volume containing newly-commissioned colour maps"--Jacket
After Stalingrad : the Red Army's winter offensive, 1942-43
by
David M Glantz
( )
11 editions published between
2008
and 2011 in
English
and held by 1,057 WorldCat member libraries worldwide
"In the wake of the Red Army's signal victory at Stalingrad, which began when its surprise counteroffensive encircled German Sixth Army in Stalingrad region in mid-November 1942 and ended when its forces liquidated beleaguered Sixth Army in early February 1943, the Soviet High Command (Stavka) expanded its counteroffensive into a full-fledged winter offensive which nearly collapsed German defenses in southern Russia. History has recorded the many dramatic triumphs the Red Army achieved during the initial phases of this winter offensive, culminating with its rapid advance deep into the Donbas and Khar'kov regions in February 1943. It has also described the subsequent feats of German Field Marshall Erich von Manstein, who, tasked by his Fuhrer, Adolph Hitler, to restore German fortunes in southern Russia, skillfully orchestrated a counterstroke of his own that indeed restored stability to Germany's defenses in the East and paved the way for the climactic battle of Kursk in July 1943" -- Publisher description
The Battle of Kursk
by
David M Glantz
( Book )
11 editions published between
1999
and 2004 in
English
and held by 818 WorldCat member libraries worldwide
"Immense in scope, ferocious in nature, and epic in consequence, the Battle of Kursk witnessed (at Prokhorovka) one of the largest tank engagements in world history and led to staggering losses - including nearly 200,000 Soviet and 50,000 German casualties - within the first ten days of fighting. Going well beyond all previous accounts, David Glantz and Jonathan House now offer the definitive work on arguably the greatest battle of World War II."--Jacket
Zhukov's greatest defeat : the Red Army's epic disaster in Operation Mars, 1942
by
David M Glantz
( Book )
11 editions published between
1999
and 2005 in
English
and held by 646 WorldCat member libraries worldwide
"Illuminating the painful progress of Operation Mars with vivid battle scenes and numerous maps and illustrations, Glantz presents Mars as a major failure of Zhukov's renowned command. Yet, both during and after the war, that failure was masked from public view by the successful Stalingrad operation, thus eliminating any stain from Zhukov's public image as a hero of the Great Patriotic War." "For three grueling weeks, Operation Mars was one of the most tragic and agonizing episodes in Soviet military history. Glantz's reconstruction of that failed offensive fills a major gap in our knowledge of World War II, even as it raises important questions about the reputations of national military heroes."--Jacket
Colossus reborn : the Red Army at war : 1941-1943
by
David M Glantz
( Book )
8 editions published in
2005
in
English
and held by 639 WorldCat member libraries worldwide
"Beyond the battles themselves, Glantz also presents an in-depth portrait of the Red Army as an evolving military institution. Assessing more clearly than ever before the army's size, strength, and force structure, he provides keen insights into its doctrine, strategy, tactics, weaponry, training, officer corps, and political leadership. In the process, be puts a human face on the Red Army's commanders and soldiers, including women and those who served in units - security (NKVD), engineer, railroad, auto-transport, construction, and penal forces - that have till now remained poorly understood."--Jacket
The battle for Leningrad : 1941-1944
by
David Glantz
( Book )
12 editions published between
2002
and 2018 in
English
and
Spanish
and held by 580 WorldCat member libraries worldwide
"One of the first major Soviet cities threatened by the German blitzkrieg, Leningrad was as much a symbolic target as it was a strategic one for Adolf Hitler, who fully expected the birthplace of the Russian Revolution to be reduced to rubble quickly and with ease. The Red Army's ferocious defense of the city, however, made that impossible." "Glantz digs deep to recount the full story of how these two military giants bludgeoned each other for nearly three years with a relentless barrage of offensives and counteroffensives designed to crush one another, in horrendous weather and a harsh terrain and with staggering loss of life on both sides. His richly detailed history shows how battles and campaigns were conceived, engaged, and resolved - including a half dozen or more "forgotten battles" that took place during the blockade." "Glantz also provides insights into conditions within the city, adding new details to the horrors of the siege; sheds new light on partisan warfare in the countryside surrounding Leningrad; and corrects errors found in earlier works, revealing among other things the fate of those Soviet commanders who were purged or repressed because of their poor performance in battle."--Jacket
August storm : the Soviet 1945 strategic offensive in Manchuria
by
David M Glantz
( Book )
6 editions published between
1983
and 1984 in
English
and held by 578 WorldCat member libraries worldwide
Shortly after midnight on 9 August 1945, assault parties of Soviet troops crossed the Soviet-Manchurian border and attacked Japanese positions in Manchuria. Thus began one of the most significant campaigns of World War II. Because of the combination of Soviet victories in the west and Japanese defeats in the Pacific, the potential for Japanese attack on the Soviet Far East diminished. Conversely, as allied victory over Germany approached in 1945, Allied leaders continued to press Stalin to commit his forces against Japan in order to complete the destruction of the Axis combination. Concentrating on Soviet ground operations in Manchuria proper, this study provides general information on the strategic context of the campaign, a detailed account of the operational techniques of armies, corps, and divisions, and the tactical employment of regiments, brigades, and lower echelon units. It also includes information concerning initial planning for the operation, redeployment of forces, high level organization for combat, and the essentials of front planning. It analyzes Soviet force structure and the published tactical doctrine governing the use of those forces in 1945, highlighting the tactical innovations and demonstrating the adjustments in force structure that contributed to Soviet victory
Stumbling colossus : the Red Army on the eve of World War
by
David M Glantz
( Book )
8 editions published in
1998
in
English
and held by 537 WorldCat member libraries worldwide
Drawing on evidence never before seen in the West, including combat records of early engagements, David Glantz claims that in 1941 the Red Army was poorly trained, inadequately equipped, ineptly organized, and consequently incapable of engaging in large-scale military campaigns - and both Hitler and Stalin knew it. He provides a complete and convincing study of why the Soviets almost lost the war that summer, dispelling many of the myths about the Red Army that have persisted since the war and soundly refuting Viktor Suvorov's controversial thesis that Stalin was planning a preemptive strike against Germany
more
fewer
Audience Level
0

1
Kids
General
Special
Audience level: 0.32 (from 0.01 for Barbarossa ... to 0.57 for Soviet mil ...)
Associated Subjects
Armed Forces
Armed Forces--Airborne troops
Armed Forces--Parachute troops
China--Manchuria
Command of troops
Communications, Military
Eastern Front (World War (1914-1918))
Eastern Front (World War (1939-1945))
German Occupation of Soviet Union (1941-1944)
Germany
Germany.--Heer
Guerrillas
Hitler, Adolf,
Kursk, Battle of (Russia : 1943)
Marshals
Military art and science
Military campaigns
Military intelligence
Military operations, Aerial--Russian
Military operations, Aerial--Soviet
Operation Citadel
Romania
Russia
Russia (Federation)
Russia (Federation)--Saint Petersburg
Russia (Federation)--Smolensk
Russia (Federation)--Volgograd
Siege of Saint Petersburg (Russia : 1941-1944)
Smolensk, 1st Battle of (Russia : 1941)
Soviet Union
Soviet Union.--Raboche-Krestʹi︠a︡nskai︠a︡ Krasnai︠a︡ Armii︠a︡
Stalingrad, Battle of (Volgograd, Russia : 1942-1943)
Strategic aspects of individual places
Strategy
Tank warfare
Ukraine
Underground movements, War
World War (1914-1918)
World War (1939-1945)
Zhukov, Georgiĭ Konstantinovich,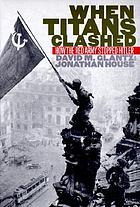 Covers
Alternative Names
David Glantz American military historian

David Glantz Amerikaans militair historicus

David Glantz militaire et historien américain

David M. Glantz US-amerikanischer Militärhistoriker

Glanc, D.

Glanc, Dèvid.

Glanc, Dėvid 1942-

Glanc, Dėvid M. 1942-

Glant︠s︡, Dėvid

Glantz, David 1942-

Glanzs, Devid 1942-

Гланц Дэвид

Дэвид Гланц

Дэвид Гланц американский военный историк

글랜츠, 데이비드 M

グランツ, デビッド M

大衛·葛蘭茲

Languages