Noble, David F.
Most widely held works about David F Noble
Most widely held works by David F Noble
The religion of technology : the divinity of man and the spirit of invention
by
David F Noble
( Book )
27 editions published between
1997
and 2017 in
English
and
Polish
and held by 1,061 WorldCat member libraries worldwide
Arguing against the widely held belief that technology and religion are at war with each other, David F. Noble's groundbreaking book reveals the religious roots and spirit of Western technology. It links the technological enthusiasms of the present day with the ancient and enduring Christian expectation of recovering humankind's lost divinity. Covering a period of a thousand years, Noble traces the evolution of the Western idea of technological development from the ninth century, when the useful arts became connected to the concept of redemption, up to the twentieth, when humans began to exercise God-like knowledge and powers. Noble describes how technological advance accelerated at the very point when it was invested with spiritual significance. By examining the imaginings of monks, explorers, magi, scientists, Freemasons, and engineers, this historical account brings to light an other-worldly inspiration behind the apparently worldly endeavors by which we habitually define Western civilization. Thus we see that Isaac Newton devoted his lifetime to the interpretation of prophecy. Joseph Priestley was the discoverer of oxygen and a founder of Unitarianism. Freemasons were early advocates of industrialization and the fathers of the engineering profession. Wernher von Braun saw spaceflight as a millenarian new beginning for humankind. The narrative moves into our own time through the technological enterprises of the last half of the twentieth century: nuclear weapons, manned space exploration, Artificial Intelligence, and genetic engineering. Here the book suggests that the convergence of technology and religion has outlived its usefulness, that though it once contributed to human well-being, it has now become a threat to our survival. Viewed at the dawn of the new millennium, the technological means upon which we have come to rely for the preservation and enlargement of our lives betray an increasing impatience with life and a disdainful disregard for mortal needs. David F. Noble thus contends that we must collectively strive to disabuse ourselves of the inherited religion of technology and begin rigorously to re-examine our enchantment with unregulated technological advance
A world without women : the Christian clerical culture of Western science
by
David F Noble
( Book )
31 editions published between
1992
and 2013 in 3 languages and held by 1,038 WorldCat member libraries worldwide
In this groundbreaking work of history, David Noble examines the origins and implications of the masculine culture of Western science and technology. He begins by asking why women have figured so little in the development of science, and then proceeds--in a fascinating and radical analysis--to trace their absence to a deep-rooted legacy of the male-dominated Western religious community. He shows how over the last thousand years science and the practices and institutions of higher learning were dominated by Christian clerics, whose ascetic culture from the late medieval period militated against the inclusion of women in scientific enterprise. He further demonstrates how the attitudes that took hold then remained more or less intact through the Reformation, and still subtly permeate our thinking despite the secularization of learning. Noble also describes how during the first millennium and after, women at times gained amazingly broad intellectual freedom and participated both in clerical activities and in scholarly pursuits. But, as Noble shows, these episodic forays occurred only in the wake of anticlerical movements within the church and without. He suggests finally an impulse toward "defeminization" at the core of the modern scientific and technological enterprise as it works to wrest from one-half of humanity its part in production (the Industrial Revolution's male appropriation of labor) and reproduction (the millennium-old quest for the artificial womb). An important book that profoundly examines how the culture of Western science came to be a world without women
America by design : science, technology, and the rise of corporate capitalism
by
David F Noble
( Book )
3 editions published between
1977
and 1979 in
English
and held by 908 WorldCat member libraries worldwide
Oxford University Press paperback. Includes bibliographical references and index. pt. 1: Technology as social production. The wedding of science to the useful arts--1: The rise of science-based industry. The wedding of science to the useful arts--2: The development of technical education. The wedding of science to the useful arts--3: The emergence of the professional engineer. Preservation through change: Corporate engineers and social reform -- pt. 2: Corporate reform as conscious social production. Laying the foundation: Scientific and industrial standardization. The corporation as inventor: Patent-law reform and patent monoply. Science for industry: The organization of industrial and university research. Technology as people: The industrial process of higher education --1. Technology as people: The industrial process of higher education--2. A technology of social production: Modern management and the expansion of engineering. * dss 20081210
Digital diploma mills : the automation of higher education
by
David F Noble
( Book )
16 editions published between
2001
and 2004 in
English
and held by 667 WorldCat member libraries worldwide
"Is the Internet the springboard which will take universities into a new age, or a threat to their existence? Will dotcom degrees create new opportunities for those previously excluded, or lead them into a digital dead-end? From UCLA to Columbia, digital technologies have brought about rapid and sweeping changes in the life of the university--changes which will have momentous effects in the decade ahead. In the first book-length analysis of the meaning of the Internet for the future of higher education, David Noble cuts through the rhetorical claims that these developments will bring benefits for all. His analysis shows how university teachers are losing control over what they teach, how they teach and for what purpose. It shows how erosion of their intellectual property rights makes academic employment ever less secure. The academic workforce is reconfigured as administrators claim ownership of the course-designs and teaching materials developed by faculty, and try to lower labor costs in the marketing and delivery of courses. Rather than new opportunities for students the online university represents new opportunities for investors to profit while shifting the burden of paying for education from the public purse to the individual consumer--who increasingly has to work long hours at poorly-paid jobs in order to afford the privilege. And this transformation of higher education is often brought about through secretive agreements between corporations and universities--including many which rely on public funding. Noble locates recent developments within a longer-term historical perspective, drawing out parallels between Internet education and the correspondence course movement of the early decades of the 20th century. This timely work by the foremost commentator of the social meaning of digital education is essential reading for all who are concerned with the future of the academic enterprise." -- Publisher's description
Progress without people : new technology, unemployment, and the message of resistance
by
David F Noble
( Book )
13 editions published between
1995
and 2016 in
English
and
French
and held by 326 WorldCat member libraries worldwide
La 4ème de couv. indique : "Avant toute chose, les nouvelles technologies ont servi aux patrons à licencier leurs employés, à réduire leurs coûts de main-d'oeuvre, à délocaliser. De l'usine à l'exploitation agricole, de la raffinerie aux bureaux, aucune profession n'a échappé à l'offensive. Pourtant, toujours pas de révolte, d'exigence de protection, de résistance. Quel contraste avec la première révolution industrielle, qui a terrassé un nombre incalculable de personnes mais suscita une résistance farouche et finit par déboucher sur le mouvement ouvrier et son corollaire, la législation sociale progressiste. Aujourd'hui, ces acquis ne cessent de s'éroder à mesure que les syndicats s'affaiblissent et que les programmes sociaux destinés à nous protéger des violences du marché sont démantelés. Pourquoi une telle passivité? Pourquoi une telle déférence pour le marché, une telle révérence pour la technologie? Ce qui nous paralyse, ce sont notamment les concepts dont nous avons hérité, comme celui d'un progrès technologique nécessaire et bénéfique ; et l'idée que la compétitivité, fondée sur ces technologies, serait la voie la plus sûre vers la prospérité et le bien-être."
Beyond the promised land : the movement and the myth
by
David F Noble
( Book )
8 editions published between
2000
and 2008 in
English
and held by 213 WorldCat member libraries worldwide
Traces the evolution and eclipse of the biblical mythology of the Promised Land, the foundational story of Western Culture, and brings into focus the template of the Western imagination and its faith-based market economy. From the first recorded versions of "the promise" saga in ancient Babylon, to the Zapatistas' rejection of promises never kept, Noble explores the connections between Judeo-Christian belief and corporate globalization. - from publisher information
more
fewer
Audience Level
0

1
Kids
General
Special
Audience level: 0.42 (from 0.34 for A world wi ... to 0.97 for Progettare ...)
Related Identities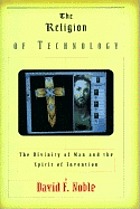 Covers
Alternative Names
David F. Noble Amerikaans techniekhistoricus (1945-2010)

David F. Noble historiador estadounidense

David F. Noble historiador estatunidenc

David F. Noble historien américain

David F. Noble US-amerikanischer Technologie-, Wissenschafts- und Bildungshistoriker

David Franklin Noble

David Franklin Noble historiador estadounidense

Noble, D. F 1945-2010

Noble, David F.

Noble, David F. 1945-2010

Noble, David F. (David Franklin), 1945-2010

Noble, David Franklin.

Noble, David Franklin 1945-

Noble, David Franklin 1945-2010

노블, 데이비드 1945-2010

노블, 데이비드 F. 1945-2010

ノ-ブル, デ-ビッド F. 1945-2010

ノーブル, デービッド・F

大衛·F·奴布

Languages