Lepowsky, J. (James)
Most widely held works about J Lepowsky
Lie algebras, vertex operator algebras, and related topics : a conference in honor of J. Lepowsky and R. Wilson on Lie algebras, vertex operator algebras, and related topics, August 14-18, 2015, University of Notre Dame, Notre Dame, IN

by Vertex Operator Algebras, and Related Topics Conference in Honor of J. Lepowsky and R. Wilson on Lie Algebras

( )
Most widely held works by J Lepowsky
Vertex operator algebras and the Monster
by
Igor Frenkel
( Book )
19 editions published between
1988
and 2014 in
English
and held by 634 WorldCat member libraries worldwide
This work is motivated by and develops connections between several branches of mathematics and physics--the theories of Lie algebras, finite groups and modular functions in mathematics, and string theory in physics. The first part of the book presents a new mathematical theory of vertex operator algebras, the algebraic counterpart of two-dimensional holomorphic conformal quantum field theory. The remaining part constructs the Monster finite simple group as the automorphism group of a very special vertex operator algebra, called the "moonshine module" because of its relevance to "monstrous moonshine."
Generalized vertex algebras and relative vertex operators
by
Chongying Dong
( Book )
12 editions published in
1993
in
English
and held by 378 WorldCat member libraries worldwide
The rapidly-evolving theory of vertex operator algebras provides deep insight into many important algebraic structures. Vertex operator algebras can be viewed as "complex analogues" of both Lie algebras and associative algebras. They are mathematically precise counterparts of what are known in physics as chiral algebras, and in particular, they are intimately related to string theory and conformal field theory. Dong and Lepowsky have generalized the theory of vertex operator algebras in a systematic way at three successively more general levels, all of which incorporate one-dimensional braid groups representations intrinsically into the algebraic structure: First, the notion of "generalized vertex operator algebra" incorporates such structures as Z-algebras, parafermion algebras, and vertex operator superalgebras. Next, what they term "generalized vertex algebras" further encompass the algebras of vertex operators associated with rational lattices. Finally, the most general of the three notions, that of "abelian intertwining algebra," also illuminates the theory of intertwining operator for certain classes of vertex operator algebras. The monograph is written in a n accessible and self-contained manner, with detailed proofs and with many examples interwoven through the axiomatic treatment as motivation and applications. It will be useful for research mathematicians and theoretical physicists working the such fields as representation theory and algebraic structure sand will provide the basis for a number of graduate courses and seminars on these and related topics
Vertex operators in mathematics and physics : proceedings of a conference, November 10-17, 1983
by
J Lepowsky
( Book )
21 editions published in
1985
in
English
and held by 375 WorldCat member libraries worldwide
James Lepowsky t The search for symmetry in nature has for a long time provided representation theory with perhaps its chief motivation. According to the standard approach of Lie theory, one looks for infinitesimal symmetry -- Lie algebras of operators or concrete realizations of abstract Lie algebras. A central theme in this volume is the construction of affine Lie algebras using formal differential operators called vertex operators, which originally appeared in the dual-string theory. Since the precise description of vertex operators, in both mathematical and physical settings, requires a fair amount of notation, we do not attempt it in this introduction. Instead we refer the reader to the papers of Mandelstam, Goddard-Olive, Lepowsky-Wilson and Frenkel-Lepowsky-Meurman. We have tried to maintain consistency of terminology and to some extent notation in the articles herein. To help the reader we shall review some of the terminology. We also thought it might be useful to supplement an earlier fairly detailed exposition of ours [37] with a brief historical account of vertex operators in mathematics and their connection with affine algebras. Since we were involved in the development of the subject, the reader should be advised that what follows reflects our own understanding. For another view, see [29].1 t Partially supported by the National Science Foundation through the Mathematical Sciences Research Institute and NSF Grant MCS 83-01664. 1 We would like to thank Igor Frenkel for his valuable comments on the first draft of this introduction
Introduction to vertex operator algebras and their representations
by
J Lepowsky
( Book )
13 editions published between
2004
and 2010 in
English
and held by 330 WorldCat member libraries worldwide
"Requiring only a familiarity with basic algebra, Introduction to Vertex Operator Algebras and Their Representations will be useful for graduate students and researchers in mathematics and physics. The book's self-contained presentation of the core topics will equip readers to embark on many active research direction related to vertex operator algebras, group theory, representation theory, and string theory."--Jacket
On axiomatic approaches to vertex operator algebras and modules
by
Igor Frenkel
( Book )
14 editions published between
1993
and 2014 in
English
and
Italian
and held by 304 WorldCat member libraries worldwide
The basic definitions and properties of vertex operator algebras, modules, intertwining operators and related concepts are presented, following a fundamental analogy with Lie algebra theory. The first steps in the development of the general theory are taken, and various natural and useful reformulations of the axioms are given. In particular, tensor products of algebras and modules, adjoint vertex operators and contragradient modules, adjoint intertwining operators and fusion rules are studied in greater depth. This paper lays the monodromy-free axiomatic foundation of the general theory of vertex operator algebras, modules and intertwining operators
The Gelfand mathematical seminars : 1990-1992
by
I. M Gelʹfand
( )
23 editions published between
1993
and 1996 in 3 languages and held by 298 WorldCat member libraries worldwide
This Seminar began in Moscow in November 1943 and has continued without interruption up to the present. We are happy that with this vol ume, Birkhiiuser has begun to publish papers of talks from the Seminar. It was, unfortunately, difficult to organize their publication before 1990. Since 1990, most of the talks have taken place at Rutgers University in New Brunswick, New Jersey. Parallel seminars were also held in Moscow, and during July, 1992, at IRES in Bures-sur-Yvette, France. Speakers were invited to submit papers in their own style, and to elaborate on what they discussed in the Seminar. We hope that readers will find the diversity of styles appealing, and recognize that to some extent this reflects the diversity of styles in a mathematical society. The principal aim was to have interesting talks, even if the topic was not especially popular at the time. The papers listed in the Table of Contents reflect some of the rich variety of ideas presented in the Seminar. Not all the speakers submit ted papers. Among the interesting talks that influenced the seminar in an important way, let us mention, for example, that of R. Langlands on per colation theory and those of J. Conway and J. McKay on sporadic groups. In addition, there were many extemporaneous talks as well as short discus sions
more
fewer
Audience Level
0

1
Kids
General
Special
Audience level: 0.58 (from 0.18 for Moonshine ... to 0.93 for Structure ...)
Related Identities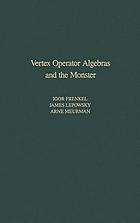 Covers
Alternative Names
James Ivan Lepowsky US-amerikanischer Mathematiker

James Lepowsky Amerikaans wiskundige

James Lepowsky amerikansk matematikar

James Lepowsky amerikansk matematiker

James Lepowsky matemàtic estatunidenc

James Lepowsky matemático estadounidense

James Lepowsky matematico statunitense

James Lepowsky mathématicien américain

Lepowsky, J.

Lepowsky, J. 1944-

Lepowsky, James

Lepowsky, James I. 1944-

Lepowsky, James Ivan 1944-

ジェームズ・レポウスキー

詹姆斯·雷保斯基

Languages