Goscilo, Helena 1945-
Most widely held works by Helena Goscilo
Russia--women--culture
by
Helena Goscilo
( )
15 editions published between
1996
and 1999 in
English
and
Undetermined
and held by 2,280 WorldCat member libraries worldwide
Een aantal essays over de culturele bijdrage die Russische vrouwen geleverd hebben aan de Russische beschaving. De volgende bijdragen zijn opgenomen: The second fantasy mother, or all baths are women's baths / door Nancy Condee; Keeping a-breast of the waist-land: women's fashion in early-nineteenth-century Russia / door Helena Goscilo; Female fashion, Soviet style: bodies of ideology / door Ol'ga Vainshtein; Getting under their skin: the beauty salon in Russian women's lives / door Nadezhda Azhgikhina en Helena Goscilo; Domestic porkbarreling in nineteenth-century Russia, or who holds the keys to the larder / door Darra Goldstein; The ritual fabrics of Russian village women / door Mary B. Kelly; Dirty women: cultural connotations of cleanliness in Soviet Russia / door Nadya L. Peterson; Women on the verge of new language: Russian salon hostesses in the first half of the nineteenth century / door Lina Bernstein; Stepping out/going under: women Russia's twentieth-century salons / door Beth Holmgren; Pleasure, danger, and the dance: nineteenth-century Russian variations / door Stephanie Sandler; "The incomparable" Anastasiia Vial'tsva and the culture of personality / door Louise McReynolds; Flirting with words: domestic albums, 1770-1840 / Gitta Hammarberg; Gendering the icon: marketing women writers in fin-de-siècle Russia / door Beth Holmgren; Domestic crafts and creative freedom: Russian women's art / door Alison Hilton
Cinepaternity : fathers and sons in Soviet and post-Soviet film
by
Yana Hashamova
( )
14 editions published in
2010
in
English
and held by 1,737 WorldCat member libraries worldwide
This wide-ranging collection investigates the father/son dynamic in post-Stalinist Soviet cinema and its Russian successor. Contributors analyze complex patterns of identification, disavowal, and displacement in films by such diverse directors as Khutsiev, Motyl', Tarkovsky, Balabanov, Sokurov, Todorovskii, Mashkov, and Bekmambetov. Several chapters focus on the difficulties of fulfilling the paternal function, while others show how vertical and horizontal male bonds are repeatedly strained by the pressure of redefining an embattled masculinity in a shifting political landscape
Fruits of her plume : essays on contemporary Russian woman's culture
by
Helena Goscilo
( )
14 editions published between
1993
and 2015 in
English
and held by 1,562 WorldCat member libraries worldwide
The 1980s witnessed the ascendency of Russian women in multiple spheres of artistic creation, including literature, film, and painting. This volume may thus be said to engage not only women's artistic production but, indeed, the best and most colourful of recent Russian culture. Treating contemporary Russian women's creativity, it approaches women's texts, films, and canvasses from a range of perspectives, from anti-gendered to feminist. Some of the essays introduce writers not previously well studied, others challenge conventional interpretations and assumptions, while still others yield orig
Embracing arms : cultural representation of Slavic and Balkan women in war
by
Yana Hashamova
( )
12 editions published in
2012
in
English
and held by 1,283 WorldCat member libraries worldwide
Discursive practices during war polarize and politicize gender: they normally require men to fulfill a single, overriding task destroy the enemy but impose a series of often contradictory expectations on women. The essays in the book establish links between political ideology, history, psychology, cultural studies, cinema, literature, and gender studies and addresses questions such as what is the role of women in war or military conflicts beyond the well-studied victimization? Can the often contradictory expectations of women and their traditional roles be (re)thought and (re)constructed? How do cultural representations of women during war times reveal conflicting desires and poke holes in the ideological apparatus of the state and society?
Baba Yaga : the wild witch of the East in Russian fairy tales
by
Sibelan E. S Forrester
( )
12 editions published in
2013
in
English
and held by 926 WorldCat member libraries worldwide
Collection of twenty-nine fairy tales featuring Baba Yaga that draws from the famous collection of Aleksandr Afanas'ev, but also includes some tales from the lesser-known nineteenth-century collection of Ivan Khudiakov, along with images that show how artists have imagined her for over more than two centuries
Glasnost : an anthology of Russian literature under Gorbachev
( Book )
11 editions published between
1990
and 2014 in
English
and held by 750 WorldCat member libraries worldwide
This volume brings together the best writers (many of whom are making their debut in English) of the new Russian literary renaissance in the largest anthology available of works published during tire last three years in the Soviet Union. The ten writers included here are stars of the current literary scene and their works have evoked both praise and controversy, often provoking charges of excessive naturalism and pessimism. These stories illuminate new worlds for both the Russian and Western reader, as previously forbidden material is explored in works of real literary merit. Included are biographical sketches and an extensive introduction examining the new trends in Russian literature under Gorbachev
Encyclopedia of contemporary Russian culture
by
Tatiana Smorodinskaya
( Book )
11 editions published between
2006
and 2007 in
English
and held by 492 WorldCat member libraries worldwide
"This addition to the highly successful Contemporary Cultures series covers the period from 1953, with the death of Stalin, to the present day. Both 'Russian' and 'Culture' are defined broadly. 'Russian' refers to the Soviet Union until 1991 and the Russian Federation after 1991. Given the diversity of the Federation in its ethnic composition and regional characteristics, questions of national, regional, and ethnic identity are given special attention. There is also coverage of Russian-speaking immigrant communities. 'Culture' embraces all aspects of culture and lifestyle, high and popular, artistic and material: art, fashion, literature, music, cooking, transport, politics and economics, film, crime - all, and much else, are covered, in order to give as full a picture as possible of the Russian way of life and the experience throughout the extraordinary changes undergone since the middle of the twentieth century." "The Encyclopedia of Contemporary Russian Culture is a resource on recent and contemporary Russian culture and history for students, teachers and researchers across the disciplines. Entries include extensive cross-references and the longer entries carry short bibliographies. There is a full index."--Jacket
Lives in transit : a collection of recent Russian women's writing
by
Helena Goscilo
( Book )
5 editions published in
1995
in
English
and held by 463 WorldCat member libraries worldwide
A collection of recent poems and stories by Russian women writers. In Liudmila Ulitskaia's Gulia, a woman lures a younger man into having an affair, while Galina Shcherbakova's Uncle Khlor and Koriakin is on a family triangle involving a girl, her real father and her stepfather
more
fewer
Audience Level
0

1
Kids
General
Special
Audience level: 0.22 (from 0.04 for Cinepatern ... to 0.59 for The explos ...)
Related Identities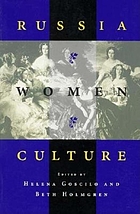 Covers
Alternative Names
Goščilo, E.

Goščilo, E. 1945-

Goščilo, Elena

Goščilo, Elena 1945-

Goscilo, Helena Irina 1945-

Goshchilo, E. 1945-

Goshchilo, E. (Elena), 1945-

Goshchilo, Elena 1945-

Goŝilo, E.

Goŝilo, Elena.

Гощило, Е 1945-

Гощило, Е. (Елена), 1945-

Гощило, Елена 1945-

Languages