Baumeister, Roy F.
Most widely held works about Roy F Baumeister
Most widely held works by Roy F Baumeister
Willpower : rediscovering the greatest human strength
by
Roy F Baumeister
( Book )
34 editions published between
2011
and 2017 in 4 languages and held by 2,059 WorldCat member libraries worldwide
The authors review the latest research to report key findings on willpower and offer practical advice for increasing it
Evil : inside human cruelty and violence
by
Roy F Baumeister
( Book )
16 editions published between
1996
and 2001 in
English
and held by 1,212 WorldCat member libraries worldwide
"Integrating evidence from psychology, criminology, sociology, history, anthropology, and other disciplines to provide insight into the roots of cruelty and violence, Baumeister finds vivid examples, both historical and modern, that address compelling human issues: How do "ordinary" people find themselves beating their wives? Murdering rival gang members? Torturing political prisoners? Betraying their colleagues to the secret police? Why do cycles of revenge so often escalate? With an examination of our culture's myths about evil, the book progresses through the "whys" of evil toward a discussion of a paradox in human psychology - our tendency toward guilt, a natural mechanism that suppresses evil, and our inclination toward ambivalence, a feeling that enables evil to flourish." "Baumeister casts new light on these issues as he examines the gap between the victim's viewpoint and that of the perpetrator, and also explores various elements behind evil, from egotism and revenge to idealism and sadism. A fascinating study of one of humankind's oldest problems, Evil has profound implications for the way we conduct our lives and govern our society."--Jacket
Handbook of self-regulation : research, theory, and applications
by
Roy F Baumeister
( Book )
49 editions published between
2004
and 2016 in
English
and
German
and held by 1,197 WorldCat member libraries worldwide
Publisher's description: Bringing together a stellar array of self-regulation researchers, this comprehensive and authoritative handbook addresses the breadth of current theories, findings, and practical applications in the field. Examined are the conscious and nonconscious processes by which people regulate their thoughts, emotions, attention, impulses or appetites, and task performances; the developmental trajectories of these capacities; and implications for personal relationships, addictions, consumption, and mental health. The ways individuals differ in their basic abilities and styles of self-control are considered, as are strategies for enhancing functioning in this area. Offering cutting-edge coverage of a key dimension of human experience, the Handbook also identifies important questions for future investigation
Self-esteem : the puzzle of low self-regard
by
Roy F Baumeister
( Book )
13 editions published in
1993
in
English
and held by 986 WorldCat member libraries worldwide
Summarizing and integrating the major empirical research of the past twenty years, this volume presents a thorough review of the subject, with a special focus on what sets people with low self-esteem apart from others. As the subject is central to the understanding of personality, mental health, and social adjustment, this work will be appreciated by professionals and advanced students in the fields of personality, social, clinical, and organizational psychology
Your own worst enemy : understanding the paradox of self-defeating behavior
by
Steven Berglas
( Book )
4 editions published in
1993
in
English
and held by 790 WorldCat member libraries worldwide
"From Ivan Boesky to John Belushi, from Mike Tyson to Gary Hart, the world is full of those who have had it all and have blown it. And every day, all around us, we see people sabotaging their own goals - by using alcohol or drugs, or by staying in terrible relationships. Why do they do it?" "Your Own Worst Enemy provides a probing look at what lies beneath our surprising inclination to seize defeat from the jaws of victory. The book reveals the intricate gamesmanship behind self-defeat - including self-handicapping, trade-offs, and Pyrrhic revenge - and shows what forces fuel self-destructive urges, how people become vulnerable to them, and how to minimize their ill effects." "The authors challenge the conventional psychological wisdom that self-destructive behavior comes from unconscious death wishes or oedipal taboos. Instead they argue that the reasons for self-defeat are far more complex, ranging from miscalculation in bargaining to obsession with others' opinions. They show how, ironically, a history of success can distort a person's ability to assess a situation and thereby cause him or her to self-destruct on the way to the top. They also argue that sometimes self-defeat can have strategic value, saving a person from a "success" he or she can't manage."--Jacket
Encyclopedia of social psychology
by
Roy F Baumeister
( Book )
29 editions published between
2007
and 2011 in
English
and
German
and held by 684 WorldCat member libraries worldwide
Contains entries arranged alphabetically from J to Z that provide information on ideas and concepts in the field of social psychology
Meanings of life
by
Roy F Baumeister
( Book )
10 editions published in
1991
in
English
and
Undetermined
and held by 649 WorldCat member libraries worldwide
Who among us has not at some point asked, what is the meaning of life?' In this extraordinary book, an eminent social scientist looks at the big picture and explores what empirical studies from diverse fields tell us about the human condition. MEANINGS OF LIFE draws together evidence from psychology, history, anthropology, and sociology, integrating copious research findings into a clear and conclusive discussion of how people attempt to make sense of their lives. In a lively and accessible style, emphasizing facts over theories, Baumeister explores why people desire meaning in their lives, how these meanings function, what forms they take, and what happens when life loses meaning. It is the most comprehensive examination of the topic to date
Losing control : how and why people fail at self-regulation
by
Roy F Baumeister
( Book )
16 editions published between
1994
and 2006 in
English
and held by 583 WorldCat member libraries worldwide
People the world over suffer from the inability to control their finances, their weight, their emotions, their craving for drugs, their sexual impulses, and more. The United States in particular is regarded by some observers as a society addicted to addiction. Therapy and support groups have proliferated not only for alcoholics and drug abusers but for all kinds of impulse control, from gambling to eating chocolate. Common to all of these disorders is a failure of self-regulation, otherwise known as "self-control."
The cultural animal : human nature, meaning, and social life
by
Roy F Baumeister
( Book )
20 editions published in
2005
in
English
and held by 545 WorldCat member libraries worldwide
"This book not only summarizes what we know about people - it also offers a coherent, easy-to-understand, though radical, explanation. Turning conventional wisdom on its head, Roy Baumeister argues that culture shaped human evolution. Contrary to theories that depict the individual's relation to society as one of victimization, endless malleability, or just a square peg in a round hole, his proposal states that the individual human being is designed by nature to be part of society. The Cultural Animal maintains that natural selection shaped the human psyche in two stages, the first for the sake of being social, and the second for the sake of being cultural. Being cultural is a step beyond being social. To be social is to have interactions and relationships, but to be cultural is to belong to a community of similar minds that collectively maintains, transmits, and accumulates information in its network. Moreover, Baumeister argues that we need to briefly set aside the endless study of cultural differences to look at what most cultures have in common - because that holds the key to human nature. Culture is in our genes, although cultural differences may not be."--Jacket
more
fewer
Audience Level
0

1
Kids
General
Special
Audience level: 0.30 (from 0.01 for Advanced s ... to 0.57 for Public sel ...)
Related Identities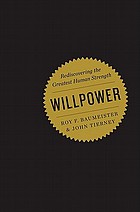 Alternative Names
Baumeister, R. F. 1953-

Baumeister, Roy.

Baumeister, Roy 1953-

Baumeister, Roy L. 1953-

Baumeisters, Rojs 1953-

Roy Baumeister Amerikaans psycholoog

Roy Baumeister US-amerikanischer Sozialpsychologe

روی بامستر استاد روانشناسی دانشگاه فلوریدا آمریکا. تخصص او روانشناسی اجتماعی است که با کارهایش در موضوعات خود، رد اجتماعی، وابستگی، روابط جنسی، خودکنترلی، عزت نفس، رفتارهای خودشکنانه، انگیزش، پرخاشگری، آگاهی و قدرت اراده شناخته شده است. .

바우마이스터, 로이 F. 1953-

バウマイスター, ロイ

ロイ・バウマイスター

羅伊·鮑邁斯特

Languages
Covers