Baumeister, Roy F.
Most widely held works about Roy F Baumeister
Most widely held works by Roy F Baumeister
Willpower : rediscovering the greatest human strength
by
Roy F Baumeister
( Book )
21 editions published between
2011
and 2017 in 3 languages and held by 2,093 WorldCat member libraries worldwide
The authors review the latest research to report key findings on willpower and offer practical advice for increasing it
Evil : inside human cruelty and violence
by
Roy F Baumeister
( Book )
18 editions published between
1996
and 2001 in
English
and held by 1,858 WorldCat member libraries worldwide
"Integrating evidence from psychology, criminology, sociology, history, anthropology, and other disciplines to provide insight into the roots of cruelty and violence, Baumeister finds vivid examples, both historical and modern, that address compelling human issues: How do "ordinary" people find themselves beating their wives? Murdering rival gang members? Torturing political prisoners? Betraying their colleagues to the secret police? Why do cycles of revenge so often escalate? With an examination of our culture's myths about evil, the book progresses through the "whys" of evil toward a discussion of a paradox in human psychology - our tendency toward guilt, a natural mechanism that suppresses evil, and our inclination toward ambivalence, a feeling that enables evil to flourish." "Baumeister casts new light on these issues as he examines the gap between the victim's viewpoint and that of the perpetrator, and also explores various elements behind evil, from egotism and revenge to idealism and sadism. A fascinating study of one of humankind's oldest problems, Evil has profound implications for the way we conduct our lives and govern our society."--Jacket
Is there anything good about men? : how cultures flourish by exploiting men
by
Roy F Baumeister
( )
10 editions published between
2010
and 2014 in
English
and held by 1,803 WorldCat member libraries worldwide
This book based on evidence from a wide range of disciplines, offers a new and far more balanced view of gender relations. Author Roy Baumeister offers provocative answers to many questions about the current state of manhood in America. He argues that relations between men and women are more cooperative than antagonistic, that men and women are different in basic ways, and that successful cultures capitalize on these differences to out perform rival cultures.--[book jacket]
Encyclopedia of social psychology
( )
9 editions published in
2007
in
English
and
German
and held by 1,794 WorldCat member libraries worldwide
"The Encyclopedia of Social Psychology is designed as a road map to this rapidly growing and important field and provides individuals with a simple, clear, jargon-free introduction. These two volumes include more than 600 entries chosen by a diverse team of experts to comprise an exhaustive list of the most important concepts. Entries provide brief, clear, and readable explanations to the vast number of ideas and concepts that make up the intellectual and scientific content in the area of social psychology."--pub. desc
Advanced social psychology : the state of the science
by
Roy F Baumeister
( )
16 editions published between
2010
and 2019 in
English
and held by 1,568 WorldCat member libraries worldwide
Social psychology is a flourishing discipline. It explores the most essential questions of the human psyche (e.g., Why do people help or harm others? How do influence professionals get us to do what they want, and how can we inoculate ourselves against their sometimes-insidious persuasion tactics? Why do social relationships exert such powerful effects on people's physical health?), and it does so with clever, ingenuitive research methods. This edited volume is a textbook for advanced social psychology courses. Its primary target audience is first-year graduate students (MA or PhD) in social p
The cultural animal : human nature, meaning, and social life
by
Roy F Baumeister
( )
21 editions published in
2005
in
English
and held by 1,443 WorldCat member libraries worldwide
"This book not only summarizes what we know about people - it also offers a coherent, easy-to-understand, though radical, explanation. Turning conventional wisdom on its head, Roy Baumeister argues that culture shaped human evolution. Contrary to theories that depict the individual's relation to society as one of victimization, endless malleability, or just a square peg in a round hole, his proposal states that the individual human being is designed by nature to be part of society. The Cultural Animal maintains that natural selection shaped the human psyche in two stages, the first for the sake of being social, and the second for the sake of being cultural. Being cultural is a step beyond being social. To be social is to have interactions and relationships, but to be cultural is to belong to a community of similar minds that collectively maintains, transmits, and accumulates information in its network. Moreover, Baumeister argues that we need to briefly set aside the endless study of cultural differences to look at what most cultures have in common - because that holds the key to human nature. Culture is in our genes, although cultural differences may not be."--Jacket
Handbook of self-regulation : research, theory, and applications
by
Roy F Baumeister
( Book )
57 editions published between
2004
and 2018 in
English
and
German
and held by 1,436 WorldCat member libraries worldwide
Publisher's description: Bringing together a stellar array of self-regulation researchers, this comprehensive and authoritative handbook addresses the breadth of current theories, findings, and practical applications in the field. Examined are the conscious and nonconscious processes by which people regulate their thoughts, emotions, attention, impulses or appetites, and task performances; the developmental trajectories of these capacities; and implications for personal relationships, addictions, consumption, and mental health. The ways individuals differ in their basic abilities and styles of self-control are considered, as are strategies for enhancing functioning in this area. Offering cutting-edge coverage of a key dimension of human experience, the Handbook also identifies important questions for future investigation
Do emotions help or hurt decision making? : a hedgefoxian perspective
by
George Loewenstein
( )
7 editions published in
2007
in
English
and held by 1,040 WorldCat member libraries worldwide
"Philosophers have long tussled over whether moral judgments are the products of logical reasoning or simply emotional reactions. From Jane Austen's Sense and Sensibility to the debates of modern psychologists, the question of whether feeling or sober rationality is the better guide to decision making has been a source of controversy. In Do Emotions Help or Hurt Decision Making? Kathleen D. Vohs, Roy F. Baumeister, and George Loewenstein lead a group of psychologists and economists in exploring the empirical evidence on how emotions shape judgments and choices." "Researchers on emotion and cognition have staked out many extreme positions: viewing emotions as either the driving force behind cognition or its side effect, either an impediment to sound judgment or a guide to wise decisions. The contributors to Do Emotions Help or Hurt Decision Making? provide a richer perspective, exploring the circumstances that shape whether emotions play a harmful or helpful role in decisions."--Jacket
Self-esteem : the puzzle of low self-regard
by
Roy F Baumeister
( Book )
14 editions published between
1993
and 2013 in
English
and held by 1,027 WorldCat member libraries worldwide
Summarizing and integrating the major empirical research of the past twenty years, this volume presents a thorough review of the subject, with a special focus on what sets people with low self-esteem apart from others. As the subject is central to the understanding of personality, mental health, and social adjustment, this work will be appreciated by professionals and advanced students in the fields of personality, social, clinical, and organizational psychology
more
fewer
Audience Level
0

1
Kids
General
Special
Audience level: 0.23 (from 0.02 for Advanced s ... to 0.56 for Public sel ...)
Related Identities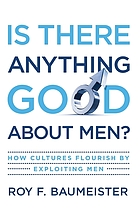 Covers
Alternative Names
Baumeister

Baumeister, R. F. 1953-

Baumeister, Roy.

Baumeister, Roy 1953-

Baumeister, Roy L. 1953-

Baumeisters, Rojs 1953-

Roy Baumeister Amerikaans psycholoog

Roy Baumeister psicólogo social

Roy Baumeister US-amerikanischer Sozialpsychologe

روی بامستر استاد روانشناسی دانشگاه فلوریدا آمریکا. تخصص او روانشناسی اجتماعی است که با کارهایش در موضوعات خود، رد اجتماعی، وابستگی، روابط جنسی، خودکنترلی، عزت نفس، رفتارهای خودشکنانه، انگیزش، پرخاشگری، آگاهی و قدرت اراده شناخته شده است. .

바우마이스터, 로이 F. 1953-

バウマイスター, ロイ

ロイ・バウマイスター

羅伊·鮑邁斯特

Languages