Mainwaring, Scott 1954-
Most widely held works about Scott Mainwaring
Most widely held works by Scott Mainwaring
Presidentialism and democracy in Latin America
( Book )
19 editions published between
1996
and 2003 in
English
and held by 702 WorldCat member libraries worldwide
Addressing the current debate regarding the liabilities and merits of presidential government, this work asks: does presidentialism make it less likely that democratic governments will be able to manage political conflict, as many prominent scholars have argued? With the unprecedented wave of transitions to democracy since the 1970s, this question has been hotly contested in political and intellectual circles all over the globe. The contributors to this volume examine variations among different presidential systems and sceptically view claims that presidentialism has added significantly to the problems of democratic governance and stability. The contributors argue that presidential systems vary in important ways, mostly according to the constitutional powers accorded to the president to affect legislation and the degree to which presidents parties control legislative majorities
Building democratic institutions : party systems in Latin America
( Book )
14 editions published between
1995
and 1996 in
English
and held by 498 WorldCat member libraries worldwide
This volume fills the need for a comprehensive, up-to-date portrait of parties and party systems in Latin America. It includes chapters on all the large and medium-sized countries, as well as those smaller countries with older democratic traditions: Argentina, Bolivia, Brazil, Chile, Colombia, Costa Rica, Ecuador, Mexico, Paraguay, Peru, Uruguay, and Venezuela. The book is framed by an Introduction that provides a theoretical and comparative conceptual map for charting Latin American party systems and a Conclusion that looks ahead to the challenges and trends for party building in the 1990's. The twelve country case studies address five analytical themes. First, though the primary focus is party politics since around 1980, each chapter explores the origins of party competition. The question of genesis is important not only in its own right, but also because the way parties and party systems originate frequently endows them with enduring features. Second, each chapter assesses the relative strength of parties as actors within the larger political system. In what ways are parties important or unimportant? If they are not leading actors within the political system, who are? Third, the authors investigate the relationship between major parties and the state, revealing the extent to which parties are dependent on state resources to maintain power and win votes. Fourth, the contributions assess the importance of different electoral regimes for shaping broader patterns of party competition. Finally, and most important, the authors characterize the nature of the party system in each country - how institutionalized it is and how it can be classified
Rethinking party systems in the third wave of democratization : the case of Brazil
by
Scott Mainwaring
( Book )
17 editions published between
1999
and 2001 in
English
and
Portuguese
and held by 410 WorldCat member libraries worldwide
This work attempts to understand democracy in Brazil. Theoretically, the author argues that most party systems in the third wave of democratization have distinctive features that require us to reformulate theories about party systems generally. He also argues that many third-wave cases underscore the need to focus on the capacity of the state and political elites to structure and restructure party systems from below. Empirically, the author studies the Brazilian party system and democratization. He underscores the weakness of the party system and the resulting problems of democratization. He reaffirms the central significance of parties in the face of widespread skepticism about their importance
Issues in democratic consolidation : the new South American democracies in comparative perspective
( Book )
11 editions published in
1992
in
English
and held by 403 WorldCat member libraries worldwide
Since 1974 there has been an unprecedented wave of democratization in the world. This trend has been particularly extensive in South America. But the problems confronting these new democracies are staggering, and the prospects for building consolidated democratic regimes are far from uniformly good. Focusing primarily on recent South American cases, Issues in Democratic Consolidation examines some of the difficulties of constructing consolidated democracies and provides a critical examination of the major issues involved. A prominent theme running through this collection is that the transitions from authoritative rule to civilian government may be arrested by political, economic, and social constraints. The articles contain analyses of the varied modalities and complex processes related to the transitions. The first transition begins with the initial stirrings of crisis under authoritarian rule that generate some form of political opening and greater respect for basic civil rights, and ends with the establishment of a government elected in an open, competitive contest. The volumes primary focus, however, is on the second transition, which begins with the inauguration of a democratic government and ends - if all goes well - with the establishment of a consolidated democratic regime
Democratic accountability in Latin America
by
Scott Mainwaring
( Book )
14 editions published between
2003
and 2005 in
English
and held by 298 WorldCat member libraries worldwide
This volume on democratic accountability addresses one of the burning issues on the agenda of policy makers and citizens in contemporary Latin America: how democratic leaders in Latin America can improve accountability while simultaneously promoting governmental effectiveness
Democratic governance in Latin America
by
Scott Mainwaring
( Book )
14 editions published between
2009
and 2010 in
English
and
Undetermined
and held by 297 WorldCat member libraries worldwide
Measuring success in democratic governance / Scott Mainwaring, Timothy R. Scully, and Jorge Vargas Cullell -- Economic growth in Latin America : from the disappointment of the twentieth century to the challenges of the twenty-first / José De Gregorio -- Does one size fit all in policy reform? : cross-national evidence and its implications for Latin America / Francisco Rodríguez -- More market or more state for Latin America? / Alejandro Foxley -- Social policy and democratic governance in Latin America / Evelyne Huber and John Stephens -- The rule of law as a governance issue : lessons from the prosecution of rights violations / Daniel Brinks -- Political institutions, populism, and democracy in Latin America / Patricio Navia and Ignacio Walker -- Democratic governance in Chile / Alan Angell -- Limits to Costa Rican heterodoxy : what has changed in "paradise"? / Mitchell Seligson and Juliana Martínez Franzoni -- Structural reform and governability : the Brazilian experience in the 1990s / Fernando Henrique Cardoso -- Democratic governance in Latin America : eleven lessons from recent experience / Scott Mainwaring and Timothy R. Scully -- Postscript : democratic governance in Latin America / José Miguel Insulza
The crisis of democratic representation in the Andes
by
Scott Mainwaring
( Book )
13 editions published in
2006
in
English
and held by 281 WorldCat member libraries worldwide
This volume analyses and explains the crisis of democratic representation in five Andean countries: Bolivia, Colombia Ecuador, Peru and Venezuela. It addresses an important question for Latin America as well as other parts of the world: why does representation sometimes fail to work?
Democracies and dictatorships in Latin America : emergence, survival, and fall
by
Scott Mainwaring
( Book )
14 editions published between
2013
and 2014 in
English
and held by 280 WorldCat member libraries worldwide
"This book presents a new theory for why political regimes emerge, and why they subsequently survive or break down. It then analyzes the emergence, survival, and fall of democracies and dictatorships in Latin America since 1900. Scott Mainwaring and Aníbal Pérez-Liñán argue for a theoretical approach situated between long-term structural and cultural explanations and short-term explanations that look at the decisions of specific leaders. They focus on the political preferences of powerful actors - the degree to which they embrace democracy as an intrinsically desirable end and their policy radicalism - to explain regime outcomes. They also demonstrate that transnational forces and influences are crucial to understand regional waves of democratization. Based on extensive research into the political histories of all twenty Latin American countries, this book offers the first extended analysis of regime emergence, survival, and failure for all of Latin America over a long period of time"--
more
fewer
Audience Level
0

1
Kids
General
Special
Audience level: 0.41 (from 0.03 for Democratic ... to 0.78 for A Igreja n ...)
Related Identities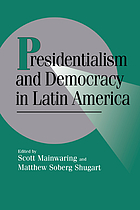 Alternative Names
Mainwaring, Scott 1954-

Mainwaring, Scott P.

Mainwaring, Scott P. 1954-

Mainwaring, Scott Patterson.

Languages
Covers