Eire, Carlos M. N.
Most widely held works about Carlos M. N Eire
more
fewer
Most widely held works by Carlos M. N Eire
A very brief history of eternity
by
Carlos M. N Eire
( Book )
20 editions published between
2009
and 2011 in
English
and held by 1,834 WorldCat member libraries worldwide
Eire traces the concept of eternity from ancient times to the present. He examines the rise and fall of five different conceptions of eternity, how they developed, and how they have helped shape individual and collective self-understanding
War against the idols : the reformation of worship from Erasmus to Calvin
by
Carlos M. N Eire
( Book )
29 editions published between
1986
and 2003 in
English
and held by 893 WorldCat member libraries worldwide
In the second decade of the sixteenth century medieval piety suddenly began to be attacked in some places as 'idolatry', or false religion. Wherever these ideas became accepted, churches were sacked, images smashed and burned, relics destroyed, and the Catholic Mass abolished. This study calls attention to the centrality of the idolatry issue for the Reformation. It traces the development of Protestant iconoclastic theology and practice, provides a survey and synthesis of its unfolding from Erasmus through Calvin, and lays a foundation for understanding the Reformed ideology that stood in conflict with Catholicism and Lutheranism. Professor Eire's main thesis is that the argument against 'idolatry' was central to Reformed Protestantism, both in its theological aspect and in its political ramifications, and that it reached its fullest and most enduring expression in Calvinism
Reformations : the early modern world, 1450-1650
by
Carlos M. N Eire
( Book )
15 editions published between
2015
and 2018 in
English
and held by 747 WorldCat member libraries worldwide
"This fast-paced survey of Western civilization's transition from the Middle Ages to modernity brings that tumultuous period vividly to life. Carlos Eire, popular professor and gifted writer, chronicles the two-hundred-year era of the Renaissance and Reformation with particular attention to issues that persist as concerns in the present day. Eire connects the Protestant and Catholic Reformations in new and profound ways, and he demonstrates convincingly that this crucial turning point in history not only affected people long gone, but continues to shape our world and define who we are today. The book focuses on the vast changes that took place in Western civilization between 1450 and 1650, from Gutenberg's printing press and the subsequent revolution in the spread of ideas to the close of the Thirty Years' War. Eire devotes equal attention to the various Protestant traditions and churches as well as to Catholicism, skepticism, and secularism, and he takes into account the expansion of European culture and religion into other lands, particularly the Americas and Asia. He also underscores how changes in religion transformed the Western secular world. Created with students and nonspecialists in mind, Reformations is an inspiring, provocative volume for any reader who is curious about the role of ideas and beliefs in history"--Jacket
From Madrid to purgatory : the art and craft of dying in sixteenth-century Spain
by
Carlos M. N Eire
( Book )
15 editions published between
1995
and 2002 in
English
and held by 473 WorldCat member libraries worldwide
"This is the first full-length study of Spanish attitudes toward death and the afterlife in the peak years of the Counter-Reformation. It contains an analysis of the death rituals requested in sixteenth-century Madrid testaments, as well as a detailed account of the ways in which the "good" deaths of King Philip II and St. Teresa of Avila were interpreted by contemporaries. Though focused on death, it also aims to analyze the ethos of Spanish Catholic piety and belief in an age of profound transformations. This is a history of mentalities that combines quantitative and qualitative methods and analyzes the symbiotic relation between beliefs and cultural structures. It is a study of the relation between popular piety and elite theology, between paradigms and deeds, myth and ritual, art and craft. Though concentrating exclusively on Spain, this study places the early modern Spanish mentality in the wider context of the European Reformation and Counter-Reformation and of Western attitudes toward death."--Jacket
A linking of heaven and earth : studies in religious and cultural history in honor of Carlos M.N. Eire
by
Scott K Taylor
( )
9 editions published between
2012
and 2016 in
English
and held by 299 WorldCat member libraries worldwide
Carlos M.N. Eire?s deeply innovative publications have helped to shape new fields of study of the Reformation, intertwining social, intellectual, cultural, and religious history to reveal how, lived beliefs had real and profound implications for social and political life in early modern Europe. Reflecting these themes, this volume celebrates the intellectual legacy of Carlos Eire's scholarship, applying his distinctive combination of cultural and religious history to new areas and topics
Jews, Christians, Muslims : a comparative introduction to monotheistic religions
by
John Corrigan
( Book )
6 editions published between
2011
and 2016 in
English
and held by 120 WorldCat member libraries worldwide
The second edition of Jews, Christians, Muslims: A Comparative Introduction to Monotheistic Religions, compares Judaism, Christianity, and Islam using seven common themes which are equally relevant to each tradition. Provoking critical thinking, this text addresses the cultural framework of religious meanings and explores the similarities and differences among Judaism, Christianity, and Islam as it explains the ongoing process of interpretation in each religion. The book is designed for courses in Western and World Religions
Waiting for snow in Havana : confessions of a Cuban boy
by
Carlos M. N Eire
( Book )
6 editions published in
2003
in
English
and held by 20 WorldCat member libraries worldwide
Publisher's description: In 1962, at the age of eleven, Carlos Eire was one of 14,000 children airlifted out of Cuba, his parents left behind. His life until then is the subject of Waiting for Snow in Havana, a wry, heartbreaking, intoxicatingly beautiful memoir of growing up in a privileged Havana household -- and of being exiled from his own childhood by the Cuban revolution. That childhood, until his world changes, is as joyous and troubled as any other -- but with exotic differences. Lizards roam the house and grounds. Fights aren't waged with snowballs but with breadfruit. The rich are outlandishly rich, like the eight-year-old son of a sugar baron who has a real miniature race car, or the neighbor with a private animal garden, complete with tiger. All this is bathed in sunlight and shades of turquoise and tangerine: the island of Cuba, says one of the stern monks at Carlos's school, might have been the original Paradise -- and it is tempting to believe. His father is a municipal judge and an obsessive collector of art and antiques, convinced that in a past life he was Louis XVI and that his wife was Marie Antoinette. His mother looks to the future conceived on a transatlantic liner bound for Cuba from Spain, she wants her children to be modern, which means embracing all things American. His older brother electrocutes lizards. Surrounded by eccentrics, in a home crammed with portraits of Jesus that speak to him in dreams and nightmares, Carlos searches for secret proofs of the existence of God. Then, in January 1959, President Batista is suddenly gone, a cigar-smoking guerrilla named Castro has taken his place, and Christmas is canceled. The echo of firing squads is everywhere. At the Aquarium of the Revolution, sharks multiply in a swimming pool. And one by one, the author's schoolmates begin to disappear -- spirited away to the United States. Carlos will end up there himself, alone, never to see his father again. Narrated with the urgency of a confession, Waiting for Snow in Havana is both an exorcism and an ode to a paradise lost. More than that, it captures the terrible beauty of those times in our lives when we are certain we have died -- and then are somehow, miraculously, reborn
Aspettando la neve all'Avana
by
Carlos M. N Eire
( Book )
2 editions published in
2008
in
Italian
and held by 19 WorldCat member libraries worldwide
Warten auf Schnee in Havanna : Bekenntnisse eines kubanischen Jungen
by
Carlos M. N Eire
( Book )
4 editions published between
2003
and 2005 in
German
and held by 19 WorldCat member libraries worldwide
Die privilegierte Kindheit eines Jungen aus der kubanischen Oberschicht findet ihr jähes Ende, als seine Eltern ihn 1962 aus Angst vor Fidel Castro in die USA schicken. Der in Havanna geborene Autor widmet sich in seinem umfangreichen autobiografischen Roman seiner behüteten Kindheit als Sohn eines Kunst liebenden Richters des alten Regimes und einer Mutter von aristokratischer spanischer Abstammung. Schwarzes Dienstpersonal samt Chauffeur mit Cadillac, übermütige Kinderstreiche und Erlebnisse in der exquisiten Privatschule bestimmen die Welt des verwöhnten Kindes. Anfang der 1960er-Jahre wurden bei der äOperation Peter Panä über 10000 kubanische Kinder ohne Begleitung in die USA ausgeflogen, weil ihre Eltern fürchteten, ihnen würden nach der Revolution ihre Kinder weggenommen, um in sozialistischen Heimen umerzogen zu werden. Unterhaltsames Porträt einer bewegten Zeit
more
fewer
Audience Level
0

1
Kids
General
Special
Audience level: 0.27 (from 0.17 for Waiting fo ... to 0.99 for Čekání ...)
Related Identities
Associated Subjects
Authors, American
Catholic Church
Christianity
Christianity and culture
Civilization, Western
Counter-Reformation
Cuba
Cuba--Havana
Cuban Americans
Danticat, Edwidge,
Death
Death--Religious aspects--Catholic Church--History of doctrines
Educators
Eire, Carlos M. N
Eternity--History of doctrines
Eugenides, Jeffrey
Europe
Families
Florida--Miami
Hijuelos, Oscar
Iconoclasm
Idolatry
Idols and images--Worship
Idols and images--Worship--History of doctrines
Illinois--Chicago
Interfaith relations
Islam
Judaism
Lahiri, Jhumpa
Manners and customs
McCourt, Frank
Monotheism
MP3 (Audio coding standard)
National Book Awards
Operation Pedro Pan
Protestantism
Public worship
Public worship--History of doctrines
Reformation
Reformation--Influence
Refugee children
Religion and politics
Religion and state
Renaissance
Revolution (Cuba : 1959)
Social conditions
Spain
Speeches, addresses, etc
Theology, Doctrinal
United States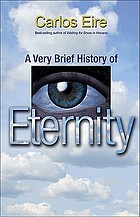 Alternative Names
Carlos Eire Amerikaans historicus

Carlos Eire historiador estadounidense

Carlos Eire historien américain

Carlos Eire pisarz amerykański

Carolus Eire

Eire, Carlos.

Eire, Carlos 1950-

Eire, Carlos M. 1950-

Eire, Carlos M. N.

Eire, Carlos M. N., 1950-

Eire, Carlos Mario Nieto 1950-

カルロス・アイル

Languages
Covers