Aizenman, Joshua
Most widely held works by Joshua Aizenman
Managing economic volatility and crises : a practitioner's guide
( Book )
15 editions published between
2005
and 2010 in
English
and held by 206 WorldCat member libraries worldwide
"Over the past ten years, economic volatility has come into its own after being treated for decades as a secondary phenomenon in the business cycle literature. This book organizes empirical and policy results for economists and development policy practitioners into four parts: basic features, including the impact of volatility on growth and poverty; commodity price volatility; the financial sector's dual role as an absorber and amplifier of shocks; and the management and prevention of macroeconomic crises. The latter section includes a cross-country study, ease studies on Argentina and Russia, and lessons from the debt default episodes of the 1980s and 1990s."--Jacket
Contagion, bank lending spreads, and output fluctuations
by
Pierre-Richard Agnor
( Book )
21 editions published between
1998
and 1999 in
English
and held by 139 WorldCat member libraries worldwide
A positive historical shock to external spreads can lead to an increase in domestic spreads and a reduction in the cyclical component of output. Shocks to external spreads immediately after the Mexican peso crisis had a sizable effect on movements in output and domestic interest rate spreads in Argentina
Financial sector inefficiencies and coordination failures : implications for crisis management
by
Pierre-Richard Agnor
( Book )
16 editions published in
1999
in
English
and held by 125 WorldCat member libraries worldwide
In a country where financial intermediation is highly inefficient (with the enforcement costs of loan contracts very high, for example), or in one experiencing great volatility and large adverse shocks in output, the likelihood of an inefficient equilibrium is great. In East Asia it may be in the interests of both debtors and creditors to collectively reduce the face value of debt, to reduce inefficiencies in the financial sector
Volatility and the welfare costs of financial market integration
by
Pierre-Richard Agnor
( Book )
16 editions published in
1998
in
English
and held by 95 WorldCat member libraries worldwide
Abstract: This paper examines the effect of volatility on the costs and benefits of financial market integration. The basic framework combines the costly state verification model and the contract enforceability approach. The welfare effects of financial market integration are assessed by comparing welfare under financial autarky and financial openness -- under which foreign banks, characterized by lower costs of intermediation and a lower markup rate, have free access to domestic capital markets. The analysis shows that financial integration may be welfare reducing if world interest rates under openness are highly volatile. The basic framework is then extended to consider the case of an upward-sloping domestic supply curve of funds and congestion externalities. It is shown, in particular, that opening the economy to unrestricted inflows of capital may magnify the welfare cost of existing distortions, such as congestion externalities or deposit insurance
The credit crunch in East Asia : what can bank excess liquid assets tell us?
by
Pierre-Richard Agnor
( Book )
21 editions published between
1999
and 2000 in
English
and held by 86 WorldCat member libraries worldwide
A two-step approach is used to assess the extent to which the credit crunch in East Asia was supply- or demand-driven. The results for Thailand suggest that the contraction in bank lending that accompanied the crisis was the result of supply factors
Savings and the terms of trade under borrowing constraints
by
Pierre-Richard Agnor
( Book )
23 editions published between
1999
and 2000 in
English
and held by 85 WorldCat member libraries worldwide
When households face the possibility of borrowing constraints in bad times, favorable movements in the permanent component of the terms of trade may lead to higher rates of private savings
Contagion and volatility with imperfect credit markets
by
Pierre-Richard Agnor
( Book )
21 editions published in
1997
in
English
and held by 84 WorldCat member libraries worldwide
This paper interprets contagion effects as a perceived increase (triggered by events occurring elsewhere) in the volatility of aggregate shocks impinging on the domestic economy. The implications of this approach are analyzed in a model with two types of credit market imperfections: domestic banks borrow at a premium on world capital markets, and domestic producers (whose demand for credit results from working capital needs) borrow at a premium from domestic banks which possess comparative advantage in monitoring the behavior of domestic agents. Financial intermediation spreads are shown to be determined by a markup that compensates for the expected cost of contract enforcement and state verification and for the expected revenue lost in adverse states of nature. Higher volatility of producers' productivity shocks increases both financial spreads and the producers' cost of capital, resulting in lower employment and higher incidence of default. The welfare effects of volatility are non-linear. Higher volatility does not impose any welfare cost for countries characterized by relatively low volatility and efficient financial intermediation. The adverse welfare effects are large (small) for countries that are at the threshold of full integration with international capital markets (close to financial autarky), that is, countries characterized by a relatively low (high) probability of default
Privatization in emerging markets
by
Joshua Aizenman
( Book )
11 editions published in
1998
in
English
and held by 79 WorldCat member libraries worldwide
This paper evaluates the welfare implications of privatization in emerging market economies, in countries where policies are determined by the median voter. We show that privatization may lead to large efficiency gains by changing the menu of taxes. We illustrate this point with two examples. First, we consider privatization of import competing public enterprises. Reducing the public sector involvement in import competing activities is shown to lower the public sector's benefits from protection, reducing thereby the equilibrium tariff rate. The second example deals with social security privatization in an economy characterized by imperfect capital mobility, where the private sector may engage in capital flight. A small share of the capital owned by the middle class implies that the median voter would impose a tax on capital income that exceeds the efficient tax by a large margin, reflecting the beggar my (capitalist) neighbor' attitude. Social security privatization increases the equity position of the middle class, inducing the median voter to internalize a higher fraction of the costs of high taxes on capital, thereby reducing the capital tax rate. The indirect effects of privatization described in the paper are external to the privatized activity. Hence, these benefits are not accounted for in a conventional cost benefit assessment of the privatized projects. Our examples illustrate that ignoring these effects may lead one to underestimate the potential gains of privatization
Macroeconomic adjustment with segmented labor markets
by
Pierre-Richard Agnor
( Book )
15 editions published in
1994
in
English
and held by 78 WorldCat member libraries worldwide
This paper analyzes the macroeconomic effects of fiscal and labor market policies in a small open developing country. The basic framework considers an economy with a large informal production sector and a heterogeneous work force. The labor market is segmented as a result of efficiency considerations and minimum wage laws. The basic model is then extended to account for unemployment benefits, income taxation, and imperfect labor mobility across sectors. Under the assumption of perfect labor mobility, we show that a permanent reduction in government spending on nontraded goods leads in the long run to a depreciation of the real exchange rate, a fall in the market-clearing wage for unskilled labor, an increase in output of traded goods, and a lower stock of net foreign assets. A permanent reduction in the minimum wage for unskilled workers improves competitiveness, and expands the formal sector at the expense of the informal sector. Hence, in a two-sector economy in which the minimum wage is enforced only in the formal sector and wages in one segment of the labor market are competitively determined, efficiency wage considerations do not alter the standard neoclassical presumption. A reduction in unemployment benefits is also shown to have a positive effect on output of tradable goods by lowering both the level of efficiency wages and the employment rent of skilled workers
Why is inflation skewed? : a debt and volatility story
by
Joshua Aizenman
( Book )
13 editions published in
1994
in
English
and held by 67 WorldCat member libraries worldwide
This paper studies the patterns of inflation skewness in 56 countries. Monthly data suggests that inflation is positively skewed. We investigate linkages between skewness and non-linearity, showing that concavity (convexity) will lead to negative (positive) skewness if the independent variable is symmetrically distributed. We construct a public finance model for a developing country that uses inflation tax and external borrowing as the residual means for fiscal financing. The model predicts a convex dependency of inflation on output, where inflation skewness depends positively on inflation volatility, and external debt difficulties magnify the skewness. We conclude the paper with an assessment of the patterns of inflation between 1979-1993 for the 56 countries. Overall, the patterns are consistent with the predictions of the model
more
fewer
Audience Level
0

1
Kids
General
Special
Audience level: 0.73 (from 0.33 for Financial ... to 0.78 for Contagion, ...)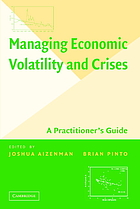 Alternative Names
Aizenman, J.

Aizenman, J. 1949-

Aizenman, J. (Joshua)

Languages
Covers