Berenbaum, M. (May)
Most widely held works about M Berenbaum
Most widely held works by M Berenbaum
Bugs in the system : insects and their impact on human affairs
by
M Berenbaum
( Book )
20 editions published between
1994
and 2004 in
English
and
German
and held by 1,003 WorldCat member libraries worldwide
Entomologist discusses the good and bad aspects of the interaction between humans and insects, focusing on the benefits humans get from bugs
Ninety-nine gnats, nits, and nibblers
by
M Berenbaum
( Book )
8 editions published between
1989
and 2016 in
Japanese
and
English
and held by 933 WorldCat member libraries worldwide
Insects covered include cockroaches, fruit flies, house flies, mealworms, silverfish, carpenter ants, centipedes, clothes moths, earwigs, termites, junebugs, grasshoppers, monarch and victory butterflies, praying mantis, gypsy moths, antlions, crickets, fireflies, katydids, yellowjackets, dragonflies, damselflies, mayflies, ear mites, fleas, ticks, bedbugs, black widow spiders, lice, chiggers, mosquitoes, scabies
Ninety-nine more maggots, mites, and munchers
by
M Berenbaum
( Book )
3 editions published between
1993
and 2016 in
English
and held by 769 WorldCat member libraries worldwide
"May R. Berenbaum's initial collection of insect cameos, Ninety-nine Gnats, Nits, and Nibblers, was praised by Library Journal as an "illuminating book that may turn the disgust with which many people greet these fascinating creatures to curiosity and admiration." "This companion volume runs the gamut from the regrettably familiar, including mosquitoes, ticks, cockroaches, and what the author describes as "other arthropodan indignities," to the bizarre and obscure, creatures such as sheep keds, mantispids, and reindeer throat bots." "Berenbaum's aim is to bring science as painlessly as possible to those who thirst for knowledge about the little beings they encounter in their homes, gardens, and backyards--or on their bodies--but who have neither the patience nor the expertise to track down and read scientific texts. Combining a naturalist's keen observation of the subject with witty wordplay and amazing anecdotes, Berenbaum has provided a uniquely informative and entertaining book, useful not only for the scientific novice but also for entomologists who need a handy guide for their own use or for use in teaching, especially in introductory classes."--Jacket
Insect-plant interactions
by
James R Miller
( Book )
12 editions published between
1986
and 2014 in
English
and
Undetermined
and held by 636 WorldCat member libraries worldwide
The authoritative overviews in this volume provide a wealth of practical information on current approaches to the study of insect-plant interactions. Methods described include direct behavioral observation; assays of host finding, oviposition, and feeding behavior of insect herbivores; post-ingestion physiological effects; measurement of food quality and sensory responses of insects to plant stimuli; chemical isolation and identification of active phytochemicals; evaluation of plant resistance to insects; and the biochemistry of allelochemic interactions
Herbivores, their interactions with secondary plant metabolites
by
Gerald A Rosenthal
( Book )
19 editions published between
1991
and 1992 in
English
and
Spanish
and held by 347 WorldCat member libraries worldwide
It has been more than ten years since the first edition of this book was published. During this time, our understanding of the interactions between plants and the animals that consume them, as mediated by secondary compounds (allelochemicals) of plants, has grown dramatically. In the Herbivores: Their Interactions with Secondary Plant Metabolites, Second Edition, only those areas of research where significant progress has been made since 1979 are included, and most of the contributing authors are new. This edition has been split into two volumes due to the vast amount of new material
Queen of the sun : what are the bees telling us?
by
Taggart Siegel
( Visual )
2 editions published between
2011
and 2012 in
English
and held by 135 WorldCat member libraries worldwide
A documentary on colony collapse disorder, a phenomenon involving the mass disappearance of honeybees from their hives. Includes interviews with beekeepers, scientists and philosophers from around the world including Michael Pollan, Gunther Hauk and Vandana Shiva
Honey, I'm homemade : sweet treats from the beehive across the centuries and around the world
by
M Berenbaum
( Book )
5 editions published in
2010
in
English
and held by 100 WorldCat member libraries worldwide
Honey, I'm Homemade: Sweet Treats from the Beehive across the Centuries and around the World showcases a wealth of recipes for cookies, breads, pies, puddings, and cakes that feature honey as an essential ingredient. Noted entomologist May Berenbaum also details the fascinating history of honey harvesting and consumption around the world, explains the honey bee's extraordinary capacity to process nectar into concentrated sweetness, and marvels at honey's diverse flavors and health benefits.;; More than a cookbook, Honey, I'm Homemade is a tribute to the remarkable work of Apis mellifera, the humble honey bee whose pollination services allow three-quarters of all flowering plant species to reproduce and flourish. Sales of the book will benefit the University of Illinois Pollinatarium--the first freestanding science outreach center in the nation devoted to flowering plants and their pollinators.;; Because so much depends on honey bees, and because people have benefited from their labors for millennia, Honey, I'm Homemade is the perfect way to share and celebrate honey's sweetness and delight
The strange disappearance of the bees
( Visual )
2 editions published between
2011
and 2015 in
English
and held by 96 WorldCat member libraries worldwide
Documentary about mass deaths of bees all over the world. Increasingly each spring, beekeepers open their hives to find entire colonies wiped out. Surveys the science through conversations with top researchers such as entomologist May Berenbaum of the University of Illinois at Urbana-Champaign, and biologist Paul Ehrlich of Stanford's Center for Conservation Biology. Makes a case that the industrial agricultural model is responsible for killing off the pollinators
Life, the science of biology
by
William K Purves
( Book )
11 editions published between
2011
and 2014 in
English
and held by 25 WorldCat member libraries worldwide
'Life' presents biological concepts through the research that revealed them. It covers a range of topics with an integrated experimental focus flowing naturally from the narrative. This edition includes the latest research, new pedagogy, and new chapter-opening spreads that draw students into the chapter in an engaging way
more
fewer
Audience Level
0

1
Kids
General
Special
Audience level: 0.30 (from 0.01 for Honey, I'm ... to 0.80 for Annual rev ...)
Related Identities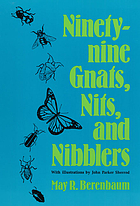 Alternative Names
Berenbaum, M. R.

Berenbaum, May

Berenbaum, May R.

Berenbaum, May R. 1953-

May Berenbaum American entomologist

May Berenbaum Amerikaans zoöloge

May Berenbaum entomóloga estadounidense

May Berenbaum entomologiste américaine

Мэй Беренбаум

베렌바움, 메이 1953-

베렌바움, 메이 R. 1953-

ベーレンバウム, メイ・R

Languages
Covers