Unger, Harlow G. 1931-
Most widely held works by Harlow G Unger
Encyclopedia of American education
by
Harlow G Unger
( Book )
11 editions published between
1996
and 2008 in
English
and held by 2,676 WorldCat member libraries worldwide
Extensively revised and updated, the Encyclopedia of American Education covers the entire span of American education from the colonial period to the present. Containing more than 2,000 entries, this three-volume work provides a wealth of information on virtually every aspect of education, from the evolution of school curriculum, education funding, and church-state controversies to the latest debates on multiculturalism, prayer in school, and sex education. Updated appendixes include an extensive bibliography for each subject area; a general chronology of American education since 1607; a summary of significant federal education legislation since 1787; a listing of every major U.S. Supreme Court decision affecting education--including eight new rulings handed down since the first edition was published; and a listing of graduate school offerings in education, undergraduate education majors, and undergraduate majors at American colleges. Coverage includes: education and reform movements; legal issues and landmarks; key education theories; the role of computers and technology in education; bilingual education; violence and crime in schools; and entries on the history, trends, and quality of education in each of the fifty states
John Quincy Adams
by
Harlow G Unger
( Book )
8 editions published between
2012
and 2013 in
English
and held by 1,406 WorldCat member libraries worldwide
A towering figure in the formative years of the American nation, John Quincy Adams was the only son of a Founding Father president to become president himself, and the first one to serve in Congress after his term. Pushed by his parents to climb to the heights of their ambitions, Adams surpassed their expectations, not only as president, but also as an ambassador, a powerful voice before the Supreme Court, a fearless secretary of state, and America's first champion of human rights. He fought for Washington, served with Lincoln, witnessed Bunker Hill, and sounded the clarion against slavery on the eve of the Civil War. He negotiated an end to the War of 1812, engineered the annexation of Florida, and won the Supreme Court decision that freed the African captives of The Amistad. He served his nation as minister to six countries, secretary of state, senator, congressman, and president. John Quincy Adams was all of these things and more. In this biography, the author reveals Quincy Adams as one of the most courageous figures in American history, which is why he ranked first in John F. Kennedy's Pulitzer Prize winning book Profiles in Courage. This biography and sweeping panorama of American history from the Washington to Lincoln eras, follows one of America's most important yet least-known figures
The last founding father : James Monroe and a nation's call to greatness
by
Harlow G Unger
( Book )
9 editions published between
2009
and 2011 in
English
and held by 1,360 WorldCat member libraries worldwide
The epic story of James Monroe-- the last of America's Founding Fathers -- who transformed a small, fragile nation beset by enemies into a glorious and powerful empire stretching "from sea to shining sea."
American tempest : how the Boston Tea Party sparked a revolution
by
Harlow G Unger
( Book )
7 editions published between
2011
and 2012 in
English
and held by 1,286 WorldCat member libraries worldwide
From the author of The Last Founding Father, an in-depth look at the Boston Tea Party and how it defined the course of American history
John Marshall : the chief justice who saved the nation
by
Harlow G Unger
( )
6 editions published between
2014
and 2016 in
English
and held by 1,135 WorldCat member libraries worldwide
"A soul-stirring biography of John Marshall, the young Republic's great chief justice who led the Supreme Court to power and brought law and order to the nation. In the political turmoil that convulsed America after George Washington's death, the surviving Founding Fathers went mad-literally pummeling each other in Congress and challenging one another to deadly duels in their quest for power. Out of the political intrigue, one man emerged to restore calm and dignity to the government: John Marshall. The longest-serving chief justice in American history, Marshall transformed the Supreme Court from an irrelevant appeals court into the powerful and controversial branch of government that Americans today either revere or despise. Drawing on rare documents, Harlow Giles Unger shows how, with nine key decisions, Marshall rewrote the Constitution, reshaped government, and prevented Thomas Jefferson from turning tyrant. John Adams called his appointment of Marshall to chief justice his greatest gift to the nation and "the pride of my life."--
Lion of liberty : Patrick Henry and the call to a new nation
by
Harlow G Unger
( Book )
7 editions published between
2010
and 2011 in
English
and held by 1,110 WorldCat member libraries worldwide
"In this ... history, Harlow Giles Unger unfolds the epic story of Patrick Henry, who roused Americans to fight government tyranny both British and American. Remembered largely for his cry for & liberty or death, Henry was actually the first (and most colorful) of America's Founding Fathers first to call Americans to arms against Britain, first to demand a bill of rights, and first to fight the growth of big government after the Revolution. As quick with a rifle as he was with his tongue, Henry was America's greatest orator and courtroom lawyer, who mixed histrionics and hilarity to provoke tears or laughter from judges and jurors alike. Henry's passion for liberty (as well as his very large family), suggested to many Americans that he, not Washington, was the real father of his country. This biography ... tells a story both human and philosophical. As Unger points out, Henry's words continue to echo across America and inspire millions to fight government intrusion in their daily lives"--Jacket
Lafayette
by
Harlow G Unger
( Book )
8 editions published between
2002
and 2003 in
English
and held by 1,072 WorldCat member libraries worldwide
Publishers Description: In this gripping biography, acclaimed author Harlow Giles Unger paints an intimate and detailed portrait of the heroic young French soldier who, at nineteen, renounced a life of luxury in Paris and Versailles to fight and bleed for liberty-at Brandywine, Valley Forge, and Yorktown. A major general in the Continental army, he quickly earned the love of his troops, his fellow commanders, and his commander in chief, George Washington, who called him his "adopted son." To the troops, he was "the soldier's friend"; to Americans all, he was "our Marquis." In a tale filled with adventure, romance, and political intrigue, Unger follows Lafayette from the battlefields of North America to the palace of Versailles, where the marquis won the most stunning diplomatic victory in world history convincing the French court to send the huge military and naval force needed to win American independence. He then returned to America to lead the remarkable guerrilla campaign in Virginia that climaxed with British surrender at Yorktown-and earned him the title "Conqueror of Cornwallis." Lafayette's triumph turned to tragedy, however, when he tried to introduce American democracy in his native land. His quest for a constitutional monarchy unwittingly set off the savage French Revolution and plunged Europe into more than a decade of slaughter and war. Declared an enemy of the state, Lafayette fled France only to be imprisoned for five years in an Austrian dungeon, while his wife, Adrienne, and her family festered in prison, awaiting the cruel blade of the guillotine. Based on years of research in France as well as in the United States, Unger's biography reveals how American ambassador James Monroe won Adrienne Lafayette's freedom and helped Lafayette's only son, George-Washington Lafayette, escape France to the safety of his godfather's home in Mount Vernon, even as the guillotine claimed his great-grandmother, grandmother, and aunt. Lafayette is also a compelling romance, as Lafayette and his beloved, Adrienne de Noailles, feast at their sumptuous wedding banquet, dance at Marie Antoinette's lavish palace balls, and embrace in anguish in the ghastly Austrian dungeon that Adrienne and her daughters shared with Lafayette for two brutal years. Inspiring and educational, Lafayette is the dramatic life story of one of the great leaders in American and European history, swept up in the cataclysmic events that spawned the longest-lasting democracy in the New World and prolonged despotism for two centuries in the Old
"Mr. President" : George Washington and the making of the nation's highest office
by
Harlow G Unger
( Book )
8 editions published between
2013
and 2015 in
English
and held by 1,012 WorldCat member libraries worldwide
"Although the framers gave the president little authority, George Washington knew whatever he did would set precedents for generations of future leaders. To ensure their ability to defend the nation, he simply ignored the Constitution when he thought it necessary. In a revealing new look at the birth of American government, "Mr. President" describes Washington's presidency in a time of continual crisis, as rebellion and attacks by foreign enemies threatened to destroy this new nation. Constantly weighing preservation of the Union against preservation of individual liberties and states' rights, Washington assumed more power with each crisis. In a series of brilliant but unconstitutional maneuvers he forced Congress to cede control of the four pillars of executive power: war, finance, foreign affairs, and law enforcement. Drawing on rare documents and letters, Unger shows how Washington combined political cunning and sheer genius to seize ever-widening powers, impose law and order while ensuring individual freedom, and shape the office of President of the United States."--
more
fewer
Audience Level
0

1
Kids
General
Special
Audience level: 0.17 (from 0.03 for Improbable ... to 0.31 for First foun ...)
Associated Subjects
Adams, John Quincy,
Alternative education
American Revolution (1775-1783)
Boston Tea Party (Massachusetts : 1773)
Clay, Henry,
Confederation of the United States (1783-1789)
Constitution (United States)
Constitutional Convention (United States : 1787)
Constitutional history
Declaration of Independence (United States)
Education
Education--Evaluation
Educators
Executive power
Families
Federal government
France
Generals
Governors
Hancock, John,
Henry, Patrick,
Judges
Lafayette, Marie Joseph Paul Yves Roch Gilbert Du Motier,--marquis de,
Legislators
Lexicographers
Marshall, John,
Massachusetts
Military participation--French
Monroe, James,
Occupational training
Politics and government
Presidents
Private schools
Public schools--Evaluation
School choice
Social reformers
Statesmen
United States
United States.--Army
United States.--Congress
United States.--Continental Congress
United States.--Supreme Court
Universities and colleges--Admission
Universities and colleges--Entrance requirements
Virginia
Vocational education
Vocational guidance
War--Causes
Washington, George,
Webster, Noah,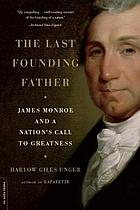 Covers
Alternative Names
Harlow Giles Unger

Harlow Giles Unger historien américain

Harlow Unger Amerikaans historicus

Unger, Harlow G.

Unger, Harlow Giles

Unger, Harlow Giles 1931-...

Languages