Creswell, John W.
Most widely held works by John W Creswell
Research design : qualitative, quantitative, and mixed methods approaches
by
John W Creswell
( Book )
147 editions published between
1994
and 2019 in 9 languages and held by 5,808 WorldCat member libraries worldwide
The third edition of the bestselling text Research Design by John W. Creswell enables readers to compare three approaches to research-qualitative, quantitative, and mixed methods-in a single research methods text. The book presents these three approaches side by side within the context of the process of research from the beginning steps of philosophical assumptions to the writing and presenting of research. Written in a user-friendly manner, Creswell's text does not rely on technical jargon. He cuts to the core of what a reader needs to know to read and design research in part by showcasing ideas in a scaffold approach so that the reader understands ideas from the simple to the complex. Key updates to the Third Edition: Presents the preliminary steps of using philosophical assumptions in the beginning of the book; Provides an expanded discussion on ethical issues; Emphasizes new Web-based technologies for literature searches; Offers updated information about mixed methods research procedures; Contains a glossary of terms; Highlights "research tips" throughout the chapters incorporating the author's experiences over the last 35 years
Qualitative inquiry and research design : choosing among five traditions
by
John W Creswell
( Book )
92 editions published between
1997
and 2019 in 3 languages and held by 3,540 WorldCat member libraries worldwide
This book explores the philosophical underpinnings, history, and key elements of five qualitative inquiry approaches: narrative research, phenomenology, grounded theory, ethnography, and case study. The authors compare the approaches and relate research designs to each of the traditions of inquiry in a highly accessible manner. Featuring new content, articles, pedagogy, references, and expanded coverage of ethics throughout, the book is an introduction to the theories, strategies, and practices of qualitative inquiry
Designing and conducting mixed methods research
by
John W Creswell
( Book )
70 editions published between
2000
and 2018 in 3 languages and held by 1,847 WorldCat member libraries worldwide
"Offering equal coverage of quantitative and qualitative research, this is an excellent text for graduate students studying mixed methods research in courses such as Research Methods, Research Design, Mixed Methods, and Qualitative Methods across the Social, Behavioral, and Health Sciences as well as courses in Education. It is also a valuable resource for researchers and practitioners who want a comprehensive yet practical introduction to mixed methods research design"--Jacket
Educational research : planning, conducting, and evaluating quantitative and qualitative research
by
John W Creswell
( Book )
90 editions published between
2002
and 2021 in 3 languages and held by 1,765 WorldCat member libraries worldwide
"This book is the only introductory educational research text to offer a truly balanced and integrated treatment of both quantitative and qualitative methods. Written in clear and practical language, Educational Research will help its readers get started doing their own research and will also help them become better readers of research."--Jacket
The department chair : new roles, responsibilities, and challenges
by
Alan T Seagren
( Book )
6 editions published in
1993
in
English
and held by 556 WorldCat member libraries worldwide
This monograph explores the changing role of the academic department chair in the areas of leadership, influence, and faculty development. The paper uses research insights to explore the situation of an academic chair who is squeezed between the demands of upper administration and the expectations of faculty, staff, and students. Studies of the roles and responsibilities of chairs consistently show that the role is ambiguous, unclear in authority, and difficult to classify as faculty or administrator. The tradition of faculty ownership dictates that chair leadership must emphasize empowering activities. The most effective use of political influence and power understands the political forces and processes of the institution and maneuvers groups and coalitions to achieve the autonomy and control necessary to a strong department. Faculty evaluation provides a chair with a powerful opportunity for developing quality. In addition, the chair must recognize how institutional type, history, and culture, model of governance, and discipline can influence what is expected. In the coming years chairs will need a program of professional development on many fronts to acquire the skills to address the complex challenges they will face. (Contains over 200 references.) (JB)
The handbook of scholarly writing and publishing
by
Tonette S Rocco
( Book )
6 editions published in
2011
in
English
and held by 554 WorldCat member libraries worldwide
"The Handbook of Scholarly Writing and Publishing" is a groundbreaking resource that offers emerging and experienced scholars from all disciplines a comprehensive review of the essential elements needed to craft scholarly papers and other writing suitable for submission to academic journals. The authors discuss the components of different types of manuscripts, explain the submission process, and offer readers suggestions for working with editors and coauthors, dealing with rejection, and rewriting and resubmitting their work. They include advice for developing quality writing skills, outline the fundamentals of a good review, and offer guidance for becoming an excellent manuscript reviewer. This book is divided into four parts. Part I, Becoming a Published Scholar, contains the following: (1) Reasons to Write, Writing Opportunities, and Other Considerations (Tonette S. Rocco); (2) Publishing in Peer-Reviewed and Nonrefereed Journals: Processes, Strategies, and Tips (Gary J. Skolits, Ralph G. Brockett and Roger Hiemstra); (3) Learning to Write: Wisdom from Emerging Scholars (Claire Kostopulos Nackoney, Sunny L. Munn and Jesus Fernandez); (4) Scholarly Reading as a Model for Scholarly Writing (Mike Wallace and Allison Wray); (5) Working with Tensions: Writing for Publication During Your Doctorate (Alison Lee and Claire Aitchison); and (6) The Process of Transforming the Dissertation or Thesis into Publication (Anthony H. Normore). Part ii, Improving Writing Techniques, contains the following: (7) Writing with Authority: Pitfalls and Pit Stops (Erwin H. Epstein); (8) Finding Voice: Appreciating Audience (Monica Lee); (9) Creating a Whole from the Parts: Qualities of Good Writing (Andrea D. Ellinger and Baiyin Yang); and (10) Developing a Research Problem and Purpose Statement (Ronald L. Jacobs). Part iii, Preparing Scholarly Manuscripts, contains the following: (11) Writing a Literature Review (Susan Imel); (12) Increasing the Odds of Publishing a Qualitative Manuscript (Tonette S. Rocco and Maria S. Plakhotnik); (13) Increasing the Likelihood of Publishing of Quantitative Manuscripts (Isadore Newman and Carole Newman); (14) Writing Research Articles Using Mixed Methods: Methodological Considerations to Help You Get Published (Isadore Newman, David Newman and Carole Newman); (15) Writing Theory, Conceptual, and Position Articles for Publication (Gary N. McLean); and (16) Creating and Publishing Nonrefereed Manuscripts: How to Write Editorials and Book Reviews (Tim Hatcher and Kimberly S. McDonald). Part iv, Reflecting on the Writing and Publishing Process, contains the following: (17) Why Writers Should Also Be Reviewers (Robert Donmoyer); (18) Addressing Feedback from Reviewers and Editors (Stephen D. Brookfield); (19) International and Cross-Cultural Issues in Scholarly Publishing (AAhad Osman-Gani and Rob Poell); (20) Working with Coauthors (Ann I. Nevin, Jacqueline S. Thousand and Richard A. Villa); (21) Writing as Mentoring (Bradley C. Courtenay, Ronald M. Cerveron and John M. Dirkx); and (22) Resources: Further Reading for Scholarly Writing (Maria S. Plakhotnik and M. Brad Shuck). An index is also included. [Foreword by John W. Creswell.]
The Academic chairperson's handbook
by
John W Creswell
( Book )
7 editions published in
1990
in
English
and held by 514 WorldCat member libraries worldwide
This book champions the importance of chairing an academic department (or division) and focuses attention on the strategies "excellent" chairs use in building a positive work environment for faculty and releasing individual faculty potential. The framework is based on human, organizational, and career development; systems theory; and interpersonal communications. The "excellent" chairs are 200 individuals on 70 campuses who were nominated by chief academic officers and faculty development specialists. In part I, several difficulties chairs encounter in building a positive work environment for promoting faculty growth and professional development are introduced. A self-assessment inventory is presented, followed by three chapters outlining 15 chair strategies, organized around the themes of chairperson self-development, role as an academic leader, and interpersonal relations with faculty. Part ii applies the strategies, first as a series of processes for addressing specific faculty situations and second as a general guide for building a positive work environment. The strategies include: helping newly hired faculty become adjusted; improving the teaching performance of faculty; improving the scholarship of faculty; refocusing faculty efforts; and addressing personal issues. A synopsis of a national project on academic department chairpersons is offered in an appendix. (67 references.) (Jdd)
A concise introduction to mixed methods research
by
John W Creswell
( Book )
20 editions published between
2014
and 2021 in 5 languages and held by 438 WorldCat member libraries worldwide
This is a brief overview of mixed methods research that takes readers through the essential steps in planning and designing a study. Rather than offering an extensive treatment of mixed methods, this concise book offers individuals in the social, behavioral, and health sciences a foundation for understanding mixed methods methodology. Practical for use in workshops, seminars, global webinars, and as a supplementary text in undergraduate and graduate classes, Creswell's book is ideal for the beginner or the more advanced researcher looking for a quick primer in mixed methods, by an authoritative mixed methods scholar
Faculty research performance, lessons from the sciences and the social sciences
by
John W Creswell
( Book )
13 editions published between
1985
and 1987 in
English
and held by 426 WorldCat member libraries worldwide
The literature on faculty research performance is reviewed, with a focus on research by individual faculty members. The literature on the sociology of science and data-based results from sociological studies are emphasized. Attention is directed to measures of performance, the explanations and specific correlates likely to influence high research performance, and the practical implications of empirical studies for faculty development and evaluation. Three common measures of individual research performance are publication counts, citation counts, and peer and colleague ratings. Productivity researchers attempt to explain the variation in faculty research performance by psychological-individual factors, including superior intellectual ability, a strong motivation and drive to perform, personality traits, and background characteristics. Access to resources and advantages and reinforcements have also been linked to productivity. Additional correlates of productivity have also been investigated: prestige of doctoral program and employing institutions, rank and tenure, early productivity. Numerous correlate studies in the past 40 years have resulted in a profile of productive researchers. In addition to ideas to promote faculty development and evaluation, suggestions for future research of faculty research productivity are offered. Ten pages of references and an index are provided. (Sw)
more
fewer
Audience Level
0

1
Kids
General
Special
Audience level: 0.45 (from 0.14 for Sanshodhan ... to 0.62 for Second lan ...)
Related Identities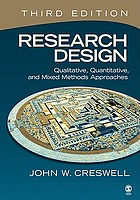 Covers
Alternative Names
Creswell J.W.

John W. Creswell American academic

John W. Creswell Amerikaans psycholoog

John W. Creswell psicòleg estatunidenc

John W. Creswell psicólogo norte-americano

John W. Creswell psicologo statunitense

John W. Creswell psicólogu estauxunidense

John W. Creswell psychologue américain

W. Creswell, John, 1945-

크리스웰, 존 W. 1945-

クレスウェル, J. W.

クレスウェル, ジョン W.

Languages