Fluehr-Lobban, Carolyn
Most widely held works by Carolyn Fluehr-Lobban
Historical dictionary of the Sudan
by
John Obert Voll
( Book )
24 editions published between
1992
and 2013 in
English
and held by 938 WorldCat member libraries worldwide
The Republic of the Sudan was long the largest country in Africa and, according to the general consensus, also one of the least successful in many ways. This was not entirely its fault since it lay along the fault line between Muslim and Christian Africa and between the Nile Valley civilizations and African Sudanic cultures. This partly explains the long and bloody warfare waged by the Southerners to achieve independence, which they did in July 2011. So this hefty book actually covers not one but two states. This fourth edition of the Historical Dictionary of the Sudan does so, first, through a lengthy and detailed chronology tracing its relatively few successes and numerous failures. The introductory essay does an admirable job of putting it all in perspective. But the most informative part is the dictionary, with now over 700 entries for this fourth edition. They deal with important personalities, politics, the economy, society, culture, religion and inevitably the civil war. There are also appendixes and an extensive bibliography
Islamic society in practice
by
Carolyn Fluehr-Lobban
( Book )
11 editions published between
1994
and 1999 in
English
and
Undetermined
and held by 789 WorldCat member libraries worldwide
Against Islamic extremism : the writings of Muhammad Saʻid al-ʻAshmawy
by
Muḥammad Saʻīd ʻAshmāwī
( Book )
13 editions published between
1998
and 2001 in
English
and held by 549 WorldCat member libraries worldwide
One of the Islamic world's leading voices in the struggle against extremism, Sa'id al-'Ashmawy was trained as a specialist in Islamic law and comparative law at Cairo University and served as judge, chief prosecutor, chief justice of the High Criminal Court, chief justice of the High Court for Security of State as well as chief justice of the High Court Assizes in Egypt. The author of 15 books on Islam and the law, he has been consistently critical of Islamic extremism and opposes the very notion of an Islamic state, on both scriptural and historical grounds. Facing death threats for apostasy since 1979 and under continuous government protection since 1980, he articulates an opposition to the ideology and practice of Islamic extremists in Egypt that has applicability throughout the Middle East and North Africa. This volume conveys the range of his reformist message from the similarities of Islam, Judaism, and Christianity, to the dangers of politicizing Islamic religion, to the place of Islamic law in contemporary politics and society
Islamic societies in practice
by
Carolyn Fluehr-Lobban
( Book )
4 editions published in
2004
in
English
and
Undetermined
and held by 527 WorldCat member libraries worldwide
"Originally written in the wake of the Gulf War, Islamic Societies in Practice introduced the West to Arab-Islamic cultures and societies. It ventured behind the headlines to offer a positive, constructive view of Islam and Muslims, showing how Islam is lived and practiced in daily life." "Now revised and expanded in the wake of the September 11 attacks and the wars in Afghanistan and Iraq, this new edition embraces the breadth of global Islam with significant new material on Islam in Africa, Asia, Europe, and the United States, as well as the Middle East. Discussion focuses on family, gender, race, law democracy, and human rights in these Muslim communities. New maps and illustrations detail the diversity and representation of Islam and Muslims worldwide. Ultimately, in stark contrast to typical Western media images, Fluehr-Lobban seeks to clarify the complexity, humanity, and vastness of the Muslim world."--Jacket
Female well-being : toward a global theory of social change
by
Janet Mancini Billson
( Book )
11 editions published in
2005
in
English
and
Undetermined
and held by 484 WorldCat member libraries worldwide
Extrait de la couverture : "This global survey starts from the assumption that the significant transformations in women's lives deserve to be fully documented and interpreted. Janet Mancini Billson and Carolyn Fluehr-Lobban tackle the complexities of soical change by using data from countries in every world region to illustrate the most critical challenges that women faced during the last century - challenges that are also likely to shape the 21st century. Global knowledge and feminism dovetailed in the 20th century, fed by international air travel, telecommunications, the Internet, and a growing awareness that solving female oppression would improve the lot of all humankind. The authors therefore adopt a strong international comparative, cross-cultural, and feminist framework that uncovers the fundamental processes that promote, sustain, or degrade the female condition."
Islamic law and society in the Sudan
by
Carolyn Fluehr-Lobban
( Book )
18 editions published between
1986
and 2010 in
English
and held by 370 WorldCat member libraries worldwide
This work was originally published in 1955. In many parts of Africa, three different systems of laws are concurrently applied - the imported "Colonial" law, the indigenous customary law and Islamic law. In some countries, the customary and the Islamic law are kept separate and distinct, while in others they are fused into a single system. This volume represents a unique survey of the extent to which Islamic law is in fact applied in those parts of East and West Africa which were at one time under British administration. It examines the relevant legislation and case law, much of which has never appeared in any Law Reports; the judges and courts which apply it and the problems to which its application give rise
Ethics and the profession of anthropology : dialogue for ethically conscious practice
( Book )
6 editions published in
2003
in
English
and held by 282 WorldCat member libraries worldwide
This revised second edition of Ethics and the profession of anthropology renews the challenge to anthropologists to engage in a dialogue concerning their commitment to professional ethical conduct. With a majority of new chapters, this edition redefines what it means to conduct anthropological research ethically, as the discipline becomes less isolated from allied fields in the physical and behavioral sciences and comes to terms with the global changes that affect its practice
Race and racism : an introduction
by
Carolyn Fluehr-Lobban
( Book )
8 editions published between
2005
and 2006 in
English
and held by 279 WorldCat member libraries worldwide
"In her newest book, anthropologist Carolyn Fluchr-Lobban examines the foundations of race in American society. She demonstrates how race and racism are not openly confronted or challenged in American communities or educational settings. Many families still live in segregated areas, especially ethnic subcommunities, and attend largely segregated public and private schools. The author offers a simple and accessible explanation of the biology of race and a cross-cultural perspective on the social context of race, color-coding, ethnicity, and ethnocentrism. There are few places in the world where race is not a factor in society and politics, but the author finds abundant evidence that it is a dynamic and pliable concept, as soon in the overturning of the slave system in Haiti and in the American civil rights movement. Fluehr-Lobban's book is a fascinating and thoughtful assessment of the nature of race and racism
Shari'a and Islamism in Sudan : conflict, law and social transformation
by
Carolyn Fluehr-Lobban
( Book )
11 editions published between
2010
and 2012 in
English
and held by 197 WorldCat member libraries worldwide
"After the 1989 Islamist coup in Sudan, the National Islamic Front under General Omar al-Bashir and Dr. Hasan Turabi attempted to institutionalise, codify and implement Shari'a law throughout the country. However, by 2005, with the signing of the Comprehensive Peace Agreement ending 22 years of civil war, the government agreed to halt its policy of Islamisation in the South. Shari'a and Islamism in Sudan explores how Sudanese society has been transformed by this period of implementation of Islamic law, and furthermore asks, what are the continuing effects of this policy? And what are the implications of the Peace Agreement for the future of Islamist politics in Sudan and of the country? With data drawn from Carolyn Fluehr-Lobban's most recent research in the region, this book is a vital and unique examination of the nature of the Sudanese state and society, offering invaluable insight for all those interested in the politics, society, and future of Sudan and the nature of political Islam."--Publisher's website
more
fewer
Audience Level
0

1
Kids
General
Special
Audience level: 0.36 (from 0.03 for War and dr ... to 0.97 for Ethics / ...)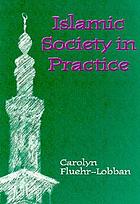 Alternative Names
Fluehr, Carolyn Lobban

Lobban, Carolyn F. 1945-

Lobban, Carolyn Fluehr-

Lobban Carolyn Fluehr- 1945-....

كارولين فلوهر-لوبان، 1945-

لوبان، كارولين فلوهر، 1945-

Languages
Covers