Blundell, Richard
Most widely held works about Richard Blundell
more
fewer
Most widely held works by Richard Blundell
The measurement of household welfare
by
Richard Blundell
( Book )
19 editions published between
1994
and 2010 in
English
and held by 393 WorldCat member libraries worldwide
The measurement of household welfare is one of the most compelling yet demanding areas in economics. To place the analysis of inequality and poverty within an economic framework where individuals are making decisions about current and lifetime incomes and expenditures is a difficult task, made all the more challenging by the complexity of the decision-making process in which households are involved and the variety of constraints they face. This 1994 book examines the conceptual and practical difficulties of making inferences from observed behaviour. It addresses the problems of making comparisons across a range of very different households and discusses how data for such comparisons should be collected. The contributions, from experts from Europe, North America and Australia, have the unifying theme that there is a strong relationship between theoretical concepts from microeconomics and the appropriate use of micro data in evaluating household welfare
Seeking a premier economy : the economic effects of British economic reforms, 1980-2000
( Book )
16 editions published in
2004
in
English
and held by 283 WorldCat member libraries worldwide
"In the 1980s and 1990s, successive United Kingdom governments enacted a series of reforms to establish a more market-oriented economy, closer to the American model and further away from its Western European competitors." "Seeking a Premier Economy focuses on the labor and product market reforms that have directly impacted productivity, employment, and income inequality. The comparative microeconomic approach of this book yields the most credible evaluation possible, focusing on closely associated outcomes of particular reforms for individuals, firms, and sectors."--BOOK JACKET
Advances in economics and econometrics : theory and applications, ninth World Congress
by Econometric Society
( Book )
14 editions published between
2005
and 2006 in
English
and held by 250 WorldCat member libraries worldwide
This is the first of three volumes containing edited versions of papers and a commentary presented at invited symposium sessions of the Ninth World Congress of the Econometric Society, held in London in August 2005. The papers summarise and interpret key developments, and they discuss future directions for a wide variety of topics in economics and econometrics. The papers cover both theory and applications. Written by leading specialists in their fields, these volumes provide a unique survey of progress in the discipline
Pensions and retirement in the UK
by
Richard Blundell
( Book )
11 editions published in
1997
in
English
and held by 84 WorldCat member libraries worldwide
Labor force participation of men over age 50 fell sharply in the UK between the early 1970s and early 1990s. Despite the fact that the state retirement pension does not become available to men until age 65, half of men aged 60-64 were economically inactive in the mid 1990s. The main element of the state retirement pension is flat rate, and for most people is unaffected by any potential contributions made after age 60. Additional amounts of the earnings related component, SERPS, are earned as a result of extra contribu- tions. Overall the state retirement pension system offers no incentives for people to retire early. However, other benefits are available to people before the age of 65. Once the age of 60 is reached there is no availability for work test for receipt of means-tested benefits and there appears to be widespread use of invalidity and sickness benefits as a route into early retirement. Once these are accounted for a substantial incentive for early withdrawal from the labor market is apparent. The combination of this with the reduced demand for, and wages available to, low skilled labor can explain the reduced labor force participation that is observed. The state pension system, though, is complemented by extensive occupational pension coverage. For those in the occupational system the rules of their own scheme are likely to be an important element in their retirement decision. We show that the retirement behavior of those with and without occupational pensions is substantially different. Those without are more likely to withdraw from the labor market very early. A large share of those with occupational pensions retires from the age of 55 when relatively generous benefits are likely to become available. In many schemes there are incentives to retire before age 65
Labor supply and taxation
by
Richard Blundell
( Book )
13 editions published between
2015
and 2016 in
English
and held by 74 WorldCat member libraries worldwide
This volume presents Richard Blundell's outstanding research on the modern economic analysis of labour markets and public policy reforms, which has enhanced greatly our understanding of how individuals' behaviour on the labour market responds to taxation and social policy influence. It brings together the author's key papers, some co-authored and some unpublished, with new introductions and an epilogue, covering some of his main research insights into the study of labour supply
Economics without borders : economic research for European policy challenges
by
László Mátyás
( Book )
6 editions published between
2012
and 2017 in
English
and held by 69 WorldCat member libraries worldwide
If treated as a single economy, the European Union is the largest in the world, with an estimated GDP of over 14 trillion euros. Despite its size, European economic policy has often lagged behind the rest of the world in its ability to generate growth and innovation. Much of the European economic research itself often trails behind that of the USA, which sets much of the agenda in mainstream economics. This book, also available as open access, bridges the gap between economic research and policymaking by presenting overviews of twelve key areas for future economic policy and research. Written for the economists and policymakers working within European institutions, it uses comprehensive surveys by Europe's leading scholars in economics and European policy to demonstrate how economic research can contribute to good policy decisions, and vice versa, demonstrating how economics research can be motivated and made relevant by hot policy questions. --
Has "in-work" benefit reform helped the labour market?
by
Richard Blundell
( Book )
14 editions published in
2001
in
English
and held by 68 WorldCat member libraries worldwide
The aim of this paper is to examine the labour market impact of in-work benefit reform in the UK. Evidence is drawn from the impact of earlier reforms in the UK and similar reforms in the US. We focus on the impact on labour supply -- employment and hours of work. In the US a large proportion of the dramatic increase in participation among low educated single parents in the 1990s has been attributed to the increased generosity of the EITC. The impact of apparently similar reforms in the UK appears to have been smaller. We argue that these differences can be attributed to four factors: the impact of interactions with other means tested benefits in the UK; the importance of workless couples with children in the UK, who make up nearly 50% of the recipients in the UK; the level of income support given to non-working parents; and the strength of the economic upturn in the US during the 1990s
Advances in economics and econometrics : theory and applications, ninth World Congress
by
Econometric Society
( Book )
20 editions published between
2006
and 2007 in
English
and held by 57 WorldCat member libraries worldwide
This is the first of three volumes containing edited versions of papers and a commentary presented at invited symposium sessions of the Ninth World Congress of the Econometric Society, held in London in August 2005. The papers summarise and interpret key developments, and they discuss future directions for a wide variety of topics in economics and econometrics. The papers cover both theory and applications. Written by leading specialists in their fields, these volumes provide a unique survey of progress in the discipline
more
fewer
Audience Level
0

1
Kids
General
Special
Audience level: 0.59 (from 0.05 for Seeking a ... to 0.99 for Richard Ba ...)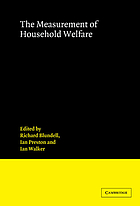 Alternative Names
Blundell, R. W. 1952-

Blundell, Richard 1952-

Blundell, Richard W.

Blundell, Richard William 1952-

Richard Blundell Brits econoom

Richard Blundell economista británico

Richard Blundell économiste et économètre britannique

Richard W. Blundell britischer Ökonom

Бландел, Ричард

Ричард Бланделл английский экономист

Languages
Covers