Scalia, Antonin
Overview
| | |
| --- | --- |
| Works: | 399 works in 649 publications in 2 languages and 25,507 library holdings |
| Genres: | Speeches Court decisions and opinions Documentary films Trials, litigation, etc Television news programs Biographies Nonfiction films History Criticism, interpretation, etc Popular works |
| Roles: | Author, Interviewee, Other, Speaker, jud, Author of introduction |
| Classifications: | KF213.S32, 347.732634 |
Most widely held works about Antonin Scalia
more
fewer
Most widely held works by Antonin Scalia
A matter of interpretation : federal courts and the law : an essay
by
Antonin Scalia
( Book )
43 editions published between
1997
and 2018 in
English
and
Spanish
and held by 1,966 WorldCat member libraries worldwide
"In exploring the neglected art of statutory interpretation, Antonin Scalia urges that judges resist the temptation to use legislative intention and legislative history. In his view, it is incompatible with democratic government to allow the meaning of a statute to be determined by what the judges think the lawgivers meant rather than by what the legislature actually promulgated. Eschewing the judicial law-making that is the essence of common law, judges should interpret statutes and regulations by focusing on the text itself. Scalia then extends this principle to constitutional law. He proposes that we abandon the notion of an ever changing Constitution and pay attention to the Constitution's original meaning. Although not subscribing to the "strict constructionism" that would prevent applying the Constitution to modern circumstances, Scalia emphatically rejects the idea that judges can properly "smuggle" in new rights or deny old rights by using the Due Process Clause, for instance. In fact, such judicial discretion might lead to the destruction of the Bill of Rights if a majority of the judges ever wished to reach that most undesirable of goals." "This essay is followed by four commentaries by Gordon Wood, Laurence Tribe, Mary Ann Glendon, and Ronald Dworkin, who engage Justice Scalia's ideas about judicial interpretation, and the volume concludes with a response by Scalia. Dealing with one of the most fundamental issues in American law, A Matter of Interpretation reveals what is at the heart of this important debate."--Jacket
Making your case : the art of persuading judges
by
Antonin Scalia
( Book )
13 editions published in
2008
in
English
and held by 1,041 WorldCat member libraries worldwide
Presents the basics of writing legal briefs and giving oral arguments, with discussions on the essentials of building a case through legal reasoning and the key elements of persuasive and successful oral pleading in the courtroom
Reading law : the interpretation of legal texts
by
Antonin Scalia
( Book )
10 editions published in
2012
in
English
and held by 854 WorldCat member libraries worldwide
In this groundbreaking book, Scalia and Garner systematically explain all the most important principles of constitutional, statutory, and contractual interpretation in an engaging and informative style - with hundreds of illustrations from actual cases. Is a burrito a sandwich? Is a corporation entitled to personal privacy? If you trade a gun for drugs, are you "using a gun" in a drug transaction? The authors grapple with these and dozens of equally curious questions while explaining the most principled, lucid, and reliable techniques for deriving meaning from authoritative texts. Meanwhile, the book takes up some of the most controversial issues in modern jurisprudence. The authors write with a well-argued point of view that is definitive yet nuanced, straightforward yet sophisticated. - Publisher
Video resources on the Constitution
( Visual )
2 editions published between
2007
and 2008 in
English
and held by 590 WorldCat member libraries worldwide
Disc 1.; Conversations on the Constitution : A conversation on the Constitution with Justice Anthony M. Kennedy : The importance of the Yick Wo Case --; A conversation on the Constitution with Justices Stephen G. Breyer, Sandra Day O'Connor, and Anthony M. Kennedy : The importance of the Japanese Internment Cases --; A conversation on the Constitution with Justices Stephen G. Breyer and Antonin Scalia : Judicial interpretations --; disc 2.; The Constitution project documentaries : The Constitution project : One person, one vote --; The Constitution project : an independent judiciary --; disc 3.; Conversations on the Constitution : A conversation with Chief Justice John G. Roberts, Jr. on the origin, nature and importance of the Supreme Court --; A conversation on the Constitution with Justices Stephen G. Breyer, Sandra Day O'Connor, and Anthony M. Kennedy : Judicial independence --; A conversation on the Constitution with Justice Ruth Bader Ginsburg on the Fourteenth Amendment
Video resources on the Constitution 2009
( Visual )
1 edition published in
2009
in
English
and held by 412 WorldCat member libraries worldwide
"Disc 1. Freedom of speech: Amid the turmoil of the 1960s, students decided to wear black armbands to protest the Vietnam War, igniting a legal battle that led to a landmark U.S. Supreme Court decision, Tinker v. Des Moines Independent Community School District (1969), which defined students' right to free speech in school. This conversation focuses on free speech in light of Tinker and the Morse v. Frederick (2007) case. Jury Service: This conversation explores the history and responsibilities of juries and the role they play in the United States judicial system. Juries: In 11 short video segments, constitutional experts, lawyers and judges discuss the importance of jury service, including the history of English and American juries, types of juries, qualifications for jury service and what to expect as a juror. Disc 2. Yick Wo and the Equal Protection clause: In Yick Wo v. Hopkins (1886), the U.S. Supreme Court held that non-citizens had due process rights under the 14th Amendment. the plaintiff, an immigrant from China who had run a laundry service for 22 years, filed suit after he was denied a permit to operate his business. The Supreme Court unanimously ruled that although the laundry permit law was race-neutral, it was applied in a discriminatory fashion. Korematsu and civil liberties: After America was attacked by Japan at Pearl Harbor on December 7, 1941, President Franklin Delano Roosevelt issued Executive Order 9066 consigning 120,000 people of Japanese ancestry (two-thirds of them American citizens) to internment camps. Fred Korematsu challenged the internment all the way to the U.S. Supreme Court. In Korematsu v. United States (1944), the court sided with the government. Decades later, Congress and the U.S. president formally apologized for the internment"--Container
The essential Scalia : on the Constitution, the courts, and the rule of law
by
Antonin Scalia
( Book )
4 editions published in
2020
in
English
and held by 261 WorldCat member libraries worldwide
"Supreme Court Justice Antonin Scalia in his own words: the definitive collection of his opinions, speeches, and articles on the most essential and vexing legal questions. A Justice on the United States Supreme Court for three decades, Antonin Scalia transformed the way that judges, lawyers, and citizens think about the law. The Essential Scalia presents Justice Scalia on his own terms, allowing readers to understand the reasoning and insights that made him one of the most consequential jurists in American history. Known for his forceful intellect and remarkable wit, Scalia mastered the art of writing in a way that both educated and entertained. This comprehensive collection draws from the best of Scalia's opinions, essays, speeches, and testimony to paint a complete and nuanced portrait of his jurisprudence. This compendium addresses the hot-button issues of the times, everything from abortion and the right to bear arms, to marriage, free speech, religious liberty, and so much more. It also presents the Justice's wise insights on perennial debates including the structure of government created by our Constitution and the proper methods for interpreting our laws. Brilliant and passionately argued, The Essential Scalia is an indispensable resource for anyone who wants to understand our Constitution, the American legal system, and one of our nation's most influential and highly regarded jurists and thinkers"--
60 minutes
( Visual )
1 edition published in
2008
in
English
and held by 202 WorldCat member libraries worldwide
September 11, 2008 - The U.S. Supreme Court's Antonin Scalia discusses his public and private life in a remarkably candid interview with Lesley Stahl
60 minutes
( Visual )
1 edition published in
2008
in
English
and held by 202 WorldCat member libraries worldwide
September 11, 2008 - The U.S. Supreme Court's Antonin Scalia discusses his public and private life in a remarkably candid interview with Lesley Stahl
The opinions of Justice Antonin Scalia : the caustic conservative
by
Antonin Scalia
( Book )
3 editions published in
2004
in
English
and held by 176 WorldCat member libraries worldwide
"Judicial opinions written by justices of the United States Supreme Court are readily available. Yet, few Americans will ever examine the full substance of a Court opinion. Students, particularly undergraduate students with no real expertise (or interest) in the law, can find reading opinions an overwhelming and laborious process. The opinions of Justice Scalia are a different matter. Scalia is often sarcastic, smug, and self-assured. He does not hesitate to take his colleagues to task when he feels they are wrong and does not mind stooping to ridicule and personal attack when it serves his point. In short, whether a reader agrees or disagrees with the points that Scalia seeks to make through these opinions, they are not boring. The layperson as well as the student of government, political science, and law will find the words of Justice Scalia well worth reading. Teachers will find these opinions useful for stimulating class discussions at every level"--Unedited summary from book cover
more
fewer
Audience Level
0

1
Kids
General
Special
Audience level: 0.26 (from 0.05 for Death just ... to 0.67 for Dissenting ...)
Related Identities
Associated Subjects
Appellate procedure
Breyer, Stephen G.,
Capital punishment
Christianity and law
Church and state
Conservatism
Constitution (United States)
Constitutional history
Constitutional law
Constitutional law--Philosophy
Employees
Forensic oratory
Frankfurter, Felix,
Freedom of speech
Friendship
Garner, Bryan A
Influence (Literary, artistic, etc.)
Judge-made law
Judges
Judges--Selection and appointment
Judicial independence
Judicial opinions
Judicial power
Judicial process
Judicial review of administrative acts
Jurisprudence
Jury duty
Law
Law--Interpretation and construction
Law--Methodology
Law--Philosophy
Legal composition
Legislative histories
Oral pleading
Persuasion (Rhetoric)
Political and social views
Political questions and judicial power
Rehnquist, William H.,
Religion
Religion and law
Religious law and legislation
Religious observances on public property--Law and legislation
Roberts, John G.,--Jr.,
Scalia, Antonin
Speeches, addresses, etc., American
Statutes
Thomas, Clarence,
Trade regulation
United States
United States.--Supreme Court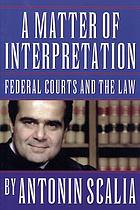 Covers
Alternative Names
Antonin Scalia

Antonin Scalia americký právník

Antonin Scalia Amerikaans rechter

Antonin Scalia amerikai jogász

Antonin Scalia avvocato e magistrato statunitense

Antonin Scalia former Associate Justice of the Supreme Court of the United States

Antonin Scalia juge à la Cour suprême des États-Unis

Antonin Scalia jurista de los Estados Unidos

Antonin Scalia prawnik amerykański

Antonin Scalia US-amerikanischer Jurist

Antoninus Scalia

Scalia.

Scalia, Antonin Gregory.

Scalia, Antonin Gregory 1936-

Scalia, Antonin Gregory 1936-2016

Άντονιν Σκαλία

Антонин Грегори Скалиа

Антонин Скалија

Антонін Скаліа

אנטונין סקאליה

אנטונין סקאליה שופט בבית המשפט העליון של ארה"ב

أنتونين سكاليا

آنتونین اسکالیا قاضی در دادگاه عالی آمریکا

안토닌 스칼리아

ᱟᱱᱴᱳᱱᱤᱱ ᱥᱠᱟᱞᱤᱭᱟ

アントニン・スカリア

安東寧·斯卡利亞 美国最高法院大法官

Languages