Wright, N. T. (Nicholas Thomas)
Most widely held works about N. T Wright
more
fewer
Most widely held works by N. T Wright
The meaning of Jesus : two visions
by
Marcus J Borg
( Book )
31 editions published between
1998
and 2014 in 3 languages and held by 1,213 WorldCat member libraries worldwide
Two theological scholars debate the historical basis of the life and teachings of Jesus Christ, and discuss their divergent views on such major issues of Christianity as the Immaculate Conception, the divinity of Jesus, and the Resurrection
Surprised by hope : rethinking heaven, the resurrection, and the mission of the church
by
N. T Wright
( Book )
19 editions published between
2007
and 2014 in
English
and held by 1,181 WorldCat member libraries worldwide
Offers a reinterpretation of biblical teaching on what happens after death, arguing that literal bodily resurrection is at the heart of Christianity and exploring the implications of this for the church's work in the world
Simply Christian : why Christianity makes sense
by
N. T Wright
( Book )
20 editions published between
2006
and 2014 in 5 languages and held by 1,144 WorldCat member libraries worldwide
A noted Christian scholar and Anglican bishop explains what Christianity is and how it can help address the most troubling issues of the twenty-first century
The challenge of Jesus : rediscovering who Jesus was and is
by
N. T Wright
( Book )
19 editions published between
1999
and 2015 in
English
and held by 879 WorldCat member libraries worldwide
The author presents a study of the historical Jesus within the Palestinian world of the first century as he challenges Christians to discover more of the background of Jesus
Evil and the justice of God
by
N. T Wright
( Book )
19 editions published between
2006
and 2014 in 3 languages and held by 852 WorldCat member libraries worldwide
With every earthquake and war, understanding the nature of evil and our response to it becomes more urgent. Evil is no longer the concern just of ministers and theologians but also of politicians and the media. We hear of child abuse, ethnic cleansing, AIDS, torture and terrorism, and rightfully we are shocked. But, theologian Wright says, we should not be surprised. For too long we have naively believed in the modern idea of human progress. In fact, evil is more serious than either our culture or our theology has supposed. Can we possibly envision a world in which we are delivered from evil? How might we work toward such a future through prayer and justice in the present?--From publisher description
How God became king : the forgotten story of the Gospels
by
N. T Wright
( Book )
6 editions published between
2012
and 2016 in
English
and held by 780 WorldCat member libraries worldwide
Posits that the true central story of the Gospels is the coronation of God through Jesus as the climax of all human history, which sets the groundwork for transforming the way we see our role and duties in the world today
Paul : in fresh perspective
by
N. T Wright
( Book )
14 editions published between
2005
and 2018 in
English
and
Chinese
and held by 732 WorldCat member libraries worldwide
This book builds on and develops a new approach to Paul being formulated by a group of scholars (including Tom Wright). The book first outlines different angles that have been taken (accent on his Jewishness, his citizenship, his approach to the Law, his determination to bring in non-Jews) etc. It then puts forward, as a coherent thesis, the new approach that will be expanded on in the next large volume in the Christian Origins and the Question of God series. The book is based on the prestigious Hulsean Lectures he gave at Cambridge
The original Jesus : the life and vision of a revolutionary
by
N. T Wright
( Book )
12 editions published between
1996
and 2005 in
English
and held by 714 WorldCat member libraries worldwide
"In The Original Jesus biblical historian Tom Wright focuses on key stages in the life of Jesus, and key elements of his teaching, revealing a vivid reconstruction of what Jesus himself was aiming to achieve, and how the movement he began can best be understood in relation to the turbulent politics and fervent aspirations of his day." "Tom Wright also looks at the way we interpret the different Gospel narratives about Jesus, showing how modern readers coming fresh to these texts can do so in an informed and discriminating way." "Written in a lively, non-technical style, and illustrated throughout with full-colour photographs, The Original Jesus offers a compelling insight into what Jesus really stood for, why he was crucified, and how it was that his followers came to regard him as nothing less than the human face of God."--Jacket
What Saint Paul really said : was Paul of Tarsus the real founder of Christianity?
by
N. T Wright
( Book )
17 editions published between
1997
and 2014 in
English
and held by 713 WorldCat member libraries worldwide
"Recently, A.N. Wilson has claimed to show that it was Paul, not Jesus, who founded Christianity. But how does this thesis, which in various forms has been debated for over a century, stand up? In What Saint Paul Really Said, N.T. Wright - a world authority on the life and letters of Paul - leads readers through the current scholarly discussion of Paul and gives a devastating critique of views like Wilson's, showing that they fail to take account of all the evidence. Paul was not the "founder of Christianity" but, rather, the faithful witness and herald of Jesus Christ."--Jacket
Simply Jesus : who he was, what he did, why it matters
by
N. T Wright
( Book )
14 editions published between
2011
and 2014 in
English
and
Undetermined
and held by 707 WorldCat member libraries worldwide
"We have grown used to the battles over Jesus-whether he was human or divine as well, whether he could do miracles or just inspire them, whether he even existed or not. Much of the church defends tradition and the critics take shots at that tradition. But what if these debates have masked the real story of Jesus from us? What if even Jesus's defenders in the church have been blinded by so focusing on these issues that it has prevented them from fully grappling with what the Gospels really teach? Bible scholar, Anglican bishop, and bestselling author N.T. Wright summarizes a lifetime of study of Jesus and the New Testament in order to present for a general audience who Jesus was and is. In SIMPLY JESUS, we are invited to hear one of our leading scholars introduce the story of carpenter's son from Nazareth as if we were hearing it for the first time. "Jesus-the Jesus we might discover if we really looked," explains Wright, "is larger, more disturbing, more urgent than we had ever imagined. We have successfully managed to hide behind other questions and to avoid the huge, world-shaking challenge of Jesus' central claim and achievement. It is we, the churches, who have been the real reductionists. We have reduced the kingdom of God to private piety; the victory of the cross to comfort for the conscience; Easter itself to a happy, escapist ending after a sad, dark tale. Piety, conscience and ultimate happiness are important, but not nearly as important as Jesus himself." As the church faces the many challenges of the twenty-first century, Wright has presented a vision of Jesus that more than meets them"--
more
fewer
Audience Level
0

1
Kids
General
Special
Audience level: 0.28 (from 0.06 for The climax ... to 0.58 for Tom Wright ...)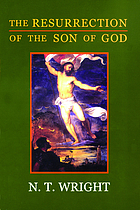 Alternative Names
N. T. Wright

N. T. Wright Anglican bishop

Nicholas Thomas Wright anglikanischer Bischof von Durham, neutestamentlicher Theologe und Leben-Jesu Forscher

Nicholas Thomas Wright vescovo anglicano e teologo inglese

NT Wright

Tom Wright theoloog uit Engeland

Wright, N. T.

Wright, N.T. 1948-

Wright, N.T. (Nicholas Thomas), 1948-

Wright, N. Thomas 1948-

Wright, Nicholas T. 1948-

Wright , Nicholas Thomas

Wright, Nicholas Thomas 1948-

Wright, Nicholas Tom

Wright T.

Wright T. 1948-

Wright, Thomas

Wright, Tom.

Wright Tom 1948-....

Райт Н. Т

Райт Н. Т. 1948-

Райт, Николас Томас

ن. ت. رايت، 1948-

نيكولاس رايت

니컬러스 토머스 라이트

라이트, N. T

라이트, 니콜라스 토마스

라이트, 니콜라스 톰

라이트, 톰

ニコラス・トマス・ライト

ライト, N・T.

Languages
Covers