Fairclough, Adam
Most widely held works by Adam Fairclough
A class of their own : Black teachers in the segregated South
by
Adam Fairclough
( )
13 editions published between
2006
and 2007 in
English
and held by 2,286 WorldCat member libraries worldwide
In this major undertaking, noted civil rights historian Fairclough chronicles the odyssey of black teachers in the South from emancipation in 1865 to integration 100 years later
The Star Creek papers
by
Horace Mann Bond
( )
8 editions published between
1997
and 2011 in
English
and held by 1,963 WorldCat member libraries worldwide
When Horace and Julia Bond moved to Louisiana in 1934, they entered a world where the legacy of slavery was miscegenation, lingering paternalism, and deadly racism. The Bonds were a young, well-educated, and idealistic African American couple working for the Rosenwald Fund, a trust established by a northern philanthropist to build schools in rural areas. They were part of the "Explorer Project," sent to investigate the progress of the school in the Star Creek district of Washington Parish
To redeem the soul of America : the Southern Christian Leadership Conference and Martin Luther King, Jr.
by
Adam Fairclough
( Book )
18 editions published between
1987
and 2001 in
English
and held by 1,490 WorldCat member libraries worldwide
Though sometimes derided as inefficient, the Southern Christian Leadership Conference (SCLC) excelled during the 1960s in the one activity that mattered the most in the struggle against segregation: the skillful use of nonviolent direct action. Under the leadership of Martin Luther King, Ir., members of the SCLC out-sang, out-marched, and out-prayed their white oppressors. And, as Adam Fairclough reveals in this study they also out-thought them. This book is a history of the SCLC and its role in bringing about a second reconstruction in the South--one that made good the promise of the first. Firmly rooted in the Black church, the SCLC was a spiritually guided organization, but Fairclough shows that it was also an extremely practical one. With painfully limited resources of manpower and money, the organization learned to direct its energies carefully in order to achieve the maximum effect and to place the most pressure on a federal government that was, throughout the struggle, reluctant to act. The SCLC's great talent was in merging grass-roots protest with diplomacy at the highest levels of government, and if it was the Student Nonviolent Coordinating Committee (SNCC) that was the most effective in advancing voter registration drives and creating local organizations, it was SCLC that built on those foundations and brought to bear, through its campaigns in Selma and Birmingham, the pressure on the national government that resulted in the passage of the 1964 Civil Rights Act and the 1965 Voting Rights Act.--Adapted from book jacket
Better day coming : Blacks and equality, 1890-2000
by
Adam Fairclough
( Book )
19 editions published between
2001
and 2014 in
English
and held by 1,320 WorldCat member libraries worldwide
Traces the history of the African-American struggle for racial equality, from the anti-lynching campaign launched by Ida B. Wells in the 1890s, through the leadership of Jesse Jackson, focusing on events in the American South
Martin Luther King, Jr.
by
Adam Fairclough
( Book )
18 editions published between
1990
and 2013 in
English
and held by 1,054 WorldCat member libraries worldwide
During a public career spanning only twelve years, Martin Luther King, Jr., transformed the South - and the nation - and reinvigorated American democracy. From the pulpit and from jail, he inspired African Americans to rebel against white supremacy, nonviolently defying racism, bigotry, and brutality. He also sought a better way of life for all poor and powerless people, black and white alike. In this concise and readable biography, Adam Fairclough chronicles the major events of King's life and assesses his achievements as the preeminent leader of the civil rights movement. Throughout, Fairclough charts the major stages of King's philosophical and political growth, examining his opposition to the Vietnam War, his response to Black Power, and his growing concern for economic justice. Fairclough rounds out his portrait with an assessment of King's legacy to America and his continuing relevance to the struggle throughout the world for freedom and equality
The revolution that failed : reconstruction in Natchitoches
by
Adam Fairclough
( )
5 editions published in
2018
in
English
and held by 980 WorldCat member libraries worldwide
The book combines a fine-grain local study of the oldest European settlement in Louisiana, with the story of Reconstruction at the state and national level. It offers a dramatic narrative of political, racial, and personal conflicts, while putting forward an analysis of Reconstruction that challenges current received wisdom
Race & democracy : the civil rights struggle in Louisiana, 1915-1972
by
Adam Fairclough
( Book )
14 editions published between
1995
and 2008 in
English
and held by 908 WorldCat member libraries worldwide
Race and Democracy is the first history of the civil rights movement in Louisiana. Central to Race and Democracy is Fairclough's argument that historians and the media, in their fascination with the action-oriented, youth-dominated 1960s, do not appreciate the full variety, depth, and durability of black protest. Moreover, by according higher visibility to the most "glamorous" aspects of the movement, they have neglected the crucial role of the NAACP. The dominant civil rights organization in the deep south before the mid-1950s, the NAACP had already amassed an impressive record of victories through litigation and fieldwork before SCLC, CORE, and SNCC arrived on the scene. In reassessing the role of the NAACP, Race and Democracy highlights the contributions of black lawyer Alexander Pierre Tureaud and the many extraordinarily brave men and women for whom the struggle for civil rights was a lifetime commitment. Race and Democracy includes careful analyses of white responses to the civil rights movement as expressed through political factions, trade unions, business lobbies, the Catholic Church, White Citizens Councils, and the Ku Klux Klan. As well as examining the leadership of three powerful governors - Huey Long, Earl Long, and John McKeithen - it describes the roles of such key individuals as federal judge Skelly Wright, Catholic archbishop Joseph Rummel, and racist politico Leander H. Perez. Throughout, Fairclough places the Louisiana movement in the context of such national trends and events as war, depression, McCarthyism, Black Power, and federal intervention. He concludes by surveying present-day Louisiana and assessing the political significance of David Duke
Teaching equality : Black schools in the age of Jim Crow
by
Adam Fairclough
( Book )
7 editions published between
2001
and 2016 in
English
and held by 628 WorldCat member libraries worldwide
Defining the term teacher broadly to include any person who taught students, whether in a backwoods cabin or the brick halls of a university, Fairclough illustrates the multifaceted responsibilities of individuals who were community leaders and frontline activists as well as conveyors of knowledge. He reveals the complicated lives of these educators who, in the face of a prejudice-based social order and a history of oppression, sustained and inspired the minds and hearts of generations of black Americans"--Jacket
Before Brown : civil rights and white backlash in the modern South
by
Andrew Michael Manis
( )
2 editions published in
2015
in
English
and held by 17 WorldCat member libraries worldwide
Detailing the ferment in civil rights that took place across the South before the momentous Brown vs. Board of Education decision in 1954, this collection refutes the notion that the movement began with the Supreme Court decision, and suggests, rather, that the movement originated in the 1930s and earlier, spurred by the Great Depression and, later, World War II
more
fewer
Audience Level
0

1
Kids
General
Special
Audience level: 0.19 (from 0.04 for The Star C ... to 0.98 for A study of ...)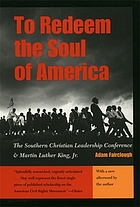 Covers
Alternative Names
Adam Fairclough Brits historicus

Adam Fairclough historiador britànic

Adam Fairclough historiador británico

Adam Fairclough historiador británicu

Adam Fairclough historian britanik

Adam Fairclough historien britannique

Adam Fairclough Tall, White Hair, Glasses, White, Male

آدم فيركلوغ مؤرخ من المملكة المتحدة

Languages