Bartov, Omer
Most widely held works by Omer Bartov
Murder in our midst : the Holocaust, industrial killing, and representation
by
Omer Bartov
( )
26 editions published between
1995
and 1997 in
English
and
Undetermined
and held by 2,013 WorldCat member libraries worldwide
"Murder in Our Midst: The Holocaust, Industrial Killing, and Representation examines the emergence, implementation, and representation of industrial killing, an inherent and crucial component of modernity whose most extreme manifestation was the Holocaust." "The mechanized, impersonal, and sustained mass destruction of human beings, organized and legitimized by states, scientists, jurists, and intellectuals, is rooted in the industrial slaughterhouse of the Great War. In Murder in Our Midst, Omer Bartov argues that the Nazi death factories are best understood in the context of modern warfare, beginning with the First World War. He shows how the way we understand ourselves reflects the ambivalent effects of the Holocaust on our perceptions of war and violence, history and memory, progress and barbarism." "Analyzing a wide array of historical texts, works of fiction, films, and museums, Bartov leads the reader from ancient myths of heroism to the trenches of the Western Front, from Thomas Mann's romantic vision of war to Primo Levi's stark depictions of genocide, from colonial war museums to the visual art of the Holocaust. These representations of killing share some of the same important features. They attempt to form coherent images from horrific events, to draw didactic lessons from them, and to use them for political ends."--Jacket
The Holocaust : origins, implementation, aftermath
by
Omer Bartov
( )
40 editions published between
1999
and 2015 in
English
and held by 1,980 WorldCat member libraries worldwide
Presenting a critical study of the Holocaust with a summary of the state of the field, this book contains major reinterpretations by Holocaust authors along with key texts on testimony, memory and justice after the catastrophe
Mirrors of destruction : war, genocide, and modern identity
by
Omer Bartov
( )
33 editions published between
1999
and 2009 in 3 languages and held by 1,927 WorldCat member libraries worldwide
"Mirrors of Destruction examines the relationship between total war, state-organized genocide, and the emergence of modern identity. Here, Omer Bartov demonstrates that in the twentieth century there have been intimate links between military conflict, mass murder of civilian populations, and the definition and categorization of groups and individuals." "Rather than presenting a comprehensive history, or a narrative from a single perspective, Bartov views the past century through four interrelated prisms. He begins with an analysis of the glorification of war and violence, from its modern birth in the trenches of World War I to its horrifying culmination in the presentation of genocide by the SS as a glorious undertaking. He then examines the pacifist reaction in interwar France to show how it contributed to a climate of collaboration with dictatorship and mass murder. The book goes on to argue that much of the discourse on identity throughout the century has had to do with identifying and eliminating society's "elusive enemies" or "enemies from within." Bartov concludes with an investigation of modern apocalyptic visions, showing how they have both encouraged mass destructions and opened a way for the reconstruction of individual and collective identities after a catastrophe."--Jacket
Hitler's army : soldiers, Nazis, and war in the Third Reich
by
Omer Bartov
( Book )
68 editions published between
1955
and 2017 in 7 languages and held by 1,849 WorldCat member libraries worldwide
In Hitler's Army, Omer Bartov successfully challenges the prevailing view that the German Army of World War II was an apolitical, professional fighting force, having little to do with the Nazi Party. Bartov focuses on the titanic struggle between Germany and the Soviet Union -- where the vast majority of German troops fought -- to show how the savagery of war reshaped the army in Hitler's image. Both brutalized and brutalizing, these soldiers needed to see their bitter sacrifices as noble patriotism and to justify their own atrocities by seeing their victims as subhuman. - Publisher
Germany's war and the Holocaust : disputed histories
by
Omer Bartov
( )
25 editions published between
2002
and 2013 in
English
and held by 1,751 WorldCat member libraries worldwide
A collection of articles, excerpts from books and articles, and review essays published previously, revised and updated for this edition. Partial contents:
Shatterzone of empires : coexistence and violence in the German, Habsburg, Russian, and Ottoman borderlands
by
Eric D Weitz
( )
18 editions published between
2012
and 2013 in
English
and held by 1,424 WorldCat member libraries worldwide
Shatterzone of Empires is a comprehensive analysis of interethnic relations, coexistence, and violence in Europe's eastern borderlands over the past two centuries. In this vast territory, extending from the Baltic to the Black Sea, four major empires with ethnically and religiously diverse populations encountered each other along often changing and contested borders. Examining this geographically widespread, multicultural region at several levels - local, national, transnational, and empire - and through multiple approaches - social, cultural, political, and economic - this volume offers informed and dispassionate analyses of how the many populations of these borderlands managed to coexist in a previous era and how and why the areas eventually descended into violence. An understanding of this specific region will help readers grasp the preconditions of interethnic coexistence and the causes of ethnic violence and war in many of the world's other borderlands bothpast and present. -- Publisher's website
Erased : vanishing traces of Jewish Galicia in present-day Ukraine
by
Omer Bartov
( )
15 editions published between
2007
and 2015 in
English
and held by 1,346 WorldCat member libraries worldwide
In Erased, Omer Bartov uncovers the rapidly disappearing vestiges of the Jews of western Ukraine, who were rounded up and murdered by the Nazis during World War II with help from the local populace. What begins as a deeply personal chronicle of the Holocaust in his mother's hometown of Buchach--in former Eastern Galicia--carries him on a journey across the region and back through history. This poignant travelogue reveals the complete erasure of the Jews and their removal from public memory, a blatant act of forgetting done in the service of a fiercely aggressive Ukrainian nationalism. Bartov, a leading Holocaust scholar, discovers that to make sense of the heartbreaking events of the war, he must first grapple with the complex interethnic relationships andconflicts that have existed there for centuries
The eastern front, 1941-45 : German troops and the barbarisation of warfare
by
Omer Bartov
( Book )
45 editions published between
1985
and 2007 in 4 languages and held by 952 WorldCat member libraries worldwide
"Based largely upon unpublished sources, Omer Bartov's study looks closely at the German army on the Eastern Front during the Second World War. He describes the physical hardship, the discipline and morale, and analyzes the social educational and political background of the junior officers who formed the backbone of the German army. Only with these factors in mind can we begin to explain the criminal activities of the German army in Russia and the extent of involvement of the army in the execution of Hitler's brutal policies."--Jacket
In God's name : genocide and religion in the twentieth century
by
Omer Bartov
( Book )
15 editions published between
2000
and 2010 in
English
and held by 883 WorldCat member libraries worldwide
Despite the widespread trends of secularization in the 20th century, religion has played an important role in several outbreaks of genocide since the First World War. And yet, not many scholars have looked either at the religious aspects of modern genocide, or at the manner in which religion has taken a position on mass killing. This collection of essays addresses this hiatus by examining the intersection between religion and state-organized murder in the cases of the Armenian, Jewish, Rwandan, and Bosnian genocides. Rather than a comprehensive overview, it offers a series of discrete, yet closely related case studies, that shed light on three fundamental aspects of this issue: the use of religion to legitimize and motivate genocide; the potential of religious faith to encourage physical and spiritual resistance to mass murder; and finally, the role of religion in coming to terms with the legacy of atrocity. [from publisher's advertisement]
Anatomy of a genocide : the life and death of a town called Buczacz
by
Omer Bartov
( Book )
19 editions published between
2018
and 2021 in
English
and
German
and held by 860 WorldCat member libraries worldwide
"A fascinating and timely examination of how genocide can take root at the local level--turning neighbors, friends and even family members against one another--as seen through the little-known story of the Eastern European border town Buczacz during World War II"--
more
fewer
Audience Level
0

1
Kids
General
Special
Audience level: 0.24 (from 0.08 for The Holoca ... to 0.93 for In God's n ...)
Related Identities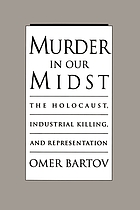 Covers
Alternative Names
Barṭôv, ʿOmer 1954-

Barṭwb, ʿOmer 1954-...

Omer Bartov Amerikaans historicus

Omer Bartov historiador estadounidense

Omer Bartov historiador estatunidenc

Omer Bartov historiador estauxunidense

Omer Bartov historiador norte-americano

Omer Bartov historialari estatubatuarra

Omer Bartov historien américain

Omer Bartov israelischer Historiker und Hochschullehrer

Omer Bartov izraeli származású amerikai történész, professzor, akadémikus

Omer Bartov storico statunitense

Омер Бартов

ברטוב, עומר

ברטוב, עמר

ברטוב עמר 1954-....

עמר ברטוב

עמר ברטוב היסטוריון ישראלי

Languages