Welfens, Paul J. J.
Most widely held works by Paul J. J Welfens
Innovations in macroeconomics
by
Paul J. J Welfens
( Book )
60 editions published between
2006
and 2014 in
English
and held by 394 WorldCat member libraries worldwide
Modern macroeconomics suffers from an unclear link between short-term Keynesian analysis and long-term growth modelling. This book presents a new link between monetary analysis and growth modelling in open economies. Structural change, innovations and growth are considered from a new perspective. With respect to economic policy - in particular innovation policy - the analysis implies major changes, concerning both EU countries and other leading OECD economies
Grundlagen der Wirtschaftspolitik : Institutionen - Makroökonomik - Politikkonzepte
by
Paul J. J Welfens
( Book )
17 editions published between
2005
and 2013 in
German
and held by 390 WorldCat member libraries worldwide
Dieses Buch gibt eine umfassende Einführung in die Wirtschaftspolitik im Sinne einer Gestaltung der nationalen bzw. internationalen Wirtschaftsordnung und Auseinandersetzung mit den Problemen offener Volkswirtschaften. Nach den Grundlagen der Volkswirtschaftslehre und insbesondere der Makroökonomik werden Konzepte und Instrumente der Wirtschaftspolitik vorgestellt. Das Buch erläutert Marktformen, Marktversagen und Wettbewerbspolitik und vermittelt die besonderen wirtschaftspolitischen Anforderungen durch Integration und Globalisierung. Zu den Themen gehören auch neuere theoretische Ansätze, wirtschaftspolitische Entscheidungsprozesse, Aspekte der Neuen Politischen Ökonomie und Internationale Organisationen. Das Buch gibt einen sehr guten Einblick in internationale Entwicklungen der Wirtschaftspolitik: Behandelt werden Fragen der Globalisierung und EU-Integration sowie die modernen Grundlagen der Stabilitätspolitik inklusive der Analyse der transatlantischen Bankenkrise. In der fünften Auflage dieses Lehrbuches, das ein Standard-Werk geworden ist, wurden die Probleme der Eurokrise unter Hinweis auf relevante theoretische Konzepte eingearbeitet. (buchkatalog.de)
European monetary integration : EMS developments and international post-Maastricht perspectives
by
Paul J. J Welfens
( Book )
30 editions published between
1994
and 2011 in
English
and held by 361 WorldCat member libraries worldwide
EU monetary integration was reinforced in the 1980s when macroeconomic convergence and a dominant role of the German Bundesbank created the basis for relatively stable exchange rates and increasing EU trade volumes. The analysis here focuses on the EMS crisis of 1992/93, the topic of optimum currency areas and the problem of fiscal policies and regional stabilization in Europe, the US and Canada. This book gives an assessment of the EMS developments and shows how financial market liberalization as well as the EU single market project affect the process of economic and monetary union. The role of currency substitution and problems of the Bundesbank's monetary policy control in a changing international system are evaluated
Economic aspects of German unification : national and international perspectives
( Book )
15 editions published between
1992
and 2012 in
English
and
Italian
and held by 264 WorldCat member libraries worldwide
German unification is changing central Europe, the EC and international economic and political relations. Prosperous West Germany with its "social market economy" has absorbed the socialist GDR which is facing a complex systemic tranformation process. This volume analyzes the causes, developments, and processes that are associated with German unification. The merger of the two Germanies provides a unique laboratory like example of institutional and economic changes against which established economic theoreis and economic policy concepts can be tested. German unification raises, of course, many new questions for Grmany itself, Europe, and the whole international community. Will the enlarged Germany become a new economic giant in Europe and can the FRG maintain stability and prosperity? What macroeconomic and structural problems are faced by the new Germany and what are the effects for trade, investment, and growth in Germany`s partner countries? Will East Germany catch up with the West and can this process serve as a model forEastern Europe? What are the views of Poland and the USSR, and what implications arise for Western Europe and the United States? Finally, how isthe triangular relationship between the U.S., the EC, and Japan affected, and how does this affect the United States` ability to organize economic cooperation with Japan, Germany, and other leading economies?
Globalization, economic growth, and innovation dynamics
by
Paul J. J Welfens
( Book )
18 editions published between
1999
and 2011 in
English
and
German
and held by 249 WorldCat member libraries worldwide
"In the new global economy more countries have opened up to international competition and rapid capital flows. However, in the triad the process of globalization is rather asymmetric. With a rising role of multinational companies there are favorable prospects for higher global growth and economic catching-up, respectively. Theoretical analysis suggests key ingredients of sustained growth, but there also is a new concept of a long-term equilibrium income gap in which convergence is rather unlikely. The analysis also picks up European and US labor market issues in the context of economic globalization and raises the question which EU policies in the field of labor market reform and of innovation policies are adequate."--Jacket
Structural change and exchange rate dynamics : the economics of EU eastern enlargement
by
Paul J. J Welfens
( Book )
14 editions published between
2005
and 2010 in
English
and held by 174 WorldCat member libraries worldwide
"Structural change, economic growth and adequate exchange rate adjustment are key challenges in the context of EU eastern enlargement as are consistent macroeconomic policies. The authors focus on sectoral adjustment across industries in catching-up countries and explain changes in the composition of output - this includes news aspects of the Chenery model. They describe and analyze the spatial pattern of specialization and adjustment in many countries."--Jacket
Digital economic dynamics : innovations, networks and regulations
by
Paul J. J Welfens
( Book )
13 editions published in
2007
in
English
and held by 166 WorldCat member libraries worldwide
This book analyzes the dynamics and impacts of software development and discusses new institutional and economic changes in the context of digital market economies. Regulatory approaches in OECD countries are compared and country studies evaluated with respect to innovation and welfare aspects. The book furthermore examines telecommunications regulation of fixed line networks, cable TV and mobile communications. Also discusses the role of EU framework regulation and issues of market power
Integration in Asia and Europe : historical dynamics, political issues, and economic perspectives
by
Paul J. J Welfens
( Book )
22 editions published between
2005
and 2011 in
English
and held by 155 WorldCat member libraries worldwide
Broadening and deepening of economic and political integration are hallmarks of the EU and ASEAN. Analysing the economic and institutional changes in both Europe and Asia, this book emphasizes on banking, financial market dynamics, ICT, and macroeconomic policies. The legal aspects are combined with historical and economic perspectives
Digital integration, growth and rational regulation
by
Paul J. J Welfens
( Book )
15 editions published between
2007
and 2008 in
English
and held by 137 WorldCat member libraries worldwide
Economic progress in the digital knowledge society will be characterized by enormous structural change and the growth of digital services. This book focuses on the role of information and communication technologies for economic integration, networking and growth. It highlights technological and regulatory dynamics with respect to EU countries and the US and presents new policy conclusions at both the national and international levels, including welfare analysis
Digital excellence : university meets economy
by
Paul J. J Welfens
( Book )
18 editions published between
2007
and 2008 in
English
and held by 133 WorldCat member libraries worldwide
"Digital economic modernization is a crucial element of progress in both OECD countries and newly industrialized countries. The contributions to this book explore the technological and economic dynamics of information and communication technology (ICT) and focus on several innovative software applications which aim at solving standard and new problems more efficiently. They particularly emphasize the point that innovation within an economic context does not solely concern companies and their customers; integrating research institutions and universities enhances the scope of creativity to not only produce concrete innovative ideas and projects, but also to develop procedures and techniques for putting them into practice. This book provides companies with both insights into new approaches and immediate access to innovative concepts."--Jacket
more
fewer
Audience Level
0

1
Kids
General
Special
Audience level: 0.57 (from 0.26 for Sustainabl ... to 0.83 for Grundlagen ...)
Related Identities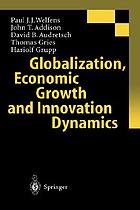 Alternative Names
Paul J. J. Welfens deutscher Volkswirt

Paul J. J. Welfens Duits econoom

Paul J. J. Welfens German economist

Paul J. J. Welfens tysk ekonom

Paul J. J. Welfens tysk økonom

Velʹfens, Paulʹ

Velʹfens, Paulʹ 1957-

Velʹfens, Paul Dž 1957-

Velʹfens, Paul Dž. Dž 1957-

Welfens, P. J.

Welfens, P. J. J.

Welfens, P. J. J. 1957-

Welfens, P. J. J., (Paul J. J.)

Welfens, Paul 1957-

Welfens, Paul J.

Welfens, Paul J. 1957-

Welfens, Paul J. J.

Welfens, Paul J. J., 1957-

パウル・J・J・ヴェルフェンス

Languages
Covers