Starke, Linda
Most widely held works by Linda Starke
State of the world, 1990 : a Worldwatch Institute report on progress toward a sustainable society
by
Lester R Brown
( Book )
80 editions published between
1984
and 2011 in
English
and
Undetermined
and held by 2,054 WorldCat member libraries worldwide
"State of the World 2011 ... assesses the state of agricultural innovations--from cropping methods to irrigation technology to agricultural policy--with an emphasis on sustainability, diversity, and ecosystem health in the hope of guiding governments, foundations, and concerned citizens in their efforts to eradicate hunger and poverty."--Back cover
Beyond Malthus : sixteen dimensions of the population problem
by
Lester R Brown
( Book )
7 editions published between
1998
and 2000 in
English
and held by 601 WorldCat member libraries worldwide
"This study looks at 16 dimensions or effects of population growth in order to gain a better perspective on how future population trends are likely to affect the human prospect. The evidence gathered here indicates that the rapid population growth prevailing in a majority of the world's countries is not going to continue much longer. Either countries will get their act together, shifting quickly to smaller families, or death rates will rise from one or more [stresses such as AIDS, ethnic conflicts, or water shortages]." The sixteen topics are grain production, fresh water, biodiversity, climate change, oceanic fish catch, jobs, cropland, forests, housing, energy, urbanization, natural recreation areas, education, waste, meat production, and income. (Excerpt)
State of the world 2013 : is sustainability still possible?
by
Worldwatch Institute
( Book )
9 editions published in
2013
in
English
and held by 595 WorldCat member libraries worldwide
"Every day, we are presented with a range of "sustainable" products and activities--from "green" cleaning supplies to carbon offsets--but with so much labeled as "sustainable," the term has become essentially sustainababble, at best indicating a practice or product slightly less damaging than the conventional alternative. Is it time to abandon the concept altogether, or can we find an accurate way to measure sustainability? If so, how can we achieve it? And if not, how can we best prepare for the coming ecological decline? In the latest edition of Worldwatch Institute's State of the World series, scientists, policy experts, and thought leaders tackle these questions, attempting to restore meaning to sustainability as more than just a marketing tool. In State of the World 2013: Is Sustainability Still Possible?, experts define clear sustainability metrics and examine various policies and perspectives, including geoengineering, corporate transformation, and changes in agricultural policy, that could put us on the path to prosperity without diminishing the well-being of future generations. If these approaches fall short, the final chapters explore ways to prepare for drastic environmental change and resource depletion, such as strengthening democracy and societal resilience, protecting cultural heritage, and dealing with increased conflict and migration flows. State of the World 2013 cuts through the rhetoric surrounding sustainability, offering a broad and realistic look at how close we are to fulfilling it today and which practices and policies will steer us in the right direction. This book will be especially useful for policymakers, environmental nonprofits, and students of environmental studies, sustainability, or economics." -- Publisher's description
State of the world, 2010 : transforming cultures : from consumerism to sustainability : a Worldwatch Institute report on progress toward a sustainable society
by
Worldwatch Institute
( Book )
16 editions published between
2009
and 2014 in
English
and held by 494 WorldCat member libraries worldwide
"Like a tsunami, consumerism has engulfed human cultures and Earth's ecosystems. Left unaddressed, we risk global disaster. But if we channel this wave, intentionally transforming our cultures to center sustainability, we will not only prevent catastrophe but may usher in an era of sustainability--one that allows all people tho thrive while protecting, even restoring, Earth. In this year's State of the World report, 50+ renowned researchers and practitioners describe how we can harness the world's leading institutions--education, the media, business, government, traditions, and social movements--to reorient cultures toward sustainability." -- Provided by publisher
State of the world 2007 : our urban future : a Worldwatch Institute report on progress toward a sustainable society
by
Worldwatch Institute
( Book )
10 editions published between
2006
and 2007 in
English
and held by 463 WorldCat member libraries worldwide
We are on the verge of historic transition: at some point in 2008, more than half of all people will live in urban areas. Is this good or bad news? Urban centers are hives of creativity, economic hubs, and engines of technological process. Yet not far from the gated enclaves of luxury homes, children in slums routinely die from diseases spread by dirty water, while alienation, drug trafficking and violence undermine local and global security. Local governments from Bogotá to London have emerged as environmental innovators, but cities still disproportionately contribute to problems as wide-ranging as climate change to pandemic disease. This edition of State of the World examines changes in the ways cities are managed, built, and lived in that could tip the balance toward a healthier and more peaceful urban future. Authors investigate water and sanitation, urban faming, local energy production, "green" transportation options, disaster preparedness, local economic stability, and much more. Plus, snapshots of cities from Timbuktu to Los Angeles give a glimpse of the fascinating diversity of urban life
Unnatural disasters
by
Janet N Abramovitz
( Book )
6 editions published in
2001
in
English
and held by 461 WorldCat member libraries worldwide
The author lays out detailed recommendations for changing the way we manage disasters and ourselves. To the extent possible, people and structures should be located out of harm's way. When hazards are unavoidable, buildings should be made to withstand them. The author believes healthy ecosystems should be maintained or restored to provide natural disaster protection
Signs of hope : working towards our common future
by
Linda Starke
( Book )
11 editions published in
1990
in
English
and held by 432 WorldCat member libraries worldwide
Er wordt gekeken naar ontwikkelingen/veranderingen in de wereld op het gebied van milieu en ontwikkeling, naar aanleiding van het rapport "Our Common Future."
State of the world, 2003 : a Worldwatch Institute report on progress toward a sustainable society
by
Worldwatch Institute
( Book )
15 editions published between
2003
and 2005 in
English
and held by 377 WorldCat member libraries worldwide
"If we are going to reverse biodiversity loss, dampen the effects of global warming, and eliminate the scourge of persistent poverty, we need to reinvent ourselves--as individuals, as societies, as corporations, and as governments. In this 20th anniversary edition of a Worldwatch classic, the Institute's highly respected interdisciplinary research team argues that past successes--such as the elimination of smallpox and the encouraging drop in birth rates in many countries--prove that humanity is capable of redirecting itself in positive ways. Most encouraging, the world is sitting on the cusp of similar successes that could usher in a sustainable human civilization. The use of clean, renewable energy technologies, like wind turbines and photovoltaics for example, is growing at over 25 percent per year, and they are increasingly competitive with fossil fuels. Organic farming is the fastest-growing sector of the world agricultural economy, with the potential to rejuvenate rural communities from the Philippines to Sweden. And a quickening of religious interest in humanity's place in the natural environment could awaken a powerful new constituency to the cause of sustainability. The challenges are still immense, of course, as the book also documents. But the building blocks for a historic reinvention of human civilization are now within reach." -- Worldwatch Institute website
more
fewer
Audience Level
0

1
Kids
General
Special
Audience level: 0.29 (from 0.03 for Vital sign ... to 0.60 for Signs of h ...)
Related Identities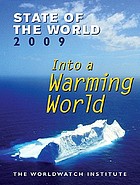 Alternative Names
Languages
Covers