Blazer, Dan G. II (Dan German) 1944-
Most widely held works about Dan G Blazer
Most widely held works by Dan G Blazer
Emotional problems in later life : intervention strategies for professional caregivers
by
Dan G Blazer
( )
23 editions published between
1990
and 1998 in
English
and held by 2,268 WorldCat member libraries worldwide
Written by an internationally renowed authority in geriatric psychiatry, this text discusses the most common emotional problems affecting the elderly: memory loss, depression, anxiety, sleeping problems, alcohol and drug abuse, and others. Each problem is addressed in a consistent format highlighting:.: the nature and scope of the problem.; the etiological factors involved.; a diagnostic workup.; treatment strategies. The focus is on providing the health practitioner with information and specific strategies to diagnose the nature of the problem and to resolve the difficulties, as the situation
Testosterone and aging : clinical research directions
by
Catharyn T Liverman
( )
11 editions published in
2004
in
English
and held by 2,105 WorldCat member libraries worldwide
Text features a report from the National Institute of Medicine, as requested by the National Institute of Aging and the National Cancer Institute, on the potential beneficial and adverse effects of testosterone therapy in older men. Features conclusions and recommendations derived from a twelve-month study and clinical trials
The age of melancholy : "major depression" and its social origins
by
Dan G Blazer
( Book )
18 editions published between
2005
and 2014 in
English
and held by 1,790 WorldCat member libraries worldwide
"In The Age of Melancholy, noted psychiatrist and author Dan Blazer ponders why - if our biological makeup has not fundamentally changed in the last half-century - we are suddenly depressed on an epidemic scale? He does not have to look far to find answers in the breakneck pace of 21st century life, in our societal pressures, in our intrusive work spaces, and in our disjointed relationships. And yet, despite many seemingly obvious links between our environment and our mental health, contemporary psychiatry is dependent on biomedical treatments for patients who are viewed as solitary individuals, each with independent factors causing depression. The increasing emphasis on the biological sciences and simultaneous loss of interest in related social sciences have put up blinders and impeded progress toward our understanding and treatment of major depression." "In this wide-ranging treatise, Dan Blazer calls for a revival of social psychiatry, which, complementing and completing medical and clinical research, could provide powerful insights into the causes, prevention, and treatment of depression."--Jacket
Genes, behavior, and the social environment : moving beyond the nature/nurture debate
by
Lyla M Hernandez
( )
13 editions published between
1900
and 2006 in
English
and held by 1,659 WorldCat member libraries worldwide
"As part of a strategy to determine how best to integrate research priorities to include an increased focus on the impact on health of interactions among social, behavioral, and genetic factors, the National Institutes of Health (NIH), Office of Behavioral and Social Sciences Research, in conjunction with the National Human Genome Research Institute and the National Institute of General Medical Sciences, requested that the Institute of Medicine undertake a study to examine the state of the science on gene environment interactions that affect human health, with a focus on the social environment. The goal of the study was to identify approaches and strategies to strengthen the integration of social, behavioral, and genetic research and to consider the relevant training and infrastructure needs." (Hernandez and Blazer, 2006, p. 2)
Principles and practice of geriatric psychiatry
by
John R. M Copeland
( )
22 editions published between
1994
and 2003 in
English
and held by 1,129 WorldCat member libraries worldwide
As the global population ages, all disorders related to ageing are of greater interest to researchers, but none more so than mental disorders. Consequently, geriatric psychiatry has emerged in the last two decades as an important clinical and scientific discipline. The 2nd Edition of this very successful book brings the reader up-to-date on the most recent advances in this area as well as a diverse range of other fields. Drawing on the knowledge of leading international experts the book encompasses the range of scientific and clinical disciplines relevant to mental health in old age, from neur
Cognitive aging : progress in understanding and opportunities for action
by
Institute of Medicine (U.S.)
( )
8 editions published in
2015
in
English
and held by 1,010 WorldCat member libraries worldwide
"For most Americans, staying "mentally sharp" as they age is a very high priority. Declines in memory and decision-making abilities may trigger fears of Alzheimer's disease or other neurodegenerative diseases. However, cognitive aging is a natural process that can have both positive and negative effects on cognitive function in older adults - effects that vary widely among individuals. At this point in time, when the older population is rapidly growing in the United States and across the globe, it is important to examine what is known about cognitive aging and to identify and promote actions that individuals, organizations, communities, and society can take to help older adults maintain and improve their cognitive health. Cognitive Aging assesses the public health dimensions of cognitive aging with an emphasis on definitions and terminology, epidemiology and surveillance, prevention and intervention, education of health professionals, and public awareness and education. This report makes specific recommendations for individuals to reduce the risks of cognitive decline with aging. Aging is inevitable, but there are actions that can be taken by individuals, families, communities, and society that may help to prevent or ameliorate the impact of aging on the brain, understand more about its impact, and help older adults live more fully and independent lives. Cognitive aging is not just an individual or a family or a health care system challenge. It is an issue that affects the fabric of society and requires actions by many and varied stakeholders."--Publisher's description
Depression in late life
by
Dan G Blazer
( Book )
23 editions published between
1982
and 2003 in 3 languages and held by 881 WorldCat member libraries worldwide
The mental health and substance use workforce for older adults : in whose hands?
by
Institute of Medicine (U. S.)
( )
2 editions published in
2012
in
English
and held by 785 WorldCat member libraries worldwide
At least 5.6 million to 8 million--nearly one in five--older adults in America have one or more mental health and substance use conditions, which present unique challenges for their care. With the number of adults age 65 and older projected to soar from 40.3 million in 2010 to 72.1 million by 2030, the aging of America holds profound consequences for the nation. For decades, policymakers have been warned that the nation's health care workforce is ill-equipped to care for a rapidly growing and increasingly diverse population. In the specific disciplines of mental health and substance use, there have been similar warnings about serious workforce shortages, insufficient workforce diversity, and lack of basic competence and core knowledge in key areas. Following its 2008 report highlighting the urgency of expanding and strengthening the geriatric health care workforce, the IOM was asked by the Department of Health and Human Services to undertake a complementary study on the geriatric mental health and substance use workforce. The Mental Health and Substance Use Workforce for Older Adults: In Whose Hands? assesses the needs of this population and the workforce that serves it. The breadth and magnitude of inadequate workforce training and personnel shortages have grown to such proportions, says the committee, that no single approach, nor a few isolated changes in disparate federal agencies or programs, can adequately address the issue. Overcoming these challenges will require focused and coordinated action by all
The American Psychiatric Publishing textbook of geriatric psychiatry
( Book )
22 editions published between
2004
and 2015 in
English
and held by 755 WorldCat member libraries worldwide
Designed to provide both scholar and clinician with the current state of scientific understanding and the practical skills and knowledge base required for dealing with mental disorders in late life. This volume's 54 scholars represent an eclectic mix of distinguished psychiatrists and colleagues from relevant biomedical and behavioral disciplines. Covering both important psychiatric disorders and normal aging changes, all the chapters of this compendium have been scientifically reviewed and updated. Divided into five major parts, the Textbook's topics begin with the basic science of geriatric psychiatry, continue with the diagnostic interview and psychiatric disorders and treatment, and conclude with coverage of legal, ethical, and policy issues and the past and future of geriatric psychatry
Hearing health care for adults : priorities for improving access and affordability
by
Engineering, and Medicine (U.S.) National Academies of Sciences
( )
3 editions published in
2016
in
English
and held by 646 WorldCat member libraries worldwide
"The loss of hearing - be it gradual or acute, mild or severe, present since birth or acquired in older age - can have significant effects on one's communication abilities, quality of life, social participation, and health. Despite this, many people with hearing loss do not seek or receive hearing health care. The reasons are numerous, complex, and often interconnected. For some, hearing health care is not affordable. For others, the appropriate services are difficult to access, or individuals do not know how or where to access them. Others may not want to deal with the stigma that they and society may associate with needing hearing health care and obtaining that care. Still others do not recognize they need hearing health care, as hearing loss is an invisible health condition that often worsens gradually over time. In the United States, an estimated 30 million individuals (12.7 percent of Americans ages 12 years or older) have hearing loss. Globally, hearing loss has been identified as the fifth leading cause of years lived with disability. Successful hearing health care enables individuals with hearing loss to have the freedom to communicate in their environments in ways that are culturally appropriate and that preserve their dignity and function. Hearing Health Care for Adults focuses on improving the accessibility and affordability of hearing health care for adults of all ages. This study examines the hearing health care system, with a focus on non-surgical technologies and services, and offers recommendations for improving access to, the affordability of, and the quality of hearing health care for adults of all ages"--
more
fewer
Audience Level
0

1
Kids
General
Special
Audience level: 0.21 (from 0.04 for Testostero ... to 0.99 for Blazer, Da ...)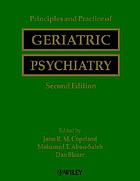 Covers
Alternative Names
Blazer, D.

Blazer, Dan.

Blazer, Dan 1944-

Blazer, Dan G.

Blazer, Dan G. 1944-

Blazer, Dan G. (Dan German), 1944-

Blazer, Dan German.

Blazer, Dan German 1944-

Blazer Daniel

Blazer, Daniel 1944-

Blazer, Daniel G. 1944-

블레이져, 댄

Languages