Weaver, R. Kent 1953-
Most widely held works by R. Kent Weaver
Ending welfare as we know it
by
R. Kent Weaver
( )
12 editions published in
2000
in
English
and held by 2,286 WorldCat member libraries worldwide
"Bill Clinton's first presidential term was a period of extraordinary change in policy toward low-income families. In 1993 Congress enacted a major expansion of the Earned Income Tax Credit for low-income working families. In 1996 Congress passed and the president signed the Personal Responsibility and Work Opportunity Reconciliation Act. This legislation abolished the sixty-year-old Aid to Families with Dependent Children (AFDC) program and replaced it with a block grant program, Temporary Assistance for Needy Families. It contained stiff new work requirements and limits on the length of time people could receive welfare benefits." "Dramatic change in AFDC was also occurring piecemeal in the states during these years. States used waivers granted by the federal Department of Health and Human Services to experiment with a variety of welfare strategies, including denial of additional benefits for children born or conceived while a mother received AFDC, work requirements, and time limits on receipt of cash benefits. The pace of change at the state level accelerated after the 1996 federal welfare reform legislation gave states increased leeway to design their programs." "Ending Welfare as We Know It analyzes how these changes in the AFDC program came about. In fourteen chapters, R. Kent Weaver addresses three sets of questions about the politics of welfare reform: the dismal history of comprehensive AFDC reform initiatives; the dramatic changes in the welfare reform agenda over the past thirty years; and the reasons why comprehensive welfare reform at the national level succeeded in 1996 after failing in 1995, in 1993-94, and on many previous occasions." "Welfare reform raises issues of race, class, and sex that are as difficult and divisive as any in American politics. While broad social and political trends helped to create a historic opening for welfare reform in the late 1990s, dramatic legislation was not inevitable. The interaction of contextual factors with short-term political and policy calculations by President Clinton and congressional Republicans - along with the cascade of repositioning by other policymakers - turned "ending welfare as we know it" from political possibility into policy reality."--Jacket
Do institutions matter? : government capabilities in the United States and abroad
by
R. Kent Weaver
( Book )
13 editions published between
1992
and 1993 in
English
and held by 800 WorldCat member libraries worldwide
As a stunning tide of democratization sweeps across much of the world, countries must cope with increasing problems of economic development, political and social integration, and greater public demand of scarce resources. The ability to respond effectively to these issues depends largely on the institutional choices of each of these newly democratizing countries. With critics of national political institutions in the United States arguing that the American separation-of-powers system promotes ineffectiveness and policy deadlock, many question whether these countries should emulate American institutions or choose parliamentary institutions instead. The essays in this book fully examine whether parliamentary government is superior to the separation-of-powers system through a direct comparison of the two. In addressing specific policy areas - such as innovation and implementation of energy policies after the oil shocks of 1970, management of societal cleavages, setting of government priorities in budgeting, representation of diffuse interests in environmental policy, and management of defense forces - the authors define capabilities that all governments need in order to respond to policy problems. Do Institutions Matter? includes case studies that bear important evidence on when and how institutions infiuence government effectiveness. The authors discover a widespread variation among parliamentary systems both in institutional arrangements and in governmental capabilities, and find that many of the failings of policy performance commonly attributed to American political institutions are in fact widely shared among western industrial countries. Moreover, they show how American political institutions inhibit some government capabilities while enhancing others. Changing American institutions to improve some aspects of governmental performance could hurt other widely valued capabilities. The authors draw important guidelines for institutional reformers while emphasizing that institutions do have predictable risks and opportunities. They caution that a balance between such risks and opportunities must first be reached before policy reformers try to change political institutions
The Collapse of Canada?
by
Keith G Banting
( Book )
8 editions published in
1992
in
English
and held by 779 WorldCat member libraries worldwide
America's northern neighbor faces a severe constitutional crisis. Unprecedented levels of public support for sovereignty in the predominantly French-speaking province of Quebec could lead to the breakup of Canada. This crisis was precipitated by two Canadian provinces' failure in 1990 to ratify the Meech Lake Accord, a package of revisions to Canada's constitution that addressed Quebec's grievances concerning its place within the Canadian federation. The current predicament is not an isolated incident - it is part of a recurring pattern of constitutional crises in Canada. The longer-term question is, can workable solutions be found to keep Canada intact, or is a sovereign Quebec inevitable sooner or later? This book, aimed at an international audience, examines the complex roots of Canada's constitutional discontent, the options currently being considered, and possible futures for "northern North America." Kent Weaver begins with an analysis of the interaction of Canadian social divisions and political institutions in managing political conflict, arguing that traditional institutional arrangements have been irreparably undermined by social change and that current institutions often exacerbate political divisions. Stephane Dion shows how two structural factors - Quebecers' fear of disappearing within an overwhelmingly English-speaking North America and increased confidence that Quebec can stand on its own - have combined with short-term catalytic factors, notably a feeling of rejection over the collapse of the Meech Lake Accord, to shape the ebb and flow of nationalist sentiment in Quebec in recent years. Andrew Stark argues that notions of citizenship and the state, associated with important philosophical currents in English Canada, create severe problems for attempts to reach an accommodation with Quebec. Keith Banting examines scenarios for Canada's future with and without a politically sovereign Quebec and the implications of these scenarios for the United States
The government taketh away : the politics of pain in the United States and Canada
( Book )
5 editions published in
2003
in
English
and held by 577 WorldCat member libraries worldwide
Democratic government is about making choices. Sometimes those choices involve the distribution of benefits. At other times they involve the imposition of some type of lossa program cut, increased taxes, or new regulatory standards. Citizens will resist such impositions if they can, or will try to punish governments at election time. The dynamics of loss imposition are therefore a universal if unpleasant element of democratic governance. Examines the repercussions of unpopular government decisions in Canada and the United States and compares the capacities of the U.S. presidential system and the Canadian Westminster system to impose different types of losses: symbolic losses (gun control and abortion), geographically concentrated losses (military base closings and nuclear waste disposal), geographically dispersed losses (cuts to pensions and to health care), and losses imposed on business (telecommunications deregulation and tobacco control). [back cover]
Think tanks and civil societies : catalysts for ideas and action
by
R. Kent Weaver
( Book )
20 editions published between
2000
and 2017 in
English
and held by 383 WorldCat member libraries worldwide
"Government and individual policymakers throughout the developed and developing world face the common problem of bringing expert knowledge to bear in government decision making. Policymakers need understandable, reliable, accessible, and useful information about the societies they govern. They also need to know how current policies are working, as well as possible alternatives and their likely costs and consequences. This expanding need has fostered the growth of independent public policy research organizations, commonly known as think tanks. Think Tanks and Civil Societies analyzes their growth, scope, and constraints, while providing institutional profiles of such organizations in every region of the world. Beginning with North America, contributors analyze think tank development past and future, consider their relationship to the general political culture, and provide detailed looks at such examples as the Heritage Foundation and the Institute for Research on Public Policy. A historical and subregional overview of think tanks throughout Europe notes the emphasis on European Union issues and points to a dramatic rise in the number and influence of free market institutes across the continent. Think tanks in Germany, Spain, and France are profiled with respect to national politics and cultures. Advanced industrial nations of northern Asia are compared and contrasted, revealing a greater need for independent policy voices. Moving to countries undergoing economic transition, contributors deal with challenges posed in Russia and the former Soviet bloc and their think tanks' search for influence, independence, and sustainability. Other chapters deal with the developing countries of Africa, Asia, the Middle East, and Latin America, finding that the number, quality, and independence of think tanks is largely determined by the degree of democracy in individual nations."--Provided by publisher
more
fewer
Audience Level
0

1
Kids
General
Special
Audience level: 0.31 (from 0.08 for Ending wel ... to 0.96 for The politi ...)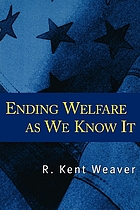 Covers
Alternative Names
Kent Weaver R.

Kent-Weaver, R. 1953-

Kent Weaver, Robert 1953-

Weaver, Kent 1953-

Weaver, R. K. 1953-

Weaver, R. Kent

Weaver, R. Kent 1953-

Languages