Sagan, Dorion 1959-
Most widely held works by Dorion Sagan
What is life?
by
Lynn Margulis
( Book )
27 editions published between
1995
and 2006 in
English
and
French
and held by 1,338 WorldCat member libraries worldwide
""Half a century ago, before the discovery of DNA, the Austrian physicist and philosopher Erwin Schrödinger inspired a generation of scientists by rephrasing the fascinating philosophical question: What is life? Using their expansive understanding of recent science to wonderful effect, acclaimed authors Lynn Margulis and Dorion Sagan revisit this timeless question in a fast-moving, wide-ranging narrative that combines rigorous science with philosophy, history, and poetry. The authors move deftly across a dazzling array of topics--from the dynamics of the bacterial realm, to the connection between sex and death, to theories of spirit and matter. They delve into the origins of life, offering the startling suggestion that life--not just human life--is free to act and has played an unexpectedly large part in its own evolution. Transcending the various formal concepts of life, this captivating book offers a unique overview of life's history, essences, and future.""--Publisher's description."
Acquiring genomes : a theory of the origins of species
by
Lynn Margulis
( Book )
17 editions published between
2002
and 2008 in
English
and held by 955 WorldCat member libraries worldwide
The authors argue that symbiotic merger far more than random mutation is the cause of new species
Mystery dance : on the evolution of human sexuality
by
Lynn Margulis
( Book )
9 editions published between
1991
and 1992 in
English
and held by 851 WorldCat member libraries worldwide
Examines human sexuality and behavior as they attempt to trace its ancestral origins among reptiles, amphibians, fish, and other vertebrates
Cosmic apprentice : dispatches from the edges of science
by
Dorion Sagan
( )
8 editions published in
2013
in
English
and held by 776 WorldCat member libraries worldwide
As science has become more specialized and more costly, its questing spirit has been constrained by dogma. And philosophy, perhaps the discipline best placed to question orthodoxy, has retreated behind dense theoretical language and arcane topics of learning. Sagan draws on classical and contemporary philosophy to intervene provocatively in often-charged debates on thermodynamics, linear and nonlinear time, purpose, ethics, the links between language and psychedelic drugs, the search for extraterrestrial intelligence, and the occupation of the human body by microbial others
Up from dragons : the evolution of human intelligence
by
John R Skoyles
( Book )
7 editions published in
2002
in
English
and held by 742 WorldCat member libraries worldwide
A breathtaking account of the "unnatural" history of consciousness and human intelligence. Taking its cue from The Dragons of Eden, Carl Sagan's 1977 classic and New York Times bestseller, Up from Dragons traces the development of human intelligence back to its animal roots in an attempt to account for the vast differences between our species and all those that came before us. In a book that will spark a storm of debate, neuroscientist John Skoyles and awardwinning author Dorion Sagan introduce a controversial theory of the origins of human intelligence that may hold the answers to questions that have haunted scientists about mind, consciousness, and the evolutionary odyssey of humankind. It also introduces the revolutionary concept of "mindware"the human, evolutionary equivalent of computer softwareand describes how the evolution-accelerating symbol-using programs that make it up have empowered us with the unprecedented ability to take charge of our own evolutionary destiny
Slanted truths : essays on Gaia, symbiosis, and evolution
by
Lynn Margulis
( Book )
11 editions published between
1997
and 2014 in
English
and
German
and held by 714 WorldCat member libraries worldwide
Lynn Margulis, one of the most original and perceptive scientific thinkers of our time, and the writer Dorion Sagan here present a selection from their many essays published in the last decade and a half. This collection includes an extraordinary memoir of Margulis' encounter with J. Robert Oppenheimer as well as provocative ideas on Gaia theory, symbiosis, individuality, and the way scientific research is conducted today
Atheist universe : the thinking person's answer to Christian Fundamentalism
by
David Mills
( )
9 editions published between
2006
and 2009 in
English
and held by 638 WorldCat member libraries worldwide
"Clear, concise, and persuasive, Atheist Universe details exactly why God is unnecessary to explain the universe and life's diversity, organization, and beauty. The author thoroughly rebuts every argument that claims to "prove" God's existence -- arguments based on logic, common sense, philosophy, ethics, history and science. Atheist Universe avoids the esoteric language used by philosophers and presents its scientific evidence in simple lay terms, making it a richly entertaining and easy-to-read introduction to atheism. A comprehensive primer, it addresses all the historical and scientific questions, including: Is there proof that God does not exist? What evidence is there of Jesus' resurrection? Can creation science reconcile scripture with the latest scientific discoveries? Atheist Universe also answers ethical issues such as: What is the meaning of life without God? It's a spellbinding inquiry that ultimately arrives at a controversial and well-documented conclusion"--Publisher's description
Into the cool : energy flow, thermodynamics, and life
by
Eric D Schneider
( Book )
10 editions published between
2005
and 2006 in
English
and held by 629 WorldCat member libraries worldwide
"Scientists, theologians, and philosophers have all sought to answer the questions of why we are here and where we are going. This natural basis of life has proved elusive, but in Into the Cool, Eric D. Schneider and Dorion Sagan look for answers in a surprising place: the second law of thermodynamics. This second law refers to energy's inevitable tendency to change from being concentrated in one place to becoming spread out over time. Although the second law is usually and correctly associated with molecular chaos - and thus with aging, loss, and death - Schneider and Sagan show that it is also vital to life and complexity; it is behind evolution, ecology, economics, and even life's origin. More observable than divine caprice, more real than computer simulations, and more basic than natural selection is the organizing, complexity-giving power of the second law." "Working from the precept that "nature abhors a gradient," Into the Cool details how complex systems emerge, enlarge, and reproduce in a world tending toward disorder. From hurricanes here to life on other worlds, from human evolution to the systems humans have created, this pervasive pull toward equilibrium governs life at its molecular base and at its peak in the elaborate structures of living complex systems."--Jacket
more
fewer
Audience Level
0

1
Kids
General
Special
Audience level: 0.30 (from 0.20 for Cracking t ... to 0.91 for Leben : vo ...)
Related Identities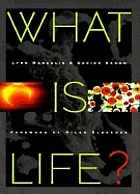 Alternative Names
Dorion Sagan amerikanesche wëssenschaftlechen Auteur

Dorion Sagan escritor, ensaista e teórico da ciencia estadounidense

Dorion Sagan escritor, ensaysta y teórico de la ciencia estadounidense

Дорион Саган

Դորիոն Սագան

סגן, דוריון

დორიონ სეიგანი ამერიკელი სამეცნიერო მწერალი

세이건, 도리언 1959-

セーガン, ドリオン

多里昂·薩根

Languages
Covers