Shermer, Michael
Most widely held works about Michael Shermer
Most widely held works by Michael Shermer
Why people believe weird things : pseudoscience, superstition, and other confusions of our time
by
Michael Shermer
( Book )
59 editions published between
1976
and 2011 in 5 languages and held by 2,393 WorldCat member libraries worldwide
"In Why People Believe Weird Things, science historian Michael Shermer explores the very human reasons we find otherworldly phenomena, conspiracy theories, and cults so appealing. The editor of Skeptic magazine and the director of the Skeptics Society, Shermer shows how the eternal search for meaning and spiritual fulfillment often results in our thinking being led astray by extraordinary claims and controversial ideas - particularly in the realms of superstition and the supernatural." "But Shermer also reveals the darker and more fearful side of wishful thinking, including Holocaust denial, creationism, the recovered memory movement, alien abduction experiences, the satanic ritual abuse scare and other modern witch crazes, extreme Afrocentrism, and ideologies of racial superiority. As Shermer investigates these movements and the people behind them, you'll be introduced to the strange debating tactics of creationist Duane T. Gish as he goes toe-to-toe with the author over evolutionary theory; the apocalyptic visions of a leading racial pseudoscientist; ESP adherents who claim they've proved the power of thought-control; the "magical" techniques a famous psychic uses to fool his audiences; and the leaders of the Holocaust denial movement and their views on Nazis, freedom of speech, and future goals." "A compelling, and often disturbing, portrait of our immense capacity for self-delusion, Why People Believe Weird Things is ultimately a celebration of the scientific spirit - and the joy to be found in exploring the world's greatest mysteries, even if many of the questions remain unanswered."--Jacket
Denying history : who says the Holocaust never happened and why do they say it?
by
Michael Shermer
( Book )
28 editions published between
2000
and 2009 in
English
and
Polish
and held by 2,219 WorldCat member libraries worldwide
Denying History takes a bold and in-depth look at those who say the Holocaust never happened and explores the motivations behind such claims. While most commentators have dismissed the Holocaust deniers as antisemitic neo-Nazi thugs who do not deserve a response, historians Michael Shermer and Alex Grobman have immersed themselves in the minds and culture of these Holocaust "revisionists." In the process, they show how we can be certain that the Holocaust happened and, for that matter, how we can confirm any historical event. This edition is expanded with a new chapter and epilogue examining current, shockingly mainstream revisionism
Why Darwin matters : the case against intelligent design
by
Michael Shermer
( Book )
11 editions published between
2006
and 2007 in
English
and held by 1,776 WorldCat member libraries worldwide
Science is on the defensive. Half of Americans reject the theory of evolution and "Intelligent Design" campaigns are gaining ground. Classroom by classroom, creationism is overthrowing biology. Cutting the politics away from the facts, skeptic Shermer explains how the newest brand of creationism appeals to our predisposition to look for a designer behind life's complexity. Shermer decodes the scientific evidence to show that evolution is not "just a theory" and illustrates how it achieves the design of life through the bottom-up process of natural selection. Shermer, once an evangelical Christian and a creationist, argues that Intelligent Design proponents are invoking a combination of bad science, political antipathy, and flawed theology. He refutes their arguments and then demonstrates why conservatives and people of faith can and should embrace evolution. He then appraises the evolutionary questions that truly need to be settled, building a powerful argument for science itself.--From publisher description
The science of good and evil : why people cheat, gossip, care, share, and follow the golden rule
by
Michael Shermer
( Book )
14 editions published between
2004
and 2005 in
English
and held by 1,161 WorldCat member libraries worldwide
Reveals how humans have evolved from social primates into moral primates, exploring the implications of fuzzy logic, fate, free will, and ecology, among other issues affecting the way humans think about moral issues
The mind of the market : compassionate apes, competitive humans, and other tales from evolutionary economics
by
Michael Shermer
( Book )
11 editions published between
2007
and 2008 in
English
and held by 873 WorldCat member libraries worldwide
In this eye-opening exploration, author and psychologist Michael Shermer uncovers the evolutionary roots of our economic behavior. Drawing on the new field of neuroeconomics, Shermer investigates what brain scans reveal about bargaining, snap purchases, and establishing trust in business. He scrutinizes experiments in behavioral economics to understand why people hang on to losing stocks, why negotiations disintegrate into tit-for-tat disputes, and why money does not make us happy. He brings together astonishing findings from psychology, biology, and other sciences to describe how our tribal ancestry makes us suckers for brands, why researchers believe cooperation unleashes biochemicals similar to those released during sex, why free trade promises to build alliances between nations, and how even capuchin monkeys get indignant if they don't get a fair reward for their work.--From publisher description
The borderlands of science : where sense meets nonsense
by
Michael Shermer
( Book )
23 editions published between
2001
and 2010 in 3 languages and held by 826 WorldCat member libraries worldwide
"As author of the bestselling Why People Believe Weird Things and How We Believe, and Editor-In-Chief of Skeptic magazine, Michael Shermer has emerged as the nation's number one scourge of superstition and bad science. Now, in The Borderlands of Science, he takes us to the place where real science (such as the big bang theory), borderland science (superstring theory), and just plain nonsense (Big Foot) collide with one another."--Jacket
The moral arc : how science and reason lead humanity toward truth, justice, and freedom
by
Michael Shermer
( Book )
7 editions published in
2015
in
English
and held by 808 WorldCat member libraries worldwide
"From Galileo and Newton to Thomas Hobbes and Martin Luther King, Jr., thinkers throughout history have consciously employed scientific techniques to better understand the non-physical world. The Age of Reason and the Enlightenment led theorists to apply scientific reasoning to the non-scientific disciplines of politics, economics, and moral philosophy. Instead of relying on the woodcuts of dissected bodies in old medical texts, physicians opened bodies themselves to see what was there; instead of divining truth through the authority of an ancient holy book or philosophical treatise, people began to explore the book of nature for themselves through travel and exploration; instead of the supernatural belief in the divine right of kings, people employed a natural belief in the right of democracy. In this provocative and compelling book, Shermer will explain how abstract reasoning, rationality, empiricism, skepticism--scientific ways of thinking--have profoundly changed the way we perceive morality and, indeed, move us ever closer to a more just world"--
In Darwin's shadow : the life and science of Alfred Russel Wallace : a biographical study on the psychology of history
by
Michael Shermer
( Book )
21 editions published between
2002
and 2011 in
English
and
Undetermined
and held by 792 WorldCat member libraries worldwide
Virtually unknown today, Alfred Russel Wallace was the co-discoverer of natural selection with Charles Darwin and an eminent scientist who stood out among his Victorian peers as a man of formidable mind and equally outsized personality. Michael Shermer rescues Wallace from the shadow of Darwin in this biography. Here we see Wallace as perhaps the greatest naturalist of his age-spending years in remote jungles, collecting astounding quantities of specimens, writing thoughtfully and with bemused detachment at his reception in places where no white man had ever gone. Here, too, is his supple and forceful intelligence at work, grappling with such arcane problems as the bright colouration of caterpillars, or shaping his 1858 paper on natural selection that prompted Darwin to publish (with Wallace) the first paper outlining the theory of evolution. Shermer also shows that Wallace's self-trained intellect, while powerful, also embraced surprisingly naive ideas, such as his deep interest in the study of spiritual manifestations and seances. Shermer shows that the same iconoclastic outlook that led him to overturn scientific orthodoxy as he worked in relative isolation also led him to embrace irrational beliefs, and thus tarnish his reputation. As author of Why people believe weird things and founding publisher of "Skeptic" magazine, Shermer turns his judgment and analysis to Wallace's life and his contradictory beliefs, aiming to restore a leading figure in the rise of modern science to his rightful place
more
fewer
Audience Level
0

1
Kids
General
Special
Audience level: 0.21 (from 0.01 for The Skepti ... to 0.36 for Charlie Ro ...)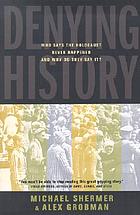 Alternative Names
Michael Shermer Amerikaans schrijver

Michael Shermer amerikansk författare

Michael Shermer amerikansk skribent

Michael Shermer amerykański historyk nauki

Michael Shermer écrivain scientifique américain

Michael Shermer scrittore e storico della scienza statunitense

Michael Shermer US-amerikanischer Wissenschaftsjournalist, Wissenschaftshistoriker und Gründer der Skeptics Society

Shermer, Michael

Shermer, Michael B. 1954-

Shermer, Michael Brant.

Shermer, Michael Brant 1954-

Μάικλ Σέρμερ

Майкл Шермер

Майкъл Шърмър

Мајкл Шермер

Шермер, Майкл

מייקל שרמר

مايكل شارمر

مایکل شرمر نویسنده آمریکایی

மைக்கல் செர்மர்

마이클 셔머

셔머, 마이클 1954-

シャーマー, マイクル

シャーマー, マイケル

マイケル・シャーマー

邁克爾·謝爾默

Languages
Covers