Ronell, Avital
Most widely held works about Avital Ronell
Most widely held works by Avital Ronell
The test drive
by
Avital Ronell
( )
21 editions published between
1900
and 2009 in
English
and
French
and held by 1,663 WorldCat member libraries worldwide
"Addressed to those who are left stranded by speculative thinking and unhinged by cognitive discourse, The Test Drive, organized around Nietzsche's interpretation of physics, points to a toxic residue of uninterrogated policies associated with scientific probes that continue to underscore an experience of permanent dislocation, break-down, and disruption."--Jacket
Complaint : grievance among friends
by
Avital Ronell
( )
5 editions published in
2018
in
English
and
Undetermined
and held by 1,050 WorldCat member libraries worldwide
"Everyone has a complaint, but nobody likes a complainer. Rather than making things better a complaint can just make things worse. Often its only relief is the harmless and temporary release of steam. But it can also pose as criticism in one of several seemingly respectable forms. In Complaint, Avital Ronell looks at how complaints and complainers have been treated in literature and philosophy, in feedback loops that pay little attention to injustice and suffering. Beginning with Hamlet, and with open awareness of her own experiences, Ronell proceeds to show how complaining is aggravated, distracted, stifled, and transformed. She looks at exemplary complaints made by Friedrich Nietzsche, Hannah Arendt, and Barbara Johnson. She examines the complaint riven history of deconstruction. Renowned for her courage in taking on painful subjects with candor and wit, Ronell dares to listen to the haunting complaints of the dead"--
Examined life
by
Astra Taylor
( Visual )
18 editions published between
2008
and 2010 in
English
and held by 700 WorldCat member libraries worldwide
Examined Life takes philosophy into the hustle and bustle of the everyday. The "rock star" philosophers of our time take "walks" through places that hold special resonance for them and their ideas. These places include crowded city streets, deserted alleyways, Central Park, and a garbage dump
The telephone book : technology--schizophrenia--electric speech
by
Avital Ronell
( Book )
15 editions published between
1989
and 1994 in
English
and
Undetermined
and held by 562 WorldCat member libraries worldwide
"The book begins by calling close attention to the importance of the telephone in Nazi organization and propaganda, with special regard to the philosophy of Martin Heidegger. In the Third Reich the telephone became a weapon, a means of state surveillance, "an open accomplice to lies." Heidegger, in Being and Time and elsewhere, elaborates on the significance of "the call." In a tour de force response, Ronell mobilizes the history and terminology of the telephone to explicate his difficult philosophy. Ronell also speaks of the appearance of the telephone in the literary works of Duras, Joyce, Kafka, Rilke, and Strindberg. She examines its role in psychoanalysis—Freud said that the unconscious is structured like a telephone, and Jung and R. D. Laing saw it as a powerful new body part. She traces its historical development from Bell's famous first call: "Watson, come here!" Thomas A. Watson, his assistant, who used to communicate with spirits, was eager to get the telephone to talk, and thus to link technology with phantoms and phantasms. In many ways a meditation on the technologically constituted state, The Telephone Book opens a new field, becoming the first political deconstruction of technology, state terrorism, and schizophrenia. And it offers a fresh reading of the American and European addiction to technology in which the telephone emerges as the crucial figure of this age"--Publisher description
Dictations : on haunted writing
by
Avital Ronell
( Book )
27 editions published between
1986
and 2006 in 3 languages and held by 501 WorldCat member libraries worldwide
On Goethe, including critique of Eckermann's "Gesprache mit Goethe."
Crack wars : literature, addiction, mania
by
Avital Ronell
( Book )
13 editions published between
1992
and 2004 in
English
and held by 443 WorldCat member libraries worldwide
"Avital Ronell asks why "there is no culture without drug culture." Tracing and tracking the zones of modern dependencies, she deals with the usual drugs and alcohol (and their celebrities: Freud's cocaine, Baudelaire's hashish, the Victorians' laudanum), and moves beyond them to addictive mappings that are culturally accepted - an insatiable appetite for romance novels, for instance, and romance itself as well as the satellite technologies of our everyday existence."
Powering Down On Authority (English and Dutch)
by
Avital Ronell
( )
3 editions published in
2014
in
English
and held by 425 WorldCat member libraries worldwide
Powering Down on Authority is Avital Ronell's response to Witte de With's invitation for her to reflect, in lengthy essay form, on the questions of power and authority in our time
The making of a terrorist : on classic German rogues
by
Jeffrey Champlin
( Book )
5 editions published between
2014
and 2015 in
English
and held by 298 WorldCat member libraries worldwide
In The Making of a Terrorist, Jeffrey Champlin examines key figures from three canonical texts from the German-language literature of the late eighteenth and early nineteenth centuries: Goethe's Gotz von Berlichingen, Schiller's Die Rauber, and Kleist's Michael Kohlhaas. Champlin situates these readings within a larger theoretical and historical context, exploring the mechanics, aesthetics, and poetics of terror while explicating the emergence of the terrorist personality in modernity. In engaging and accessible prose, Champlin explores the ethical dimensions of violence and interrogates an ethics of textual violence. -- Amazon.com
1993 biennial exhibition
by
Whitney Museum of American Art
( Book )
3 editions published in
1993
in
English
and held by 194 WorldCat member libraries worldwide
Fighting theory : Avital Ronell in conversation with Anne Dufourmantelle
by
Avital Ronell
( Book )
1 edition published in
2010
in
English
and held by 149 WorldCat member libraries worldwide
International interest in the work of Avital Ronell has expressed itself in reviews, articles, essays, and dissertations. For "Fighting Theory", psychoanalyst and philosopher Anne Dufourmantelle conducted twelve interviews with Ronell, each focused on a key topic in one of Ronell's books or on a set of issues that run throughout her work. What do philosophy and literary studies have to learn from each other? How does Ronell place her work within gender studies? What does psychoanalysis have to contribute to contemporary thought? What propels one in our day to Nietzsche, Derrida, Nancy, Bataille, and other philosophical writers? How important are courage and revolt? Ronell's discussions of such issues are candid, thoughtful, and often personal, bringing together elements from several texts, illuminating hints about them, and providing her up-to-date reflections on what she had written earlier. Intense and often ironic, "Fighting Theory" is a poignant self-reflection of the worlds and walls against which Avital Ronell crashed
more
fewer
Audience Level
0

1
Kids
General
Special
Audience level: 0.32 (from 0.01 for Confrontat ... to 0.91 for Telephone ...)
Related Identities
Associated Subjects
Alcoholism in literature
Anorexia nervosa
Art, American
Artistic collaboration
Austria
Authors, German
Cocaine abuse in literature
Complaints (Rhetoric) in literature
Deconstruction
Drug abuse in literature
Eckermann, Johann Peter,
Ethics
French poetry--Translations into English
Freud, Sigmund,
Friendship
Gender identity
Genetic engineering in art
German literature
Goethe, Johann Wolfgang von,
Götz von Berlichingen (Goethe, Johann Wolfgang von)
Influence (Literary, artistic, etc.)
Interpersonal relations
Life
Literature
Literature, Modern
Methodology
Michael Kohlhaas (Kleist, Heinrich von)
Middlebury College
Oral communication--Philosophy
Oral communication--Psychological aspects
Philosophers, Modern
Philosophy
Philosophy, American
Philosophy, Modern
Philosophy and civilization
Prose poems, French
Psychoanalysis and literature
Psychoanalysts
Räuber (Schiller, Friedrich)
Ronell, Avital
Social ethics
Social structure--Philosophy
Stupidity in literature
Technology--Psychological aspects
Telephone
Testing
Transgenic organisms
Universities and colleges--Alumni and alumnae
Violence in literature
Whitney Museum of American Art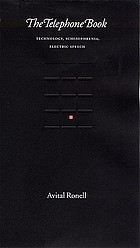 Covers
Alternative Names
Languages