Parshin, A. N.
Most widely held works by A. N Parshin
Algebraic geometry IV : linear algebraic groups, invariant theory
by
A. N Parshin
( Book )
21 editions published between
1994
and 2009 in
English
and
German
and held by 411 WorldCat member libraries worldwide
This volume of the Encyclopaedia contains two contributions on closely related subjects: the theory of linear algebraic groups and invariant theory. The first part is written by T.A. Springer, a well-known expert in the first mentioned field. He presents a comprehensive survey, which contains numerous sketched proofs and he discusses the particular features of algebraic groups over special fields (finite, local, and global). The authors of part two, E.B. Vinberg and V.L. Popov, are among the most active researchers in invariant theory. The last 20 years have been a period of vigorous development in this field due to the influence of modern methods from algebraic geometry. The book will be very useful as a reference and research guide to graduate students and researchers in mathematics and theoretical physics
Algebra VII : combinatorial group theory, applications to geometry
by
A. N Parshin
( Book )
13 editions published between
1991
and 1993 in
English
and held by 333 WorldCat member libraries worldwide
From the reviews of the first printing of this book, published as volume 58 of the Encyclopaedia of Mathematical Sciences: " ... This book will be very useful as a reference and guide to researchers and graduate students in algebra and and topology." Acta Scientiarum Mathematicarum, Ungarn, 1994 " ... The book under review consists of two monographs on geometric aspects of group theory: Combinatorial group theory and fundamental groups" by D.J. Collins and H. Zieschang ... : "Some problems of group theory related to geometry" by R.I. Grigorchuk and P.F. Kurchanov. ... Together, these two articles form a wide-ranging survey of combinatorial group theory, with emphasis very much on the geometric roots of the subject. This will be a useful reference work for the expert, as well as providing an overview of the subject for the outsider or novice. Many different topics are described and explored, with the main results presented but not proved. This allows the interested reader to get the flavour of these topics without becoming bogged down in detail. Both articles give comprehensive bibliographies, so that it is possible to use this book as the starting point for a more detailed study of a particular topic of interest. ... In summary, a very interesting book! Bulletin of the London Mathematical Society, 1996 " ... In both essays the authors give clear and comprehensive definitions, examples and statements (but not proofs) of theorems, so that the book can be understood by a reader with a minimal background in group theory or geometry. Such a reader, needing to find out what is known in this area, will find this a full and accessible store of information." Contemporary Physics, 1994 " ... This survey (Part II) presents for the first time that problems in monograph form and by the way offers a unifying treatment of the various approaches to their solutions, as far as they are known, together with hints to open problems. A titbit for every interested reader!" Monatshefte für Mathematik, 1995
Algebraic geometry III : complex algebraic varieties, algebraic curves and their Jacobians
by
Viktor S Kulikov
( Book )
19 editions published between
1994
and 1998 in
English
and held by 320 WorldCat member libraries worldwide
Dealing with the subject of complex algebraic geometry, this work offers a succinct summary of the areas it covers, while providing coverage of certain important fields. It presents an introduction to the work on the interactions between the classical area of the geometry of complex algebraic curves and their Jacobian varieties
Algebra VI : combinatorial and asymptotic methods of algebra : non-associative structures
( Book )
1 edition published in
1995
in
English
and held by 68 WorldCat member libraries worldwide
"This book contains two contributions: "Combinatorial and Asymptotic Methods in Algebra" by V. A. Ufnarovskij is a survey of various combinatorial methods in infinite-dimensional algebras, widely interpreted to contain homological algebra and vigorously developing computer algebra, and narrowly interpreted as the study of algebraic objects defined by generators and their relations. The author shows how objects like words, graphs and automata provide valuable information in asymptotic studies. The main methods emply the notions of Grobner bases, generating functions, growth and those of homological algebra. Treated are also problems of relationships between different series, such as Hilbert, Poincare and Poincare-Betti series. Hyperbolic and quantum groups are also discussed. The reader does not need much of background material for he can find definitions and simple properties of the defined notions introduced along the way." ""Non-Associative Structures" by E. N. Kuz'min and I. P. Shestakov surveys the modern state of the theory of non-associative structures that are nearly associative. Jordan, alternative, Malcev, and quasigroup algebras are discussed as well as applications of these structures in various areas of mathematics and primarily their relationship with the associative algebras. Quasigroups and loops are treated too. The survey is self-contained and complete with references to proofs in the literature." "The book will be of great interest to graduate students and researchers in mathematics, computer science and theoretical physics."--BOOK JACKET
Number Theory I : Fundamental Problems, Ideas and Theories
by
A. N Parshin
( )
1 edition published in
1995
in
English
and held by 60 WorldCat member libraries worldwide
This book surveys from a unified point of view both the modern state and the trends of continuing development of various branches of number theory. Motivated by elementary problems (including some modern areas such as cryptography, factorization and primality testing), the central ideas of modern theories are exposed: algebraic number theory, calculations and properties of Galois groups, non-Abelian generalizations of class field theory, recursive computability and links with Diophantine equations, the arithmetic of algebraic varieties, connections with modular forms, zeta- and L-functions. The authors have tried to present the most significant results and methods of modern time. An overview of the major conjectures is also given in order to illustrate current thinking in number theory. Most of these conjectures are based on analogies between functions and numbers, and on connections with other branches of mathematics such as algebraic topology, analysis, representation theory and geometry
more
fewer
Audience Level
0

1
Kids
General
Special
Audience level: 0.60 (from 0.10 for Algebra an ... to 0.93 for Algebraic ...)
Related Identities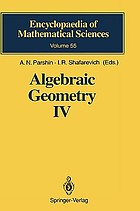 Covers
Alternative Names
Aleksej Nikolaevič Paršin

Aleksej Nikolaevič Paršin matemático ruso

Alexei Nikolaevich Parshin mathématicien russe

Alexei Nikolaevich Parshin Russian mathematician

Alexei Nikolajewitsch Parschin mathématicien russe

Alexei Nikolajewitsch Parschin Russisch wiskundige

Alexei Nikolajewitsch Parschin russischer Mathematiker

Alexey Parshin

Parschin, Alexei Nikolajewitsch 1942-

Parshin, A. N.

Parshin, A.N. 1942-

Parshin, Alekseĭ Nikolaevich

Parshin, Aleksey Nikolaevich

Parshin, Aleksey Nikolaevich 1942-

Parshin, Alexei N.

Parshin, Alexei Nikolaevich

Paršin, A. N.

Paršin, A. N. 1942-

Paršin, Aleksej N. 1942-

Pars̆in, Alexej Nikolaevic̆

Паршин А.Н.

Паршин, Алексей Николаевич 1942-...

Languages