Helen Kellogg Institute for International Studies
Most widely held works about Helen Kellogg Institute for International Studies
Most widely held works by Helen Kellogg Institute for International Studies
The rise and fall of repression in Chile
by
Pablo Policzer
( Book )
6 editions published in
2009
in
English
and held by 834 WorldCat member libraries worldwide
"In The Rise and Fall of Repression in Chile, Pablo Policzer tackles the difficult task of analyzing how authoritarian regimes utilize coercion. Even in relatively open societies, coercive institutions such as the police and military tend to be secretive and mistrustful of efforts by outsiders to oversee their operations. In more closed societies, secrecy is the norm, making coercion that much more difficult to observe and understand." "Drawing on organization theory to develop a comparative typology of coercive regimes, Policzer analyzes the structures and mechanisms of coercion in general and then shifts his focus to the early part of the military dictatorship in Chile, which lasted from 1973 to 1990. Policzer's book sheds new light on a fundamental, yet little-examined, period during the Chilean dictatorship. Between 1977 and 1978, the governing junta in Chile quietly replaced the secret police organization known as the Direccion de Informaciones Nacional (DINA) with a different institution, the Central Nacional de Informaciones (CNI). Policzer provides the first systematic account of why the DINA was created in the first place, how it became the most powerful repressive institution in the country, and why it was suddenly replaced with a different organization, one that carried out repression in a markedly more restrained manner."--Source inconnue
Governance in the Americas : decentralization, democracy, and subnational government in Brazil, Mexico, and the USA
by
Robert H Wilson
( )
8 editions published in
2008
in
English
and held by 624 WorldCat member libraries worldwide
Decentralization and the subnational state / Peter K. Spink, Victoria E. Rodríguez, Peter M. Ward, and Robert H. Wilson -- Two centuries of federalism in Brazil, Mexico, and the USA / Lawrence S. Graham and Allison M. Rowland -- The changing institutional capacity of subnational government: toward effective co-governance / Victoria E. Rodríguez, Peter K. Spink, and Peter M. Ward -- Intergovernmental relations and the subnational state: the decentralization of public policy making / Marta Ferreira Santos Farah, Pedro Jacobi, Victoria E. Rodríguez, Peter M. Ward, and Robert H. Wilson -- Government and citizens: the changing nature of civil society / Peter K. Spink, Victoria E. Rodríguez, Peter M. Ward, and Robert H. Wilson -- The past, present, and future of subnational governments and federalism / Peter K. Spink, Peter M. Ward, and Robert H. Wilson -- Notes -- Bibliography -- About the authors and collaborators -- Index
Dictatorship & politics : intrigue, betrayal, and survival in Venezuela, 1908-1935
by
B. S McBeth
( )
9 editions published in
2008
in
English
and held by 616 WorldCat member libraries worldwide
A new era -- Gómez takes over -- An opportunity for the exiles -- The Odin/Harrier expedition -- The Angelita expedition -- The civil-military movements of 1928 -- Renewed hope for the rebels -- The Falke expedition -- One last try -- The succession is resolved
Judicial reform as political insurance : Argentina, Peru, and Mexico in the 1990s
by
Jodi S Finkel
( )
9 editions published in
2008
in
English
and held by 583 WorldCat member libraries worldwide
"During the 1990s, judicial reform swept Latin America. Why do some instances of judicial reform appear lead to the development of a powerful judiciary while others have failed to do so? In her careful analysis, Finkel shows that while ruling parties can be induced to initiate judicial reforms (constitutional revisions), they often prove unwilling to implement these constitutional changes (by enacting required legislation). However, ruling parties that believe they are unlikely to maintain political power have a strong rationale for implementing meaningful judicial reform as an "insurance policy." Finkel's research suggests that as the ruling party's probability of reelection declines, the likelihood of reforms that result in an empowered judiciary increases."--BOOK JACKET
The success of the left in Latin America : untainted parties, market reforms, and voting behavior
by
María del Rosario Queirolo
( )
2 editions published in
2013
in
English
and held by 513 WorldCat member libraries worldwide
"Why, since the beginning of the twenty-first century, have so many Latin American countries elected governments identifying themselves with the ideological Left? In The Success of the Left in Latin America: Untainted Parties, Market Reforms, and Voting Behavior, Rosario Queirolo argues that the "pink tide" that swept across Latin America beginning in the late 1990s--with the election of a growing number of leftist political candidates to public office--was caused by the intent of voters to punish political parties unable to improve the economic well-being of their electorates. She argues that Latin Americans vote based on performance, ousting those whom they perceive as responsible for economic downturns, and ushering into power those in the "untainted opposition," which has been the Left in most Latin American countries. Queirolo argues that the effects of neoliberal economic reforms did not produce more votes for political parties on the Left. Rather, the key variable is unemployment. Left-leaning parties in Latin America increase their electoral chances when unemployment is high. In addition to explaining recent electoral successes of leftist parties, The Success of the Left in Latin America also undermines a dominant scholarly view of Latin Americans as random and unpredictable voters by showing how the electorate at the polls holds politicians accountable. "Rosario Queirolo's The Success of the Left in Latin America: Untainted Parties, Market Reforms, and Voting Behavior makes a valuable contribution to the study of Latin American politics and of comparative politics more generally. Queirolo makes a compelling argument that the general shift to the Left in Latin America was less a straightforward protest against neoliberal policies but more strongly a reaction to negative economic performance. Enriched with extensive survey data, her book is authoritative and persuasive."--Elizabeth J. Zechmeister, Vanderbilt University."
more
fewer
Audience Level
0

1
Kids
General
Special
Audience level: 0.36 (from 0.13 for Democracy ... to 0.84 for Annual rep ...)
Related Identities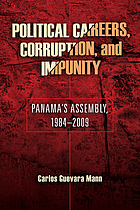 Covers
Alternative Names
Helen Kellogg Institute for International Studies

Institute Kellogg.

Instituto Kellogg

Instituto Kellogg (Estados Unidos)

Kellogg Institute

Kellogg Institute for International Studies

Kellogg Institute for International Studies (Estados Unidos)

Kellogg Institute for International Studies Instituto Kellogg

Kellogg Institute for International Studies Notre Dame, Ind

Kellogg Institute Notre Dame, Ind

University Notre Dame, Ind Helen Kellogg Institute for International Studies

University Notre Dame, Ind Kellogg Institute

University Notre Dame, Ind Kellogg Institute for International Studies

University of Notre Dame (Estados Unidos). Helen Kellogg Institute for International Studies

University of Notre Dame Helen Kellogg institute for international studies

University of Notre Dame Kellogg Institute

University of Notre Dame Kellogg Institute for International Studies

Languages