Harrison, Lawrence E.
Most widely held works about Lawrence E Harrison
Most widely held works by Lawrence E Harrison
The central liberal truth : how politics can change a culture and save it from itself
by
Lawrence E Harrison
( )
24 editions published between
2006
and 2008 in
English
and held by 2,015 WorldCat member libraries worldwide
"Which cultural values, beliefs, and attitudes best promote democracy, social justice, and prosperity? How can we use the forces that shape cultural change, such as religion, child-rearing practices, education, and political leadership, to promote these values in the Third World - and for underachieving minorities in the First World? In this book, a follow-up to his acclaimed Culture Matters, Lawrence E. Harrison offers intriguing answers to these questions." "Drawing on a three-year research project that explored the cultural values of dozens of nations - from Botswana, Sweden, and India to China, Egypt, and Chile - Harrison offers a look at values around the globe, revealing how each nation's culture has propelled or retarded its political and economic progress. The book presents 25 factors that operate very differently in cultures prone to progress and those that resist it, including one's influence over destiny, the importance attached to education, the extent to which people identify with and trust others, and the role of women in society. Harrison pulls no punches, and many of his findings will be controversial. He argues, for example, that Protestantism, Confucianism, and Judaism have been more successful in promoting progress than Catholicism, Orthodox Christianity, and Islam."--Jacket
Culture matters : how values shape human progress
by
Lawrence E Harrison
( Book )
26 editions published between
2000
and 2004 in
English
and
Undetermined
and held by 1,960 WorldCat member libraries worldwide
"Prominent scholars and journalists ponder the question of why, at the beginning of the twenty-first century, the world is more divided than ever between the rich and the poor, between those living in freedom and those under oppression"--Publisher description
Jews, Confucians, and Protestants : cultural capital and the end of multiculturalism
by
Lawrence E Harrison
( )
11 editions published between
2012
and 2017 in
English
and held by 1,055 WorldCat member libraries worldwide
"Multiculturalism--the belief that no culture is better or worse than any other; it is merely different--has come to dominate Western intellectual thought and to serve as a guide to domestic and foreign policy and development aid. But what if multiculturalism itself is flawed? What if some cultures are more prone to progress than others and more successful at creating the cultural capital that encourages democratic governance, social justice for all, and the elimination of poverty? In Jews, Confucians, and Protestants: Cultural Capital and the End of Multiculturalism, Lawrence E. Harrison takes the politically incorrect stand that all cultures are not created equal. Analyzing the performance of 117 countries, grouped by predominant religion, Harrison argues for the superiority of those cultures that emphasize Jewish, Confucian, and Protestant values. A concluding chapter outlines ways in which cultural change may substantially transform societies within a generation."--Publisher's website
Who prospers? : how cultural values shape economic and political success
by
Lawrence E Harrison
( Book )
14 editions published between
1992
and 1995 in
English
and held by 1,015 WorldCat member libraries worldwide
Why have East Asian immigrants done so well in the United States in the face of adversity and discrimination? Why have the Chinese done so much better outside China than inside? Why have Japan, Taiwan, and Korea grown so rapidly and equitably in the second half of the twentieth century? What explains Spain's transformation into a high-growth democracy after centuries of poverty and authoritarianism? Why has Brazil's economy grown faster in this century than that of any other Latin American country? And what explains the paradox of America's blacks, two-thirds of whom have made it into the middle class mainstream, while the remaining one-third languishes in the poverty of the ghetto? According to Lawrence E. Harrison, the author of this myth-shattering but ultimately hopeful book, culture--values and attitudes--provides the key to unlocking these mysteries. Drawing on three decades of experience in Latin American economic and social development as well as extensive research elsewhere, Harrison shows how it is the cultural values of a people, with respect to work, education, austerity, excellence, family, and community, that largely explain why some succeed while others do not. Harrison argues that it is the erosion of these values that lies behind America's decline, evident, for example, in lagging competitiveness, declining real income for most workers, low savings rates, the persistent and growing budget deficit, and the savings and loan scandal, not to mention growing divisiveness within the society. Understanding how culture can facilitate--or impede--progress is crucial to a renaissance in the United States, just as it is to development in Third World countries mired in authoritarianism, economic stagnation, and social inequality. Who Prospers? suggests measures to promote cultural change that nurtures progress, both at home and abroad
Culture matters in Russia--and everywhere : backdrop for the Russia-Ukraine Conflict
by
LAWRENCE HARRISON
( )
8 editions published between
2015
and 2016 in
English
and held by 792 WorldCat member libraries worldwide
"This collection of essays discusses modernization, democratization, and economic and political reforms in Russia and elsewhere, and asserts that these reforms can be accomplished through the reframing of cultural values, attitudes, and institutions. The contributors--who include three Nobel Laureates--strive to analyze and understand the role of culture in modernization, particularly relevant to Russian culture as tensions between Russia and the West heighten to levels not seen since the Cold War"--Provided by publisher
The Pan-American dream : do Latin America's cultural values discourage true partnership with the United States and Canada?
by
Lawrence E Harrison
( Book )
20 editions published between
1997
and 2018 in
English
and
Spanish
and held by 631 WorldCat member libraries worldwide
"Harrison continues his provocative but hardly novel thesis established in prior works, that the most important factor explaining US and Canadian 'progress' and Latin American 'underdevelopment' is 'the contrast between Anglo-Protestant and Ibero-Catholic culture.' Thus his answer to subtitle question is 'not necessarily' but a successful process will be very difficult"--Handbook of Latin American Studies, v. 57
Developing cultures : case studies
by
Peter L Berger
( Book )
11 editions published between
2005
and 2006 in
English
and held by 309 WorldCat member libraries worldwide
This is a collection of essays by leading scholars on the role of culture and cultural change in the development of countries and regions around the world
Developing cultures : essays on cultural change
by
Lawrence E Harrison
( Book )
12 editions published between
2005
and 2013 in
English
and held by 262 WorldCat member libraries worldwide
Developing Cultures: Essays on Cultural Change is a collection of 21 expert essays on the institutions that transmit cultural values from generation to generation. The essays are an outgrowth of a research project begun by Samuel Huntington and Larry Harrison in their widely discussed book Culture Matters the goal of which is guidelines for cultural change that can accelerate development in the Third World. The essays in this volume cover child rearing, several aspects of education, the world's major religions, the media, political leadership, and development projects. The book is companion volume to Developing Cultures: Case Studies.(0415952808)
more
fewer
Audience Level
0

1
Kids
General
Special
Audience level: 0.25 (from 0.08 for The centra ... to 0.95 for Kultura ma ...)
Related Identities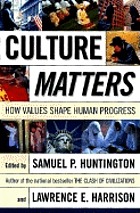 Covers
Alternative Names
Charrison, Lourens 1932-

Harrison, Lawrence

Harrison Lawrence 1932-....

Harrison, Lawrence E.

Харрисон Лоуренс

Харрисон, Лоуренс 1932-

Languages