Manwaring, Max G.
Most widely held works by Max G Manwaring
A contemporary challenge to state sovereignty : gangs and other illicit transnational criminal organizations in Central America, El Salvador, Mexico, Jamaica, and Brazil
by
Max G Manwaring
( )
12 editions published between
2007
and 2014 in
English
and held by 587 WorldCat member libraries worldwide
Another kind of war within the context of a clash of civilizations is being waged in various parts of the Americas, Africa, Asia, Europe, the Middle East, and elsewhere around the world. Some of the main protagonists are those who have come to be designated as first-, second-, and third-generation street gangs, as well as their various possible allies such as traditional Transnational Criminal Organizations (TCOs). In this new type of war, national security and sovereignty of affected countries is being impinged every day, and gangs illicit commercial motives are, in fact, becoming an ominous political agenda. Rather than trying to depose a government with a major stroke (golpe or coup) or in a prolonged revolutionary war, as some insurgents have done, gangs and their allies (the gang phenomenon) more subtly take control of territory and people one street or neighborhood at a time (coup d street) or one individual, business, or government office at a time. Thus, whether a gang is specifically a criminal or insurgent type organization is irrelevant. Its putative objective is to neutralize, control, or depose governments to ensure self-determined (nondemocratic) ends. This objective defines insurgency, a serious political agenda, and a clash regarding the authoritative allocation of values in a society. The purposes of this monograph are to (1) introduce the gang phenomenon as a major nonstate player and a serious threat in the global and regional security arenas;(2) examine the gang phenomenon in Central America in general and in El Salvador, Mexico, Jamaica, and Brazil more specifically; and (3) summarize the key points and lessons and make brief recommendations. These cases demonstrate the analytical commonalities of various types of gang activities as they contribute to the instabilities that lead to the erosion of national security, nation-state sovereignty, the processes of state failure, and the struggle between democratic and criminal values
Venezuela as an exporter of 4th generation warfare instability
by
Max G Manwaring
( )
7 editions published between
2009
and 2013 in
English
and held by 348 WorldCat member libraries worldwide
Almost no one seems to understand the Marxist-Leninist foundations of Hugo Chavez's political thought. It becomes evident, however, in the general vision of his "Bolivarian Revolution." The abbreviated concept is to destroy the old foreign-dominated (U.S. dominated) political and economic systems in the Americas, to take power, and to create a socialist, nationalistic, and "popular" (direct) democracy in Venezuela that would sooner or later extend throughout the Western Hemisphere. Despite the fact that the notion of the use of force (compulsion) is never completely separated from the Leninist concept of destroying any bourgeois opposition, Chavez's revolutionary vision will not be achieved through a conventional military war of maneuver and attrition, or a traditional insurgency. According to Lenin and Chavez, a "new society" will only be created by a gradual, systematic, compulsory application of agitation and propaganda (i.e., agit-prop). That long-term effort is aimed at exporting instability and generating public opinion in favor of a "revolution" and against the bourgeois system. Thus, the contemporary asymmetric revolutionary warfare challenge is rooted in the concept that the North American (U.S.) "Empire" and its bourgeois political friends in Latin America are not doing what is right for the people, and that the socialist Bolivarian philosophy and leadership will. This may not be a traditional national security problem for the United States and other targeted countries, and it may not be perceived to be as lethal as conventional conflict, but that does not diminish the cruel reality of compulsion
State and nonstate associated gangs : credible "midwives of new social orders"
by
Max G Manwaring
( )
6 editions published between
2009
and 2014 in
English
and held by 345 WorldCat member libraries worldwide
This monograph explores the complex protean character and hegemonic role of gangs operating as state and nonstate surrogates in the contemporary asymmetric and irregular global security arena. Gangs come in different types with different motives, and with different modes of action. Examples include Venezuela's institutionalized "popular militias," Colombia's devolving paramilitary criminal or warrior bands (bandas criminales), and al-Qaeda's loosely organized networks of propaganda-agitator gangs operating in Spain and elsewhere in Western Europe
Street gangs : the new urban insurgency
by
Max G Manwaring
( )
12 editions published between
2005
and 2017 in
English
and held by 336 WorldCat member libraries worldwide
The primary thrust of the monograph is to explain the linkage of contemporary criminal street gangs (that is, the gang phenomenon or third generation gangs) to insurgency in terms f the instability it wreaks upon government and the concomitant challenge to state sovereignty. Although there are differences between gangs and insurgents regarding motives and modes of operations, this linkage infers that gang phenomena are mutated forms of urban insurgency. In these terms, these "new" nonstate actors must eventually seize political power in order to guarantee the freedom of action and the commercial environment they want. The common denominator that clearly links the gang phenomenon to insurgency is that the third generation gangs' and insurgents' ultimate objective is to depose or control the governments of targeted countries. As a consequence, the "Duck Analogy" applies. Third generation gangs look like ducks, walk like ducks, and act like ducks - a peculiar breed, but ducks nevertheless! This monograph concludes with recommendations for the United States and other countries to focus security and assistance responses at the strategic level. The intent is to help leaders achieve strategic clarity and operate more effectively in the complex politically dominated, contemporary global security arena
Strategic effects of the conflict with Iraq
by
Max G Manwaring
( )
9 editions published in
2003
in
English
and held by 334 WorldCat member libraries worldwide
War with Iraq signals the beginning of a new era in American national security policy and alters strategic balances and relationships around the world. The specific effects of the war, though, will vary from region to region. In some, America's position will be strengthened. In others, it may degrade without serious and sustained efforts. To assess this dynamic, the Strategic Studies Institute (SSI) has developed a special series of monographs entitled Strategic Effects of the Conflict with Iraq. In each, the author has been asked to analyze four issues: the position that key states in their region are taking on U.S. military action against Iraq; the role of America in the region after the war with Iraq; the nature of security partnerships in the region after the war with Iraq; and the effect that war with Iraq will have on the war on terrorism in the region
A new dynamic in the Western Hemisphere security environment : the Mexican Zetas and other private armies
by
Max G Manwaring
( )
8 editions published between
2009
and 2014 in
English
and held by 332 WorldCat member libraries worldwide
The author discusses how a new and dangerous dynamic, a private military organization called the Zetas, has been inserted into the already crowded Mexican and Western Hemisphere security arena. The Zetas were originally organized and staffed by former members (deserters) from the Mexican Army's veteran elite Airborne Special Forces Group (GAFES). The author contends that the Zetas are better trained, equipped, motivated, and experienced in irregular warfare than the Mexican police and army. This monograph intends to promote a relevant response to the problem of the "guerrillas next door" to the United States
U.S. security policy in the western hemisphere : why Colombia, why now, and what is to be done?
by
Max G Manwaring
( )
9 editions published between
2001
and 2014 in
English
and held by 321 WorldCat member libraries worldwide
"This is one in the Special Series of monographs stemming from the February 2001 conference on Plan Colombia cosponsored by the Strategic Studies Institute of the U.S. Army War College and The Dante B. Fascell North-South Center of the University of Miami. In substantive U.S. national security terms, Dr. Manwaring addresses the questions, Why Colombia, Why Now, and What Is To Be Done? He explains the importance of that troubled country to the United States. He points out that the fragile democracy of Colombia is at risk, and that the violent spillover effects of three simultaneous wars pose a threat to the rest of the Western Hemisphere and the interdependent global community. Then Dr. Manwaring makes a case against continued tactical and operational approaches to the Colombian crisis and outlines what must be done. In that connection, he recommends an actionable political-military strategy to attain security, stability, democratic governance, and a sustainable peace. The proposed strategy would not be costly in monetary or military terms. It would, however, require deliberate planning, cooperation, time, and will."--SSI
more
fewer
Audience Level
0

1
Kids
General
Special
Audience level: 0.31 (from 0.01 for The search ... to 0.50 for Venezuela' ...)
Related Identities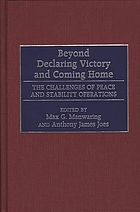 Covers
Alternative Names
Languages