Hardie, Philip R.
Most widely held works by Philip R Hardie
The Cambridge companion to Ovid
by
Philip R Hardie
( Book )
48 editions published between
2001
and 2012 in
English
and held by 906 WorldCat member libraries worldwide
Ovid was one of the greatest writers of classical antiquity and an influential ancient poet for post-classical literature and culture. This text discusses the backgrounds and contexts for Ovid and his influence on later literature and art
Virgil's Aeneid : Cosmos and imperium
by
Philip R Hardie
( Book )
26 editions published between
1985
and 2003 in
English
and
Italian
and held by 628 WorldCat member libraries worldwide
This book explores Virgil's poetic and mythical transformation of Roman imperialist ideology. The Romans saw an analogy between the ordered workings of the natural universe and the proper functioning of their own expanding empire; between orbis and urbs. In combining this cosmic imperialism with the military and panegyrical themes proper to epic, Virgil draws on a number of traditions: the notion that the ideal poet is a cosmologer; the use of allegory to extract natural-philosophical truths from mythology and poetry (especially Homer); the poetic use of hyperbole and the 'universal expression'. Virgil's imagination is dominated by the cosmological poem of Lucretius; the "Aeneid", like the "De rerum natura", is a poem about the universe and how man should live in it, but Virgil's constant inversion of Lucretian values makes of him an anti-Lucretius. Recent criticism has tended to stress the pessimistic and private sides of the "Aeneid"; but any easy conclusion that the poet was at heart anti-Augustan is precluded by the depth and detail with which he develops the imperialist themes discussed in this book
Virgil
by
Philip R Hardie
( Book )
17 editions published between
1988
and 2010 in 3 languages and held by 556 WorldCat member libraries worldwide
"In this volume ... provides an introduction to Virgil's three major works, a survey of changing critical approaches to the poems during the twentieth century, and a bibliographical guide for further study. A final section on tyle, language and metre offers a case-study in a close reading of a section of the Aeneid. The book communicates a sense of why reading Virgil mattes and how the study of this author is always open to new ideas and fresh insights. No knoledge of Latin is presumed"--Back cover
The epic successors of Virgil : a study in the dynamics of a tradition
by
Philip R Hardie
( Book )
16 editions published between
1992
and 2002 in
English
and held by 508 WorldCat member libraries worldwide
This short book is a study of the epic tradition of the early Roman empire and specifically of the epic poems of Ovid, Lucan, Statius, Valerius Flaccus and Silius Italicus. It explores the use they made of Virgil's Aeneid, an epic interpreted not just as a monument to the heroic construction of the principate, but also as a problematical text that challenged succeeding epic poets to a reworking of the issues that it dramatised: the possibility of establishing a lasting age of peace, the relation between power and the sacred, the difficulties of distinguishing between good and its evil parodies, anxiety about imperial and poetic succession. The author draws on modern critical and theoretical approaches to argue for the vitality and interest of works which have all too often been relegated to a second division of literary history
Ovid's poetics of illusion
by
Philip R Hardie
( Book )
16 editions published between
2002
and 2011 in
English
and held by 424 WorldCat member libraries worldwide
The book will interest students and scholars of Latin and later European literatures. All foreign languages are accompanied by translations."--Jacket
The Cambridge companion to Lucretius
( Book )
20 editions published between
2007
and 2012 in
English
and held by 419 WorldCat member libraries worldwide
"Lucretius' didactic poem De rerum natura ('On the Nature of Things') is an impassioned and visionary presentation of the materialist philosophy of Epicurus, and one of the most powerful poetic texts of antiquity. After its rediscovery in 1417 it became a controversial and seminal work in successive phases of literary history, the history of science, and the Enlightenment. In this Cambridge Companion experts in the history of literature, philosophy and science discuss the poem in its ancient contexts and in its reception both as a literary text and as a vehicle for progressive ideas. The Companion is designed both as an accessible handbook for the general reader who wishes to learn about Lucretius, and as a series of stimulating essays for students of classical antiquity and its reception. It is completely accessible to the reader who has only read Lucretius in translation."--Publisher's description
The last Trojan hero : a cultural history of Virgil's Aeneid
by
Philip R Hardie
( Book )
21 editions published between
2012
and 2016 in
English
and
Undetermined
and held by 335 WorldCat member libraries worldwide
'I sing of arms and of a man: his fate had made him fugitive: he was the first to journey from the coasts of Troy as far as Italy and the Lavinian shores.' The resonant opening lines of Virgil's 'Aeneid' rank among the most famous and consistently recited verses to have been passed down to later ages by antiquity. And after the 'Odyssey' and the 'Iliad', Virgil's masterpiece is arguably the greatest classical text in the whole of Western literature. This sinuous and richly characterised epic vitally influenced the poetry of Dante, Petrarch and Milton. The doomed love of Dido and Aeneas inspired Purcell, while for T.S. Eliot Virgil's poem was 'the classic of all Europe'. The poet's stirring tale of a refugee Trojan prince, 'torn from Libyan waves' to found a new homeland in Italy, has provided much fertile material for writings on colonialism and for discourses of ethnic and national identity. The 'Aeneid' has even been viewed as a template and a source of philosophical justification for British and American imperialism and adventurism. In his major new book Philip Hardie explores the many remarkable afterlives - ancient, medieval and modern - of the 'Aeneid' in literature, music, politics, the visual arts and film -- Dust jacket
Lucretian receptions : history, the sublime, knowledge
by
Philip R Hardie
( Book )
9 editions published between
2009
and 2015 in
English
and held by 259 WorldCat member libraries worldwide
"Lucretius' De Rerum Natura, one of the greatest Latin poems, worked a powerful fascination on Virgil and Horace, and continued to be an important model for later poets in antiquity and after, including Milton. This innovative set of studies on the reception of Lucretius is organized round three major themes: history and time, the sublime, and knowledge. The De Rerum Natura was foundational for Augustan poets' dealings with history and time in the new age of the principate. It is also a major document in the history of the sublime; Virgil and Horace engage with the Lucretian sublime in ways that exercised a major influence on the sublime in later antique and Renaissance literature. The De Rerum Natura presents a confident account of the ultimate truths of the universe; later didactic and epic poets respond with varying degrees of certainty or uncertainty to the challenge of Lucretius' Epicurean gospel"--Provided by publisher
Rumour and renown : representations of Fama in western literature
by
Philip R Hardie
( Book )
10 editions published between
2011
and 2014 in
English
and held by 224 WorldCat member libraries worldwide
"The Latin word fama means 'rumour', 'report', 'tradition', as well as modern English 'fame' or 'renown'. This magisterial and groundbreaking study in the literary and cultural history of rumour and renown, by one of the most influential living critics of Latin poetry, examines the intricate dynamics of their representations from Homer to Alexander Pope, with a focus on the power struggles played out within attempts to control the word, both spoken and written. Central are the personifications of Fama in Virgil and Ovid and the rich progeny spawned by them, but the book focuses on a wide range of genres other than epic, and on a variety of modes of narrating, dramatising, critiquing, and illustrating fama. Authors given detailed readings include Livy, Tacitus, Petrarch, Chaucer, Spenser, Shakespeare, Ben Jonson and Milton"--
more
fewer
Audience Level
0

1
Kids
General
Special
Audience level: 0.56 (from 0.28 for The last T ... to 0.72 for Rumour and ...)
Related Identities
Associated Subjects
Aeneas--(Legendary character)
Aeneis (Virgil)
Agriculture in literature
Art, Roman
Art appreciation
Civilization
Classical literature
Classical literature--Appreciation
Classical literature--Influence
Cosmology, Ancient
Cosmology, Ancient, in literature
Cosmology in literature
De rerum natura (Lucretius Carus, Titus)
Didactic poetry, Latin
English literature--Classical influences
English-speaking countries
Epic poetry, Latin
Epicureans (Greek philosophy)
Epistolary poetry, Latin
Fame in literature
Great Britain
Greece
History in literature
Horace
Illusion in literature
Imitation in literature
Imperialism in literature
Influence (Literary, artistic, etc.)
Knowledge, Theory of, in literature
Latin literature
Literary form
Literature
Love poetry, Latin
Lucretius Carus, Titus
Marvelous, The, in art
Marvelous, The, in literature
Metamorphoses (Ovid)
Mythology, Classical, in literature
Ovid,
Paradox in art
Paradox in literature
Pastoral poetry, Latin
Philosophy, Ancient, in literature
Rhetoric, Ancient
Rome (Empire)
Rumor in literature
Science in literature
Sublime, The, in literature
Technique
Virgil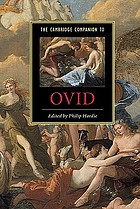 Alternative Names
Hardie, Philip.

Hardie Philip 1952-....

Hardie, Philip R.

Hardie, Philip Russell.

Hardie, Philip Russell 1952-

Philip Hardie britischer klassischer Philologe

Philip Hardie British classical philologist

Philip Hardie Brits klassiek filoloog

Languages
Covers