Mann, Charles C.
Most widely held works by Charles C Mann
1491 : new revelations of the Americas before Columbus
by
Charles C Mann
( Book )
53 editions published between
2005
and 2017 in 4 languages and held by 4,365 WorldCat member libraries worldwide
Mann shows how a new generation of researchers equipped with novel scientific techniques have come to previously unheard-of conclusions about the Americas before the arrival of the Europeans: In 1491 there were probably more people living in the Americas than in Europe. Certain cities--such as Tenochtitlán, the Aztec capital--were greater in population than any European city. Tenochtitlán, unlike any capital in Europe at that time, had running water, beautiful botanical gardens, and immaculately clean streets. The earliest cities in the Western Hemisphere were thriving before the Egyptians built the great pyramids. Native Americans transformed their land so completely that Europeans arrived in a hemisphere already massively "landscaped" by human beings. Pre-Columbian Indians in Mexico developed corn by a breeding process that the journal Science recently described as "man's first, and perhaps the greatest, feat of genetic engineering."--Publisher description
Before Columbus : the Americas of 1491
by
Charles C Mann
( Book )
8 editions published in
2009
in
English
and
Undetermined
and held by 3,032 WorldCat member libraries worldwide
This study of Native American societies is adapted for younger readers from Charles C. Mann's best-selling 1491. Turning conventional wisdom on its head, the book argues that the people of North and South America lived in enormous cities, raised pyramids hundreds of years before the Egyptians did, engineered corn, and farmed the rainforests
1493 : uncovering the new world Columbus created
by
Charles C Mann
( Book )
30 editions published between
2011
and 2016 in 4 languages and held by 2,990 WorldCat member libraries worldwide
"From the author of 1491, the study of the pre-Columbian Americas, this new work is a history that explores the most momentous biological event since the death of the dinosaurs. More than 200 million years ago, geological forces split apart the continents. Isolated from each other, the two halves of the world developed totally different suites of plants and animals. Columbus's voyages brought them back together, and marked the beginning of an extraordinary exchange of flora and fauna between Eurasia and the Americas. As the author shows, this global ecological tumult, the "Columbian Exchange", underlies much of subsequent human history. Presenting the latest generation of research by scientists, he shows how the creation of this worldwide network of exchange fostered the rise of Europe, devastated imperial China, convulsed Africa, and for two centuries made Manila and Mexico City, where Asia, Europe, and the new frontier of the Americas dynamically interacted, the center of the world. In 1493, the author presents a scientific interpretation of our past
Material world : a global family portrait
by
Peter Menzel
( Book )
24 editions published between
1994
and 2007 in
English
and
Italian
and held by 2,009 WorldCat member libraries worldwide
Photo spreads, with brief commentaries, of possessions of families in more than 50 countries. Awards: SLJ Best Book. Annotation. A fascinating project--sponsored by a number of international organizations--resulting in this richly intriguing book (it will get well-deserved promotion and distribution via all sorts of media). Sixteen photographers traveled to 30 nations to live for a week with families that are "statistically average" for that nation. At the end of each visit, photographer and subjects collaborated on a portrait of the family, outside of its home, surrounded by all of its material possessions--a few jars and jugs for some, an abundance of electronic gadgetry for others. The 360 color photos are accompanied by information about the standard of living in each country, notes by the photographers about their experiences, and profiles of family members and their lives. We are witnessing the emergence of a unified world economy, as exemplified by NAFTA and GATT, that will, in theory, make goods available at cheaper prices, create new jobs throughout the world, raise standards of living, and benefit the average family. However, population growth and resource exploitation will also affect these potential benefits as patterns of consumption change. In stunning photographs and text, Material World demonstrates the present context for the emerging global economy, what it means to be "statistically average," by displaying families in more than thirty nations outside their homes - with all their possessions in view. Among the 350 stunning images are those of a family in lush Samoa juxtaposed with a Kuwaiti family and the two Mercedes-Benzes parked outside their desert home a family in Iceland posing with their treasured string instruments while a family in Sarajevo huddles outside their bullet-ridden apartment. The text describes what it means to be "average" in each of thirty very dissimilar cultures and the impact of each way of life on the local environment. Statistical information about each country accompanies the photo-essays so that readers can easily compare one culture with another
The second creation : makers of the revolution in twentieth-century physics
by
Robert P Crease
( Book )
27 editions published between
1986
and 1997 in
English
and held by 1,485 WorldCat member libraries worldwide
Now back in print, The Second Creation is the intimate story of the decades-long scientific quest for "unification," a theory that draws together all matter and energy, from the hottest supernovas to the whirring fragments of the atom. Based on scores of in-depth interviews with such brilliant scientists as Max Planck, Erwin Schrodinger, Richard Feynman, Murray Gell-Mann, Sheldon Glashow, and Steven Weinberg, Robert Crease and Charles Mann vividly portray the tense, exciting world of investigators at the last frontier of knowledge. In telling the richly human story of the two generations of scientists who set out to find the "theory of everything," the authors recount a sweeping saga that moves from the early days of Albert Einstein and Niels Bohr arguing in a Copenhagen park to the vast, mile-long atom smashers of today. The Second Creation is a definitive group portrait of twentieth-century physics
Noah's choice : the future of endangered species
by
Charles C Mann
( Book )
9 editions published between
1995
and 1996 in
English
and held by 1,429 WorldCat member libraries worldwide
The authors suggest new principles for striking a balance between the needs of human beings and the rest of the world
At large : the strange case of the world's biggest Internet invasion
by
David H Freedman
( Book )
16 editions published between
1997
and 2014 in
English
and held by 749 WorldCat member libraries worldwide
At Large is the astonishing, never-before-revealed tale of perhaps the biggest and certainly the most disturbing computer attack to date, with ominous implications for the Internet, the digital highway over which much of the nation's business is now conducted. For two years a computer break-in artist known only as "Phantom Dialer" seized control of hundreds - perhaps thousands - of computer networks across the country and around the world. Frightened network administrators watched helplessly as the intruder methodically slipped into universities, corporations, banks, federal agencies, and military facilities, including top-secret weapons-research sites. Working up to twenty hours a day, Phantom Dialer obsessively broke into one network after another - and no one knew who he was or what he was after. Was he a spy? Was he laying the groundwork for a single, massive theft?
1493 : [uncovering the new world Columbus created]
by
Charles C Mann
( Recording )
14 editions published between
2011
and 2012 in
English
and held by 705 WorldCat member libraries worldwide
Charles Mann chronicles the Age of Exploration and its consequences. Here, he looks at how the European presence affected the Americas, China, and Africa
1491
by
Charles C Mann
( Recording )
19 editions published between
2005
and 2016 in
English
and
French
and held by 533 WorldCat member libraries worldwide
Charles Mann takes us on a journey of scientific exploration. We learn that the Indian development of modern corn was one of the most complex feats of genetic engineering ever performed. That the Great Plains are a third smaller today than they were in 1700 because the Indians who maintained them by burning died. And that the Amazon rain forest may be largely a human artifact
more
fewer
Audience Level
0

1
Kids
General
Special
Audience level: 0.19 (from 0.00 for Before Col ... to 0.87 for 1491 : nou ...)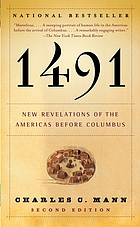 Alternative Names
Charles C. Mann Amerikaans journalist

Charles C. Mann écrivain américain

Charles C. Mann escritor estadounidense

Charles C. Mann giornalista e saggista statunitense

Charles C. Mann US-amerikanischer Publizist

Mann, Charles, 1955-

Չարլզ Ման

چارلز سی. مان ژورنالیست و نویسنده آمریکایی

சார்லஸ் சி. மன்

マン, チャールズ・C

Languages
Covers