Bartlett, Rodney J.
Most widely held works by Rodney J Bartlett
Comparison of ab initio quantum chemistry with experiment for small molecules : the state of the art
by
Rodney J Bartlett
( Book )
14 editions published in
1985
in
English
and held by 297 WorldCat member libraries worldwide
At the American Chemical Society meeting in Philadelphia, Pennsylvania, U.S.A., a symposium was organized entitled, "Comparison of Ab Initio Quantum Chemistry with Experiment: State-of-the-Art." The intent of the symposium was to bring together forefront experimen­ talists, who perform the types of clean, penetrating experiments that are amenable to thorough theoretical analysis, with inventive theore­ ticians who have developed high accuracy ab initio methods that are capable of competing favorably with experiment, to assess the current applicability of theoretical methods in chemistry. Contributions from many of those speakers (see Appendix A) plus others selected for their expertise in the subject are contained in this volume. Such a book is especially timely, since with the recent develop­ ment of new, more accurate and powerful ab initio methods coupled with the exceptional progress achieved in computational equipment, ab initio quantum chemistry is now often able to offer a third voice to resolve experimental discrepancies, assist essentially in the interpre­ tation of experiments, and frequently, provide quantitatively accurate results for molecular properties that are not available from experiment
Many-body methods in chemistry and physics : MBPT and coupled-cluster theory
by
Isaiah Shavitt
( Book )
20 editions published between
2009
and 2010 in
English
and held by 264 WorldCat member libraries worldwide
Describes the mathematical and diagrammatic techniques employed in the popular many-body methods to determine molecular structure, properties and interactions.--Résumé de l'éditeur
Correlation and localization
( Book )
7 editions published in
1999
in
English
and held by 177 WorldCat member libraries worldwide
This volume contains review and research articles in a field of quantum chemical methodology: the theory of electron correlation and the localization problem. Correlation energy (i.e., the energy beyond the Hartree-Fock) plays an important role in the theoretical description of several chemical processes (reactions, excitations, ionization) while localization in quantum chemistry usually emerges as a mathematical transformation of the wave function. The connection between these two issues is provided by the need to evaluate correlation energy for larger molecules, which is much easier in terms of localized contributions. The articles selected discuss copuled cluster, perturbational and geminal-based schemes, and cover wave function as well as density based approaches
Recent advances in coupled-cluster methods
by
Rodney J Bartlett
( Book )
13 editions published in
1997
in
English
and
Undetermined
and held by 144 WorldCat member libraries worldwide
Today, coupled-cluster (CC) theory has emerged as the most accurate, widely applicable approach for the correlation problem in molecules. Furthermore, the correct scaling of the energy and wavefunction with size (i.e. extensivity) recommends it for studies of polymers and crystals as well as molecules. CC methods have also paid dividends for nuclei, and for certain strongly correlated systems of interest in field theory. In order for CC methods to have achieved this distinction, it has been necessary to formulate new, theoretical approaches for the treatment of a variety of essential quantities
Molecular Interactions and Properties with Many-Body Methods
by
Rodney J Bartlett
( )
5 editions published between
1990
and 1996 in
English
and held by 4 WorldCat member libraries worldwide
During the course of this research, CC/MBPT theories have been established as being among the most accurate available, and very efficient and generally applicable computer codes have been developed to perform CC/MBPT calculations. These methods have been employed for the first time in large scale ab initio calculations of potential energy surfaces. Two of the papers produced in this research have been identified by authorities as being among the most influential papers in the 50-year history of computational quantum chemistry, and four have been identified by Current Contents as qualifying as science citation classics. (jes)
Molecular Interactions with Many-Body Methods
by
Rodney J Bartlett
( Book )
4 editions published between
1982
and 1988 in
English
and held by 4 WorldCat member libraries worldwide
This report summarized publications and invited presentations supported by our AFOSR grant on 'Molecular Interactions with Many-Body Methods'. In this effort new many-body methods have been developed to treat open-shell molecules; to apply to properties like moments, polarizabilities, hyperpolarizabilities, spin-densities and spin-spin coupling constants; infra-red spectra; and a variety of applications to interesting molecules including the unknown metastable N3H3 system. The latter molecule, though isoelectronic with ozone and cyclopropane is not known experimentally. However, we find that it should exist in three stable structures. Furthermore, we have pre-edited its IR spectra to aid in its experimental identification, which should be possible in matrix isolation. Other applications work has focused on the accurate, numerical orbital treatment of anions. (mjm)
Metastable molecules in ground and excited states : theory development, implementation and applications
by
Rodney J Bartlett
( Book )
3 editions published in
2000
in
English
and held by 3 WorldCat member libraries worldwide
Development of new quantum theory for the accurate description of molecular structure and spectra. Implementation of this new theory into general purpose computer programs (ACES II) to make it possible for many investigators, besides ourselves, to readily apply these new methods to problems of their interest. Application of these new methods to high energy, density molecules, assessing their energy content, stability, possible synthetic paths, activation barriers, and providing spectroscopic fingerprints for identification
On Metastable Molecules in Ground and Excited States: Theory Development, Implementation and Applications
by
Rodney J Bartlett
( Book )
3 editions published in
2004
in
English
and held by 3 WorldCat member libraries worldwide
Develop new theory based upon coupled-cluster theory, density functional theory, and density matrix functional theory to more accurately and easily describe the structure, spectra, and reactions of molecules. Implement these new methods into general purpose computer programs, such as ACES II, to enable their routine application by non-experts to problems of their interest. Use these methods to provide numerical results for problems pertinent to AFOSR
Identification and synthesis of high nitrogen propellants
by
Rodney J Bartlett
( Book )
3 editions published in
2002
in
English
and held by 3 WorldCat member libraries worldwide
(SOME HIGHLlGHTS OF OUR RECENT WORK - = Provided the reference theoretical results required in the identification of the transient N4 Molecule5. = Developed new coupled-cluster methods for obtaining accurate Raman intensities, which are crucial to the identification of many polynitrogen species 6. = Showed that it is unlikely to be able to synthesize N4 with only one of two molecules excited Both need to be excited into either triplet or quintet states and caused to collide 9 = Demonstrated that an ionic lattice composed of N5 + and N3- is not likely to exist 8. = Proposed that the next target for the DARPA program should be to synthesize the pentazole anion, N5-, the
more
fewer
Audience Level
0

1
Kids
General
Special
Audience level: 0.68 (from 0.66 for Comparison ... to 0.99 for Molecular ...)
Related Identities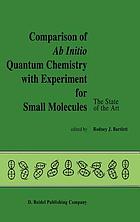 Covers
Alternative Names
Bartlett, R.J.

Bartlett, R. J. (Rodney J.)

Bartlett, Rodney

Rodney J. Bartlett Amerikaans scheikundige

Rodney J. Bartlett chimiste américain

Rodney J. Bartlett químic estatunidenc

Rodney J. Bartlett químico estadounidense

Rodney J. Bartlett químicu estauxunidense

Rodney J. Bartlett US-amerikanischer theoretischer Chemiker

رادنی جی. بارتلت شیمی‌دان آمریکایی

رودني بارتليت كيميائي أمريكي

Languages