Westervelt, W. D. (William Drake) 1849-1939
Most widely held works by W. D Westervelt
Hawaiian historical legends
by
W. D Westervelt
( Book )
29 editions published between
1920
and 2017 in
English
and
Undetermined
and held by 427 WorldCat member libraries worldwide
This is the last of Westervelt's six books of Hawaiian lore. Starting in mythological times, and retelling some of the migration legends, the book primarily focuses on the period of European contact, Hawaiian Historical Legends is of interest for anyone studying encounters between cultures, particularly where one of the cultures has a technological advantage. The core of the book is set against the background of consolidation of political authority in the islands (which was already underway before contact), the fall of the old tapu-bound absolute rule of the chiefs and the priests, and finally the emergence of modern Hawaiian civil culture. Of particular interest are Westervelt's speculations on early contacts, not only between the Hawaiians and the Europeans, but other Pacific rim cultures such as the Chinese, Japanese and Native Americans. About Author: William Drake Westervelt (1849 - 1939) William Drake Westervelt (b.Dec 26 1849 - d. Mar 9 1939) is the author of several books and magazines on Hawaiian history and legends. He drew upon the collections of David Malo, Samuel M. Kamakau, and Abraham Fornander to popularize Hawaiian folklore in his Legends of Maui (1910), Legends of Old Honolulu (1915), Legends of Gods and Ghost-Gods (1915), Hawaiian Legends of Volcanoes (1916) and Hawaiian Historical Legends (1923)
Legends of Ma-ui -- a demi god of Polynesia, and of his mother Hina
by
W. D Westervelt
( Book )
50 editions published between
1910
and 2018 in
English
and
Undetermined
and held by 427 WorldCat member libraries worldwide
Presents "Legends of Maui: A Demi-God of Polynesia and of His Mother Hina," a collection of Hawaiian legends compiled by W.D. Westervelt, published originally by the Hawaiian Gazette Co., Ltd in 1910, and provided online by J.B. Hare
Hawaiian legends of ghosts and ghost-gods
by
W. D Westervelt
( Book )
32 editions published between
1916
and 2017 in
English
and
Undetermined
and held by 308 WorldCat member libraries worldwide
1916. A diverse collection of the legends of the Hawaiian Islands. Contents Part I-Legends: The Ghost of Wahaula Temple; Maluae and the Underworld; A Giant's Rock Throwing; Kalo-Eke-Eke, The Timid Taro; Legendary Canoe Making; Lau-Ka-Ieie; Kauhuhu, the Shark God of Molokai; The Shark Man of Waipio Valley; the Strange Banana Skin; The Old Man of the Mountain; Hawaiian Ghost Testing; How Milu Became the King of Ghosts; A Visit to the King of Ghosts; Kalai-Pahoa, the Poison God; Ke-Ao-Mele-Mele, the Maid of the Golden Cloud; Poona and the Dragon; Ke-Au-Nini; and The Bride from the Underworld. Par
Hawaiian legends of volcanoes
by
W. D Westervelt
( Book )
35 editions published between
1916
and 2018 in
English
and
Undetermined
and held by 290 WorldCat member libraries worldwide
"'Pele has long been the fire-goddess of the Hawaiians. Her home was in the great fire-pit of the volcano of Kilauea on the island of Hawaii, and all the eruptions of lava have borne her name wherever they may have appeared. Thus the word 'Pele' has been used with three distinct definitions by the old Hawaiians: Pele, the fire goddess; Pele, a volcano or a fire-pit in any land; and Pele, an eruption of lava.' Thus W.D. Westervelt, the collector and translator of the entertaining legends that make up this book, defines its chief character. "The early Hawaiians," he points out, "incorporated in their legends various theories to explain these great phenomena of nature, many of which are included in this volume, especially those legends which cluster around Pele, the great goddess of fire, and Hiiaka, her sister, goddess of lightning." Mr. Westervelt's treatment of the legends themselves is interspersed with pertinent geological and historical information, and the result is a combination of fancy and fact that is rich in interest not only for the folklorist but also for the general reader who enjoys a well-told tale. Hawaiian Legends of Volcanoes made its first appearance in 1916, in both American and British editions, as the third in a series that represented a pioneering study of Hawaiian folklore. All of these books were enthusiastically received, and the author was recognized ... as having made a noteworthy contribution to legendary literature."--Jacket
Hawaiian legends of old Honolulu
by
W. D Westervelt
( Book )
23 editions published between
1911
and 1996 in
English
and held by 269 WorldCat member libraries worldwide
In bringing together this collection of Hawaiian legends, the author of this little book has conferred a great favor upon all those residents of Hawaii and of those visitors to its shores who ~pay take an interest in its original inhabitants, once an exceedingly numerous people, but now a scattering remnant only. To that native race this little book will be at once a joy and a sorrow;. to the heart of the haole, who has lived among them, known them intimately for thirty years or more and learned to love them, this collection of the. legends of old Honolulu brings a warm "Aloha!"
Legends of old Honolulu
by
W. D Westervelt
( Book )
13 editions published between
1915
and 2010 in
English
and
Undetermined
and held by 172 WorldCat member libraries worldwide
Myths and legends of Hawaii
by
W. D Westervelt
( Book )
3 editions published between
1987
and 2005 in
English
and held by 72 WorldCat member libraries worldwide
more
fewer
Audience Level
0

1
Kids
General
Special
Audience level: 0.53 (from 0.37 for American P ... to 0.84 for Legends of ...)
Associated Subjects
Bible.--Corinthians, 1st
Bible.--Psalms, XXIII
Christianity
Christian life
Christian life--Catholic authors
Conduct of life
Devotional exercises
Devotional literature
Dime novels, American
Drummond, Henry,
Folklore
Ghosts
Goddesses
Gods, Polynesian
Hawaii
Hawaiian language
Hawaiian mythology
Hawaiians
Hawaii--Hawaii Island
Hawaii--Honolulu
Hina (Polynesian deity)
Legends
Love
Love--Biblical teaching
Love--Religious aspects
Love--Religious aspects--Christianity
Maui (Polynesian deity)
Miniature books
Mythology
Mythology, Maori
Mythology, Polynesian
Polynesia
Polynesians
Religion
Religious literature
Religious poetry
Sermons
Sermons, American
Tales
Theology, Doctrinal
Vina
Volcanoes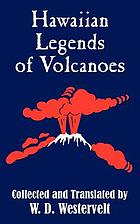 Covers
Alternative Names
Westervelt

Westervelt, William D.

Westervelt, William D. 1849-1939

Westervelt, William D. (William Drake)

Westervelt, William D. (William Drake), 1849-1939

Westervelt, William Drake

Westervelt, William Drake 1849-1939

William Drake Westervelt American writer

William Drake Westervelt escritor estadounidense

Languages