Leibfried, Stephan 1944-
Overview
| | |
| --- | --- |
| Works: | 302 works in 845 publications in 4 languages and 8,433 library holdings |
| Genres: | Case studies Cross-cultural studies State, The History Biographies |
| Roles: | Editor, Author, Contributor, Honoree, Other, Publishing director, Arranger, edi, Creator, Author of introduction, Redactor |
| Classifications: | HN373.5, 361.61094 |
Most widely held works by Stephan Leibfried
Federalism and the welfare state : new world and European experiences
( )
21 editions published in
2005
in
English
and held by 1,296 WorldCat member libraries worldwide
"In this unique and provocative contribution to the literatures of political science and social policy, ten leading experts question prevailing views that federalism always inhibits the growth of social solidarity. Their comparative study of the evolution of political institutions and welfare states in the six oldest federal states - Australia, Austria, Canada, Germany, Switzerland, the US - reveals that federalism can facilitate and impede social policy development. Development is contingent on several time-dependent factors, including degree of democratization, type of federalism, and the stage of welfare state development and early distribution of social policy responsibility. The reciprocal nature of the federalism-social policy relationship also becomes apparent: the authors identify a set of important bypass structures within federal systems that have resulted from welfare state growth. In an era of retrenchment and unravelling unitary states, this study suggests that federalism may actually protect the welfare state, and welfare states may enhance national integration."--pub. desc
European social policy : between fragmentation and integration
( Book )
12 editions published in
1995
in
English
and held by 737 WorldCat member libraries worldwide
The book also provides a comparison of social policymaking in the EU with that in Canada and the United States, two other multitiered, or federal, systems
Time and poverty in western welfare states : United Germany in perspective
by
Lutz Leisering
( Book )
23 editions published between
1999
and 2011 in
English
and
Undetermined
and held by 426 WorldCat member libraries worldwide
"Time and Poverty in Western Welfare States will be of interest to upper-level students, researchers and policy-makers in a wide range of social science disciplines, including sociology, economics, social policy, psychology and European studies."--Jacket
The Oxford handbook of transformations of the state
by
Stephan Leibfried
( Book )
18 editions published between
2015
and 2017 in
English
and
Undetermined
and held by 343 WorldCat member libraries worldwide
"This Handbook offers a comprehensive treatment of transformations of the state, from its origins in different parts of the world and different time periods to its transformations since World War II in the advanced industrial countries, the post-Communist world, and the Global South. Leading experts in their fields, from Europe and North America, discuss conceptualizations and theories of the state and the transformations of the state in its engagement with a changing international environment as well as with changing domestic economic, social, and political challenges. The Handbook covers different types of states in the Global South (from failed to predatory, rentier and developmental), in different kinds of advanced industrial political economies (corporatist, statist, liberal, import substitution industrialization), and in various post-Communist countries (Russia, China, successor states to the USSR, and Eastern Europe). It also addresses crucial challenges in different areas of state intervention, from security to financial regulation, migration, welfare states, democratization and quality of democracy, ethno-nationalism, and human development. The volume makes a compelling case that far from losing its relevance in the face of globalization, the state remains a key actor in all areas of social and economic life, changing its areas of intervention, its modes of operation, and its structures in adaption to new international and domestic challenges."--Publisher's description
Limits to globalization : welfare states and the world economy
by
Elmar Rieger
( Book )
12 editions published between
2003
and 2006 in
English
and held by 339 WorldCat member libraries worldwide
"Globalization needs to be understood alongside the development of the national welfare state. Welfare provision massively expanded after World War Two, and it was the social protection of the citizenry which allowed Western governments to expose their societies to the external risks inherent in deregulating the global economy. Today, developed welfare states need to recalibrate. Two trajectories are possible: governments may slide back into destructive spirals of protectionism, or they must allow for the complex interaction of domestic social and external economic policy. Drawing on core studies from Germany, the USA and East Asia, Rieger and Leibfried argue that welfare systems function in different ways depending on the cultural setting. Culture thus shapes a welfare regime's capacity to mitigate globalization's effects on particular societies."--Jacket
Armut im modernen Wohlfahrtsstaat
by
Stephan Leibfried
( Book )
14 editions published between
1992
and 1993 in
German
and held by 273 WorldCat member libraries worldwide
VOM ENDE EINER AUSGRENZUNG? - ARMUT UND SOZIOLOGIE Von Stephan Leibfried und Wolfgang Voges (in Zusammenarbeit mit Lutz Leisering) Die wissenschaftliche Beschäftigung mit Armut ist durch zyklische Schwankungen gekennzeichnet, die vom historischen Kontext bestimmt werden. Als in den 80er Jahren die "neue Armut" infolge Langzeitarbeitslosigkeit in den alten Bundesländern öffent lich aufgegriffen und in den 90er Jahren die Verarmung weiter Bevölkerungsgruppen in der Transformation der neuen Bundesländer "entdeckt" wurde, bestand die Antwort weniger darin, verstärkt sozialwissenschaftliehe Analysen zu unternehmen - was in kleinerem Umfang gleichwohl geschah -, sondern vor allem darin, die politische wie 1 moralische SkandaIisierung zu intensivieren. In England wie in den USA2 hat sich eine andere Forschungstradition herausge bildet, die durch eine breite, kontinuierliche und fundierte Beschäftigung in den So zialwissenschaften - unterstützt von der Geschichtswis~nschaft - mit Armut und 3 Sozialpolitik gekennzeichnet ist. Peter Townsends "Poverty in the United Kingdom" (1979) oder William Julius Wilsons "The Truly Disadvantaged: The Inner City, the Underclass, and Public Policy" (1987) gelten dort als "Klassiker"--Als Studien, die wissenschaftliche Standards setzten und auch außerhalb der Soziologie ein breites Publikum fanden, als Untersuchungen, die nachhaltige Diskussionen und vielfältige Forschungsinitiativen auslösten. Eine vergleichbare sozialwissenschaftliche Studie sucht man in Deutschland nach dem Zweiten Weltkrieg vergebens
Transformations of the state?
( Book )
13 editions published between
2005
and 2007 in
English
and held by 232 WorldCat member libraries worldwide
The influence of the state on human lives is more comprehensive and sustained than that of any other organizational construct. It steers the economy, fights crime, provides education, sustains democracy, enters wars, guarantees social welfare, collects taxes, and deploys some forty percent of the gross national product. Transformations of the state? defines the multi-faceted modern state in four intersecting dimensions: resources, or control of the use of force and revenues; law, or jurisdiction and the courts; legitimacy, or the acceptance of political rule by the populace; and welfare, or the facilitation of economic growth and social equality. The twentieth-century nation-state blended those dimensions and turned the post-WWII era into the golden age of the state. What has become of that state and its functions and what is its future? Political scientists, lawyers, economists and sociologists have examined a sample of OECD nation-states in the search for answers to these questions
Welfare state futures
by
Stephan Leibfried
( Book )
12 editions published in
2001
in
English
and held by 223 WorldCat member libraries worldwide
The welfare state is in hard times, according to today's consensus. The deterioration of exceptional economic performance - the basis for the 'Golden Age' of welfare capitalism - seems irreversible: this has slowed down welfare state expansion and radically shifted the ground for discussion on the future of the welfare state. This volume takes stock of 'the state of the welfare state': How can we build a theory of the welfare state? How did the post-World War II welfare state relate to economic development? How do welfare states change? How did the reforms of pension systems - a key welfare state sector - develop in OECD countries? How did the most developed 'Nordic welfare state' fare? How viable are today's advanced welfare states in the international economy? How may we recast the European welfare states for the twenty-first century?
Welfare state transformations and inequality in OECD countries
by
Melike Wulfgramm
( )
12 editions published between
2016
and 2020 in
English
and
German
and held by 219 WorldCat member libraries worldwide
This book analyzes how recent welfare state transformations across advanced democracies have shaped social and economic disparities. The authors observe a trend from a compensatory paradigm towards supply oriented social policy, and investigate how this phenomenon is linked to distributional outcomes. How - and how much - have changes in core social policy fields alleviated or strengthened different dimensions of inequality? The authors argue that while the market has been the major cause of increasing net inequalities, the trend towards supply orientation in most social policy fields has further contributed to social inequality. The authors work from sociological and political science perspectives, examining all of the main branches of the welfare state, from health, education and tax policy, to labour market, pension and migration policy. --
more
fewer
Audience Level
0

1
General
Special
Audience level: 0.00 (from 0.00 for Federalism ... to 0.00 for Federalism ...)
Related Identities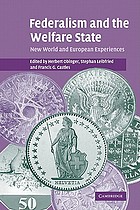 Covers
Alternative Names
Stephan Leibfried, 1944-

Stephan Leibfried deutscher Politikwissenschaftler und Soziologe

Stephan Leibfried Duits universitair docent (1944-)

Stephan Leibfried German political scientist and sociologist

Stephan Leibfried germana politologo kaj sociologo

Stephan Leibfried Germany karimba ŋun nyɛ doo

Stephan Leibfried professor académico alemão

Stephan Leibfried tysk professor

Languages