Barker, Juliet R. V.
Most widely held works by Juliet R. V Barker
The Brontës
by
Juliet R. V Barker
( Book )
126 editions published between
1977
and 2016 in 4 languages and held by 3,786 WorldCat member libraries worldwide
"The tragic story of the Bronte family is well known, replete with a half-mad father, a wastrel of a brother, and three uniquely gifted - and oppressed - sisters. But beyond these familiar details, the Brontes' story has remained largely obscure. This landmark book is the first definitive history of this fascinating family. Based on eleven years of research among newly discovered letters by every member of the family, original manuscripts, and the newspapers of that time, it gives a new and fuller picture of the Brontes' lives from beginning to end and, in the process, demolishes many myths. The father, Patrick, was not, as commonly believed, the cold patriarch of a family of victims. Charlotte, ruthlessly self-willed, ran roughshod over her sisters and went so far as to alter or destroy their manuscripts when she disapproved. Emily was so psychologically and physically dependent on her fantasy life that she could not survive in the outside world. Anne, widely regarded as the gentlest of the sisters, had a core of steel and was a more daring and revolutionary author than Charlotte. Branwell, the adored brother, was a talented poet who provided much of Charlotte's inspiration."--Dust jacket
Wordsworth : a life
by
Juliet R. V Barker
( Book )
35 editions published between
2000
and 2014 in
English
and
Undetermined
and held by 1,463 WorldCat member libraries worldwide
Orphaned and dependent on the charity of unsympathetic relatives, Wordsworth became the archetypal teenage rebel. He went to Revolutionary France, where he fathered an illegitimate daughter and became a committed republican. His poetry was as revolutionary as his politics, challenging convention in form, style, and subject, and earning him the contempt of critics. Only the encouragement of a group of supporters, above all Coleridge, kept him true to his poetic vocation. In the half-century that followed, his reputation was transformed. His advocacy of imagination and feeling touched a chord in an increasingly industrial, mechanistic age, and his influence was profoundly felt in every sphere of life. In the last decade of his life, his home became a place of pilgrimage for people who came to pay their respects to his genius. His legacy, as a poet and as the spiritual founder of the conservation movement, remains with us today.--From publisher description
Agincourt : Henry V and the battle that made England
by
Juliet R. V Barker
( Book )
10 editions published between
2005
and 2008 in
English
and held by 1,086 WorldCat member libraries worldwide
"Two armies face off across a sodden plateau in northeastern France, each waiting for the other to make the first move. On one side are the English, suffering from dysentery and starvation, their numbers devastated. Arrayed against them is a rested and well-fed French army, a sea of burnished armor and menacing weaponry primed to slaughter the foolish invaders. Nevertheless, the charismatic and brilliant English king, twenty-eight-year-old Henry V, defies conventional military wisdom and leads his "band of brothers" forward. His troops are outnumbered six to one." "What follows is one of the most remarkable battles in history, celebrated for almost six centuries as the classic triumph of the underdog in the face of seemingly insurmountable odds. Immortalized by Shakespeare and by contemporary historians, the battle of Agincourt has been embellished and edited by the quill of unbridled nationalism. Now, drawing on a wide range of primary sources and original research, medievalist Juliet Barker casts aside the myth and shows us the truth behind Henry's invasion of France and the showdown at Agincourt. She paints a narrative of the entire campaign, from the preparations to the reaping of the spoils. We are there in the English camps as common men struggle to secure buckles and laces with numb fingers; in the French front lines as petulant noblemen squabble over positions in the vanguard; and in the deep mud as heavily armed knights stumble and struggle under a barrage of arrows so thick and fast that it darkens the skies." "Barker also takes us beyond the battlefield to bring into focus the dynamics of medieval life in peace and war. We meet ordinary and extraordinary people such as Margaret Merssh, a female blacksmith who forges arms in the Tower of London; Lord Grey of Codnor, who pawns his own armor to pay his soldiers' wages; and Raoul de Gaucourt, the gallant French knight who surrenders himself into English custody simply because the code of chivalry compels him to do so."--BOOK JACKET. Also includes information on archers, armour, chivalry, coats of arms, gunpowder, heralds, horses, knights, men at arms, prisoners, ships, tournaments, Tower of London, wine, women, etc
Conquest : the English kingdom of France, 1417-1450
by
Juliet R. V Barker
( Book )
17 editions published between
2009
and 2012 in
English
and held by 854 WorldCat member libraries worldwide
"For thirty dramatic years, England ruled a great swath of France at the point of the sword--an all-but-forgotten episode in the Hundred Years' War that Juliet Barker brings to vivid life in Conquest."--Publisher Website
1381 : the year of the Peasants' Revolt
by
Juliet R. V Barker
( Book )
11 editions published in
2014
in
English
and held by 835 WorldCat member libraries worldwide
Written with the fluency readers have come to expect from Juliet Barker, 1381: The Year of the Peasant's Revolt provides an account of the first great popular uprising in England and its background, and paints on a broad canvas a picture of English life in medieval times. Skeptical of contemporary chroniclers' accounts of events, Barker draws on the judicial sources of the indictments and court proceedings that followed the rebellion. This emphasis offers a fresh perspective on the so-called Peasants' Revolt and gives depth and texture to the historical narrative. Among the book's arguments are that the rebels believed they were the loyal subjects of the king acting in his interests, and that the boy-king Richard II sympathized with their grievances. Barker tells how and why a diverse and unlikely group of ordinary men and women from every corner of England - from servants and laborers living off wages, through the village elite who served who served as bailiffs, constables, and stewards, to the ranks of the gentry - united in armed rebellion against church and state to demand a radical political agenda. Had it been implemented, this agenda would have transformed English society and anticipated the French Revolution by four hundred years. 1381: The Year of the Peasants' Revolt is an important reassessment of the uprising and a fascinating, original study of medieval life in England's towns and countryside. -- from dust jacket
The tournament in England, 1100-1400
by
Juliet R. V Barker
( Book )
16 editions published between
1986
and 2008 in
English
and held by 474 WorldCat member libraries worldwide
"Juliet Barker surveys the tournament in England from its first emergence in the twelfth century to the beginning of the fifteenth, when it was revolutionised by technical changes which altered its very nature. The original publication of this study, deriving from Juliet Barker's D. Phil. thesis supervised by Maurice Keen, reestablished the importance of the tournament at the heart of medieval chivalric culture. The first serious scholarly publication for over half a century, it dramatically reawakened interest in the historical context of tournaments, and is especially valuable for its detailed evidence on the early years." "Tournaments are clearly shown here to be far more than just sport: they had wide political, social and military implications. In England their potential as a political instrument was quickly realised: for the disaffected they became a means of rebellion and feuding, but for the king and court they were a powerful propaganda machine. Participation in tournaments was also a way to earn a coveted reputation for chivalry; the passion for tourneying could bring knights lasting fame. Military requirements accounted for the increasing sophistication of armour and weapons, partly in response to the demands of tourneyers, who needed military training that reflected their role in actual combat. This wide-ranging study looks at the tournament from all these angles, and in so doing produces an exemplary history of the first three hundred years of their development."--Jacket
Agincourt : the King, the campaign, the battle
by
Juliet R. V Barker
( Book )
16 editions published between
2005
and 2015 in
English
and held by 334 WorldCat member libraries worldwide
When Henry V and his band of brothers defeated the assembled might of French chivalry on a rainy October day in 1415, it was a defining moment in English history. The battle of Agincourt became part of the nation's self-image. For six centuries it has been celebrated as a triumph of the underdog in the face of overwhelming odds, of discipline and determination over arrogance and egotism, of stout-hearted common men over dissolute aristocrats. But what is the truth behind the battle upon which so many legends have been built? In this landmark study of Agincourt, author Juliet Barker draws upon a huge range of sources, published and unpublished, to give an account of the battle. But she also looks behind the action on the field to paint a portrait of the age, from the logistics of preparing to launch one of the biggest invasion forces ever seen at the time to the dynamics of daily life in peace and war. She shows how the chivalry and piety that underpinned medieval society, and the contradictions inherent in trying to uphold them, were reflected in the fate of those caught up in the brutal power struggles of the period. A mad king, murderous dukes, scheming bishops, knightly heroes, surgeons, heralds, spies and pirates: the story of Agincourt has them all
England, arise
by
Juliet R. V Barker
( Book )
11 editions published between
2014
and 2015 in
English
and held by 264 WorldCat member libraries worldwide
In the summer of 1381 England erupted in a violent popular uprising that was as unexpected as it was unprecedented. Juliet Barker illuminates a volatile England on the verge of extraordinary social changes. Had the rebels' demands been met, English society would have been transformed; their radical political agenda anticipated the French Revolution by four hundred years. England, Arise is an important and fascinating reassessment of the revolt itself and an engrossing, original study of life in medieval England's towns and countryside
Juvenilia, 1829-1835
by
Charlotte Brontë
( Book )
7 editions published in
1996
in
English
and held by 216 WorldCat member libraries worldwide
Charlotte herself referred to these childhood writings - stories, diary papers and poems - written between 1829 and 1835, as a 'long apprenticeship in writing.' They include the Young Men's Magazines, inspired by Branwell's toy soldiers, as well as stories and novelettes featuring the high romance and stylistic flair that are an intrinsic part of Charlotte's later work. The sheer exuberance of the "Juvenilia, " as Juliet Barker explores in her illuminating introduction, effectively dispels the myth of the Brontes' unhappy childhood
more
fewer
Audience Level
0

1
Kids
General
Special
Audience level: 0.38 (from 0.20 for Agincourt ... to 0.92 for Die Geschi ...)
Associated Subjects
Authors, English
Authors, English--Correspondence
Authors, English--Family relationships
Biography
Brontë, Anne,
Brontë, Charlotte,
Brontë, Emily,
Brontë, Patrick,
Brontë, Patrick Branwell,
Brontë family
Brontë Society
Charles--VII,--King of France,
Children's writings, English
Chivalry
Civilization, Medieval
Criticism and interpretation
England
England--Yorkshire
English fiction
English poetry
Europe
France
France--Agincourt
Governesses
Great Britain
Heads of state
Henry--V,--King of England,
Joan,--of Arc, Saint,
Knights and knighthood
Letters
Manners and customs
Middle Ages--Social life and customs
Novelists, English
Peasant uprisings
Poetics
Poets, English
Richard--II,--King of England,
Single women
Sports tournaments
Stringed instruments--Construction
Tournaments, Medieval
Tournaments, Medieval, in literature
Violin--Construction
Women and literature
Women authors, English
Women novelists, English
Wordsworth, William,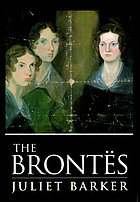 Covers
Alternative Names
Barker Juliet

Barker Juliet 1958-....

Barker, Juliet R. 1958-

Barker, Juliet R.V. 1958-

Juliet Barker britische Historikerin und Autorin

Juliet Barker British historian

Juliet Barker Brits bibliothecaresse

Juliet Barker historiadora británica

Juliet Barker historiane britike

Juliet Barker historienne britannique

جولييت باركر مؤرخة بريطانية

ジュリエット・バーカー

バーカー, ジュリエット

Languages