Pollan, Michael
Overview
| | |
| --- | --- |
| Works: | 249 works in 1,017 publications in 14 languages and 46,102 library holdings |
| Genres: | Cookbooks Documentary films Nonfiction films Creative nonfiction Biography Autobiographies Television adaptations Documentary television programs Nonfiction television programs Nature television programs |
| Roles: | Author, Interviewee, Consultant, Narrator, Author of introduction, Speaker, wpr, Creator, win, Host, Bibliographic antecedent |
| Classifications: | RA784, 394.12 |
Most widely held works about Michael Pollan
more
fewer
Most widely held works by Michael Pollan
The omnivore's dilemma : a natural history of four meals
by
Michael Pollan
( Book )
44 editions published between
2006
and 2016 in 4 languages and held by 4,906 WorldCat member libraries worldwide
What should we have for dinner? When you can eat just about anything nature (or the supermarket) has to offer, deciding what you should eat will inevitably stir anxiety, especially when some of the foods might shorten your life. Today, buffeted by one food fad after another, America is suffering from a national eating disorder. As the cornucopia of the modern American supermarket and fast food outlet confronts us with a bewildering and treacherous landscape, what's at stake becomes not only our own and our children's health, but the health of the environment that sustains life on earth. Pollan follows each of the food chains--industrial food, organic or alternative food, and food we forage ourselves--from the source to the final meal, always emphasizing our coevolutionary relationship with the handful of plant and animal species we depend on. The surprising answers Pollan offers have profound political, economic, psychological, and even moral implications for all of us.--From publisher description
In defense of food : an eater's manifesto
by
Michael Pollan
( Book )
35 editions published between
2007
and 2009 in
English
and
Chinese
and held by 4,561 WorldCat member libraries worldwide
"Eat food. Not too much. Mostly plants." These simple words go to the heart of food journalist Pollan's thesis. Humans used to know how to eat well, he argues, but the balanced dietary lessons that were once passed down through generations have been confused and distorted by food industry marketers, nutritional scientists, and journalists. As a result, we face today a complex culinary landscape dense with bad advice and foods that are not "real." Indeed, plain old eating is being replaced by an obsession with nutrition that is, paradoxically, ruining our health, not to mention our meals. Pollan's advice is: "Don't eat anything that your great-great grandmother would not recognize as food." Looking at what science does and does not know about diet and health, he proposes a new way to think about what to eat, informed by ecology and tradition rather than by the nutrient-by-nutrient approach.--From publisher description
The botany of desire : a plant's eye view of the world
by
Michael Pollan
( Book )
63 editions published between
2001
and 2014 in 8 languages and held by 3,817 WorldCat member libraries worldwide
An Idaho farmer cultivates Russet Burbank potatoes so that a customer at a McDonald's half a world away can enjoy a long, golden French fry. A gardener plants tulip bulbs in the fall and, come spring, has a riotous patch of color to admire. Two straightforward examples of how humans act on nature to get what we want. Or are they? What if those potatoes and tulips have evolved to gratify certain human desires so that humans will help them multiply? What if, in other words, these plants are using us just as we use them? Every schoolchild learns about the mutually beneficial dance of honeybees and flowers: The bee collects nectar and pollen to make honey and in the process spreads the flowers' genes far and wide. What Michael Pollan ingeniously demonstrates in The Botany of Desire is that people and domesticated plant species have formed a similarly reciprocal relationship, a relationship that is just as common and essential to the way nature works. In this utterly original narrative that blends history, memoir, and the best science writing, Pollan tells the story of four domesticated species-the apple, the tulip, marijuana, and the potato-from the point of view of the plants. All four species are deeply woven into the fabric of our everyday lives, and Pollan illustrates how each has evolved a survival strategy based on satisfying one of humankind's most basic desires. The apple gratifies our taste for sweetness; the tulip attracts us with its beauty; marijuana offers intoxication; and the genetically modified potato gives us a sense of control over nature. And just as we've benefited from these plants, the plants, in the grand coevolutionary scheme that Pollan so brilliantly evokes, have done remarkably well by us. Take the apple, for example. In nineteenth-century America, frontier dwellers far from the trading posts of the East lacked a source of sweetness in their diet-and sugar with which to make alcohol. So when a man named John Chapman (a.k.a. Johnny Appleseed) floated down the Ohio River with bushels of apple seeds in his canoe, the settlers seized on the opportunity to grow the fruit on their new land. The pioneers' desire for sweetness was satisfied-and the apple was given a whole new continent on which to blossom. So who is really domesticating whom? Weaving fascinating anecdote and accessible science in gorgeous prose, Pollan takes the reader on an absorbing journey through the landscape of botany and desire. It is a journey that will change the way we think about our place in nature. In 1637, one Dutchman paid as much for a single tulip bulb as the going price of a town house in Amsterdam. Three & a half centuries later, Amsterdam is once again the mecca for people who care passionately about one particular plant-though this time the obsession revolves around the intoxicating effects of marijuana rather than the visual beauty of the tulip. How could flowers, of all things, become such objects of desire that they drive men to financial ruin? In The Botany of Desire, Michael Pollan argues that the answer lies at the heart of the intimately reciprocal relationship between people & plants. In telling the stories of four familiar plant species that are deeply woven into the fabric of our lives, Pollan illustrates how they evolved to satisfy humankind's most basic yearnings- & by doing so made themselves indispensable. For, just as we've benefited from these plants, the plants, in the grand co-evolutionary scheme that Pollan evokes so brilliantly, have done well by us. The sweetness of apples, for example, induced the early Americans to spread the species, giving the tree a whole new continent in which to blossom. So who is really domesticating whom? Weaving fascinating anecdotes & accessible science into gorgeous prose, Pollan takes us on an absorbing journey that will change the way we think about our place in nature
Food rules : an eater's manual
by
Michael Pollan
( Book )
73 editions published between
2009
and 2017 in 14 languages and held by 3,438 WorldCat member libraries worldwide
From the bestselling author of "The Omnivore's Dilemma" and "In Defense of Food" comes this collection of simple, sensible, and easy to use rules--the perfect guide for anyone who would like to become more mindful of the food he or she eats. (Consumer Health)
Food, Inc.
by
Robert Kenner
( Visual )
42 editions published between
2008
and 2014 in
English
and
French
and held by 3,155 WorldCat member libraries worldwide
Explores the U.S. commercial food industry, examining corporate control of supply and market and seeking to demonstrate how the incentive for corporate profit can overwhelm consumer health needs, as well as the livelihood of the American farmer, the safety of workers, and the environment
Cooked : a natural history of transformation
by
Michael Pollan
( Book )
35 editions published between
2013
and 2015 in 4 languages and held by 3,071 WorldCat member libraries worldwide
"In Cooked, Pollan explores the previously uncharted territory of his own kitchen. Here, he discovers the enduring power of the four classical elements--fire, water, air, and earth--to transform the stuff of nature into delicious things to eat and drink. In the course of his journey, he discovers that the cook occupies a special place in the world, standing squarely between nature and culture. Both realms are transformed by cooking, and so, in the process, is the cook"--
Second nature : a gardener's education
by
Michael Pollan
( Book )
37 editions published between
1991
and 2016 in 6 languages and held by 1,318 WorldCat member libraries worldwide
One day, Harper's Magazine editor Michael Pollan bought an old Connecticut dairy farm. He planted a garden and attempted to follow Thoreau's example: do not impose your will upon the wilderness, the woodchucks, or the weeds. That ethic, of course, did not work. But neither did pesticides or firebombing the woodchuck burrow. So Pollan began to think about the troubled borders between nature and contemporary life. The result is a funny, profound, and beautifully written book which has become a classic of American nature writing. It inspires thoughts on the war of the roses; sex and class conflict in the garden; virtuous composting; the American lawn; seed catalogs, and the politics of planting a tree. A blend of meditation, autobiography, and social history, Second Nature is ultimately a modern Walden.--From publisher description
The botany of desire
by
Michael Pollan
( Visual )
13 editions published between
2008
and 2011 in
English
and held by 1,313 WorldCat member libraries worldwide
Shows how human desires are an essential, intricate part of natural history. The program will explore the natural history of four plants -the apple, the tulip, marijuana, and the potato - and the corresponding human desires - sweetness, beauty, intoxication and control. This two-hour documentary begins in Michael Pollan's garden, and roams the world, from the fields of Iowa to the apple forests of Kazakhstan, from a medical marijuana hot house to the tulip markets of Amsterdam
In defense of food : an eater's manifesto
( Visual )
16 editions published between
2008
and 2016 in
English
and
Undetermined
and held by 1,160 WorldCat member libraries worldwide
""Eat food. Not too much. Mostly plants." These simple words go to the heart of food journalist Pollan's thesis. Humans used to know how to eat well, he argues, but the balanced dietary lessons that were once passed down through generations have been confused and distorted by food industry marketers, nutritional scientists, and journalists. As a result, we face today a complex culinary landscape dense with bad advice and foods that are not "real." Indeed, plain old eating is being replaced by an obsession with nutrition that is, paradoxically, ruining our health, not to mention our meals. Pollan's advice is: "Don't eat anything that your great-great grandmother would not recognize as food." Looking at what science does and does not know about diet and health, he proposes a new way to think about what to eat, informed by ecology and tradition rather than by the nutrient-by-nutrient approach"--
more
fewer
Audience Level
0

1
Kids
General
Special
Audience level: 0.18 (from 0.01 for Bill Moyer ... to 0.99 for Agrarian d ...)
Related Identities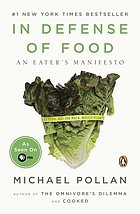 Covers
Alternative Names
Michael Pollan

Michael Pollan American author, journalist, activist, and professor of journalism

Michael Pollan Amerikaans schrijver

Michael Pollan giornalista statunitense

Michael Pollan US-amerikanischer Journalist

Pollan, Michael

Pollan, Michael, 1955-

Pollanas M.

Pollanas Michaelis

Поллан, Майкл

מייקל פולן

פולאן, מייקל

פולן, מייקל 1955-

פולן, מיקל 1955-

مایکل پولان ژورنالیست، نویسنده، و استاد دانشگاه آمریکایی

마이클 폴란

폴란, 마이클 1955-

ポーラン, マイケル

マイケル・ポラン

米高·波倫

迈克尔·波伦

麥可·波倫

Languages