Alvermann, Donna E.
Most widely held works by Donna E Alvermann
Content reading and literacy : succeeding in today's diverse classrooms
by
Donna E Alvermann
( Book )
27 editions published between
1994
and 2019 in
English
and held by 1,093 WorldCat member libraries worldwide
"Content Area Reading and Literacy addresses the needs of students from diverse language and cultural backgrounds. Trusted authorities in adolescent literacy Donna Alvermann, Stephen Phelps, and Victoria Ridgeway provide classroom- and research-based teaching and learning strategies in all core areas, from English to math to science, and the social sciences, and highlight current trends in technology and multimedia."--Jacket
Reconceptualizing the literacies in adolescents' lives : bridging the everyday/academic divide
by
Donna E Alvermann
( Book )
27 editions published between
1998
and 2012 in
English
and held by 940 WorldCat member libraries worldwide
"Reconceptualizing the Literacies in Adolescents' Lives invites middle- and high-school educators to move toward a broad, generative view of adolescent literacies. The aim is to capture adolescents' know-how and evolving expertise in an array of literacy contexts - all of them rich in language and meaning. This volume moves beyond a tendency to view current instructional recommendations - which focus on textbooks, tasks, and outcomes - as being apolitical or having universal applications. In these times of school reform and public accountability, this book calls on readers to bear in mind that issues of gender, race, ethnicity, and social class have everything to do with who is listened to, as well as when and with what effect. It also calls on readers to remember that adolescents carry an almost infinite number of abilities and insights that can and should be invited to any work deemed important in classrooms."--BOOK JACKET
Bridging the literacy achievement gap, grades 4-12
( Book )
5 editions published in
2004
in
English
and held by 925 WorldCat member libraries worldwide
This book addresses critical issues related to pre-adolescent and adolescent literacy learners with a focus on closing the achievement gap. Despite efforts by educators and policymakers during the past several decades, certain groups of students--primarily African American students, English language learners, and students from low-income homes--continue to underperform on commonly used measures of academic achievement. Too often, teachers and administrators lack both proper preparation and good ideas to confront these issues
Engaged reading : processes, practices, and policy implications
( Book )
6 editions published in
1999
in
English
and held by 539 WorldCat member libraries worldwide
"This volume is a thoughtful synthesis of current research conducted at the National Reading Research Center (NRRC). Blending investigations on the motivational, social, and cognitive needs of young learners, Engaged Reading presents a new perspective on reading development. Whether you work with students of mainstream or diverse backgrounds, in inner-city or affluent suburban schools, the concept of engaged reading is crucial to the current debate concerning reading instruction
Science learning : processes and applications
by
Carol Minnick Santa
( Book )
11 editions published between
1991
and 2002 in
English
and held by 484 WorldCat member libraries worldwide
Reflecting a collaboration in terms of content areas, levels, and audience, this volume represents the efforts of science teachers and reading teachers to understand and help one another fine tune their craft. Chapters in the volume include: (1) "Metacognition, Reading and Science Education" (Linda Baker); (2) "Science and Reading: Many Process Skills in Common?" (Michael J. Padilla and others); (3) "Why Students Have Trouble Learning from Science Texts" (Fred N. Finley); (4) "Are Science Textbooks Considerate?" (Linda A. Meyer); (5) "Helping Students Learn Effectively from Science Text" (William G. Holliday); (6) "Reading Science Texts for Conceptual Change" (Kathleen J. Roth); (7) "Understanding Science Text and the Physical World" (Audrey B. Champagne and Leopold E. Klopfer); (8) "Instructional Activities for Comprehending Science Texts" (Nancy D. Padak and Jane L. Davidson); (9) "Science Teachers' Use of Texts: Three Case Studies" (Donna E. Alvermann and Kathleen A. Hinchman); (10) "Main Ideas: Key to Learning Science" (Mark W. Aulls); (11) "Framing: a Technique for Improving Learning from Science Texts" (Bonnie B. Armbruster); (12) "Tools for Learning Science" (Shirley Harrison); (13) "Learning through Writing" (Carol Minnick Santa and Lynn T. Havens); (14) "Teaching Vocabulary to Improve Science Learning" (Bonnie C. Konopak); (15) Using Guided Imagery to Teach Science Concepts" (Barbara J. Walker and Paul T. Wilson); and (16) "An Evolution of Learning" (John T. Guthrie). (Rs)
Using discussion to promote reading comprehension
by
Donna E Alvermann
( Book )
12 editions published between
1987
and 1992 in
English
and held by 461 WorldCat member libraries worldwide
Drawing from observations of discussion in 24 different classrooms, this book will provide preservice and inservice teachers at the middle and school levels with the motivation and knowledge to use discussion to foster student comprehension of content area text assignments. The first chapter examines the distinctions between discussion and recitation, and redefines major issues related to content area discussion in light of recent research and school reform reports. The second chapter establishes a basis for the premise that discussion is important to the development of reading comprehension, illustrating those skills that enrich or refine students' understanding of text. The third chapter uses portions of transcripts from videotaped content class discussions to illustrate how classroom context influences discussion practices. Alternatives to teacher dominated discussions are described, and guidelines are provided for establishing the rights and responsibilities of critical readers. The fourth chapter demonstrates how to plan for classroom discussion of assigned material, describing five aspects of the planning process. The fifth chapter presents discussion strategies that help students master the content, examine more than one side of the issue, and evaluate alternative solutions to a text based problem, while the sixth chapter analyzes one content area teacher's implementation of a preplanned discussion. Finally, the seventh chapter describes two procedures for informally evaluating classroom discussion used to promote reading comprehension. References follow each chapter. (Hth)
Research within reach : secondary school reading : a research guided response to concerns of reading educators
by
Donna E Alvermann
( Book )
13 editions published between
1986
and 1988 in
English
and
Undetermined
and held by 451 WorldCat member libraries worldwide
Intended for secondary school teachers in all subject areas, this book synthesizes and translates reading-related research on a variety of specific topics. Each chapter in the book opens with a question or questions posed by teachers, then proceeds to a discussion of the research and practice pertaining to the issues raised. Each chapter ends with a summary and a list of references. Each chapter can be read independently. Questions raised in the 13 chapters of the book deal with the following areas: (1) reading programs, (2) effective schools and effective teaching research, (3) developing lifetime readers, (4) learning from text, (5) comprehension and thinking skills, (6) vocabulary, (7) readability, (8) objectives and materials, (9) integrating oral and written language, (10) grouping, (11) teacher decision making, (12) metacognition, and (13) staff development. A 27-page bibliography concludes the document. (FL)
Bring it to class : unpacking pop culture in literacy learning
by
Margaret C Hagood
( Book )
4 editions published in
2010
in
English
and held by 428 WorldCat member libraries worldwide
"Students' backpacks bulge not just with oversize textbooks, but with paperbacks, graphic novels, street lit, and electronics such as iPods and handheld video games. This book shows teachers how to unpack those texts and use them to engage students in meaningful learning. Whether you are a technology enthusiast or you favor traditional literature, this book is written for you."--Back cover
more
fewer
Audience Level
0

1
Kids
General
Special
Audience level: 0.32 (from 0.03 for Heath midd ... to 0.54 for Reconceptu ...)
Related Identities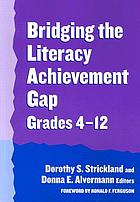 Covers
Alternative Names
Alvermann, Donna.

Alvermann, Donna 1939-

Alvermann, Donna E. 1939-

Languages