Harris, William V. (William Vernon)
Most widely held works about William V Harris
Most widely held works by William V Harris
Ancient literacy
by
William V Harris
( )
42 editions published between
1989
and 2009 in 3 languages and held by 2,576 WorldCat member libraries worldwide
How many people could read and write in the ancient world of the Greeks and Romans? No one has previously tried to give a systematic answer to this question. Most historians who have considered the problem at all have given optimistic assessments, since they have been impressed by large bodies of ancient written material such as the graffiti at Pompeii. They have also been influenced by a tendency to idealize the Greek and Roman world and its educational system. In Ancient Literacy W.V. Harris provides the first thorough exploration of the levels, types, and functions of literacy in the classical world, from the invention of the Greek alphabet about 800 B.C. down to the fifth century A.D. Investigations of other societies show that literacy ceases to be the accomplishment of a small elite only in specific circumstances. Harris argues that the social and technological conditions of the ancient world were such as to make mass literacy unthinkable. Noting that a society on the verge of mass literacy always possesses an elaborate school system, Harris stresses the limitations of Greek and Roman schooling, pointing out the meagerness of funding for elementary education. Neither the Greeks nor the Romans came anywhere near to completing the transition to a modern kind of written culture. They relied more heavily on oral communication than has generally been imagined. Harris examines the partial transition to written culture, taking into consideration the economic sphere and everyday life, as well as law, politics, administration, and religion. He has much to say also about the circulation of literary texts throughout classical antiquity. The limited spread of literacy in the classical world had diverse effects. It gave some stimulus to critical thought and assisted the accumulation of knowledge, and the minority that did learn to read and write was to some extent able to assert itself politically. The written word was also an instrument of power, and its use was indispensable for the construction and maintenance of empires. Most intriguing is the role of writing in the new religious culture of the late Roman Empire, in which it was more and more revered but less and less practiced. Harris explores these and related themes in this highly original work of social and cultural history. Ancient Literacy is important reading for anyone interested in the classical world, the problem of literacy, or the history of the written word
Restraining rage : the ideology of anger control in classical antiquity
by
William V Harris
( )
30 editions published between
2001
and 2009 in
English
and held by 2,061 WorldCat member libraries worldwide
"The angry emotions, and the problems they presented, were an ancient preoccupation from Homer to late antiquity. From the first lines of the Iliad to the church fathers of the fourth century A.D., the control or elimination of rage was an obsessive concern. From the Greek world it passed to the Romans. Drawing on a wide range of ancient texts, and on recent work in anthropology and psychology, Restraining Rage explains the rise and persistence of this concern."--BOOK JACKET
Dreams and experience in classical antiquity
by
William V Harris
( )
19 editions published between
2009
and 2013 in
English
and
Italian
and held by 1,953 WorldCat member libraries worldwide
"From the Iliad to Aristophanes, from the gospel of Matthew to Augustine, Greek and Latin texts are constellated with descriptive images of dreams. Some are formulaic, others intensely vivid. The best ancient minds -- Plato, Aristotle, the physician Galen, and others -- struggled to understand the meaning of dreams. With Dreams and Experience in Classical Antiquity the renowned ancient historian William Harris turns his attention to oneiric matters. This cultural history of dreams in antiquity draws on both contemporary post-Freudian science and careful critiques of the ancient texts. Harris traces the history of characteristic forms of dream-description and relates them both to the ancient experience of dreaming and to literary and religious imperatives. He analyzes the nuances of Greek and Roman belief in the truth-telling potential of dreams, and in a final chapter offers an assessment of ancient attempts to understand dreams naturalistically."--Jacket
Ancient Alexandria between Egypt and Greece
by
William V Harris
( )
18 editions published between
2004
and 2006 in
English
and held by 1,809 WorldCat member libraries worldwide
This volume approaches the history of the great city of Alexandria from a variety of directions: its demography, the interaction between Greek and Egyptian and between Jews and Greeks, the nature of its civil institutions and social relations, and its religious, and intellectual history
Rethinking the Mediterranean
by
William V Harris
( )
25 editions published between
2004
and 2014 in
English
and held by 1,613 WorldCat member libraries worldwide
"This text examines the ancient and medieval history of the Mediterranean Sea and the lands around it"--Provided by publisher
Rome's Imperial economy : twelve essays
by
William V Harris
( )
14 editions published in
2011
in
English
and
Undetermined
and held by 1,366 WorldCat member libraries worldwide
Imperial Rome has a name for wealth and luxury, but was the economy of the Roman Empire as a whole a success, by the standards of pre-modern economies? This book includes chapters on this much-argued subject, with additional comments to bring them up to date. A new study of poverty and destitution provides a fresh perspective on the question of the Roman Empire's economic performance, and a substantial introduction ties the collection together
Aelius Aristides between Greece, Rome, and the gods
by
William V Harris
( )
14 editions published in
2008
in
English
and held by 1,245 WorldCat member libraries worldwide
This volume, containing fourteen papers given at a conference held at Columbia in 2007, is the most concerted attempt in recent times to understand the famous and enigmatic orator and to set him in his cultural, religious and political context
War and imperialism in Republican Rome, 327-70 B.C.
by
William V Harris
( Book )
56 editions published between
1979
and 2006 in
English
and
Undetermined
and held by 1,231 WorldCat member libraries worldwide
Between 327 and 70 B.C. the Romans expanded their empire throughout the Mediterranean world. This study looks at Roman attitudes and behavior that lay behind their quest for power. How did Romans respond to warfare, year after year? How important were the material gains of military success--land, slaves, and other riches--commonly supposed to have been merely an incidental result? What value is there in the claim of the contemporary historian Polybius that the Romans were driven by a greater and greater ambition to expand their empire? The author answers these questions within an analytic framework, and comes to an interpretation of Roman imperialism that differs sharply from the conventional ones. --From publisher's description
The ancient Mediterranean environment between science and history
by
William V Harris
( )
14 editions published in
2013
in
English
and held by 1,108 WorldCat member libraries worldwide
"Scientists, historians and archaeologists are at last beginning to collaborate seriously on studies of the long-term history of the environment. The fruit of an international conference held in Rome in 2011, The Ancient Mediterranean Environment between Science and History brings together scientists and scholars who are interested in the interaction of their several disciplines as well as in specific problems such as the effects of climate change and other environmental factors on historical developments and events, the sources of the energy and fuel used in ancient civilizations, and the effects of humans on the lands around the Mediterranean. The collection balances broad Mediterranean-wide studies and tightly focused studies of particular regions in Italy and Jordan"--Back cover
Moses Finley and politics
by
William V Harris
( )
9 editions published in
2013
in
English
and held by 1,082 WorldCat member libraries worldwide
A brief introduction / W.V. Harris -- Moses Finkelstein and the American scene : the political formation of Moses Finley, 1932-1955 / Daniel P. Tompkins -- Finkelstein the orientalist / Seth R. Schwartz -- The young Moses Finley and the discipline of economics / Richard P. Saller -- Moses Finley and the academic red scare / Ellen Schrecker -- Dilemmas of resistance / Alice Kessler-Harris -- Finley's democracy/democracy's Finley / Paul Cartledge -- Politics in the ancient world and politics / W.V. Harris -- Un-Athenian affairs : I.F. Stone, M.I. Finley, and the trial of Socrates / Thai Jones
more
fewer
Audience Level
0

1
Kids
General
Special
Audience level: 0.17 (from 0.05 for Aelius Ari ... to 0.78 for William V. ...)
Related Identities
Associated Subjects
Anger
Anti-communist movements
Antiquities
Aristides, Aelius
Christian sociology--Early church
Church history--Primitive and early church
City planning
City-states
Civilization
Civilization, Classical
Classical antiquities
Classical languages
Classicists
Commerce
Diplomatic relations
Dreams
Ecology
Economic history
Egypt
Egypt--Alexandria
Europe--Etruria
Finley, M. I.--(Moses I.),
Great Britain
Greece
Historic buildings
Historic sites
Historiography
Human ecology
Imperialism
Implements, utensils, etc
Italy--Rome
Italy--Umbria
Language and culture
Literacy
Medicine, Ancient
Medicine, Greek and Roman
Medicine, Popular
Mediterranean Region
Mental illness
Money
Nature--Effect of human beings on
Political and social views
Public health
Roman law
Rome (Empire)
Schiller, A. Arthur,
Social conditions
United States
Urban renewal
War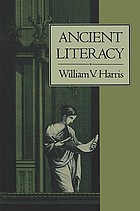 Covers
Alternative Names
Harris, Vernon

Harris, W.V.

Harris W. V. 1938-....

Harris, W. V. (William Vernon)

Harris, W.V. (William Vernon), 1938-

Harris, William V.

Harris, William V., 1938-

Harris, William V. (William Vernon), 1938-

Harris, William Vernon.

Harris, William Vernon 1938-

Vernon Harris, William 1938-

William Vernon Harris

해리스, W. V. 1938-

해리스, 윌리엄 V. 1938-

Languages