Fishback, Price Van Meter
Most widely held works by Price Van Meter Fishback
Government and the American economy : a new history
by
Price Van Meter Fishback
( )
19 editions published between
2006
and 2014 in 3 languages and held by 2,101 WorldCat member libraries worldwide
The American economy has provided a level of well-being that has consistently ranked at or near the top of the international ladder. A key source of this success has been widespread participation in political and economic processes. In The Government and the American Economy, leading economic historians chronicle the significance of America's open-access society and the roles played by government in its unrivaled success story. America's democratic experiment, the authors show, allowed individuals and interest groups to shape the structure and policies of government, which, in turn, have fostered economic success and innovation by emphasizing private property rights, the rule of law, and protections of individual freedom. In response to new demands for infrastructure, America's federal structure hastened development by promoting the primacy of states, cities, and national governments. More recently, the economic reach of American government expanded dramatically as the populace accepted stronger limits on its economic freedoms in exchange for the increased security provided by regulation, an expanded welfare state, and a stronger national defense
A prelude to the welfare state : the origins of workers' compensation
by
Price Van Meter Fishback
( )
19 editions published between
2000
and 2007 in
English
and held by 1,461 WorldCat member libraries worldwide
Workers' compensation was arguably the first widespread social insurance program in the United States and the most successful form of labor legislation to emerge from the early Progressive Movement. Adopted in most states between 1910 and 1920, workers' c
Well worth saving : how the new deal safeguarded home ownership
by
Price Van Meter Fishback
( )
10 editions published in
2013
in
English
and held by 475 WorldCat member libraries worldwide
"Well Worth Saving tells the story of the disastrous housing market during the Great Depression and the extent to which an immensely popular New Deal relief program, the Home Owners' Loan Corporation (HOLC), was able to stem foreclosures by buying distressed mortgages from lenders and refinancing them. Drawing on historical records and modern statistical tools, Price Fishback, Jonathan Rose, and Kenneth Snowden investigate important unanswered questions to provide an unparalleled view of the mortgage loan industry throughout the 1920s and early '30s. Combining this with the stories of those involved, the book offers a clear understanding of the HOLC within the context of the housing market in which it operated, including an examination of how the incentives and behaviors at play throughout the crisis influenced the effectiveness of policy."--
Soft coal, hard choices : the economic welfare of bituminous coal miners, 1890-1930
by
Price Van Meter Fishback
( Book )
16 editions published between
1992
and 2011 in
English
and held by 445 WorldCat member libraries worldwide
Did miners really owe their souls to the company store? Did they receive lower pay than in other jobs, despite the constant danger they faced? Was the quality of life in mining towns uniformly dismal? Soft Coal, Hard Choices answers these and other questions. The book contradicts many myths using evidence ranging from company records to oral histories to statistics collected by state and federal governments. While most studies of labor in the coal industry focus on union struggles, Fishback discloses the beneficial impact of competition among employers for labor. He further examines the impact of legal environment and the development of institutions like company towns. Careful analysis using economic theory and statistics reveals numerous insights about the welfare of coal miners in the early 1900s. Unions helped miners obtain higher wages, but so did competition among employers. Employers were unable to exploit local and housing monopolies because the miners had the option of moving from town to town. Workers choosing between mining and other jobs faced a hard choice between similar alternatives. High hourly earnings and freedom from close supervision in mining helped compensate miners for accepting more risk of accidents and layoffs. The combination of narrative and analysis in Soft Coal, Hard Choices will interest historians, economists, and the general reader alike
Housing and mortgage markets in historical perspective
( Book )
8 editions published in
2014
in
English
and held by 283 WorldCat member libraries worldwide
The central role of the housing market in the recent recession raised a series of questions about similar episodes throughout economic history. Were the underlying causes of housing and mortgage crises the same in earlier episodes? Has the onset and spread of crises changed over time? How have previous policy interventions either damaged or improved long-run market performance and stability? This volume begins to answer these questions, providing a much-needed context for understanding recent events by examining how historical housing and mortgage markets worked and how they sometimes failed. Renowned economic historians Eugene N. White, Kenneth Snowden, and Price Fishback survey the foundational research on housing crises, comparing that of the 1930s to that of the early 2000s in order to authoritatively identify what contributed to each crisis. Later chapters explore notable historical experiences with mortgage securitization and the role that federal policy played in the surge in home ownership between 1940 and 1960. By providing a broad historical overview of housing and mortgage markets, the volume offers valuable new insights to inform future policy debates
Public choice essays in honor of a maverick scholar : Gordon Tullock
by
Price Van Meter Fishback
( Book )
10 editions published between
1999
and 2000 in
English
and held by 201 WorldCat member libraries worldwide
Tullock is best known for his work in "Public Choice," the study of how self-interested individuals interact with governments. The text includes nine chapters of contributions that were influenced by Tullock's studies of governance
The Oxford handbook of American economic history
( Book )
8 editions published in
2018
in
English
and held by 165 WorldCat member libraries worldwide
"American economic history describes the transition of a handful of struggling settlements on the Atlantic seaboard into the nation with the most successful economy in the world today. As the economy has developed, so have the methods used by economic historians to analyze the process. Interest in economic history has sharply increased in recent years among the public, policymakers, and the academy. The economic turmoil of the early twenty-first century, calling forth comparisons with the Great Depression of the 1930s, is in part responsible for the surge in interest among the public and in policy circles. It has also stimulated greater scholarly research into past financial crises, the multiplier effects of fiscal and monetary policy, the dynamics of the housing market, and international economic cooperation and conflict. Other pressing policy issues--including the impending retirement of the Baby Boom generation, the ongoing expansion of the healthcare sector, and the environmental challenges posed by global climate change--have further increased demand for the long-run perspective given by economic history. Confronting this need, The Oxford Handbook of American Economic History affords access to the latest research on the crucial events, themes, and legacies of America's economic history--from colonial America to the Civil War and up to the present day. More than fifty contributors address topics as wide-ranging as immigration, agriculture, and urbanization. Over its two volumes, this Handbook gives readers a comprehensive look at where the field of American economic history currently stands as well as where it is headed in the years to come."--Dust jacket
Did workers pay for the passage of workers' compensation laws?
by
Price Van Meter Fishback
( Book )
13 editions published in
1994
in
English
and held by 121 WorldCat member libraries worldwide
Market responses to legislative reforms often mitigate the expected gains that reformers promise in legislation. Contemporaries hailed workers' compensation as a boon to workers because it raised the amount of post-accident compensation paid to injured workers. Despite the large gains to workers, employers often supported the legislation. Analysis of several wage samples from the early 1900s shows that employers were able to pass a significant part of the added costs of higher post-accident compensation onto some workers in the form of reductions in wages. The size of the wage offsets, however, were smaller for union workers
Insurance rationing and the origins of workers' compensation
by
Price Van Meter Fishback
( Book )
13 editions published in
1994
in
English
and held by 111 WorldCat member libraries worldwide
Abstract: A central question concerning the economic motivation for the adoption of workers' compensation is the extent to which workers had access to their desired levels of private accident insurance around the turn of the century. If insurance were rationed then workers' primary option would have been to use savings to protect against accident risk. We develop a theoretical model that suggests that workers' compensation, under this market condition, should have caused a reduction in households' precautionary saving. Our empirical test is based on a sample of over 7000 households surveyed for the 1917- 1919 Bureau of Labor Statistics Cost-of-Living study. Regression analysis suggests that households tended to save less, holding all else constant, if their states had workers' compensation in force. This finding, in concert with qualitative information about the insurance industry, provides some evidence that insurance companies were unable to effectively offer workplace accident insurance to a wide range of workers. By shifting the burden of insurance from workers to employers, workers' compensation benefitted risk-averse workers who were rationed out of the insurance market, even if they paid for their more generous post-accident benefits through lower wages
The adoption of workers' compensation in the United States, 1900-1930
by
Price Van Meter Fishback
( )
15 editions published in
1996
in
English
and held by 106 WorldCat member libraries worldwide
The adoption of workers' compensation in the 1910s, from a variety of perspectives, was a significant event in the economic, legal, and political history of the United States. The legislation represented the first instance of a widespread social insurance program in the United States, setting the stage for the later adoption of federal government programs for unemployment insurance, old-age pensions, and health insurance. In this paper, we show that the adoption of workers' compensation was not the result of employers' or workers' to secure benefits at the expense of the other group. Nor was the success of compensation legislation simply the outcome of Progressive Era social reformers' demands for protective legislation. Workers' compensation was enacted rapidly across the United States in the 1910s because the key economic interest groups with a stake in the legislation -- employers, workers, and insurance companies -- anticipated benefits from resolving an apparent first decade of the twentieth century, workplace accident risk rose, state legislatures adopted a series of employers' liability laws, and court decisions limited employers' defenses in liability suits, which all combined to substantially increase the uncertainty of the negligence liability system
more
fewer
Audience Level
0

1
Kids
General
Special
Audience level: 0.29 (from 0.06 for Government ... to 0.68 for Did worker ...)
Related Identities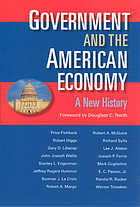 Covers
Alternative Names
Fishback, P. V.

Fishback, Price

Fishback, Price 1955-

Fishback, Price V.

Fishback, Price V. 1955-

Fishback, Price Van Meter

Fishback, Price VanMeter

Fishback, Price VanMeter 1955-

Meter Fishback, Price van

Meter Fishback, Price van 1955-

Price V. Fishback economic historian

Price V. Fishback econoom

Van Meter Fishback, Price

VanMeter Fishback, Price

VanMeter Fishback, Price 1955-

Languages