Kimmel, Michael S.
Most widely held works about Michael S Kimmel
Most widely held works by Michael S Kimmel
Manhood in America : a cultural history
by
Michael S Kimmel
( Book )
31 editions published between
1996
and 2018 in
English
and held by 2,457 WorldCat member libraries worldwide
In a time when psychologists are rediscovering Darwin, and much of our social behavioral is being reduced to ancient, hard-wired patterns, Michael Kimmel's history of manhood in America comes as a much needed reminder that our behavior as men and women is anything but stable and fixed. Kimmel's history of men in America demonstrates that manhood has meant very different things in different eras. Drawing on advice books, magazines, political pamphlets, and popular novels and films, he makes two surprising claims: First, manhood is homosocial -- that is, men need to prove themselves to each other, not to women. Second, definitions of manliness have evolved in response to women's movements. When women act, men react. Originally, manliness was an internal virtue and a democratic ideal -- British men were viewed as fops, and American men had to be independent, honest, and responsible. By the 1890s, however, manhood changed to masculinity, something that had to be constantly proven through the new explosion of sports, fraternities, and fashion. Finally, in 1936, Lewis Terman, the creator of the IQ test, developed an "M-F" test to analyze adolescents' masculinity and femininity. Until well into the 1960s, the test penalized boys who preferred to draw flowers instead of forests, or who knew that a teacup was used for drinking tea. But just as Terman's categories and questions seem outdated to us, so will our own standards seem temporary to our successors
The gendered society
by
Michael S Kimmel
( Book )
53 editions published between
2000
and 2017 in 4 languages and held by 2,424 WorldCat member libraries worldwide
"In The Gendered Society, Michael S. Kimmel examines our basic beliefs about gender, arguing that men and women are more alike than we have ever imagined." "The issues surrounding gender are complex, and in order to clarify them, the author has included a review of the existing literature in related disciplines such as biology, anthropology, psychology, and sociology. With an eye toward the future, Kimmel offers readers a glimpse at gender relations in the next millennium."--Jacket
Guyland : the perilous world where boys become men
by
Michael S Kimmel
( Book )
15 editions published between
2008
and 2010 in
English
and
Undetermined
and held by 1,780 WorldCat member libraries worldwide
A leading authority in gender studies profiles American males between the ages of sixteen and twenty-six, offering insight into their belief systems, relationships, and preferences, in a report that also discusses the sources of violent and deviant behaviors. By the author of Manhood in America: A Cultural History
Men's lives
by
Michael S Kimmel
( Book )
62 editions published between
1989
and 2013 in
English
and
Undetermined
and held by 1,649 WorldCat member libraries worldwide
Intended to be used as either a core text or as a supplement, this work includes recent research by feminist scholars and pro-feminist men
The gendered society reader
by
Michael S Kimmel
( Book )
45 editions published between
1999
and 2017 in
English
and held by 1,353 WorldCat member libraries worldwide
"In The Gendered Society Reader, Fourth Edition, coeditors Michael Kimmel and Amy Aronson pull together an array of dynamic voices - both male and female, classic and contemporary - to examine various interpretations of gender. These lively, in-depth readings explore gender discourse over a wide range of disciplines, focusing primarily on two central issues: difference and domination. Carefully balanced to reflect the diversity of its subject, this text addresses provocative and fundamental questions."--Jacket
Angry white men : American masculinity at the end of an era
by
Michael S Kimmel
( Book )
23 editions published between
2012
and 2017 in
English
and held by 924 WorldCat member libraries worldwide
One of the enduring legacies of the 2012 Presidential campaign was the demise of the white American male voter as a dominant force in the political landscape. On election night, after Obama was announced the winner, a distressed Bill O'Reilly lamented that he didn't live in a traditional America anymore. He was joined by others who bellowed their grief on the talk radio airwaves, the traditional redoubt of angry white men. Why were they so angry? Sociologist Michael Kimmel has spent hundreds of hours in the company of America's angry white men, from white supremacists to men's rights activists to young students in pursuit of an answer. Angry White Men presents a comprehensive diagnosis of their fears, anxieties, and rage. Kimmel locates this increase in anger in the seismic economic, social, and political shifts that have so transformed the American landscape. Downward mobility, increased racial and gender equality, and a tenacious clinging to an anachronistic ideology of masculinity has left many men feeling betrayed and bewildered. Raised to expect unparalleled social and economic privilege, white men are suffering today from what Kimmel calls "aggrieved entitlement": a sense that those benefits that white men believed were their due have been snatched away from them. Angry White Men discusses, among others, the sons of small town America, scarred by underemployment and wage stagnation. When America's white men feel they've lived their lives the 'right' way worked hard and stayed out of trouble and still do not get economic rewards, then they have to blame somebody else. Even more terrifying is the phenomenon of angry young boys. School shootings in the United States are not just the work of "misguided youth" or "troubled teens"--They're all committed by boys. These alienated young men are transformed into mass murderers by a sense that using violence against others is their right. The future of America is more inclusive and diverse. The choice for angry white men is not whether or not they can stem the tide of history: they cannot. Their choice is whether they will be dragged kicking and screaming into that inevitable future, or whether they will walk openly and honorably alongside those they've spent so long trying to exclude
The Bro Code : How Contemporary Culture Creates Sexist Men
( Visual )
8 editions published between
2000
and 2014 in
English
and held by 747 WorldCat member libraries worldwide
"Filmmaker Thomas Keith takes aim at the forces in male culture that condition boys and men to dehumanize and disrespect women. Keith breaks down a range of contemporary media forms, zeroing in on movies and music videos that glamorize womanizing, pornography that trades in the brutalization of women, comedians who make fun of sexual assault, and a groundswell of men's magazines and cable TV shows that revel in old-school myths of American manhood. Even as epidemic levels of men's violence against women persist in the real world, the message Keith uncovers in virtually every corner of our entertainment culture is clear: It's not only normal -- but cool -- for boys and men to control and humiliate women. Arguing that there's nothing normal, natural, or inevitable about this mentality, The Bro Code challenges young people, young men and women alike, to step up and fight back against the idea that being a real man means being sexist"--Publisher's website
Privilege : a reader
by
Abby L Ferber
( Book )
22 editions published between
2003
and 2017 in
English
and held by 724 WorldCat member libraries worldwide
Innovative and thought-provoking, this timely anthology expands the concept of privilege in America beyond the traditional limiters of being white and male. In addition to readings from well-known authors in the field, this edition includes pieces from contemporary scholars breaking new ground in superordinate studies. Seventeen carefully selected essays explore the multifaceted aspects of privilege: how race, gender, class, and sexual preference interact in the lives of those who are privileged by one or more of these identities. Written from a variety of viewpoints, personal and analytic, the essays in this volume help students understand that "race" can mean white people, "gender" can mean men, and "sexuality" can mean heterosexuals. I. MAKING PRIVILEGE VISIBLE 1. McIntosh, Peggy. "White Privilege and Male Privilege." 2. Woods, Jewel."Black Male Privilege." 3. Larew, John,"ℓWhy are Droves of Unqualified, Unprepared Kids Getting Into our Top Colleges?" 4. Dunbar-Ortiz, Roxanne. "On Being Okie" 5. Messner, Michael A. "Becoming 100% Straight" 6. Rochlin, M. "The Heterosexual Questionnaire" II. UNDERSTANDING PRIVILEGE 7. Johnson, Allan. "Privilege Power and Difference and Us,ℓ from Privilege Power and Difference" 8. Brodkin Sacks, Karen. "How Jews Became White" 9. Kimmel, Michael S."ℓMasculinity as Homophobia." 10. Wise, Tim. "Anti-Racist Reflections From an Angry White Male" 11. Kendall, Diana. "Class in the United States: Not Only Alive but Reproducing" III. EXAMINING INTERSECTIONS 12. Redding, Maureen T. "Invisibility/Hypervisibility: The Paradox of Normative Whiteness" 13. hooks, bell. "Class and Race: The New Black Elite" 14. Břub,̌ Allan. "How Gay Stays White and What Kind of White it Stays" IV. MOVING FORWARD 15. Thompson, Becky. "Subverting Racism From Within." 16. Hill Collins, Patricia. "Toward a New Vision" 17.Ferber, Abby. "Dismantling Privilege and Becoming an Ally"
more
fewer
Audience Level
0

1
Kids
General
Special
Audience level: 0.27 (from 0.04 for Men and ma ... to 0.43 for Revolution ...)
Related Identities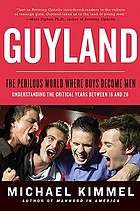 Alternative Names
Kimmel, M.

Kimmel, Maĭkl

Kimmel, Maikl 1951-

Kimmel, Michael.

Kimmel, Michael 1951-

Kimmel, Michael (Michael S.)

Kimmel, Michael S.

Kimmel, Michael S., 1951-

Kimmel, Michael Scott.

Kimmel, Michael Scott 1951-

Kimmel, Michael sociolog

Michael Kimmel American sociologist

Michael Kimmel Amerikaans socioloog

Michael Kimmel sociólogo estadounidense

Michael Kimmel sociologue américain

Michael Kimmel US-amerikanischer Soziologe

Киммел, Майкл

邁克爾·基梅爾

Languages
Covers