Nasr, Seyyed Vali Reza 1960-
Most widely held works by Seyyed Vali Reza Nasr
The Shia revival : how conflicts within Islam will shape the future
by
Seyyed Vali Reza Nasr
( Book )
32 editions published between
2006
and 2017 in 3 languages and held by 2,458 WorldCat member libraries worldwide
Considers the ways in which struggles between the Shia and Sunni in the Middle East will affect the region's future, offering insight into the power conflicts between Iran and Saudi Arabia for political and spiritual leadership of the Muslim world
The vanguard of the Islamic revolution : the Jamaʻat-i Islami of Pakistan
by
Seyyed Vali Reza Nasr
( )
15 editions published in
1994
in
English
and held by 1,784 WorldCat member libraries worldwide
In this groundbreaking study, Seyyed Vali Reza Nasr examines the origins, historical development, and political strategies of one of the oldest and most influential Islamic revival movements, the Jama'at-i Islami of Pakistan. He focuses on the inherent tension between the movement's idealized vision of the nation as a holy community based in Islamic law and its political agenda of socioeconomic change for Pakistani society. Nasr's work goes beyond the exploration of a single party to examine the diverse sociopolitical roots of contemporary Islamic revivalism, challenging many of the standard interpretations about political expressions of Islam.--Publisher description
Mawdudi and the making of Islamic revivalism
by
Seyyed Vali Reza Nasr
( )
16 editions published between
1996
and 2018 in
English
and
Arabic
and held by 1,756 WorldCat member libraries worldwide
Nasr examines the life and thought of Mawlana Mawdudi, one of the first and most important Islamic ideological thinkers. Mawdudi was the first to develop a modern political Islamic ideology, and a plan for social action to realize his vision. The prolific writings and indefatigable efforts of Mawdudi's party, the Jamaat-i-Islami, first in India and later in Pakistan, have disseminated his ideas far and wide. His views have informed revivalism from Morocco to Malaysia. Nasr discerns the events that led Mawdudi to a revivalist perspective, and probes the structure of his thought, in order to gain fresh insights into the origins of Islamic revivalism. He argues that Islamic revivalism did not simply develop as a cultural rejection of the West, rather it was closely tied to questions of communal politics and its impact on identity formation, discourse of power in plural societies, and nationalism. Mawdudi's discourse, though aimed at the West, was motivated by Muslim-Hindu competition for power in British India.; His aim, according to Nasr, was to put forth a view of Islam whose invigorated, pristine, and uncompromising outlook would galvanize Muslims into an ideologically uniform and hence politically indivisible community. In time, this view developed a life of its own and evolved into an all-encompassing perspective on society and politics, and has been a notable force in South Asia and Muslim life and thought across the Muslim world
Shiʻism : doctrines, thought, and spirituality
by
Seyyed Hossein Nasr
( )
10 editions published in
1988
in
English
and held by 1,733 WorldCat member libraries worldwide
This is an anthology of the most significant writing on the doctrinal, intellectual, and spiritual dimensions of Shi'ism. The works included here foster an interpretive understanding of Shi'ism in its dogmatic and cognitive aspects. The intent of this book is to balance the attention that has been focused on the political aspect of Shi'ism. Shi'ism is often seen, not only as an essentially political phenomenon, but as a creed of violence. Understanding Shi'ism in its total reality will encourage a more balanced approach to issues which are viewed mostly politically. While not denying the importance of political manifestations, this book offers an understanding of the often neglected religious beliefs and spiritual practices of this world community
Expectation of the millennium : Shiʻism in history
by
Seyyed Hossein Nasr
( )
10 editions published between
1988
and 1989 in
English
and held by 1,665 WorldCat member libraries worldwide
This is an anthology on the history, politics, and social aspects of Shi'ism including translations of original sources. It examines the historical development of Shi'ism, Shi'i political thought, the status of Shi'i minority communities in the Muslim world, and the life and works of prominent social and political thinkers. The book assesses the extent of the politicization process in Shi'ism in recent years and addresses that important question of the Shi'i attitude towards authority
Democracy in Iran : history and the quest for liberty
by
Ali Gheissari
( Book )
20 editions published between
2006
and 2009 in
English
and held by 1,162 WorldCat member libraries worldwide
"In this book, Ali Gheissari and Vali Nasr look at the political history of Iran in the modern era, and offer an in-depth analysis of the prospects for democracy to flourish there. After having produced the only successful Islamist challenge to the state, a revolution, and an Islamic Republic, Iran is now poised to produce a genuine and indigenous democratic movement in the Muslim world. Democracy in Iran is neither a sudden development nor a western import, Gheissari and Nasr argue. The concept of democracy in Iran today may appear to be a reaction to authoritarianism, but it is an old idea with a complex history, one that is tightly interwoven with the main forces that have shaped Iranian society and politics, institutions, identities, and interests. Indeed, the demand for democracy first surfaced in Iran a century ago at the end of the Qajar period, and helped produce Iran's surprisingly liberal first constitution in 1906. Gheissari and Nasr seek to understand why democracy failed to grow roots and lost ground to an autocratic Iranian state. Why was democracy absent from the ideological debates of the 1960s and 1970s? Most important, why has democracy now become a powerful social, political, and intellectual force? How have modernization, social change, economic growth, and the experience of the revolution converged to make this possible?" "Gheissari and Nasr trace the fortunes of the democratic ideal from the inchoate demands for rule of law and constitutionalism of a century ago to today's calls for individual rights and civil liberties. In the process they provide not just a fresh look at Iran's politics but also a new understanding of the way in which democracy can develop in a Muslim country."--Jacket
The dispensable nation : American foreign policy in retreat
by
Seyyed Vali Reza Nasr
( Book )
26 editions published between
2013
and 2014 in
English
and
Dutch
and held by 1,089 WorldCat member libraries worldwide
"Former State Department advisor for Afghanistan and Pakistan and bestselling author Vali Nasr delivers a sharp indictment of America's flawed foreign policy and outlines a new relationship with the Muslim world and with new players in the changing Middle East. In this essential new book, Vali Nasr argues that the Obama administration had a chance to improve its relations with the Middle East, but instead chose to pursue its predecessor's questionable strategies there. Nasr takes readers behind the scenes at the State Department and reveals how the new government's fear of political backlash and the specter of terrorism crippled the efforts of diplomatic giants, like Richard Holbrooke and Hillary Clinton, to boost America's foundering credibility with world leaders. Meanwhile, the true economic threats, China and Russia, were quietly expanding their influence in the region. And a second Arab Spring is brewing ... not a hopeful clamor for democracy but rage at the United States for its foreign policy of drones and assassinations. Drawing on his in-depth knowledge of the Middle East and firsthand experience in diplomacy, Nasr offers a powerful reassessment of American foreign policy that directs the country away from its failing relationships in the Middle East (such as with Saudi Arabia) toward more productive, and less costly, partnerships with other foreign allies (such as Turkey). Forcefully persuasive, Vali Nasr's book is a game changer for America as it charts a course in the Muslim world, Asia, and beyond. "
Islamic leviathan : Islam and the making of state power
by
Seyyed Vali Reza Nasr
( Book )
21 editions published between
2001
and 2004 in
English
and held by 869 WorldCat member libraries worldwide
Islamization is commonly seen as the work of Islamist movements who have forced their ideology on ruling regimes and other hapless social actors. There is little doubt that ruling regimes and disparate social and political actors alike are pushed in the direction of Islamic politics by Islamist forces. However, Islamist activism and its revolutionary and utopian rhetoric only partly explain this trend. Here, Nasr argues that the state itself plays a key role in embedding Islam in the politics of Muslim countries. Focusing on Malaysia and Pakistan, Nasr argues that the turn to Islam is a facet of the state's drive to establish hegemony over society and expand its powers and control
Forces of fortune : the rise of the new Muslim middle class and what it will mean for our world
by
Seyyed Vali Reza Nasr
( Book )
13 editions published between
2009
and 2013 in 3 languages and held by 861 WorldCat member libraries worldwide
Renowned Middle East expert Vali Nasr's bestselling The Shia Revival profoundly transformed the debate about the Iraq War by unveiling how the Sunni-Shia rift was driving the insurgency. Now, in Forces of Fortune, Nasr presents a paradigm-changing revelation that will transform the understanding of the Muslim world at large. He reveals that there is a vital but unseen rising force in the Islamic world -- a new business-minded middle class -- that is building a vibrant new Muslim world economy and that holds the key to winning the cold war against Iran and extremists. His groundbreaking analysis will utterly rewrite the wisdom about how the West can best contend with the threat of Islamic extremism, as well as about what we can expect from the Muslim world in the future. The great battle for the soul of Iran, the Arab world, Pakistan, and the entire region will be fought not over religion, Nasr reveals, but over business and capitalism. -- Book jacket
Forces of fortune : the rise of the new Muslim middle class and what it will mean for our world
by
Seyyed Vali Reza Nasr
( )
9 editions published between
2009
and 2010 in
English
and held by 161 WorldCat member libraries worldwide
Vali Nasr offers a dissection of the problem the West faces with Iran and reveals how, by building strong ties to the new, pragmatic business class that is emerging in Iran, the West can pull the rug of power out from under the extremist mullahs and forge strong new alliances in the region
more
fewer
Audience Level
0

1
Kids
General
Special
Audience level: 0.17 (from 0.04 for Shiʻism : ... to 0.91 for Le renouve ...)
Related Identities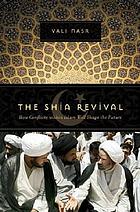 Covers
Alternative Names
Nasr, S. V. R. 1960-

Naṣr, Saiyid Walī Riḍā

Naṣr, Saiyid Walī Riḍā 1960-

Nasr, Sayyid Vali Reza 1960-

Naṣr, Seyyed Valī Rez̤ā 1960-

Nasr, Vali.

Nasr, Vali 1960-

Nasr, Vali R. 1960-

Nasr Vali Reza

Naṣr, Valī Rez̤ā 1960-

Naṣr, Valī Rez̤ā 1960- Seyyed

Naṣr, Valī Rez̤ā Seyyed 1960-

Naṣr, Walī Riḍā

Naṣr, Walī Riḍā 1960-

Naṣr, Walī Riḍā 1960- Saiyid

Naṣr, Walī Riḍā, Saiyid

Naṣr, Walī Riḍā Saiyid 1960-

Reza Nasr, Seyyed Vali 1960-

Seyyed Vali Reza Nasr 1960-

Vali Nasr Amerikaans professor

Vali Nasr US-amerikanischer Politikwissenschaftler

Vali Reza Nasr, Seyyed 1960-

Вали Наср 1960-

Вали реза Наср

Наср Вали 1960-

فالي نصر

ولی‌رضا نصر استاد دانشگاه آمریکایی

ヴァリ・ナスル

Languages