Phillips, Adam 1954-
Overview
| | |
| --- | --- |
| Works: | 158 works in 612 publications in 12 languages and 16,911 library holdings |
| Genres: | Biography Biographies History Criticism, interpretation, etc Psychological fiction Poetry Portraits |
| Roles: | Author, Editor, Author of introduction, Instrumentalist, Contributor, Performer, Other, wat |
| Classifications: | BH181, 150.195 |
Most widely held works by Adam Phillips
Intimacies
by
Leo Bersani
( )
4 editions published between
2008
and 2012 in
English
and
Japanese
and held by 1,831 WorldCat member libraries worldwide
"Two gifted and highly prolific intellectuals, Leo Bersani and Adam Phillips, here present a dialogue about the problems and possibilities of human intimacy. Their conversation takes as its point of departure psychoanalysis and its central importance to the modern imagination - though equally important is their shared sense that by misleading us about the importance of self-knowledge and the danger of narcissism, psychoanalysis has failed to realize its most exciting and innovative relational potential." "In pursuit of new forms of intimacy they take up a range of concerns across a variety of contexts. To test the hypothesis that the essence of the analytic exchange is intimate talk without sex, they compare Patrice Leconte's film about an accountant mistaken for a psychoanalyst, Intimate Strangers, with Henry James's classic novella The Beast in the Jungle. A discussion of the subculture of barebacking - gay men intentionally engaging in risky sex - delineates an intimacy that rejects the personal. Even serial killer Jeffrey Dahmer and the Bush administration's war on terror enter the scene as the conversation turns to the way aggression thrills and gratifies the ego. Finally, in a reading of Socrates' theory of love from Plato's Phaedrus, Bersani and Phillips call for a new form of intimacy which they term "impersonal narcissism": a divestiture of the ego and a recognition of one's non-psychological potential self in others. This revolutionary way of relating to the world, they contend, could lead to a new human freedom by mitigating the horrifying violence we blithely accept as part of human nature."--Jacket
A philosophical enquiry into the origin of our ideas of the sublime and beautiful
by
Edmund Burke
( )
35 editions published between
1990
and 2008 in
English
and held by 1,487 WorldCat member libraries worldwide
The "Philosophical Enquiry" is a study of the relationship between strong feelings and forms of art, that considers the inspired persuasiveness of certain kinds of writing alongside experience of the natural landscape, and is gradually being recognized as an important work of aesthetic theory. This eloquent and sometimes erotic book was long considered to be a piece of Burke's juvenilia, published when he was only 28. But it is a precursor of his later political writings, and clearly deals with a fashionable topic of intellectual preoccupation in the 18th-century. This work is also one of the first major works in European literature on the sublime, a subject that was later to fascinate thinkers from Kant and Coleridge in the 18th-century, to contemporary philosophers and literary critics. Adam Phillips has also edited Charles Lamb's "Selected Prose" and Walter Pater's "The Renaissance", as well as writing a study of his own entitled "Winnicott"
The electrified tightrope
by
Michael Eigen
( )
8 editions published between
1993
and 2004 in
English
and
Undetermined
and held by 1,348 WorldCat member libraries worldwide
A collection of exceptional papers by Michael Eigen, selected and assembled by Adam Phillips, that represent 20 years of writing and 30 years of work. The papers examine the tension, caused by the conflict between poise and catastrophe, in the therapeutic relationship. This volume contains a thought-provoking introduction from Adam Phillips and includes introductory notes for the chapters and a detailed Afterword by Michael Eigen
Becoming Freud : the making of a psychoanalyst
by
Adam Phillips
( Book )
14 editions published between
2014
and 2016 in 3 languages and held by 1,043 WorldCat member libraries worldwide
"Becoming Freud is the story of the young Freud-Freud up until the age of fifty-that incorporates all of Freud's many misgivings about the art of biography. Freud invented a psychological treatment that involved the telling and revising of life stories, but he was himself skeptical of the writing of such stories. In this biography, Adam Phillips, whom the New Yorker calls "Britain's foremost psychoanalytical writer," emphasizes the largely and inevitably undocumented story of Freud's earliest years as the oldest-and favored-son of Jewish immigrants from Eastern Europe and suggests that the psychoanalysis Freud invented was, among many other things, a psychology of the immigrant-increasingly, of course, everybody's status in the modern world. Psychoanalysis was also Freud's way of coming to terms with the fate of the Jews in Europe in the late nineteenth and early twentieth centuries. So as well as incorporating the writings of Freud and his contemporaries, Becoming Freud also uses the work of historians of the Jews in Europe in this significant period in their lives, a period of unprecedented political freedom and mounting persecution. Phillips concludes by speculating what psychoanalysis might have become if Freud had died in 1906, before the emergence of a psychoanalytic movement over which he had to preside"--
On kindness
by
Adam Phillips
( Book )
5 editions published between
2009
and 2010 in
English
and held by 905 WorldCat member libraries worldwide
"In this brilliant book, [authors] examine the pleasures and perils of kindness. Modern people have been taught to perceive ourselves as fundamentally antagonistic to one another, our motives self-seeking. Drawing on intellectual history, literature, psychoanalysis, and contemporary social theory, this book explains how and why we have chosen loneliness over connection. On Kindess argues that a life lived in instinctive, sympathetic identification with others is the one we should allow ourselves to live."--Cover
Going sane : maps of happiness
by
Adam Phillips
( Book )
20 editions published between
2005
and 2014 in 3 languages and held by 840 WorldCat member libraries worldwide
An exploration of the nature of sanity and madness argues for a new definition of sanity that acknowledges the irrational and chaotic elements in everyday life, presenting recommendations about how to approach life from a balanced perspective
Missing out : in praise of the unlived life
by
Adam Phillips
( Book )
24 editions published between
2012
and 2014 in 3 languages and held by 830 WorldCat member libraries worldwide
"All of us lead two parallel lives: the one we are actively living, and the one we feel we should have had or might yet have. As hard as we try to exist in the moment, the unlived life is an inescapable presence, a shadow at our heels. And this itself can become the story of our lives: an elegy to unmet needs and sacrificed desires. We become haunted by the myth of our own potential, of what we have in ourselves to be or to do. And this can make of our lives a perpetual falling-short. But what happens if we remove the idea of failure from the equation? With his flair for graceful paradox, the acclaimed psychoanalyst Adam Phillips suggests that if we accept frustration as a way of outlining what we really want, satisfaction suddenly becomes possible. To crave a life without frustration is to crave a life without the potential to identify and accomplish our desires. In this elegant, compassionate, and absorbing book, Phillips draws deeply on his own clinical experience as well as on the works of Shakespeare and Freud, of D.W. Winnicott and William James, to suggest that frustration, not getting it, and getting away with it are all chapters in our unlived lives--and may be essential to the one fully lived."--Publisher's description
Darwin's worms
by
Adam Phillips
( Book )
34 editions published between
1999
and 2009 in 6 languages and held by 810 WorldCat member libraries worldwide
"Yet, as Adam Phillips argues, we are not merely trapped in a world of continuous loss. Taking as his examples Darwin's lifelong fascination in lowly earthworms, and Freud's lifelong antipathy to grubbing biographers, he unexpectedly finds much to celebrate. For both of these writers are interested, above all, in how destruction conserves life. They take their inspiration from fossils or from half-remembered dreams, and show how life is about what can be done with these humble remnants from the past. Darwin and Freud render aging, accident and death integral, not alien, to our sense of ourselves. They teach us the art of transience."--Jacket
On kissing, tickling, and being bored : psychoanalytic essays on the unexamined life
by
Adam Phillips
( Book )
27 editions published between
1993
and 2016 in 5 languages and held by 678 WorldCat member libraries worldwide
"Tickle a child, and she peals with laughter. Go on too long, and her laughter is sure to turn to tears. Where is that ticklish line between pleasure and pain? Why do we risk its being crossed? Does psychoanalysis possess the language to talk about such an extraordinary ordinary thing? In a style that is writerly and audacious, Adam Phillips takes up this subject and others largely overlooked by psychoanalysis - kissing, worrying, risk, solitude, and composure. He writes about phobias as a kind of theory, a form of protection against curiosity; about analysis as a patient's way of reconstituting solitude; about "good-enough" mothering as the antithesis of "bad-enough" imperialism; about psychoanalysis as an attempt to cure idolatry through idolatry; and even about farting as it relates to worrying." "Psychoanalysis began as a virtuoso improvisation within the science of medicine, but virtuosity has given way to the dream of science that only the examined life is worth living. Phillips shows that the drive to omniscience has been unfortunate both for psychoanalysis and for life. On Kissing, Tickling, and Being Bored is a set of meditations on underinvestigated themes in psyochoanalysis that shows how much one's psychic health depends on establishing a realm of life that successfully resists examination."--Jacket
On flirtation
by
Adam Phillips
( Book )
24 editions published between
1994
and 2016 in 5 languages and held by 578 WorldCat member libraries worldwide
People tend to flirt only with serious things - madness, disaster, other people's affections. So is flirtation dangerous, exploiting the ambiguity of promises to sabotage our cherished notions of commitment? Or is it, as Adam Phillips suggests, a productive pleasure, keeping things in play, letting us get to know them in different ways, allowing us the fascination of what is unconvincing?
more
fewer
Audience Level
0

1
Kids
General
Special
Audience level: 0.32 (from 0.02 for The electr ... to 0.63 for Winnicott ...)
Related Identities
Associated Subjects
Aesthetics
Altruism
Arts, Renaissance
Child analysis
Clare, John,
Cognitive balance
Conduct of life
Country life in literature
Darwin, Charles,
Death
Desire
Du Bellay, Joachim,
Empathy--Social aspects
England--Northamptonshire
Equality
Escape (Ethics)
Escape (Psychology)
Escape artists
Freud, Sigmund,
Italy
Kindness
Liberty
Literature
Mental health--Philosophy
Michelangelo Buonarroti,
Nature in literature
Pastoral poetry, English
Personality disorders
Philosophical anthropology
Pleasure
Psychiatry--Philosophy
Psychoanalysis
Psychoanalysis and literature
Psychoanalysts
Psychoanalytic counseling
Psychology, Pathological
Psychology--Social aspects
Psychotherapist and patient
Renaissance
Self-actualization (Psychology)
Self-analysis (Psychoanalysis)
Self-care, Health--Psychological aspects
Selfishness
Self-perception
Self psychology
Sublime, The
Suffering
Ut pictura poesis (Aesthetics)
Winckelmann, Johann Joachim,
Winnicott, D. W.--(Donald Woods),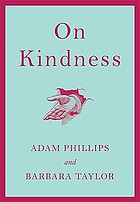 Alternative Names
Adam Phillips seicolegydd ac awdur Cymreig

Phillips, A. 1954-

Phillips, Adam

Phillips, Adam, journaliste

אדם פיליפס

필립스, 아담

필립스, 애덤

フィリップス, アダム

Languages
Covers