Hines, James R.
Most widely held works by James R Hines
The effects of taxation on multinational corporations
by
Martin S Feldstein
( Book )
16 editions published between
1995
and 2007 in
English
and held by 344 WorldCat member libraries worldwide
This volume examines the effect of tax policy on international investment choices by presenting in-depth analyses of the interaction of international tax rules and the investment decisions of multinational enterprises. Ten papers assess the role of investment by multinational firms in the U.S. economy and the design of international tax rules for multinational investment; analyze channels through which international tax rules affect the costs of international business activities; and examine ways in which international tax rules affect financing decisions of multinational firms. As a group, the papers demonstrate that international tax rules have significant effects on firms' investment and other financing decisions. This state-of-the-art volume will be of interest to researchers in public finance and international economics and to policymakers concerned with tax policy and international investment issues
Taxing multinational corporations
by
Martin S Feldstein
( Book )
18 editions published between
1994
and 2007 in
English
and held by 321 WorldCat member libraries worldwide
In the increasingly global business environment of the 1990s, policymakers and executives of multinational corporations must make informed decisions based on a sound knowledge of U.S. and foreign tax policy. Written for a nontechnical audience, Taxing Multinational Corporations summarizes the up-to-the-minute research on the structure and effects of tax policies collected in The Effects of Taxation on Multinational Corporations. The book covers such practical issues as the impact of tax law on U.S. competitiveness, the volume and location of research and development spending, the extent of for
Taxing corporate income in the 21st century
by
Alan J Auerbach
( Book )
17 editions published between
2007
and 2012 in
English
and held by 295 WorldCat member libraries worldwide
This book was first published in 2007. Most countries levy taxes on corporations, but the impact - and therefore the wisdom - of such taxes is highly controversial among economists. Does the burden of these taxes fall on wealthy shareowners, or is it passed along to those who work for, or buy the products of, corporations? Can a country with high corporate taxes remain competitive in the global economy? This book features research by leading economists and accountants that sheds light on these and related questions, including how taxes affect corporate dividend policy, stock market value, avoidance, and evasion. The studies promise to inform both future tax policy and regulatory policy, especially in light of the Sarbanes-Oxley Act and other actions by the Securities and Exchange Commission that are having profound effects on the market for tax planning and auditing in the wake of the well-publicized accounting scandals in Enron and WorldCom
Comparative fiscal federalism : comparing the European Court of Justice and the US Supreme Court's tax jurisprudence
by
Reuven S Avi-Yonah
( Book )
9 editions published in
2007
in
English
and held by 161 WorldCat member libraries worldwide
"[This book] provides a full-scale comparative analysis of the tax jurisprudence of the judicial systems of the European Union (EU) and the United States (US). Judicial review of taxation in the world's two most economically significant multistate systems has exposed a remarkable divergence. Although there are important differences between the competences of the two tribunals, the fact remains that the European Court of Justice (ECJ) has been much more aggressive in striking down Member State income tax rules than has the US Supreme Court in comparable cases. This book -- now in an updated second edition -- asks: Why this divergence? And what can the two tribunals learn from each other about adjudicating issues that arise from the interaction of tax regimes in the context of a single market?"--
International taxation
by
Roger H Gordon
( Book )
22 editions published between
2002
and 2007 in
English
and held by 149 WorldCat member libraries worldwide
The integration of world capital markets carries important implications for the design and impact of tax policies. This paper evaluates research findings on international taxation, drawing attention to connections and inconsistencies between theoretical and empirical observations. Diamond and Mirrlees (1971) note that small open economies incur very high costs in attempting to tax the returns to local capital investment, since local factors bear the burden of such taxes in the form of productive inefficiencies. Richman (1963) argues that countries may simultaneously want to tax the worldwide capital income of domestic residents, implying that any taxes paid to foreign governments should be merely deductible from domestic taxable income. Governments do not adopt policies that are consistent with these forecasts. Corporate income is taxed at high rates by wealthy countries, and most countries either exempt foreign-source income of domestic multinationals from tax provide credits rather than deductions for taxes paid abroad. Furthermore, individual investors can use various methods to avoid domestic taxes on their foreign-source incomes, in the process also avoiding taxes on their domestic-source incomes. Individual and firm behavior also differs from that forecast by simple theories. Observed portfolios are not fully diversified worldwide. Foreign direct investment is common even when it faces tax penalties relative to other investment in host countries. While economic activity, and tax avoidance activity, is highly responsive to tax rates and tax structure, there are many aspects of tax-motivated behavior that are difficult to reconcile with simple microeconomic incentives. There are promising recent efforts to reconcile observations with theory. To the extent that multinational firms possess intangible capital on which they earn returns with foreign direct investment, even small countries may have a degree of market power, leading to fiscal externalities. Tax avoidance is pervasive, generating
"Basket" cases : international joint ventures after the Tax Reform Act of 1986
by
Mihir A Desai
( Book )
15 editions published between
1995
and 1996 in
English
and held by 86 WorldCat member libraries worldwide
This paper examines the impact of the Tax Reform Act of 1986 (TRA) on international joint ventures by American firms. The evidence suggests that the TRA had a significant effect on the organizational form of U.S. business activity abroad. The TRA mandates the use of separate credits on income received from foreign corporations owned 50% or less by Americans. This limitation on worldwide averaging greatly reduces the attractiveness of joint ventures to American investors, particularly ventures in low-tax foreign countries. Aggregate data indicate that U.S. participation in international joint ventures fell sharply after 1986. The decline in U.S. joint venture activity is most pronounced in low-tax countries, which is consistent with the incentives created by the TRA. Moreover, joint ventures in low-tax countries use more debt and pay greater royalties to their U.S. parents after 1986, which reflects their incentives to economize on dividend payments
"Tax sparing" and direct investment in developing countries
by
James R Hines
( Book )
14 editions published in
1998
in
English
and held by 86 WorldCat member libraries worldwide
This paper analyzes the effect of and performance of foreign direct investment (FDI). sparing foreign investment income to permit investors to receive the full benefits of host country tax reductions. For example, Japanese firms investing in countries with whom Japan has agreements are entitled to claim foreign tax credits for income taxes that they would have paid to foreign governments in the absence of tax holidays and other special abatements. Most high-income capital-exporting countries grant "tax sparing" for FDI in developing countries, while the United States does not. Comparisons of Japanese and American investment patterns reveal that the volume of Japanese FDI located in countries with whom Japan has than what it would have been otherwise. In addition, Japanese firms are subject to 23% lower tax rates than are their American counterparts in countries with whom Japan has agreements. Similar patters appear when with the United Kingdom are used as instruments for Japanese sparing influences the level and location of foreign direct investment and the willingness of foreign governments to offer tax concessions
Tax policy and the activities of multinational corporations
by
James R Hines
( Book )
15 editions published in
1996
in
English
and held by 86 WorldCat member libraries worldwide
This paper reviews quantitative studies of the impact of international tax rules on the financial and real behavior of multinational firms. The evidence, much of it recent, indicates that taxation significantly influences foreign direct investment, corporate borrowing, transfer pricing, dividend and royalty payments, R & D activity, exports, bribe payments, and location choices. While taxes appear to influence a wide range of activity, the literature does not offer many subtle tests designed to distinguish different theories of the effects of taxation on multinational firms. The paper evaluates the reliability of existing evidence and its implications for the design of international tax policy
Three sides of Harberger triangles
by
James R Hines
( Book )
14 editions published in
1998
in
English
and held by 85 WorldCat member libraries worldwide
Harberger triangles are used to calculate the efficiency costs of taxes, government regulations, monopolistic practices, and various other market distortions. This paper considers the historical development of Harberger triangles, the associated theoretical controversies, and the contribution of Harberger triangles to subsequent empirical work and theories of market imperfections. Prior to the publication of Arnold Harberger's papers, economists very rarely estimated deadweight losses. The empirical deadweight loss literature expanded greatly since the 1960s now quite common. Meanwhile, critical evaluation of deadweight loss estimates led to new theories of rent-seeking and other inefficiencies of economies with multiple distortions
more
fewer
Audience Level
0

1
Kids
General
Special
Audience level: 0.54 (from 0.29 for Taxing mul ... to 0.75 for Comparativ ...)
Related Identities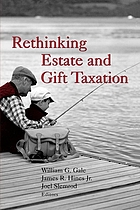 Alternative Names
Hines, James R. 1958- jr

Hines, James R. 1958- junior

Hines, James R. jr. 1958-

Hines, James R. junior 1958-

Hines, James Rodger 1958-

Hines Jr., James R.

James R. Hines economist (University of Michigan)

James R. Hines Wirtschaftswissenschaftler (University of Michigan)

Rodger Hines, James 1958-

Languages
Covers