Sapolsky, Robert M.
Most widely held works about Robert M Sapolsky
Most widely held works by Robert M Sapolsky
Why zebras don't get ulcers : a guide to stress, stress related diseases, and coping
by
Robert M Sapolsky
( Book )
35 editions published between
1994
and 2001 in
English
and
Undetermined
and held by 1,391 WorldCat member libraries worldwide
Witty style, skillful integration of biology and psychology, and research-based recommendations for coping with stress make Why Zebras Don't Get Ulcers a unique and indispensable book for people worried about worrying themselves sick
Why zebras don't get ulcers
by
Robert M Sapolsky
( Book )
62 editions published between
1994
and 2017 in 10 languages and held by 1,360 WorldCat member libraries worldwide
Explains how prolonged stress causes or intensifies a range of physical and mental afflictions, including depression, ulcers, colitis, heart disease, and memory loss
Behave : the biology of humans at our best and worst
by
Robert M Sapolsky
( Book )
12 editions published between
2017
and 2018 in
English
and held by 1,343 WorldCat member libraries worldwide
"Why do we do the things we do? Over a decade in the making, this game-changing book is Robert Sapolsky's genre-shattering attempt to answer that question as fully as perhaps only he could, looking at it from every angle. Sapolsky's storytelling concept is delightful but it also has a powerful intrinsic logic: he starts by looking at the factors that bear on a person's reaction in the precise moment a behavior occurs, and then hops back in time from there, in stages, ultimately ending up at the deep history of our species and its evolutionary legacy. And so the first category of explanation is the neurobiological one. A behavior occurs--whether an example of humans at our best, worst, or somewhere in between. What went on in a person's brain a second before the behavior happened? Then Sapolsky pulls out to a slightly larger field of vision, a little earlier in time: What sight, sound, or smell caused the nervous system to produce that behavior? And then, what hormones acted hours to days earlier to change how responsive that individual is to the stimuli that triggered the nervous system? By now he has increased our field of vision so that we are thinking about neurobiology and the sensory world of our environment and endocrinology in trying to explain what happened. Sapolsky keeps going: How was that behavior influenced by structural changes in the nervous system over the preceding months, by that person's adolescence, childhood, fetal life, and then back to his or her genetic makeup? Finally, he expands the view to encompass factors larger than one individual. How did culture shape that individual's group, what ecological factors millennia old formed that culture? And on and on, back to evolutionary factors millions of years old. The result is one of the most dazzling tours d'horizon of the science of human behavior ever attempted, a majestic synthesis that harvests cutting-edge research across a range of disciplines to provide a subtle and nuanced perspective on why we ultimately do the things we do...for good and for ill. Sapolsky builds on this understanding to wrestle with some of our deepest and thorniest questions relating to tribalism and xenophobia, hierarchy and competition, morality and free will, and war and peace. Wise, humane, often very funny, Behave is a towering achievement, powerfully humanizing, and downright heroic in its own right"
Stress : portrait of a killer
( Visual )
12 editions published between
2008
and 2010 in
English
and
Spanish
and held by 1,289 WorldCat member libraries worldwide
Stanford University neurobiologist Robert Sapolsky has been advancing our understanding of stress - how it impacts our bodies and how our social standing can make us more or less susceptible. Research reveals that the impact of stress can be found deep within us, shrinking our brains, adding fat to our bellies, even unraveling our chromosomes. Yet understanding how stress works can help us figure out a ways to combat it and how to live a life free of the tyranny of this contemporary plague
The trouble with testosterone : and other essays on the biology of the human predicament
by
Robert M Sapolsky
( Book )
12 editions published between
1997
and 2014 in
English
and
Polish
and held by 880 WorldCat member libraries worldwide
In The Trouble with Testosterone, Robert M. Sapolsky draws from his career as a behavioral biologist to interpret the peculiar drives and intrinsic needs of that most exotic species - Homo sapiens. With candor, humor, and lush observations, these essays marry cutting-edge science with a rich and compassionate humanity. Sapolsky's book ranges broadly over the web of life, studying its details and plotting its themes. "Curious George's Pharmacy" examines recent exciting claims that wild primates know how to medicate themselves with forest plants. "Junk Food Monkeys" relates the adventures of a troop of baboons who stumble onto a tourist garbage dump. "Poverty's Remains" claims that science is as riddled with metaphors as a Shakespearean sonnet. "Measures of Life" begins as a witty analysis of firing squads and concludes as a dazzling meditation on the roles and responsibilities of scientists. And in the final essay, the brilliant and penetrating "Circling the Blanket for God," Sapolsky shows that science and religion emanate from the same place: the human brain. These pieces, then, reveal the contradictions that confront those who describe the world objectively, those who try to reconcile the truths of the mind with the burdens of the heart
Monkeyluv : and other essays on our lives as animals
by
Robert M Sapolsky
( Book )
22 editions published between
2005
and 2012 in 3 languages and held by 717 WorldCat member libraries worldwide
A collection of original essays by a leading neurobiologist and primatologist share the author's insights into behavioral biology, including discussion of the physiology of genes and the factors that shape human social interaction
The best American science and nature writing 2013
( Book )
2 editions published in
2013
in
English
and held by 323 WorldCat member libraries worldwide
Presents fictional and non-fictional stories written by American authors that discuss topics in science and nature
Stress and your body
by
Robert M Sapolsky
( Visual )
3 editions published between
2007
and 2010 in
English
and held by 273 WorldCat member libraries worldwide
In twenty-four lectures explains how stress causes or intensifies physical and mental problems
Why zebras don't get ulcers
by
Robert M Sapolsky
( Visual )
9 editions published between
2009
and 2014 in
English
and
Undetermined
and held by 225 WorldCat member libraries worldwide
Tackling the serious topic of stress in his famously entertaining manner, Professor Sapolsky sets the stage on a Kenyan savannah, with a hungry lion in hot pursuit of a terrified zebra. As he explains, the zebra's fight-or-flight response channels essential energy to its survival effort by shutting down and even damaging nonessential biological functions- in a temporary, short-term response. Unfortunately, humans can generate the same response simply by anticipating stress- whether or not it occurs, and whether or not it's merited. And when we subject ourselves to prolonged psychological stress (as Type A personalities in particular do) we contract ulcers, diabetes, heart disease, brain damage, and other dysfunctions. So why do some people cope with stress better than others? Drawing on Hans Selye's research with rats in a stress-induced environment, Robert Sapolsky gives us hope. We can reduce the risk of stress-related disease when we have an outlet for stress and frustration, some control over what's causing us stress, the ability to predict stressors, and, perhaps most importantly, social connectedness for emotional support
more
fewer
Audience Level
0

1
Kids
General
Special
Audience level: 0.25 (from 0.16 for Why zebras ... to 0.81 for Bwana nugu ...)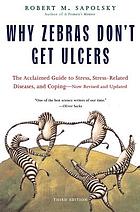 Alternative Names
Robert Morris Sapolsky

Robert Sapolsky Amerikaans neurowetenschapper

Robert Sapolsky amerikanischer Neuroendokrinologe, Professor der Biologie, Neurowissenschaft und Neurochirurgie an der Stanford University, Forscher, Wissenschaftler und Autor

Robert Sapolsky Neurobiologo statunitense

Sapolsky, Robert.

Sapolsky, Robert 1957-

Sapolsky, Robert Maurice

Sapolsky, Robert Morris Share 1957-

Share-Sapolsky, Robert M.

Share-Sapolsky, Robert M. 1957-

Share-Sapolsky, Robert Morris 1957-

Ρόμπερτ Σαπόλσκυ Αμερικανός νευροενδοκρινολόγος, καθηγητής βιολογίας, νευροεπιστήμης, και νευροχειρουργικής στο Πανεπιστήμιο του Στάνφορντ, ερευνητής και συγγραφέας

Роберт Саполски

Роберт Сапольскі

Сапольски, Роберт

Ռոբերտ Սապոլսկի

רוברט ספולסקי

رابرت ساپولسکی عصب‌پژوه و استاد دانشگاه آمریکایی

새폴스키, 로버트

새폴스키, 로버트 M

サポルスキー, R. M

サポルスキー, ロバート・M

ロバート・サポルスキー

羅伯·薩普羅斯基

Languages
Covers