Staiger, Robert W.
Most widely held works by Robert W Staiger
The economics of the world trading system
by
Kyle Bagwell
( )
18 editions published between
2002
and 2004 in
English
and held by 2,458 WorldCat member libraries worldwide
World trade is governed by the rules of the World Trade Organization (WTO), the successor to the General Agreement on Tariffs and Trade (GATT). The WTO sets rules of conduct for the international trade of goods and services and for intellectual property rights, provides a forum for multinational negotiations to resolve trade problems, and has a formal mechanism for dispute settlement. It is the primary institution working, through rule-based bargaining, at freeing trade.In this book, Kyle Bagwell and Robert Staiger provide an economic analysis and justification for the purpose and design of the GATT/WTO. They summarize their own research, discuss the major features of the GATT agreement, and survey the literature on trade agreements. Their focus on the terms-of-trade externality is particularly original and ties the book together. Topics include the theory of trade agreements, the origin and design of the GATT and the WTO, the principles of reciprocity, the most favored nation principle, terms-of-trade theory, enforcement, preferential trade agreements, labor and environmental standards, competition policy, and agricultural export subsidies
Handbook of commercial policy
( )
6 editions published in
2016
in
English
and held by 169 WorldCat member libraries worldwide
Handbook of Commercial Policy explores three main topics that permeate the study of commercial policy. The first section presents a broad set of basic empirical facts regarding the pattern and evolution of commercial policy, with the second section investigating the crosscutting legal issues relating to the purpose and design of agreements. Finally, the third section covers key issues of commercial policy in the modern global economy. Every chapter in the book provides coverage from the perspectives of multilateral, and where appropriate, preferential trade agreements. While most other volumes are policy-oriented, this comprehensive guide explores the ways that intellectual thinking and rigor organize research, further making frontier-level synthesis and current theoretical and empirical research accessible to all
Differences in the uses and effects of antidumping law across import sources
by
Robert W Staiger
( Book )
14 editions published in
1994
in
English
and held by 117 WorldCat member libraries worldwide
This paper studies the differences in the uses and effects of U.S. antidumping law on imports and domestic output across the major regions exporting to the United States. We attempt to characterize the implications of the use of antidumping law for U.S. imports and domestic output, and to distinguish between 'outcome filers'(firms for which the prospect of an antidumping duty is important), 'process filers'(firms that desire to secure the trade-restricting effects of the investigation process itself) Previously we allowed for the coexistence of outcome- and process-filing industries and found evidence consistent with the process filers' presence in some industries However, we restricted filing strategy to be the same for all imports in that industry regardless of their country of origin. Here we abstract from cross- industry heterogeneity in antidumping filing strategies and explore the heterogeneity of filing strategies against different import-source countries, allowing for domestic firms that may pursue independent filing strategies. We argue that the most likely target countries for process filers are those whose export production is primarily destined for the U.S. and accounts for a relatively large and stable U.S. market share. These characteristics point to Canada and Mexico as countries against which process filing by U.S. firms is likely. We find evidence in the filing behavior and in the nature of the trade impacts suggesting that Mexico and Canada are indeed the most likely targets of antidumping petitions filed by process filers in the United States
Trade liberalization and trade adjustment assistance
by
Kwok-Chiu Fung
( Book )
15 editions published in
1994
in
English
and held by 116 WorldCat member libraries worldwide
We explore the relationship between trade adjustment subsidies and successful reciprocal trade liberalization. We consider economies that are faced with a periodic need to move resources out of a declining import-competing sector, and that are attempting to sustain cooperative but self-enforcing trade agreements in the face of these adjustment needs. If the limitations associated with enforcement of international trade agreements are sufficiently severe, trade adjustment assistance can facilitate reciprocal trade liberalization. We argue that this suggests a possible efficiency rationale for adjustment policies that treat resources differently when traded sectors are involved
An economic theory of GATT
by
Kyle Bagwell
( Book )
17 editions published between
1997
and 1998 in
English
and held by 113 WorldCat member libraries worldwide
Despite the important roel played by GATT in the world economy, economist have nto developed a unified theoretical framework that interprets and evaluates the principles that form the foundation of GATT. Our purpose here is to propose such a framework. Working within a general equilibrium trade model, we represent government preferences with a very general formulation that includes all the major political-economy models of trade policy as special cases. Using this general framework we establish three key results. First, GATT's principle of reciprocity can by viewed as a mechanism for implementing efficient trade agreements. Second, through the principle of reciprocity countries can implement efficient trade agreements if and only if they also abide by the principle of nondiscrimination. And third, preferential agreements undermine GATT's ability to deliver efficient multilateral outcomes through the principle of reciprocity, unless these agreements take the form of customs unions among partners that are sufficiently similar
Multilateral trade negotiations, bilateral opportunism and the rules of GATT
by
Kyle Bagwell
( Book )
14 editions published in
1999
in
English
and held by 112 WorldCat member libraries worldwide
Trade negotiations occur through time and between the governments of many countries. An important issue is thus whether the value of concessions that a government wins in a current negotiation may be eroded in a future bilateral negotiation to which it is not party. In the absence of rules that govern the bilateral negotiation, we first show that the potential for opportunistic bilateral agreements is indeed severe. We next identify rules of negotiation that serve to protect the welfare of governments that are not participating in the bilateral negotiation. The reciprocal market access' rule ensures that the market access of a non-participating country is unaltered, and we show that this rule eliminates the potential for opportunistic bilateral negotiations. This rule, however, has practical limitations, and so we next consider the negotiation rules that are prominent in GATT practice and discussion. Our main finding is that the two central rules of GATT -- non-discrimination (MFN) and reciprocity -- effectively mimic the reciprocal market access rule, and therefore offer a practical means through which to protect non-participant welfare and thereby eliminate the potential for opportunistic bilateral negotiations
International rules and institutions for trade policy
by
Robert W Staiger
( Book )
14 editions published in
1994
in
English
and held by 110 WorldCat member libraries worldwide
What are the potential benefits from establishing international rules for the conduct of trade policy and how should these rules be designed? These questions are of central importance to the evolution of national trade policies in the post-war era, a period in which an elaborate system of international rules has evolved to facilitate the process of reciprocal trade liberalization. Yet the theory of trade policy has traditionally had little to say about these rules and the issues that underlie them. Below I review and synthesize several of the currents of a growing literature that is concerned with these questions. I attempt to accomplish three objectives: To describe the basic structure of international trade agreements as they exist in practice; to explore theoretically the normative consequences of actual and alternative trade agreements; and to offer some theoretically-based explanation for the structure of trade agreements that we observe. I attempt to achieve the first objective by describing the important features of the General Agreement on Tariffs and Trade. I attempt to achieve the latter two objectives by reviewing a body of literature and drawing out its implications as they relate to these issues
Reciprocal trade liberalization
by
Kyle Bagwell
( Book )
16 editions published in
1996
in
English
and held by 110 WorldCat member libraries worldwide
Why have governments found reciprocal trade agreements such as GATT to be a more effective means of facilitating trade liberalization than unilateral initiatives? We provide in this paper an analytic framework for the study of reciprocal trade agreements. We use this framework to establish three main results. First, we argue that political-economy factors are important for explaining the range of trade policies observed, but that these factors cannot explain why governments seek reciprocal trade agreements as an institutional form for implementing their preferred policies. Rather, whether or not governments are politically motivated, Johnson (1953-54) was right: The central purpose of a reciprocal trade agreement is to eliminate the terms-of-trade driven policies that arise in the absence of such an agreement. Second, we establish an economic interpretation of the principles of reciprocity and nondiscrimination that represent the foundation of postwar reciprocal trade agreements. Finally, we offer new insights regarding the treatment of export subsidies in reciprocal trade agreements
Multilateral tariff cooperation during the formation of customs unions
by
Kyle Bagwell
( Book )
15 editions published between
1993
and 1994 in
English
and held by 109 WorldCat member libraries worldwide
We study the implications of customs union formation for multilateral tariff cooperation. We model cooperation in multilateral trade policy as self-enforcing, in that it involves balancing the current gains from deviating unilaterally from an agreed-upon trade policy against the future losses from forfeiting the benefits of multilateral cooperation that such a unilateral defection would imply. The early stages of the process of customs union formation are shown to alter this dynamic incentive constraint in a way that leads to a temporary 'honeymoon' for liberal multilateral trade policies. We find, however, that the harmony between customs unions and multilateral liberalization is temporary: Eventually, as the full impact of the emerging customs union becomes felt, a less favorable balance between current and future conditions reemerges, and the liberal multilateral policies of the honeymoon phase cannot be sustained. We argue that this is compatible with the evolving implications of the formation of the European Community customs union for the ability to sustain liberal multilateral trade policies under the General Agreement of Tariffs and Trade
more
fewer
Audience Level
0

1
Kids
General
Special
Audience level: 0.36 (from 0.07 for The econom ... to 0.72 for An economi ...)
Related Identities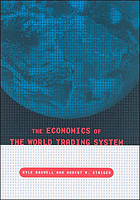 Covers
Alternative Names
Robert W. Staiger economist (Dartmouth College; National Bureau of Economic Research (NBER))

Robert W. Staiger Wirtschaftswissenschaftler (Dartmouth College; National Bureau of Economic Research (NBER))

Staiger, R. W.

Staiger, Robert

Staiger, Robert William

Languages