Massey, Douglas S.
Most widely held works about Douglas S Massey
Most widely held works by Douglas S Massey
American apartheid : segregation and the making of the underclass
by
Douglas S Massey
( Book )
27 editions published between
1989
and 2003 in
English
and held by 1,922 WorldCat member libraries worldwide
This powerful and disturbing book clearly links persistent poverty among blacks in the United States to the unparalleled degree of deliberate segregation they experience in American cities. American Apartheid shows how the black ghetto was created by whites during the first half of the twentieth century in order to isolate growing urban black populations. It goes on to show that, despite the Fair Housing Act of 1968, segregation is perpetuated today through an interlocking set of individual actions, institutional practices, and governmental policies. In some urban areas the degree of black segregation is so intense and occurs in so many dimensions simultaneously that it amounts to hyper-segregation
Beyond smoke and mirrors : Mexican immigration in an era of economic integration
by
Douglas S Massey
( Book )
23 editions published between
2002
and 2009 in
English
and
Spanish
and held by 1,576 WorldCat member libraries worldwide
"Beyond Smoke and Mirrors shows how U.S. immigration policies enacted between 1986 and 1996 - largely for symbolic domestic political purposes - harm the interests of Mexico, the United States, and the people who migrate between them. The costs have been high. The book documents how the massive expansion of border enforcement has wasted billions of dollars and hundreds of lives, yet has not deterred increasing numbers of undocumented immigrants from heading north. The authors also uncover how the new policies unleashed a host of unintended consequences: a shift away from seasonal, circular migration toward permanent settlement; the creation of a black market for Mexican labor; the transformation of Mexican immigration from a regional phenomenon into a broad social movement touching every region of the country, and even the lowering of wages for legal U.S. residents. What had been a relatively open and benign labor process before 1986 was transformed into an exploitative underground system of labor coercion, one that lowered wages and working conditions of undocumented migrants, legal immigrants, and American citizens alike." "Beyond Smoke and Mirrors offers specific proposals for repairing the damage. Rather than denying the reality of labor migration, the authors recommend regularizing it and working to manage it so as to promote economic development in Mexico, minimize costs and disruptions for the United States, and maximize benefits for all concerned. This book provides an essential "user's manual" for readers seeking a historical, theoretical, and substantive understanding of how U.S. Policy on Mexican immigration evolved to its current dysfunctional state, as well as how it might be fixed."--Jacket
Categorically unequal : the American stratification system
by
Douglas S Massey
( )
11 editions published between
2007
and 2008 in
English
and held by 1,464 WorldCat member libraries worldwide
"The United States holds the dubious distinction of having the most unequal income distribution of any advanced industrialized nation. While other developed countries face similar challenges from globalization and technological change, none rivals America's singularly poor record for equitably distributing the benefits and burdens of recent economic shifts. In Categorically Unequal, Douglas S. Massey weaves together history, political economy, and even neuropsychology to provide a comprehensive explanation of how America's culture and political system perpetuates inequalities between different segments of the population."--BOOK JACKET
Brokered boundaries : creating immigrant identity in anti-immigrant times
by
Douglas S Massey
( )
17 editions published between
2010
and 2012 in
English
and held by 1,427 WorldCat member libraries worldwide
Anti-immigrant sentiment reached a fever pitch after 9/11, but its origins go back much further. Public rhetoric aimed at exposing a so-called invasion of Latino immigrants has been gaining ground for more than three decades, and fueling increasingly restrictive federal immigration policy. Accompanied by a flagging U.S. economy, record-level joblessness, bankruptcy, and income inequality, as well as waning consumer confidence, these conditions signaled one of the most hostile environments for immigrants in recent memory. In this book the authors untangle the complex political, social, and economic conditions underlying the rise of xenophobia in U.S. society. The book draws on in-depth interviews with Latin American immigrants in metropolitan New York and Philadelphia and, in their own words and images, reveals what life is like for immigrants attempting to integrate in anti-immigrant times. What do the social categories "Latino" and "American" actually mean to today's immigrants? This book analyzes how first and second generation immigrants from Central and South America and the Caribbean navigate these categories and their associated meanings as they make their way through U.S. society. The authors argue that the mythos of immigration, in which newcomers gradually shed their respective languages, beliefs, and cultural practices in favor of a distinctly American way of life, is, in reality, a process of negotiation between new arrivals and native-born citizens. Natives control interactions with outsiders by creating institutional, social, psychological, and spatial mechanisms that delimit immigrants' access to material resources and even social status. Immigrants construct identities based on how they perceive and respond to these social boundaries. The authors make clear that today's Latino immigrants are brokering boundaries in the context of unprecedented economic uncertainty, repressive anti-immigrant legislation, and a heightening fear that upward mobility for immigrants translates into downward mobility for the native-born. Despite an absolute decline in Latino immigration, immigration-related statutes have tripled in recent years, including many that further shred the safety net for legal permanent residents as well as the undocumented. This book shows that although Latin American immigrants come from many different countries, their common reception in a hostile social environment produces an emergent Latino identity soon after arrival. During anti-immigrant times, however, the longer immigrants stay in America, the more likely they are to experience discrimination and the less likely they are to identify as Americans
New faces in new places : the changing geography of American immigration
by
Douglas S Massey
( )
13 editions published between
2008
and 2010 in
English
and held by 1,391 WorldCat member libraries worldwide
" ... aims to explain the dramatic shift in the geography of immigrant settlement since the 1990s, and to explore its wide-ranging consequences for new receiving communities in the South and Midwest- from changed intergroup relations to the responses of local institutions and the immigrants themselves."
Return of the "L" word : a liberal vision for the new century
by
Douglas S Massey
( )
12 editions published between
2005
and 2009 in
English
and held by 1,314 WorldCat member libraries worldwide
"Somewhere in the 1970s liberals in the United States lost their way. After successes like the New Deal, they became arrogant. So argues Douglas Massey in Return of the "L" Word. Faced with the difficult politics of race and class, liberals used the heavy hand of government to impose policies on a resentful public. Conservatives capitalized on this with a staunch ideology of free markets, limited government, and conservative social values. The time is ripe for a liberal realignment, declares Massey, but what has been lacking is a consistent liberal ideology that explains to voters, in simple terms, government's vital role in producing a healthier, more financially equitable, less divided society." "This book supplies that ideology. Massey begins his manifesto by laying out the liberals' mistakes over the past twenty years. Drawing on insights from the expanding field of economic sociology, he then sets forth a clear set of liberal principles to explain how markets work in society, principles he applies to articulate salable liberal policies." "After outlining a new liberal political philosophy, Massey traces liberalism's opposition and says plainly: liberals should have no illusions about the competition's resolve and skill. He closes with a practical approach to liberal coalition-building in America. The political economy conservatives have constructed in recent decades has benefited 20 percent of the people. Liberal success requires a return to material rather than symbolic politics, showing most Americans why it is in their economic as well as moral interest to support the liberal cause."--Jacket
Return to Aztlan : the social process of international migration from western Mexico
by
Douglas S Massey
( )
26 editions published between
1987
and 1990 in
English
and held by 1,113 WorldCat member libraries worldwide
Return to Aztlan analyzes the social process of international migration through an intensive study of four carefully chosen Mexican communities. The book combines historical, anthropological, and survey data to construct a vivid and comprehensive picture of the social dynamics of contemporary Mexican migration to the United States
The source of the river : the social origins of freshmen at America's selective colleges and universities
by
Douglas S Massey
( Book )
15 editions published between
2003
and 2011 in
English
and held by 912 WorldCat member libraries worldwide
"In The Source of the River, Douglas Massey and his colleagues investigate the roots of minority underperformance in selective colleges and universities. They explain how such factors as neighborhood, family, peer group, and early schooling influence the academic performance of students from differing racial and ethnic origins and differing social classes." "Drawing on a major new source of data - the National Longitudinal Survey of Freshmen - the authors undertake a comprehensive analysis of the diverse pathways by which whites, African Americans, Latinos, and Asians enter American higher education. Theirs is the first study to document the different characteristics that students bring to campus and to trace out the influence of these differences on later academic performance. They show that black and Latino students do not enter college disadvantaged by a lack of self-esteem. In fact, overconfidence is more common than low self-confidence among some minority students. Despite this, minority students are adversely affected by racist stereotypes of intellectual inferiority. Although academic preparation is the strongest predictor of college performance, shortfalls in academic preparation are themselves largely a matter of socioeconomic disadvantage and racial segregation."--Jacket
Crossing the border : research from the Mexican Migration Project
( Book )
10 editions published between
2004
and 2006 in
English
and held by 874 WorldCat member libraries worldwide
Reyes uses statistical models and qualitative interviews to show that the militarization of the Mexican border has actually kept immigrants who wanted to leave the United States from returning home by making them fear that they might be caught crossing back into Mexico."--Jacket
Problem of the century : racial stratification in the United States
by
Elijah Anderson
( Book )
10 editions published between
2001
and 2004 in
English
and held by 736 WorldCat member libraries worldwide
"In 1899, the great African American scholar, W.E.B. Du Bois, published The Philadelphia Negro, the first systematic case study of an African American community and one of the foundations of American sociology. Du Bois prophesied that the "color line" would be "the problem of the twentieth century." One hundred years later, Problem of the Century reflects upon his prophecy, exploring the ways in which the color line is still visible in the labor market, the housing market, education, family structure, and many other aspects of life at the turn of a new century."--Jacket
more
fewer
Audience Level
0

1
Kids
General
Special
Audience level: 0.27 (from 0.12 for Return of ... to 0.63 for Internatio ...)
Related Identities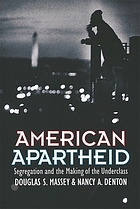 Covers
Alternative Names
Douglas Massey American sociologist

Douglas Massey Amerikaans socioloog

Douglas Massey sociólogo estadounidense

Douglas Massey sociologue américain

Douglas Massey US-amerikanischer Soziologe

Massey, D. S. 1952-

Massey, Douglas 1952-

Massey, Douglas S.

道格拉斯·梅西

Languages