O'Donohue, William T.
Most widely held works by William T O'Donohue
The philosophy of psychology
by
William T O'Donohue
( )
21 editions published in
1996
in
English
and held by 2,019 WorldCat member libraries worldwide
This text provides an anthology of the key topics arising in the philosophy of psychology. Bringing together internationally renowned authors, including Herb Simon, Karl Pribram, Joseph Rychlak, Ullin T Place and Adolf Gr[um]unbaum, this volume offers an addition to contemporary debate. Several significant themes, such as the foundations of knowledge, behaviourism, rationality, emotion and cognitive science span both philosophy and psychology, and are covered here along with a wide range of issues in the fields. --From publisher's description
The psychology of B.F. Skinner
by
William T O'Donohue
( )
14 editions published in
2001
in
English
and held by 2,003 WorldCat member libraries worldwide
Behaviorists, or more precisely Skinnerians, commonly consider Skinner's work to have been misrepresented, misunderstood, and to some extent defamed. In this book, the author clarifies the work of B F Skinner, and puts it into historical and philosophical context. Though not a biography, the book discusses Skinner himself, in brief. But the bulk of the book illuminates Skinner's contributions to psychology, his philosophy of science, his experimental research program (logical positivism) and the behavioral principles that emerged from it, and applied aspects of his work. It also rebuts criticism of Skinner's work, including radical behaviorism, and discusses key developments by others that have derived from it
Clinical strategies for becoming a master psychotherapist
by
William T O'Donohue
( )
19 editions published between
2005
and 2007 in
English
and held by 1,807 WorldCat member libraries worldwide
"Clinical Strategies for Becoming a Master Therapist focuses on the key skills in which therapists must excel to optimize therapeutic success. Each chapter is concisely written by experienced practicing clinicians and identifies the skill needed and how to practice that skill in the face of an evolving interaction between client and therapist." "Each chapter breaks down a broad skill (such as establishing and maintaining a therapeutic alliance) into its separate components (e.g. empathy, positive regard, instilling hope, appropriate feedback etc.) and then gives practical advice for applying the skill in practice. Knowing when to use a skill, for how long, and in what manner is the art that goes along with the science of knowing the skills." "The skills cover the spectrum from the beginning, middle, and end of psychotherapy, across different kinds of clients, and different forms of psychotherapy. The book will be of use to all clinicians whatever their speciality, offering practical, proven tips to becoming a master psychotherapist."--Jacket
A history of the behavioral therapies : founders' personal histories
by
William T O'Donohue
( )
16 editions published in
2001
in
English
and held by 1,546 WorldCat member libraries worldwide
A unique resource for students, professionals, and fellow travelers interested in the phenomenon of behavioral therapy, this book presents the history of the behavioral therapies in the words of the individuals who made it happen
Handbook of behaviorism
by
William T O'Donohue
( )
15 editions published between
1998
and 2007 in
English
and held by 1,516 WorldCat member libraries worldwide
Handbook of Behaviorism provides a comprehensive single source that summarizes what behaviorism is, how the various "flavors" of behaviorism have differed between major theorists both in psychology and philosophy, and what aspects of those theories have been borne out in research findings and continue to be of use in understanding human behavior
Handbook of contemporary psychotherapy : toward an improved understanding of effective psychotherapy
by
William T O'Donohue
( )
13 editions published between
2008
and 2009 in
English
and held by 1,509 WorldCat member libraries worldwide
"The Handbook of Contemporary Psychotherapy explores a wide range of constructs that are not captured in the DSM-IV-TR or traditional research but play important roles in psychotherapy cases. To provide readers with a tool bag of practical techniques they can use in these cases, editors William O'Donohue and Steven R. Graybar present chapters written by leading clinical authorities on such topics as the process of change in psychotherapy, attachment and terror management, projective identification, terminating psychotherapy therapeutically, shame and its many ramifications for clients, dream work, boundaries, forgiveness, the repressed and recovered memory debate, and many others. Each chapter includes a definition of the construct, along with sections on theory, the construct's possible roles in pathology and treatment, measurement, intervention strategies, case illustrations, and future research."--BOOK JACKET
Management and administration skills for the mental health professional
by
William T O'Donohue
( )
13 editions published between
1999
and 2014 in
English
and held by 1,342 WorldCat member libraries worldwide
Psychologists receive several years of specialized study on the brain, behavior, and mental health, but despite the fact that over half ultimately end up in administrative or managerial roles, they receive no formalized training in the skills necessary to be successful in these roles. This book is the first of its kind to target the managerial and administrative skills necessary for the mental health professional. The book discusses practical information such as how to deal with personnel issues, how to set budgets and allocate resources, and how to document progress and maintain schedules in the domains of private practice, hospitals, government agencies, and universities. Chapter authors are well-known and successful psychologists within these settings and include Raymond Fowler, past president of the American Psychological Association
Promoting treatment adherence : a practical handbook for health care providers
by
Eric R Levensky
( )
13 editions published in
2006
in
English
and held by 1,319 WorldCat member libraries worldwide
As every health care provider knows only too well, poor patient adherence to treatment is an enormous barrier to effective health care delivery. Promoting Treatment Adherence provides health care providers with a comprehensive set of information and strategies for understanding and promoting treatment adherence across a wide range of treatment types and clinical populations. The information is presented in a practical how-to manner, and is intended as a resource that practitioners can draw from to improve their skills in promoting treatment adherence. To facilitate ease of use for the practitioner, the volume is divided into five targeted sections. In the first section, the reader is provided with a general overview of the primary issues in treatment adherence relevant to practitioners. The second presents specific guidelines for assessing rates of patient adherence, as well as for assessing patient readiness to adhere to treatment and for identifying and understanding specific barriers to adherence in individual patients. In the third section, detailed guidelines for the implementation of each of effective strategies and techniques for facilitating patient adherence to treatment are presented, including motivational interviewing, patient education, skills training, increasing resources and support, problems solving, and relapse prevention. The fourth and fifth sections provide guidelines for the application of the information and strategies discussed in the previous sections to promoting adherence to a variety of specific treatments and with a variety of specific patient populations, with an emphasis is discussing considerations and issues specific to each treatment and patient population. Where applicable, each of the chapters presents a case-example as well as suggestions for further reading
Handbook of forensic psychology : resource for mental health and legal professionals
by
William T O'Donohue
( )
21 editions published between
2003
and 2012 in
English
and held by 1,178 WorldCat member libraries worldwide
"The purpose of this handbook is to provide professionals with current, practical, and empirically based information to guide their work in forensic settings, or to better their understanding of the issues and debates in forensic psychology."--Jacket
Handbook of professional ethics for psychologists : issues, questions, and controversies
by
Kyle E Ferguson
( Book )
13 editions published in
2003
in
English
and held by 952 WorldCat member libraries worldwide
The Handbook of Professional Ethics for Psychologists provides comprehensive coverage of topics typically neglected in books on ethical issues in psychology. Rather than take ethical pronouncements as dogma not to be questioned but simply understood and observed, the authors encourage a questioning, critical attitude. Divided into four parts, this provocative text provides comprehensive coverage of foundational issues, professional issues, special topics, and special populations. A distinguished group of scholars and researchers examine Moral reasoning and the ethics of professional licensing; Confidentiality in psychotherapy; Fees and financial arrangements; The termination and referral of clients; The use of deception in research; Ethnic minority issues and Consent in the treatment and research of children. The Handbook of Professional Ethics for Psychologists considers the compatibility of science and morality. Challenging readers to question the fundamental philosophical values of professional psychology, the editors and contributors inspire the ethical impulse and encourage active moral leadership
more
fewer
Audience Level
0

1
Kids
General
Special
Audience level: 0.14 (from 0.01 for Handbook o ... to 0.50 for Cognitive ...)
Related Identities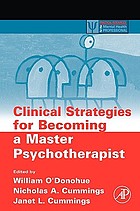 Covers
Alternative Names
Donohue, William O'

O'Donohue, Bill 1957-

O'Donohue, W. 1957-

O'Donohue, W. T.

O'Donohue William

O'Donohue, William 1957-

William O'Donohue American psychologist

William O'Donohue Amerikaans psycholoog

William O'Donohue psicólogo estadounidense

William O'Donohue psicólogu estauxunidense

オドナヒュー, ウィリアム・T.

オドノヒュー, ウィリアム・T

Languages