Chang, Jung 1952-
Most widely held works about Jung Chang
more
fewer
Most widely held works by Jung Chang
Mao : the unknown story
by
Jung Chang
( Book )
95 editions published between
2004
and 2017 in 6 languages and held by 3,692 WorldCat member libraries worldwide
Based on a decade of research and on interviews with many of Mao's close circle in China who have never talked before--and with virtually everyone outside China who had significant dealings with him--this is the most authoritative life of Mao ever written. It is full of startling revelations, exploding the myth of the Long March, and showing a completely unknown Mao: he was not driven by idealism or ideology; his intricate relationship with Stalin went back to the 1920s, ultimately bringing him to power; he welcomed the Japanese occupation; and he schemed, poisoned and blackmailed to get his way. After he conquered China in 1949, his secret goal was to dominate the world. He caused the deaths of 38 million people in the greatest famine in history. In all, well over 70 million Chinese perished under Mao's rule--in peacetime. This entirely fresh look at Mao will astonish historians and the general reader alike.--From publisher description
Empress Dowager Cixi : the concubine who launched modern China
by
Jung Chang
( Book )
66 editions published between
2013
and 2017 in 12 languages and held by 2,140 WorldCat member libraries worldwide
In this biography, Jung Chang describes how Cixi fought against monumental obstacles to change China. Under her, the ancient country attained virtually all the attributes of a modern state: industries, railways, electricity, the telegraph, and an army and navy with up-to-date weaponry. It was she who abolished gruesome punishments like "death by a thousand cuts" and put an end to foot-binding. She inaugurated women's liberation and embarked on the path to introduce parliamentary elections to China. Chang overturns the conventional view of Cixi as a diehard conservative and cruel despot. Cixi reigned during extraordinary times and had to deal with a host of major national crises: the Taiping and Boxer rebellions, wars with France and Japan, and an invasion by eight allied powers including Britain, Germany, Russia and the United States. Jung Chang not only records the Empress Dowager's conduct of domestic and foreign affairs, but also takes the reader into the depths of her splendid Summer Palace and the harem of Beijing's Forbidden City, where she lived surrounded by eunuchs -- one of with whom she fell in love, with tragic consequences. The world Chang describes here seems almost unbelievable in its extraordinary mixture of the very old and the very new. Based on newly available, mostly Chinese, historical documents such as court records, official and private correspondence, diaries, and eyewitness accounts, this biography will revolutionize historical thinking about a crucial period in China's -- and the world's -- history. Packed with drama, fast paced and gripping, it is both a panoramic depiction of the birth of modern China and an intimate portrait of a woman: as the concubine to a monarch, as the absolute ruler of a third of the world's population, and as a unique stateswoman
Wild swans : three daughters of China
by
Jung Chang
( Book )
94 editions published between
1900
and 2014 in 4 languages and held by 518 WorldCat member libraries worldwide
A history of twentieth century China told as a real-life saga of a Chinese family over three generations
Wairudo suwan
by
Jung Chang
( Book )
156 editions published between
1991
and 2018 in 16 languages and held by 373 WorldCat member libraries worldwide
"Un réquisitoire implacable contre la Révolution culturelle, un magnifique livre de souvenirs tissés autour de trois générations de femmes, un témoignage historique irremplaçable sur la Chine d'hier et d'aujourd'hui."
Mao : [the unknown story]
by
Jung Chang
( Recording )
14 editions published between
2005
and 2010 in
English
and
Undetermined
and held by 162 WorldCat member libraries worldwide
Based on a decade of research and on interviews with many of Mao's close circle in China who have never talked before--and with virtually everyone outside China who had significant dealings with him--this is the most authoritative life of Mao ever written. It is full of startling revelations, exploding the myth of the Long March, and showing a completely unknown Mao: he was not driven by idealism or ideology; his intricate relationship with Stalin went back to the 1920s, ultimately bringing him to power; he welcomed the Japanese occupation; and he schemed, poisoned and blackmailed to get his way. After he conquered China in 1949, his secret goal was to dominate the world. He caused the deaths of 38 million people in the greatest famine in history. In all, well over 70 million Chinese perished under Mao's rule--in peacetime. This entirely fresh look at Mao will astonish historians and the general reader alike.--From publisher description
Wilde zwanen
by
Jung Chang
( Book )
18 editions published between
1992
and 2011 in
Dutch
and
Undetermined
and held by 160 WorldCat member libraries worldwide
Het leven van drie generaties vrouwen in China in de periode 1909-1978
Wild swans
by
Jung Chang
( Recording )
22 editions published between
1992
and 2015 in
English
and
Undetermined
and held by 155 WorldCat member libraries worldwide
Few books have had such an impact as Wild Swans: a popular bestseller and a critically acclaimed history of China that opened up the country to the world. Through the story of three generations of women in her own family - the grandmother given to the warlord as a concubine, the Communist mother and the daughter herself - Jung Chang reveals the epic history of China's twentieth century. Breathtaking in its scope, unforgettable in its descriptions, this is a masterpiece which is extraordinary in every way
Empress Dowager Cixi : the concubine who launched modern China
by
Jung Chang
( Recording )
12 editions published between
2013
and 2014 in
English
and held by 144 WorldCat member libraries worldwide
From a coauthor of the best-selling Mao: The Unknown Story, the dramatic, epic biography of the woman who ruled China for fifty years, overcoming centuries of traditions and formalities--and found ways to modernize China, exposing its culture to western political ideas and technology. Empress Dowager Cixi led an intense and singular life. Chosen at the age of twelve to be a concubine by the Emperor Xianfeng, she gives birth to his only male heir, who at four years old is designated emperor when his father dies in 1861. Enlisting the help of Xianfeng's widow, Cixi orchestrates a coup that ousts the appointed regents and makes herself the regent on behalf of her son. Her son ends up dying in his mid-twenties and Cixi is able to designate a young nephew as the emperor--continuing her reign, which stretches to her death in 1908. In this remarkable chronicle, Chang gives us a portrait of Cixi that is complex and riveting: her ruthlessness in fighting off rivals; her startling curiosity to learn all she can, not only about China (she is not allowed to leave the court compound); her reliance on her advisers and officials, often Westerners who she has placed in key positions of responsibility; and her sensitivity and desire to preserve the distinctiveness of China's past. Chang makes a compelling case that Cixi was one of the most formidable--and enlightened--rulers of a nation
Mao : l'histoire inconnue
by
Jung Chang
( Book )
5 editions published between
2005
and 2011 in
French
and held by 108 WorldCat member libraries worldwide
Fondée sur de multiples témoignages et sur les fonds d'archives de l'ancienne Union soviétique, cette biographie de Mao Zedong fait la lumière sur les raisons grâce auxquelles il a réussi à faire main basse sur le pouvoir puis à le confisquer à son unique profit. Décrit ainsi son ascension, ses relations avec Staline, etc
more
fewer
Audience Level
0

1
Kids
General
Special
Audience level: 0.35 (from 0.26 for Wild swans ... to 0.96 for Wild swans ...)
Related Identities
Associated Subjects
Biographical fiction, Chinese
Biography
Brothers
Caricatures and cartoons
Chang, Jung,
Chang family
China
China.--Zhongguo ren min jie fang jun
China--Guangdong Sheng
Chinese
Chinese fiction
Chinese language
Chinese literature
Civilization
Cixi,--Empress dowager of China,
Communist leadership
Concubinage
Cultural Revolution (China : 1966-1976)
Diplomatic relations
Employees
Empresses
England--London
English fiction
English literature--Chinese authors
Fairy tales
Families
Folklore
Heads of state
History
Manners and customs
Mao, Zedong,
Mistresses
Mothers and daughters
Phaulkon, Constant,
Philosophy, Chinese
Politicians
Politics and government
Qing Dynasty (China)
Sino-Japanese War (1937-1945)
Social conditions
Song, Qingling,
Statesmen
Stateswomen
Stepmothers
Swans
Wild swans (Chang, Jung)
Women
Women--Social conditions
Xia, De-hong,
Yang, Yu-fang,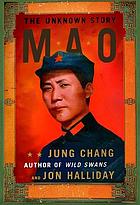 Covers
Alternative Names
Čan, Jun 1952-

Chan, Jun 1952-

Chan, Jung 1952-

Chang J.

Chang J. 1952-

Chang, Jung

Chang, Jung 1952-

Chang, Yung

Chang Yung 1952-....

Chō, Jū

Cho, Ju 1952-

Džana, Žuna 1952-

Jun, Čan 1952-

Jun Chan 1952-

Jung , Chang

Jung Chang 1952-....

Jung Chang Chinees historica

Jung Chang Chinees schrijfster

Jung Chang chinesische Schriftstellerin

Jung Chang ĉina verkisto

Jung Chang femme de lettres et historienne sino-britannique

Jung Chang scrittrice cinese

Rong, Zhang

Tjan, Tsziun, 1952-

Trương Nhung

Zhang, Erhong 1952-

Zhang, Rong

Zhang Rong 1952-....

Чжан Юн

Чжан Юн 1952-

Юн Чан 1952-

Юн Чжан

Юн Чжан 1952-

צ'נג, ג'ונג, 1952-

רונג ג'אנג

يونغ تشانغ، 1952-

یونق چانق

장융 1952-

장이홍 1952-

チョウ, ジュウ 1952-

ユン・チアン

張, 戎

張 戎 1952-....

張二鴻 1952-

张戎

張戎 1952-

Languages
English
(331)
Chinese
(72)
German
(54)
Spanish
(46)
Danish
(33)
Italian
(33)
Japanese
(30)
Dutch
(28)
French
(23)
Polish
(18)
Hungarian
(11)
Portuguese
(8)
Finnish
(7)
Arabic
(6)
Swedish
(5)
Thai
(5)
Russian
(4)
Czech
(3)
Hebrew
(3)
Korean
(3)
Sinhalese
(2)
Croatian
(1)
Vietnamese
(1)
Persian
(1)
Greek, Modern
(1)
Marathi
(1)
Turkish
(1)
Slovenian
(1)
more
fewer